By Lambert Strether of Corrente
Hong Kong
Mong Kok: "'Originally, the purpose of setting up a site in Mong Kok was to help protect the students in Admiralty by stretching the police resources,' said Chu" [South China Morning Post]. (Note: Compare Ferguson entry below.) "Like many protesters in Mong Kok, Don, Chu and Fan all said they would not retreat without achieving what they had set out for – a withdrawal of the National People's Congress's proposed electoral reform that would allow only Beijing-vetted candidates to run in chief executive elections."
Admiralty: Police shrink periphery of occupied zone by clearing the Queensway with chainsaws, sledgehammers [Reuters]. Construction workers had gotten involved building bamboo barricades [New York Times]. Taxi and truck drivers, however, resent the loss of fare [Reuters]. So triads, tycoons, and the PRC aren't the only opponents the protesters have [Atlantic].
The newsworthiness of Jimmy Lai [China Matters]. Looking at the local powerbrokers and tycoons does undercut — or rather, reframe — the "spontaneous leaderless outpouring by idealistic students" narrative that the West is pushing, but surely that's OK? It also undercuts People's Daily  "manipulation by the National Endowment for the Democracy" narrative [AP], but surely that's a good thing, too?
Ferguson
"Black misleadership class" (hat tip, Black Agenda Report) called out by protesters at St Louis University weekend event [Guardian]. Good quotes, mushy framing.
200 students sit in at St Louis University clocktower [KSDK].
50 arrested, in the rain, at "Moral Monday" demonstration in front of St Louis PD [Rolling Stone]. Good for "Brother West" getting arrested, but that's not the story, though the [The Root] thinks so. The story is the confluence of North Carolina's "Moral Monday" concept with Missouri protest.
The even bigger story: The "other events elsewhere" listed by the [St Louis Post Dispatch]. Protests at Ferguson and Maplewood Walmarts, protests and arrests at a MacCaskill/Stenger fundraiser, a "Black lives matter" banner at a Rams game, and protests at a QuikTrip, Emerson Electric, a march at St Louis City Hall, chanting at Plaza Frontenac (upscale mall) and chanting with bullhorns (gotta say, ick) at Hollywood Casino. (Would some news organization please produce a handy map.) All these tactics, consciously or not, look like they're straight from Gene Sharp. We'll see.
Now let's compare and contrast: Tahrir Square, Syntagma Square, Puerta del Sol, the state Capital occupations in Madison and elsewhere, and Occupy proper (especially Wall Street and Oakland) all had the central defining feature of taking control of a key public space in a dense metropolitan area; Zucotti Park; Tahrir Square; Oscar Grant Plaza. The current protests in Hong Kong have exactly the same defining feature (and we may now be seeing that occupation degenerate into holding space, as opposed to creating political alternatives; we'll see). These St Louis protests are completely different. I'm hard-pressed to remember organic protests driven by locals yet so widely dispersed and so numerous. So, first, kudos to the organizers (who most definitely are not the Black misleadership class). Second, ask yourself: Which tactics are more appropriate to most cities in America? Tactics appropriate for dense metropolitan areas with central squares, or tactics for cities with freeways and urban sprawl? That's the story here, IMNSHO.
America the Petrostate
"Dropping oil prices could threaten U.S. fracking boom" [McClatchy]. You'd think the Saudis could have yanked the chain round our neck before we poisoned all that groundwater (hat tip, Dick Cheney).
Stats Watch
Redbook, week of October 11: Retailers are displaying Halloween and Christmas merchandise side-by-side in an effort to kick-start holiday sales [Bloomberg]. Pumping out the Xmas muzak yet?
Rapture Index: Closes down one on inflation [Rapture Ready].
Separatism
Catalan premier cancels referendum vote in favor of "consultation vote" [Expatica Spain].
Belgium forms a new government, five months after the election, and the Flemish nationalist N-VA party is the dominant force [Economist].
Symposium on the referendum in Scotland [London Review of Books].
Gibralter organizes conference on self-determination, the Falklands to attend [MercoPress].
Mainland crackdown on "scholars" for, among other things, "causing a disturbance" [Reuters], but also Occupy Hong Kong and Taiwanese independence support.
Cuomodammerüng
Looks like Cuomo's been taking lessons from Obama on access to information, especially information about campaign contributions [Capital New York]. Cuomo, in 2011, promised to run an adminsitration that was "the most transparent and accountable in history" [Times-Union]. Sound familiar? Remember when Democrats were democrats, not autocrats?
Cuomo meets with Times editors off the record: "Before the meal concluded, according to sources with knowledge of the meeting, Cuomo became visibly angry, raised his voice and stormed out of the restaurant" [Capital New York]. Stay classy, Andy!
Cuomo declines to make a 2016 Sherman Statement, flogs his 517-page doorstop [USA Today] (Clinton's: 656 pages. Neener neener). He'll be signing copies of "All Things Possible" — like the NPR program, but action-oriented — at Barnes and Noble in Union Square tomorrow [New York Daily News].
"Said another [Working Families Party] insider: 'The Women's Equality Party is Cuomo's F U to the WFP'" [New York Post]. Assuming, of course, that the WFP was ever an actual party to begin with, instead of some sort of Byzantine front organization with enough troops who thought it was really something else.
News of the Wired
* * *
Readers, feel free to contact me with (a) links, and even better (b) sources I should curate regularly, and (c) to find out how to send me images of plants. Vegetables are fine! Fungi are deemed to be honorary plants! See the previous Water Cooler (with plant) here. And here's today's plant: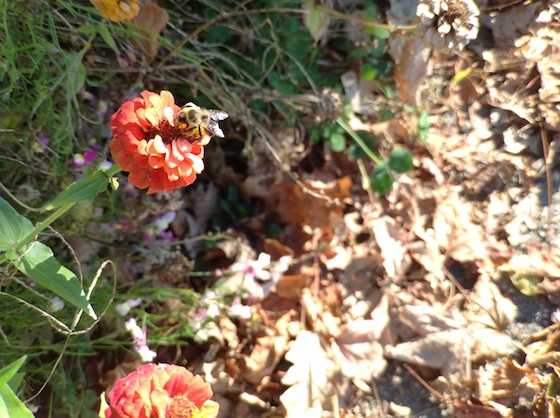 Once again, a whole system, or at least more parts of the system than a single plant.
Talk amongst yourselves!