This is Naked Capitalism fundraising week. 762 donors have already invested in our efforts to shed light on the dark and seamy corners of finance. Please join us and participate via our Tip Jar, which shows how to give via credit card, debit card, PayPal, or check. Read about why we're doing this fundraiser, what we've accomplished in the last year, and our current target.
By Lambert Strether of Corrente.
Hong Kong
After a quiet night, government offices re-open [NPR]. But although the crowds at Admiralty are thinner, they have not dispersed [CNN].
"LIVE: Dispute over details as Occupy students, officials push for dialogue 'this week'" [South China Morning Post].
China's anaconda strategy takes shape [Independent], as Hong Kong is betrayed by China, and abandoned by the British [Guardian], as the Chinese periphery watches with interest [New York Times].  And is the point at issue really democracy, or Hong Kong identity? [China Matters].
If a young Hong Konger applies for a job at your firm, see if Occupy is on their CV. Then hire them [Finance Asia]. And credit their Filipino nannies for their discipline and politeness? [GMA News] (who, one might add, have the opportunity to vote for their government, as their employers do not).
And a view of the protests from Old Hong Kong [WSJ].
2014 and 2016
Axelrod says Obama made a mistake — is that even possible? — by saying his policies were on the ballot in the midterms [WaPo].
A scenario for how the Democrats could "run the table" for the Senate in 2014 [McClatchy]. 
For example, in Kansas, where an actual Democrat was swapped out for faceless "no labels"-style private equity (!) dude Greg Orman, running as an independent [Business Insider]. Orman now leads the — let me be fair, here — crazypants Republican Pat Roberts [Kansas City Star]. In 2012, Orman gave $25K to Americans Elect [Atlantic], a truly noxious organization; see Joe Firestone's reporting [Corrente].
Another example: If Democrat Michelle Nunn wins in Georgia, we'll be hearing chants of "the demographics finally kicked in" (translation: We don't have to get off our butts on policy) from Democratic strategists everywhere [Bloomberg].
The Mittster's not ready to call it quits [Times].  And why would he? After all, Obama adopted his health care plan.
And the College Republicans remain what they have always been, since the Rove days [Bloomberg].
The twelve couples who have responded to every Clinton ask (including Ready for Hillary) [Bloomberg]. I love the anecdote where Bill Clinton gives away George Bush's putter.
Ferguson
During the intermission of a performance of Brahms Requiem by the St Louis Symphony, 23 protesters sitting in various parts of the auditorium stood up and sang, "Requiem for Mike Brown" [WaPo]. (A thoroughly appopriate action, IMNSHO.  Listen.)
Our famously free press is framing this as an "interruption", but the music was not interrupted and indeed some of the concert-goers applauded, as did some members of the orchestra  [St Louis Post-Dispatch]. The symphony broadcast continued. The protesters left, but the St Louis Symphony publicist says she wishes they had stayed [KSDK].
Would be nice if this idea spread to Philly, New York, Los Angeles, Chicago, Cleveland, Boston … After all, there are many Mike Browns.
In Ferguson itself, the cops continue to arrest peaceful protesters [Southeast Missourian].
There will be four days of organized protests starting this Friday. Meanwhile, no arrests in the case, and the grand jury report has been pushed back to November [USA Today].
The Great Game
Aren't Germany, Moscow, and China natural allies? [Alternet].
ISIS' ammo comes from US and China [New York Times]. Ammo's fungible. Who knew?
Have the Hong Kong police learned the lesson of Tahrir and Maidan? [Bloomberg]. Pause for a moment to reflect on reading that headline in a finance source. Note also the curious omissions….
Measuring people power. With chart [The Economist].
The Real Economy
S&P 500 spends 95% of earnings, or $914 billion, on share buybacks and dividends. "The reluctance to raise capital investment has left companies with the oldest plants and equipment in almost 60 years"  [Blooomberg]. It's clear that America's overclass decided to stop investing in this country years ago. And the results are everywhere to see.
Then again, who knows? Maybe consumer spending can drive the economy even without any private investment [Times]. Well, maybe not, given cripping recessions [WaPo].
UPS will put 3D printers in 100 stores [New Scientist]. No, no, there are no investment opportunities in the United States except for cellphone startups.
Startups: "In an inflated market, everyone feels like a steroid-adjusted baseball player" [WSJ]. And as long as the music is playing, you've got to get up and dance.
Scrappy upstart Reddit gives its remote workers a week to decide whether to move to San Francisco or leave the company [Short Logic].
How the "creative class," "service class", and "working class" divide up cities. With handy map [WaPo]. Richard Florida is at it again. In fact, they're all wage workers. So they're all working class.
Stats Watch
Gallup US Consumer Spending Measure, September 2014: Average spending down, but this is usual from August to September [Bloomberg]. 
Greed and Fear Index: Fear still extreme, down 1 to 4 [CNN].
Rapture Index: Down 1 on floods [Rapture Ready].
News of the Wired
* * *
Readers, feel free to contact me with (a) links, and even better (b) sources I should curate regularly, and (c) to find out how to send me images of plants. Vegetables are fine! Fungi are deemed to be honorary plants! See the previous Water Cooler (with plant) here. And here's today's plant, from the Long House Botanical Garden (John Newman):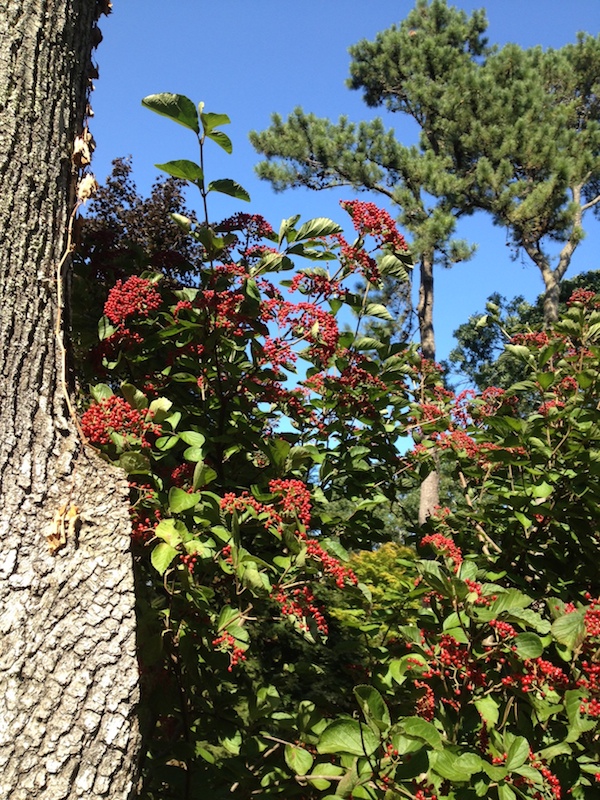 As readers know, I have a soft spot for Botanical Gardens. This shot shows a pleasing vista.
Talk amongst yourselves!