This is Naked Capitalism fundraising week. 826 donors have already invested in our efforts to shed light on the dark and seamy corners of finance. Please join us and participate via our Tip Jar, which shows how to give via credit card, debit card, PayPal, or check. Read about why we're doing this fundraiser, what we've accomplished in the last year, and our current target.
By Lambert Strether of Corrente.
Bringing this mobile project to fruition is one of the reasons we asked for your help with tech funding (and why help with tech was the our first goal). So here are the first fruits of the project, in the form of screen shots (since the site is really pre-alpha, so far as interaction with real users is concerned). This being Naked Capitalism fundraising week, the tip jar is to your right.
Spoiler alert: We're going to ask for testers at the end of the post; neither Yves nor I have smartphones!
Caveat: We're not asking for design help; "This typeface is twee", or "Could you change orange and grey to teal and pink?" are issues we can probably work out for ourselves, later, and are much lower on our list than user experience ("UX"); your experience.
We want UX feedback like: "This button doesn't work for primates with normal sized thumbs," or "When I press submit, the screen goes Wahooni-shaped," or even "Company X handles the search box like this, and I think you should copy that approach." Raising and resolving issues like these will be very helpful, both to us, and to all Naked Capitalism readers.
So, all that said, the screens that follow are proof of work, and proof that we listened to you when we got rid of the hated rather unloved OnSwipe, and worked to come up with a substitute. We've concentrated on the front page, comments, and begun to work on search. Full articles are yet to come, as is a mobile approach to material that lives on the sidebar for PCs and laptops. A big hat tip to our tech guy Tony for fighting his way through this on a tight deadline. Herewith: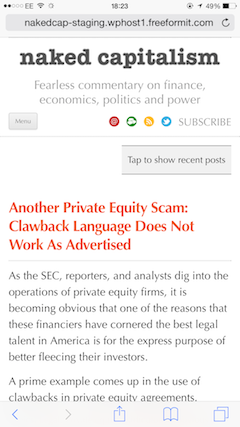 1) The familiar Naked Capitalism logo and colors.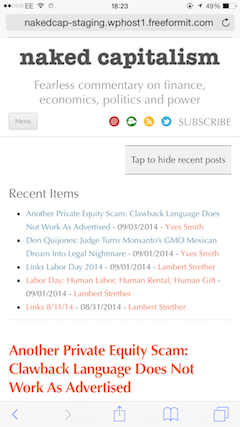 2) Recent posts appear when you tap on the recent posts button. (If you don't like that extra tap, that's a UX issue, and we want to hear about it.)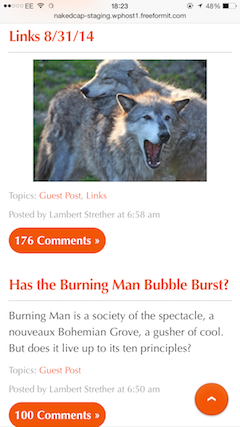 3) Here's the antidote, which is really going to pop on a retina display (with one comment treatment).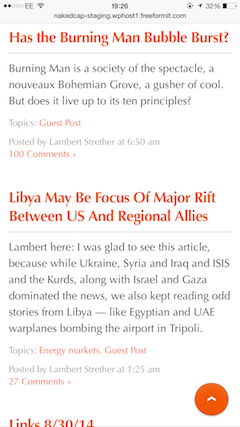 4) Swiping through the front page, showing several article (with a second comment treatment).
5) Comments nest. (Lambert: But how far?)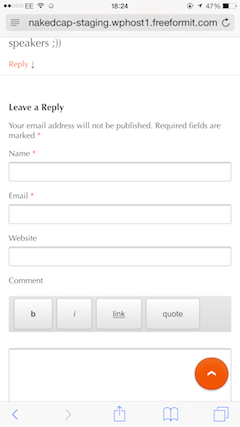 6) The comment entry screen, which adapts the improvements we rolled out for this fundraiser.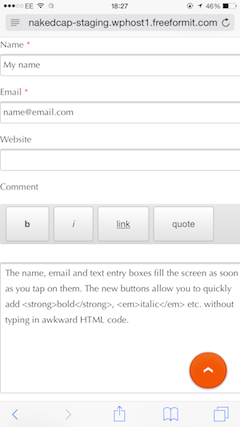 7) How the fields for commment entry will work: Tap to enter your name, and so forth.
I have to say, I'm an old-school blogger and I do a ton of reading, and Yves does way more; you can have no concept of how much material we process per day; we are like Baleen whales for data instead of krill. So the idea of reading material, especially long form material, on a tiny screen just seems incomprehensible. But I hang out a lot at the university union, and I see kidz these days reading text books on their cellphones all the time, and you can't get more long form than a text book. So we must move with the times, and follow readers where they are going.
* * *
I said we'd ask for User Experience (UX) testing, so now I'm asking. We need a good range of current phones, and that's it. (Resources being limited, we don't want to be doing the mobile equivalent of supporting IE6, shudder, or Lynx on Ubuntu.) Our thought was to test for these platforms:
| | | |
| --- | --- | --- |
| Operating System | Manufacturer | Model |
| iOS 8 | Apple | iPhone 6 Plus |
| | | iPhone 6 |
| | | iPhone 5s/5c |
| Android | Samsung | Galaxy S5 |
| Android | Nokia | Lumia 635 |
| Android | Amazon | Fire Phone, 32GB |
| Android | LG | G3 |
| Android | HTC | One M8 |
Basically, these are Apple and Amazon top sellers. I think that "Android is Android" — that is, Tony won't be in the insane position of coding for three browsers that all work differently, as in the broweser wars on the desktop — so I think that basically any Android phone is OK… And I deliberately did not add a screen size column, because it seemed like I was already asking for a lot; readers will correct me on both points.
Bottom line is that this table is more a set of suggestions than a checklist. We need to cover a good range of the current models of iOS and Android phones. (I suppose a case could be made for Windows and Blackberry; if so, please make it comments.)
So, readers, if you want to volunteer for Naked Capitalism's Mobile Testing Unit, please say so in comments, and give the OS, brand, model name, and dimensions of the phone you'll be using — Android or iOS. And check out the Caveat above: We're looking for User Experience testers, not designers!
Thanks!
NOTE Pads and phablets are another project. The scope of this project is phones. The tip jar is to your right.