This is Naked Capitalism fundraising week. 672 donors have already invested in our efforts to shed light on the dark and seamy corners of finance. Join us and participate via our Tip Jar, which shows how to give via credit card, debit card, PayPal, or check. Read about why we're doing this fundraiser, what we've accomplished in the last year, and our current target.
By Lambert Strether of Corrente
Occupy the SEC (OSEC) has released "RepRank," an online tool that ranks House members by how they voted on finance bills, and plots their ranking against their contributions from the finance industry. They then go on to offer an interpretation of their data. First, I'll summarize their methodology; then I'll present their interpretation; and then I'll give a worked example of their hypothesis to see if it proves out. Spoiler alert: It does.
Here's OSEC's methodology, which is indeed refreshingly simple:
Our methodology was rather straightforward. We created a simple formula that allowed us to produce a score between 0 and 100 for each member of the House. . Conversely, a score of 0 means that the member took the opposite view of OSEC on all considered bills.

Additionally, we gave some weight to the sponsorship and cosponsorship of bills…. Co-sponsorship of bills was treated in a similar fashion but the weight we applied was smaller. Lastly, we added a multiplier to each bill that reflected the importance of the bill and its potential impact. For instance, if the bill was just a minor "technical fix" then it received a small multiplier, but if the bill was aimed at, say rehauling an entire agency (as HR 3193 aims to do by changing the makeup of the CFPB), then we viewed votes on that bill as being more significant, and consequently applied a larger multiplier to it.
(The end product is a lot like the "scorecards" you find at places like FreedomWorks.) So here are the top four members as ranked by OSEC:
Figure 1: Four Top-Ranking Democrats

.
On the site, you can click on each member's name to see their record, and you can click on each HR to see a summary of the bill and OSEC's recommendation. For example, H.R. 992, the "Swaps Regulatory Improvement Act," drafted by Citi, which Clarke, Nadler, Grayson, and Chu all voted against:
This bill continues to concentrate and centralize risk in financial institutions by allowing them to engage in more derivatives activities and still be eligible for government bailouts. Additionally, this concentration of risk will reduce balance sheet transparency and increase the difficulty for regulators in trying to identify and prevent risk concentrations before they pose a systemic risk.
Obviously, that's a bad bill, and therefore the House passed it. However, H.R. 992 also had bi-partisan support. Here is a table that shows the Democratic co-sponsors, and their rankings:
Figure 2: Democratic Co-sponsors of H.R. 992
| | |
| --- | --- |
| Representative | Ranking |
| Himes | 28.5 |
| Maloney | 30.7 |
| Scott | 41.6 |
| Schneider | 23.0 |
These are, of course, by no means the worst Democrats. Here are the four worst:
Figure 3: Four Lowest Ranking Democrats
| | |
| --- | --- |
| Representative | Ranking |
| Cuellar | 8.3 |
| Barrow | 8.3 |
| Schrader | 16.6 |
| Rahall | 16.6 |
Here is OSEC's commentary based on that data:
After we produced the rankings we went a step further and tried to make more sense out of voting records by looking at where members received their political contributions. In particular, what interested us was how much of an individual member's political contributions came from sources in the financial services industry. It's no secret that Representatives who receive heavy support from the financial industry typically vote in that industry's favor. Our analysis tracks this phenomenon.

The graph below maps each member's score against the percentage of the member's contributions that came from the financial industry. One thing you can see is that the individuals who scored the worst received the largest fraction of their political contributions from the financial services industry. (For instance, Rep. Scott Garrett Rep. Scott Garrett received about 70 percent of his contributions from the industry and received the worst score possible). Conversely, those who had the better scores received minor contributions from the industry.

One thing we see pretty clearly in the middle is that This trend was not surprising and helps to account for the fact that the scores for Democrats have a higher spread relative to their Republican counterparts, who tend to vote in lock-step with each other. The spread in scores for Democrats suggests, as many people already recognize, that accurately gauging where Democrats stand on issues is a more difficult task.
To test that commentary, I mapped out our Top Four Democrats (red), Bottom Four Democrats (yellow), and the Democrats who were Co-Sponsors of H.R. 992 (green, for reasons that will become obvious in a moment):
Figure 4: Spread in Democratic Scores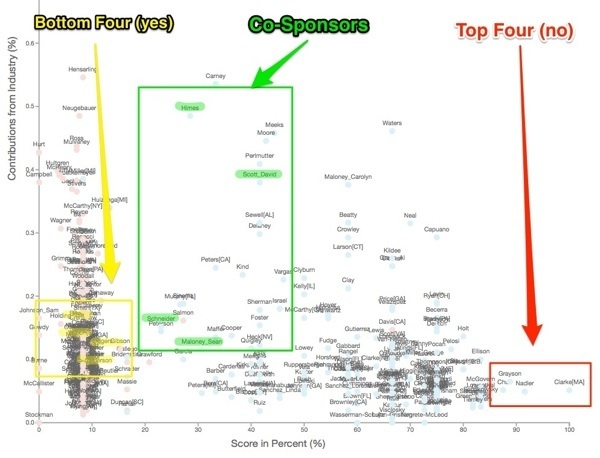 Notice that the Democratic co-sponsors of HR 992 — again, a really bad bill, drafted by Citi; Mother Jones has a handy chart of the changes — find the Judas Goat role of sponsorship — green, "in the middle" — quite profitable; more profitable, in fact, than simply being lackeys for the banks, like the four bottom Democrats.
Of course, the Judas Goats are all "New Democrats." How cozy. I'm not sure, however, how "new" this behavior really is.
So I would say that OSEC's commentary has merit. Plus RepRank is a keen tool.
NOTE Geek kudos for the SVG format: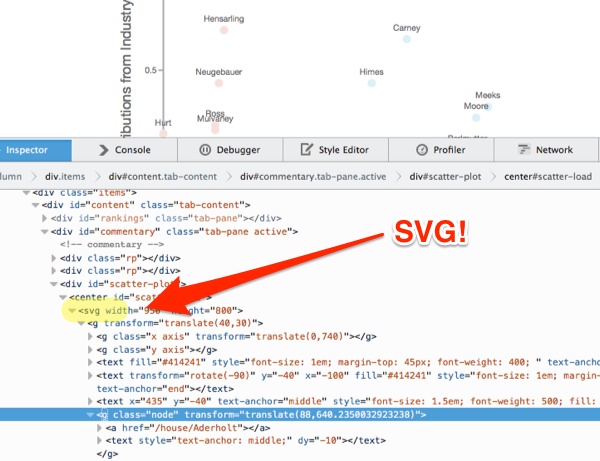 In FireFox, I could actually use Firebug to search for the names of representatives on the chart — though unfortunately, the location is a little rough. Where the screen is really dense with data, and hard for FireBug to render, the locations are approximate.
Addendum
Of course, the contributions that the banksters give the Congress critters are quite trivial set against the returns. When issues like this crop up, I'm always reminded of the following parable, introduced by Ian Welsh:
I believe that any corporation large enough to buy politicians which isn't doing so is clearly failing in its fiduciary duty.

But it's the cheapness which used to puzzle me. No more though. My friend Eli pointed out what should have been obvious to me.

(They sell out cheap) because it's not their money. It's like selling your neighbor's car for twenty bucks.

America's politicians: cheap and crooked.
Not all of them, as Clarke, Nadler, Grayson, and Chu show. But… sigh.