This is Naked Capitalism fundraising week. 738 donors have already invested in our efforts to shed light on the dark and seamy corners of finance. Our goal is 1000, so please join us and participate via our Tip Jar, which shows how to give via credit card, debit card, PayPal, or check. Read about why we're doing this fundraiser, what we've accomplished in the last year, and our current target.
Lambert here: For Christians, at least, I would have thought the old concept of stewardship would do the trick. The good steward, after all, doesn't let his master's house burn down before putting out the fire. I was going to add a little snark about combustion not being "settled science," when it occurred to me that not doing such a thing was the exact point of the article. But what to do? The article poses the question, but has no answer. Readers?
By Chris Becker, a proprietary trader and investing strategist. Chris is a former financial advisor and portfolio manager for a boutique financial services company with extensive experience in equities analysis, investing and derivatives trading. Originally published at Macrobusiness.
The scientific community at large has been successful at convincing a majority of the public that the risks of global climate change are rising, due to man-made contributions from carbon dioxide pollution.
The problem that stands in the way of real progress, is that even though a solid majority of the voting public seem convinced about the risks, the campaign is still stuck in the quagmire of the so-called "science is not settled" question, which implies a binary outcome and effectively a stalemate.
A recent US study by Randy Oslon into who is holding back this progress is fascinating, if not a little non-surprising given the scientific nature that surrounds this problem as he puts forward this starting question:
Do climate change deniers know all there is to know about climate change and global warming, but they still refuse to accept it because of their beliefs?
Using the UT Energy Poll, he then breaks down the results using the variables of household income, education, political affiliation and finally, religion. The results are pretty clear: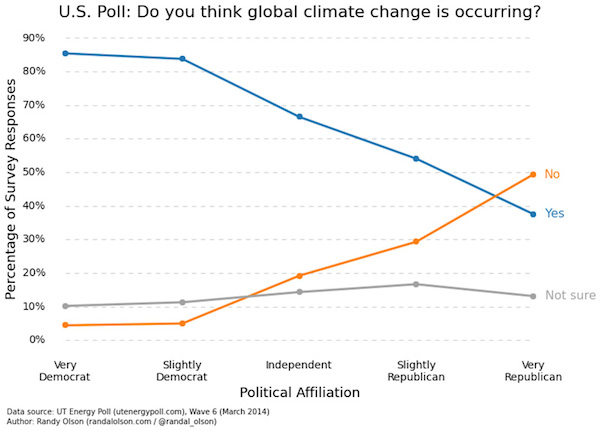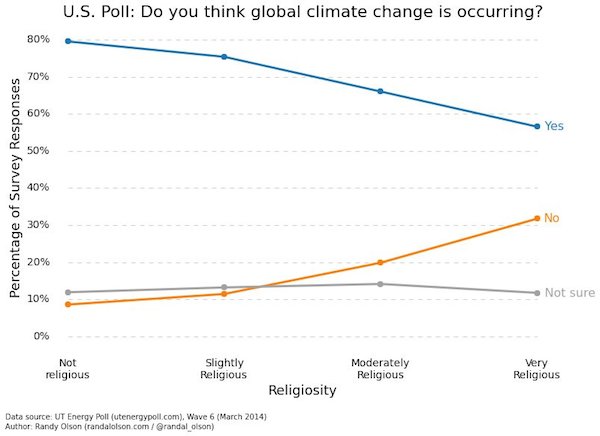 income and educational attainment have no effect whatsoever on whether someone accepts that climate change is occurring or not

86% of Democrats accept climate change, whereas half of all Republicans are still in denial on the issue

. While there are stillsome Democrats in denial about climate change, it's fair to say that the majority of climate change deniers today are Republican.

The more religious a person is, the more likely they are to deny climate change.

It's fairly clear from these graphs that

religious, Republican American conservatives are the majority of climate change deniers today.
As Randy Olson puts it, the problem is one of culture, not facts:
If income, education, and knowledge has little to do with climate change acceptance…Do conservative Americans deny climate change simply because it conflicts with their identity as a conservative?
An ultra conservative Australian Prime Minister, (without a science minister), and backed by a coalition of conservative "deniers", including corporate Australia, many of whom have a very religious background, in what is mainly a non-religious country is without question the reason that progress has not only stalled but gone backwards down under.
If the stumbling block to progress is to convince a body politic that, at their core ideology do not "believe" in facts (on climate change, economics or religion) then perhaps dropping the endless battle about "settled science" is a good start, and framing the problem in terms they can understand.
It is indeed ironic that climate science has been labelled a "religion" by those most likely to be religious, and therefore unwilling to take facts on faith.