By Lambert Strether of Corrente
Readers, this Water Cooler is a little bit light; I was up late last night dealing with Dr. Karl Jonathan Gruber.
2016
Congressional job approval at 9% [The Atlantic].
Republicans mull government shutdown over possible Obama executive action on immigration [Reuters].
Activists toss the immigration hot potato to Hillary Clinton; Bill Clinton tosses it back to Obama [Politico].
2014 Fallout
Republicans set up "hidden on plain sight" dead drops on Twitter to share polling data with supposedly independent PACs. If this constitutes "coordination" between party and PAC, it's not legal [CNN]. Twitter's been used for such purposes before; the innovation is the dead drop account.
Of course, if the Republicans really wanted to move legislation and "show they can govern," they'd abolish the filibuster [Bloomberg]. They don't, so they won't, just like Democrats.
Mexico
Party that rules Guerrero state, where 43 students disappeared, on verge of dissolution [Telesur].
Protest march on 43 students in Mexico City, where earlier police fired shots at National University [Telesur]. Protests nationalized [WaPo].
General strike called for November 20 [Al Jazeera], including blocking the Mexico City airport [Truthout], by the Mexican Inter-university Students Assembly, with students from 79 schools [Telesur].
Mexico's "rule of law" problem [WSJ]. It can't happen here!
Ferguson
What the Darren Wilson tapes show and don't show [New York].
Preparations for the Darren Wilson grand jury verdict by protesters [New York Times].
10 illegal police actions to watch for [HuffPo]. Seen them all with Occupy.
Unified police command; no "self deployment" [St Louis American].
Law enforcement consultant perspective, but interesting. Ferguson is a "scheduled crisis," depending on the grand jury verdict. Watch for the "Schelling moment" [St Louis Magazine].
Lessons for Ferguson from Cincinatti in 2001 [KSDK].
Parallels between lynchings and police killings in America [Daily Kos].
Hong Kong
"Second hand-over" coming in Hong Kong? [Straits Times].
America the Petrostate
JP Morgan settles with Eagle Ford mineral rights owners, terms undisclosed [Bloomberg]. Self-dealing, excessive fees, looting, etc.
Chesapeake faces subpoena from several states [Propublica]. Inflated operation expenses, excessive fees, price fixing, looting, etc.
ObamaCare
100,000 applications, according to Sylvia Burwell [Bloomberg].
Even the Times understands: Like I said, ObamaCare is set up to "nudge" people to renew, but renewal traps you into higher prices (but see below) [New York Times]. With handy map.
People who don't re-enter their information will receive the same subsidy as last year, regardless of what happens to their income and the benchmark. That means that it's easy to end up underpaying and getting hit with a big bill at tax time — or paying too much and not realizing it.
And either way, ObamaCare's hosed backend can bill you twice, bill you not at all, or bill you for the wrong amount. (NOTE: Whoopsie! Above, I left out the fork of the dilemma where if you renew, yet your income goes up, you might get hit with a tax bill, because your subsidy should have been reduced, because I didn't take the scenario that my income might increase into account. Of course, that makes sense, with real hourly wages decreasing for most people.)
Great headline: "Health Law Turns Obama and Insurers Into Allies" [New York Times]. Mission accomplished!
Imperial Collapse Watch
The drone program in Pakistan [The New Yorker]. I wonder if there'd be less blowback from a formally declared, open war?
Eric Frein's "Dear Mom and Dad" letter: "[T]he time seems right for a spark to ignite the fire in the hearts of men" [Poconos Record]. Attention must be paid….
Class Warfare
Steven Rattner: US low on the Gini co-efficient leaderboard, until taxes and transfers are factored in, after which we're #1! [New York Times].
News of the Wired
* * *
Readers, feel free to contact me with (a) links, and even better (b) sources I should curate regularly, and (c) to find out how to send me images of plants. Vegetables are fine! Fungi are deemed to be honorary plants! See the previous Water Cooler (with plant) here. And here's today's plant: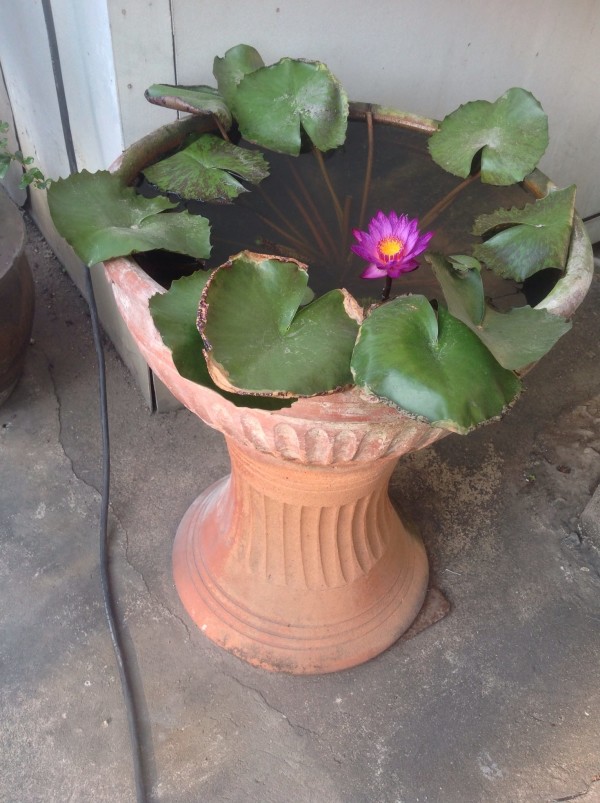 Talk amongst yourselves!