By Lambert Strether of Corrente.
"Please, sir, I want some more." –Charles Dickens, Oliver Twist
I confess that this second ObamaCare enrollment period is even harder to write about than the first, because watching our famously free press normalizing — as "shopping" — what is clearly an insane system is so painful and degrading to watch. Perhaps the website debacle last year — an IT disaster for which nobody with executive authority has been held accountable, not even by our fiercely oppositional Republicans — has had the paradoxical effect of setting the baseline for ObamaCare's success so low that even the most marginal improvements induce a mutual group hug in the usual cluster of reporters, apparatchiks, and political appointees. "At least the website works" is an awfully easy story to write.
Anyhow, the stories read like coverage of holiday shopping ("shoppers" having replaced "consumers"). There are crowds, and sometimes balloons, or cookies. Venues are brightly lit. Some shoppers are intent, others confused. Some buy at once, others take the brochures home. There are greeters, floorwalkers, assistants. Random individuals are quoted by name! The "experience" is great, except when it isn't. Occasionally, there are problems, mostly technical. "Computers!" There are very few numbers, no context, and no analysis (Bloomberg, Reuters, WaPo, New York Times, Contra Costa Times, and many others.) It's as if the entire press corps took Obama's riff that buying health insurance should be like buying a flat-screen TV, and reverse engineered their stories out of it.
Never mind that ObamaCare shoppers are highly unlikely to know what they're actually buying.
To avoid becoming bogged down in all this dull normality, I'd like to focus on three things: (1) The numbers game; (2) information technology; and (3) traps for the unwary enrollee.
(1) A General Lack of Purpose and Direction
A story almost as easy to write as "the website is working this year" is the numbers game: "How many signups will there be?" (Never mind that since health insurance is not the same as health care, we aren't sure from the signup numbers what the concrete material benefits to enrollees are; you write the story with the numbers you have.) And that's a very safe story to write, since not only do we not know how many will enroll for the first time, we don't know how many will re-enroll, either. (IT issues prevent us from having these numbers, even if the vagaries of human behavior were taken into account.)
Politico has a puff piece on the "much more precise strategy" the administration is using this year, but International Business Times speaks of "malaise":
The limited talk about the Affordable Care Act — only 44,000 mentions on Twitter at press time Saturday for "Obamacare" and less than 50 for "HealthCare.gov" — appears to fall in line with a general malaise about the law. While the number of uninsured Americans has fallen by about 10 million since last year, there as still 41 million people without coverage, and administration officials have said they are expecting through  HealthCare.gov during this open-enrollment period.
A net gain of two million? That's not very much. You'd think — given the death rate — that signing up as many people as fast as possible would be Job One for the administration, but apparently not. In other words, the answer to "How many signups will there be?" is "Not nearly enough!" So what is the purpose of ObamaCare, since apparently delivering life-saving health care is not? 'Tis a puzzlement!
(2) Mind-Bogglingly Horrible Information Technology
First, the back end is still broken. This really is mind-boggling. I'd rather write about the 2016 horse race than this, and since that makes me want to claw out  my eyeballs, you know how bad this is. For review, from 2013:
NOTE [2] Frontend vs. backend from Stack Overflow:

Generally speaking, the "front end" is the user interface, and the "back end" is the code supporting that front end (responsible for database access, business logic etc). …

Frontend is what you do that the user can see. Like designing a user interface. Backend programming is the code that the user doesn't 'see'. This is what works with the data behind the scenes. For example fetching/inserting/deleting/updating a database. …
So, if the WordPress back end were broken the way the ObamaCare backend is broken, you would press Submit — work with me here, I know WordPress doesn't work ideally for everyone at all times — and rather than the bits and bytes of your comment being stored in a database, and then processed electronically and displayed as a web page, they would be appear in the backend by fax, and little elves would combine your comment's fax with other bits of paper, typing and scissoring and gluing very rapidly, and then display that as the web page. Yes, that would be expensive, cumbersome, slow, error-prone, and basically, not the way work like this is done. And your point?
Anyhow, when Obama called in a tech dude SWAT team to fix the website in November 2013, he had them fix — for reasons nobody has ever explained — the user-facing, visible front end, but not the database-facing, invisible back-end, with the result that lots of ObamaCare's data handling is, mind-bogglingly, still done by little elves. From the Philadelphia Inquirer:
"Everyone reports that there are still back-end issues," says Joel Ario, a managing director at Manatt Health Care Solutions and a former Pennsylvania insurance commissioner. "That means there will be some cleaning up to do in terms of reconciling accounts and making sure payments are correct and the coverage dates are correct."
That "cleaning up" is manual data entry.  And not only are little elves working for the insurance companies, they are working for CMS, too:
Insurance industry sources say the Centers for Medicare and Medicaid Services (CMS) had sorted through about 80 percent to 85 percent of existing accounts to make sure its records match those of insurers.
"Sorted through" is another euphemism for manual data entry. Obama's famously data-driven campaign apparatus seems to have been powered by computers, and not by little elves. Of course, campaigns are important, unlike signature domestic initiatives that involve significant financial decisions — not to mention life and death choices — for millions of Americans, out there shopping in the flyover states. What a shame they're not visible from the Acela!
But just because the back-end is still hosed — four five years after ObamaCare was passed, mind you — doesn't mean the front-end isn't, in its own very special way, hosed too. One of the shiny new features rolled out in this year's non-crashing model of the website is "window shopping," which permits you to compare plans without first going through an insanely cumbersome registration process that hands all your personal data to the government. CMS Administrator Marilyn Taverner, who still has a job:
"Using this tool, consumers can compare plans, covered benefits, and physician and hospital networks before the Marketplace annual open enrollment period starts on November 15," CMS Administrator Marilyn Tavenner said. "New features will give consumers a comprehensive picture of the plans in their area so they can choose the one that's right for them."
First, let's set a baseline. Let's look at… Oh, flat screen TVs at Best Buy. What you do is, you check boxes next to the TVs you want to compare, click the Compare button, and the site builds a comparison page that looks like this: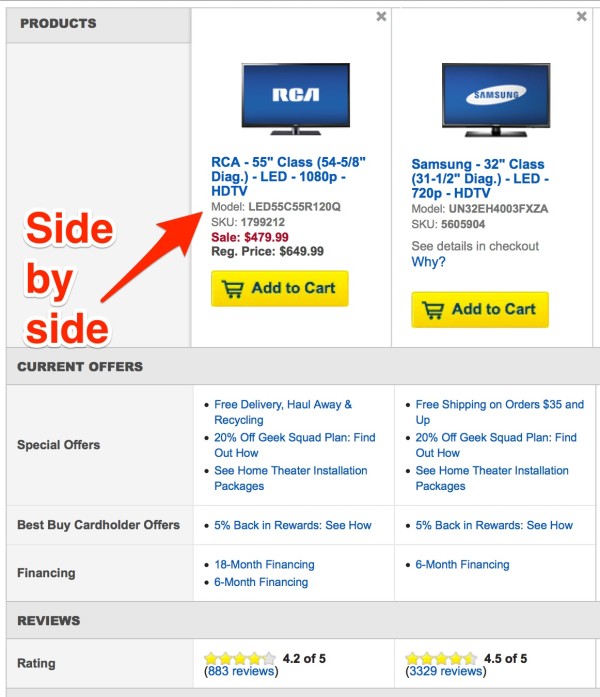 Handy, right? I can compare the two products at a glance, because they're side by side. So  I put on my yellow waders and went to healthcare.gov to "browse my coverage options", selected a couple of plans, and again clicked the Compare button. Never mind the hardly affordable prices, just look at the screen: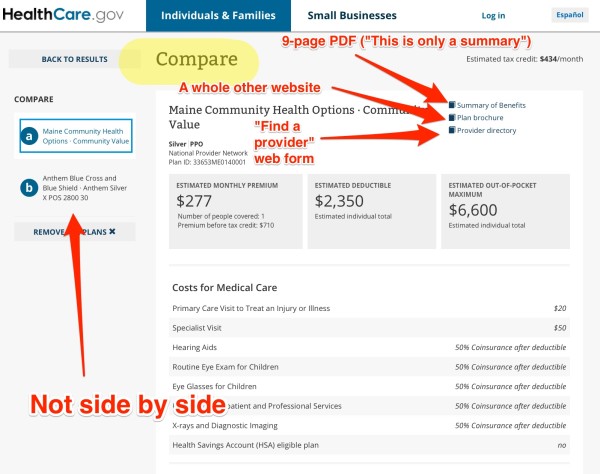 Are the two products (labeled "(a)" and "(b)" in the left hand column) side by side, like the flat-screen TVs? No. You click the (a) button, you get the page for product (a) ("Maine Community Health"), and when you click (b) ("Anthem Blue Cross and Blue Shield") you get that page. So if you want to build a product matrix, you're going to have to do it yourself, like a little elf! Even though, as Best Buy proves, a second-rate chain store can deliver what Marilyn Tavenner cannot.
But wait! There's more! Smart shoppers know that it's not enough just to look at the brochure; you've got to dig into the actual policy; so to really understand the product, you click on the "Summary of Benefits" and read a 9 page PDF file (if you have a PDF reader). And then you click on "Plan Brochure" and get taken to a whole other website! And smart shoppers also know that you can get gouged if you go to an out-of-network provider, so you will want to click through to the "Provider Directory," which turns out to be the search page for another website. [1] That was plan (a), so, gamely, you do the same for plan (b), where the "Summary of Benefits" is ten pages long, with a different layout, in Microsoft Word (assuming I can read Word), the "Plan Brochure" is another website, with a different design, and the "Provider Directory" is another search page, except with different fields from plan (a)'s. So that's two plans with six different interfaces and three data formats (HTML, Word, and PDF).[2] Imagine the combinatorial explosion if I wanted to compare four plans, or six! I work on computers all day. I'm a sysadmin. I can code. And I find this  intimidating. How am I supposed to cajole my little elves into adding all this incompatible and obfuscatory material to the product comparison matrix I have already asked them to manually create? Do they think I have all the time in the world?[3]
So when I read about people breezing into some brightly lit ObamaCare enrollment venue and signing up in half an hour, I think those people must be awfully trusting. These are expensive products, they can have a big impact on your life for good or ill, and nobody wants you to know how good they are.
How do you know that? How do you know that this whole "comparison shopping" scheme is bogus? The answer is right there on those two screens. Best Buy has a "reviews" section. ObamaCare does not.
(3) A Minefield With Missing or Deceptive Signage
First, remember that ObamaCare, as a neoliberal program[4], is all about the shopping. You are encouraged to shop, and to switch plans. Obama:
You only have three months to shop for plans, so it's worth starting right away.  If you already buy insurance through the online marketplace, now is the time to take a look at some new options for next year.
To those who already have coverage, Ms. [Emily Black Bremer, the president of the Missouri Association of Health Underwriters] offered a bit of advice: "Rates are increasing, plans are being added and discontinued, and benefits within plans are changing. Consumers who do not take an active role in evaluating their benefits and subsidies may find themselves unpleasantly surprised in 2015, or at the very least paying more than they have to."
But there are peculiar consequences to shopping in the ObamaCare "marketplace" that don't happen at Best Buy. One is that you can get billed for a different product than the one you bought, or even for two products when you only bought one. Why? That mind-bogglingly screwed up back-end.  Remember that CMS had little elves doing a lot of manual data entry? Politico:
The agency is not likely to be done by [November 15]; the latest best-case scenario is for the job to be finished by Dec. 15.
So people will be signing up for next year even though the little elves haven't finished cleaning up last year's data. What could go wrong?
The date is key because . Nor will the health plans always know promptly if a customer dropped one plan and chose another
So ObamaCare can still screw up your billing if you just auto-renew. But it can also screw up your billing if — as the President of the United States and the President of the Missouri Association of Health Underwriters both advise you — you switch plans. Philadelphia Inquirer:
It may be the law's second enrollment but it marks the first time healthcare.gov will manage 7 million people renewing their policies – some of whom will change plans, carriers, or both – while enrolling about the same number of new consumers.

While people are being urged to shop, switching plans is exactly what has insurers worried. Because of back-end communication issues, insurers won't be able to tell the difference between a customer who has auto-renewed and one who has left for another company.

A termination file will not be sent from the marketplace to an insurer when someone switches companies until after the exchange closes on Dec. 15. So an insurer will not know that it has lost a customer until the reconciliation process takes place.

For consumers who switch, that can mean getting billed for two plans, or worse, getting lost in the system.
Fortunately, or not, most shoppers consumers citizens aren't entirely insane, and aren't going to listen to either of our presidential insurance salespersons. Most of them will stick with "what works," their current plan. Politico:
A majority — 68 percent — who received insurance through the exchanges said they plan to renew their policy
Phew! But wait! There's a special minefield laid for those who renew! It's called "The Silver Plan Baseline Effect."  Health Care Policy and Marketplace Review:
This is all compounded by something called the baseline Silver Plan's effect on subsidies. The second lowest cost Silver plan in any market determines what a person's subsidy will be. Last year, that plan was probably the plan that got the biggest enrollment and also the plan with the biggest rate increase this year. So, it's probably the plan George has….

But because George's plan is no longer the baseline plan, even though George is on subsidy and he is supposed to be shielded from any rate increase by the taxpayer, his premium is going up unless he changes to the insurance company that now holds the honors as having the second lowest cost Silver Plan.

So, George scrambles, in the very few days between his getting his January premium invoice (likely about December 6th) and the January 1 cut-off for open enrollment on December 15, to sign-up for that lower cost plan and save his full subsidy.
So, as in any marketplace, you have choices, because life is all about choices: You can stick with your plan, and step into the minefield of rate increases from the "Silver Plan Baseline Effect," or you can switch your plan, and step into the minefield of getting billed for the wrong plan, or billed twice, or lost in the system. That's some catch. Of course, looking on the bright side, they can just screw up your billing no matter what you do, because billing is one of the things that the back end is supposed to be doing, but little elves are doing instead.
Conclusion
At this point, I will issue my ritual prophylactic disclaimer that of course some people are helped by ObamaCare; a program as big as ObamaCare is bound to do that. And for those who are compelled to comment on how great the plan they got is, I'm happy for you; I just think that every American deserves to be as happy and lucky as you.
It's the crapification that gets me: We've got, on the very same continent as our own, a single payer system that covers everybody for a boatload less money — those wacky Canadians call it "Medicare" — and the best we can do in this exceptionally great country, this shining city on a hill, is normalize a program that still leaves 41 million uninsured, that has gross defects in its construction, and that is a full of traps for the unwary that will cost you bucks to some unholy number or needed treatment for a vital organ, whenever you look at it sideways or put your foot down in the wrong place. Because markets.
NOTES
[1] If they gave you a fixed list of doctors, they would find it harder to swap your doctor out of your plan halfway through.
[2] The CMS developers put a thin layer of CMS-ness over existing insurance company IT.
[3] Yes. Yes, they do.
[4] The essence of neo-liberalism is transforming public social relations into transactions — ideally involving rental extraction — because markets.
NOTE
"ObamaCare and Its Opportunity Costs":
The key point to remember in all discussions of ObamaCare is that neither it, nor indeed the entire private health insurance "industry," should exist. They are rent-seeking parasites, economic tapeworms. One does not improve a tapeworm; one removes it.