By Lambert Strether of Corrente
Mexico
Huge Revolution Day protests in Mexico City's El Zócalo, others round the world; pictures [Guardian].
Marches across Mexico, largest 10,000 in Monterrey [Al Jazeera].
Ciudad Juarez and El Paso hold simultaneous events [Telesur].
Photos: All the photo editors like the masked dude with the molotov cocktail flaring in the background because photogenic [Guardian].
Zapatisto-like "community policing" said to spread to 80 municipalites in Guerrero, the state in which the massacre took place [Truth Digest].
More on Mexican first lady's mansion: [Latin Correspondent]. "Imagine if Michelle Obama bought a multi-million-dollar mansion from a U.S. government contractor that had just been granted a concession worth billions of dollars in highly suspicious circumstances."
General strike was called, but there seems to have been little uptake.
Buzzfeed looks for Mexico City reporter [Greenhouse].
Ferguson
Grand Jury deliberations, like, totally secret. Oh, except for leaking all of Darren Wilson's testimony. C'mon [Bloomberg]. Can do better.
Darren Wilson in talks to resign [CNN]. I smell "compromise." Six months before Wilson starts raking in the bucks on the conservative circuit? As long as a year?
Holder urges calm [Talking Points Memo].
Protests and holiday shopping [Times]. They called out the National Guard because shopping?
Governor Nixon puts Teach for America's Brittany Packnett, also a protester, on Commission [HuffPo].
Hong Kong
Senior Triad member "Mr Kong" says Mainland paid triads to infiltrate Occupy, citing Legco storming as an example [South China Morning Post]. Maybe Obama shared the DHS handbook with Xi? Probably not, actually, since the Chinese no doubt has expertise of their own.
Mainland immigration blacklist from Hong Kong [Roydon Ng]. And self-selected unscientific online poll: Does the Umbrella Movement represent the Democracy Movement? 44% yes, 44% no.
Activists protest at British Embassy [Straits Times].
Corruption
Prosecutors in Manhattan and Vegas probe casino operator Wynn Resorts for money laundering [WSJ].
Mahbod Moghadam, co-founder of Genius, publishes guidebook to shoplifting at Whole Foods [WaPo]. Here it is, an extended Rule #1 violation and meditation on what happens when we grant elites impunity. Best quote:
Unfortch, the best Whole Foods tend to have asshole security whereas the more "ghetto Whole Foods" (especially "college town / college campus" Whole Foods) have friendly security.
Priceless. Maybe Zuckerberg could hire this guy for PR?
"Mr. Krone, by then a millionaire" [New York]. This is supposed to be a story about tensions between Obama and Harry Reid. It's really about incest in the political class. Also too ka-ching.
2016
White House  Chief of Staff Podesta's on strategic planning at the "mantra-like insistence on engaging the private sector" (ka-ching) [Politico].  Beat sweetener?
Clintonland gears up, but concerns surface about campaign chaos again [Bloomberg].
Cory Booker "acting like a conventional pol" [Dana Milbank, WaPo]. Nobody could have predicted….
Methodology: "We use education as a proxy for class" [WaPo]. At least they mentioned the word….
Republicans should change what has been working for them as a party [George Packer, New Yorker].
Imperial Collapse Watch
The conquest of Presidentialism [David Sirota, HuffPo]. Hail seizure!
"Terror threat raised as Cotswolds Vicar declares Church of England Caliphate" [News Biscuit].
Class Warfare
13 percent of global wealth held by 0.004 percent of the population (211,275 people) in 2014, says Swiss bank UBS [RT]. There are not very many of the Shing.
Big Brother Is Watching You Watch
Cable and Wireless worked with UK's GHCQ to build surveillance system Snowden exposed [Channel 4 (Christopher)]
Stats Watch
Kansas City Manufacturing Index, November 2014: Activity expands at slightly faster pace [Bloomberg]."[D]ifficulties in attracting and retaining certain key workers." If only there were some way to solve that! Some invisible hand!
News of the Wired
Readers, feel free to contact me with (a) links, and even better (b) sources I should curate regularly, and (c) to find out how to send me images of plants. Vegetables are fine! Fungi are deemed to be honorary plants! See the previous Water Cooler (with plant) here. And here's today's plant (craazyman):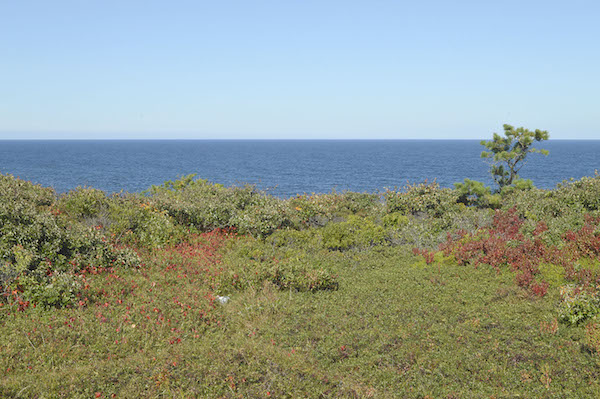 Beach roses… Could be Maine, but is Cape Cod.
Talk amongst yourselves!