By Lambert Strether of Corrente
Ferguson
Mike Brown, giant negro [Vox].
Handy map of the shooting [New York Times].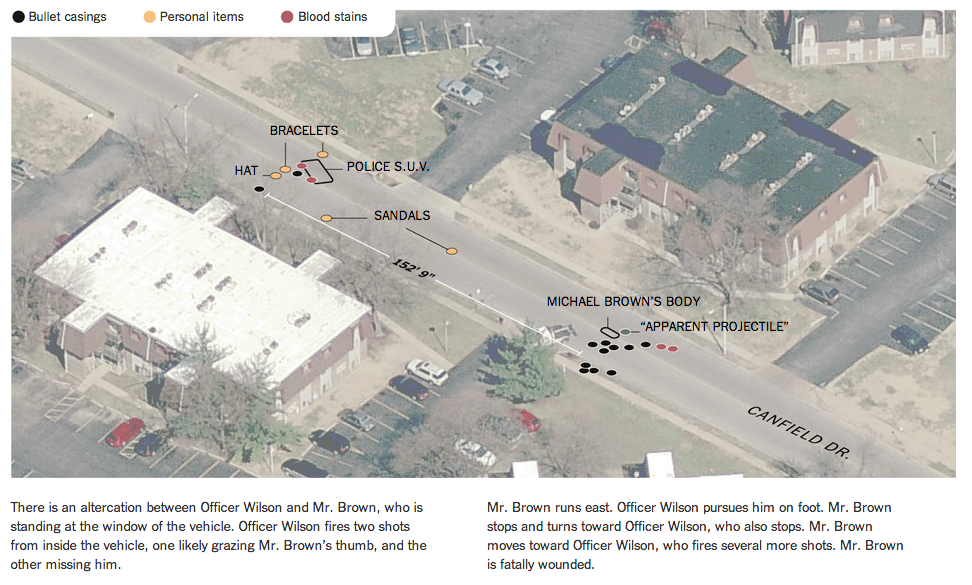 The human detail that I found most wrenching was leaving Brown's body out in the sun, uncovered. Now, for me, there's a second: Brown was running from Wilson so hard that he ran out of his shoes. Oh, and they're sandals. While I'm not a subject matter expert in this area, it seems unlikely to me that a thug would set out to rob a store in flip-flops, exactly for the reason we see here. (UPDATE Sorry, wrong map. Now here's one we hope you'll really like. Note that this map corresponds closely to the "138 feet" map proposed in a Daily Kos posting.)
Will the Ferguson protests have "staying power"? [Christian Science Monitor]. This is a good round up of organizations and organizational styles, but in essence still "What are their demands?" From the armchair: I have the feeling demands can come last and organically. One of Occupy's strategic problems was scaling to a large continent; the movements of that moment were very much of city squares: Tahrir Square, Puerta del Sol, Zucotti Park, MacPherson Park, Frank H. Ogawa ("Oscar Grant") Plaza. But how does occupying that sort of ground work, in a continent of suburban sprawl? Especially when suburban sprawl defines "the heartland"? Well, the freeway stoppages of yesterday and today (Dallas, Atlanta, Boston, Oakland, New York) are a partial answer to that. Not a sufficient answer in and of themselves, but displaying adaptability.
And speaking of continental scaling [CNN]: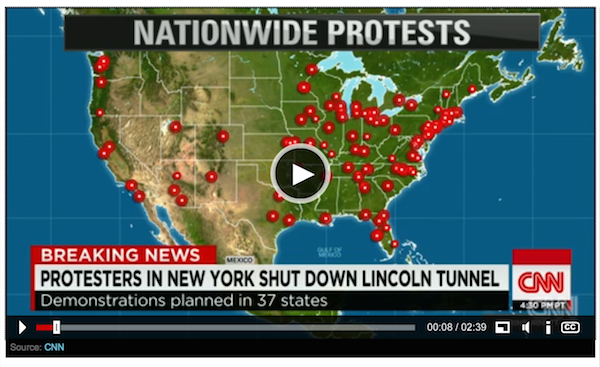 Impressive, especially for the day before Thanksgiving.
"Such seemingly un­or­tho­dox forensic practices" [Washington Post]. I love dry humor.
Michael Brown's Mother: "My Son Doesn't Have a History of Violence" [CBS]. My question is how long before Wilson becomes a hero on the right wing talk show circuit. I give it six months.
Pro-cop twits bully school superintendent into submission [Corrente]. Kudos to the feral right for hammering their framing firmly in place.
Fergusonians linking arms to protect Cathy's Restaurant [CNN].
"The man, who is white and in his 50s, says he believes most of the trouble was caused by people from out of town" [BBC]. So if old white farts like me are saying out-of-towners….
Ferguson's mayor says National Guard wasn't deployed quickly enough to protect businesses [AP].
National Bar Association calls on DOJ to pursue Federal charges against Darren Wilson [National Bar Association].
Federally funded real estate segregation and today's Ferguson [The American Prospect]. Awful, shameful stuff. Important.
The U.S. could learn a lot about domestic policing from what it preaches abroad [Foreign Policy].
Reading suggestions from Bill Moyers [Moyers and Company].
Nicely curated collection of random updates [New York Times].
Hong Kong
Mong Kok wants to escalate; Admiralty does not [Foreign Policy]. Mong Kok protesters re-occupy territory cleared by police [Times]. Summary of Day 59 [Roydon Ng].
Student leaders Joshua Wong and Lester Shum arrested [International Business Times].
2016
Hillary Clinton's offer to have a listening tour in Fergusion [New York Observer]. Ha. You didn't fall for that, right? The cliche is "deafening silence." Yes, the giant ocean liner that is Team Clinton steams onward, unconsidering of the waves and currents beneath and storms ahead. "Don't be half safe. Take the Titanic!"
Climate Change
Obama unveils new guidelines to bring US up to par with ozone standards in other industrialised countries [Guardian]. A victory for environmental groups. Tomorrow, their question should be: "What have you done for me lately?"
Western States Petroleum Association PowerPoint deck leaked [Businessweek].
"Six Myths About Climate Change that Liberals Rarely Question" [Resilience]. Beyond the partisan celebrity death cage match.
ObamaCare
Go shopping [AP].
"How all this shakes out will depend on one big wild card," said Larry Levitt of the nonpartisan Kaiser Family Foundation. "Will current enrollees become savvy shoppers or just sit back and stay in their current plans?"
Because markets, right? We don't even know, and so we conducted a ginormous medical experiment on the health of the American people without their informed consent, and one we didn't even have to make. Goobers like Levitt are nutty ideologues who wouldn't know what ethics are if Hippocrates came back from the grave and slapped them silly. I wrote:
[S]ince the mid-70s, when Canada adopted its single payer system, we've conducted the largest controlled experiment in the history of the world. We've had two political systems spanning the same continent, both nations of immigrants and once part of the British empire, both mainly English-speaking but multicultural, both with Federal systems, and both with a free market system backed by social insurance. And the results of the experiment? The "evidence"? Canadian-style single payer wins hands-down.
Headline: "HealthCare.gov Is Fixed — 462,000 O-Care Sign-Ups In Week" [Talking Points Memo]. Marshall's Obot bias is showing. First, healthcare.gov is not "fixed," because the back-end is broken. And if you think that's a minor issue, ask anyone who know who administers a website what happens when MySQL barfs and falls over or apache gets a case of aphasia; that's their back-end. Second, I continue to point to the remarkable (remarkable for any administration other than Obama's) lack of accountability for the launch debacle. The management #FAIL went straight to the White House. Did anybody's head roll? No.
Stats Watch
Jobless claims, week of November 22, 2014: Higher. "There are no special factors to explain away the jump" [Bloomberg]. "[E]xplain away" rather does let the cat out of the bag, doesn't it?
Durable goods orders, October 2014: Headline up, core disappoints. Looks like the bump is defense aircraft [Bloomberg].
Consumer sentiment, week of November 23, 2014: Buying climate measure best since 2007 [Bloomberg].
New Home Sales, October 2014: Soft, lower than expected, but a volatile measure [Bloomberg].
News of the Wired
Ruth Bader Ginsberg undergoes heart surgery to insert stent [ABC].
First espresso machine in space [Science Daily].
Traders shorting chickens [Bloomberg]. No, really.
Twitter slowly killing off third-party developers [Marco.org]. It's like management is in a competition to make a great platform worse than Facebook.
Electoral democracy like that seen before 2006 will not return to Thailand for a long time [Foreign Policy].
Shakespeare folio found by librarians at a public library in St.-Omer, near Calais [New York Times].
Headline of the day: "Putin's tiger goes on goat-killing spree in China" [Globe and Mail]. With bonus points for the strategic hate!
Atlanta Fire Chief distributes self-published book to employees calling homosexuality morally equivalent to bestiality, is suspended [Washington Post].
Story-telling as a tactic to bring about social change [Social Policy]. Query: Can all understand of public policy, or all public policy proposals, be expressed as narrative?
"The Other America" [Martin Luther King].
2014 Lovejoy Address by James Risen [Colby]. Note the St. Louis connection. The past is not dead. It's not even past.
* * *
Readers, feel free to contact me with (a) links, and even better (b) sources I should curate regularly, and (c) to find out how to send me images of plants. Vegetables are fine! Fungi are deemed to be honorary plants! See the previous Water Cooler (with plant) here. And here's today's plant (ginnie nyc):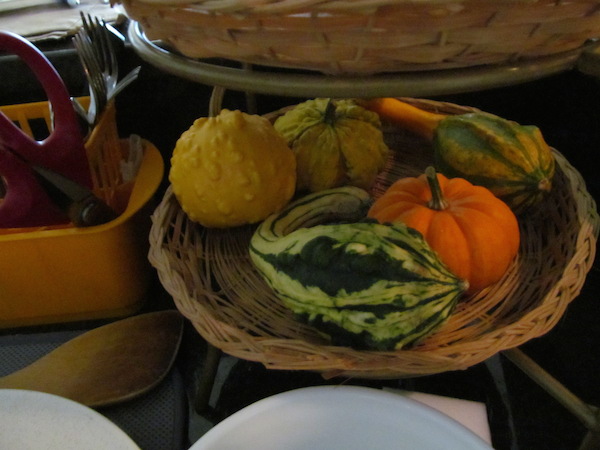 Mini-gourds.
Talk amongst yourselves!