By Lambert Strether of Corrente
Cuba
Richard Haas, president of the Council on Foreign Relations [FT, "Cuba Detente Is the Latest Sign the Cold War Is Over"]. Wait, did I not get the memo on Russia?
"Our Man in Havana," backgrounder on the secret negotiations [Foreign Affairs].
Cubans beware: "The only reason why the U.S. government has never fallen to a CIA coup is the lack of a U.S. embassy in Washington DC" [Moon of Alabama]. Bit of a high floater, there…
Thaw in relations won't affect baseball right away [Bangor Daily News].
Rand Paul in favor [Politico].
2016
Is Jebbie really more electable? [Talking Points Memo]. Ed Kilgore's not reading the right blogs; he doesn't mention Jebbie's bankster connections.
Organizing in Iowa; Warren as "progressive talisman" [National Journal]. Says author, like Kerry in 2004. Ouch!
Clinton aide meets with PCCC's Adam Green [Politico], although PCCC is not in the "draft Warren" camp. Green: "Our unique role is, we're trying to impact the playing field." Work on your clichés….
Clinton campaign to learn from 2008 mistakes [New York Times].
[S]trategists explained to donors over lunch and in presentations that Mrs. Clinton would need to run in 2016 the way she did after she began to struggle in the 2008 primary season.

By the time the [caucus-driven] delegate tallies favored Mr. Obama, Mrs. Clinton began to show a vulnerable, less scripted and entitled side. She adopted a message focused on lifting the middle class, and she connected with women and white working-class voters over kitchen table issues. She won primaries in Ohio and Pennsylvania.
Given that Clinton won the popular vote in the primary, if all the votes are counted, as well as all the big states, that might even make sense. Of course, that "strategists explained to donors" gives one pause.
Black Injustice Tipping Point
Justice sues New York City over "deep-seated culture of violence" at Rikers [CBS].
De Blasio, at Rikers, announces end to solitary for teens [Capital New York]. What is this, visionary minimalism? Why not talk about about ending the war on drugs, reversing the militarization of the police, and (while we're at it) real jobs for rural areas instead of prisons and casinos (and, to be fair, meth). For starters.
Witness index to Ferguson grand jury report [Another Word for It]. No, the Prosecutor's version didn't include one!
Mexico
Proceso story: "Peña Nieto's Own Federal Police Culpable in Ayotzinapa Massacre" [The Canal]. Widening fallout.
Op-ed: If we don't want narco states to our south, why not legalize "certain controlled substances"? [Baltimore Sun].
Mexican President spent $590M on travel and expenses, including a new 787 [Telesur]. That seems like rather a lot.
Hong Kong
The positive side of the umbrella movement [EJI Insight]. This is important. At least for now, I think one of the main benefits of "movements" is what, for lack of a better word, I'd call social capital: Trusted allies and interlocutors, rather than "demands."
Stats Watch
Jobless claims, week of December 13, 2014: "not signaling a significant shift, either higher or lower, for the December employment report" [Bloomberg].
Leading indicators, November 2014: "[C]ontinues to signal very strong near-term rates of growth" [Bloomberg]. "[A]gain the yield spread is the biggest positive for the index reflecting the Fed's near zero rate policy. Manufacturing orders, based on the ISM, are another strong plus." "Very healthy" and "supports hawks."
Fracking
How New York fractivists won their victory [The Albany Project]. Very detailed, very good.
Families flee out-of-control natural-gas leak at eastern Ohio fracking well [Columbus Dispatch]. Oddly, given oil prices, the company was trying to put the well back into production after it had been plugged.
Enbridge protester guily on pipeline sit [Battle Creek Enquirer].
Our Famously Free Press
"After Snowden," guest lecture by Alan Rusbridger [University of Sheffield]. Red brick, what?
Boston Globe editor who broke story of ranting HBR prof's $4 Chinese restaurant overcharge demoted, after marketing own T-shirt promoting same [Talking Points Memo].
Class Warfare
Pew study on the wealth gap with handy chart [New York Times].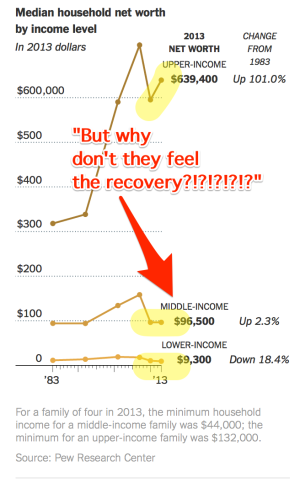 Syriza leader Tsipras promises to keep Greece in the Euro, keep "the budget balanced before debt costs," end austerity, and initiate "a substantial and tough negotiation" on Greek debt [Reuters]. And square the circle! Sounds like pre-capitulation to me, although perhaps "he has to say that." Comments from Greece followers welcome.
People who want an economy of genuine sharing are coming to recognize that they must embrace ownership [Shareable].
News of the Wired
* * *
Readers, feel free to contact me with (a) links, and even better (b) sources I should curate regularly, and (c) to find out how to send me images of plants. Vegetables are fine! Fungi are deemed to be honorary plants! See the previous Water Cooler (with plant) here. And here's today's plant (MM):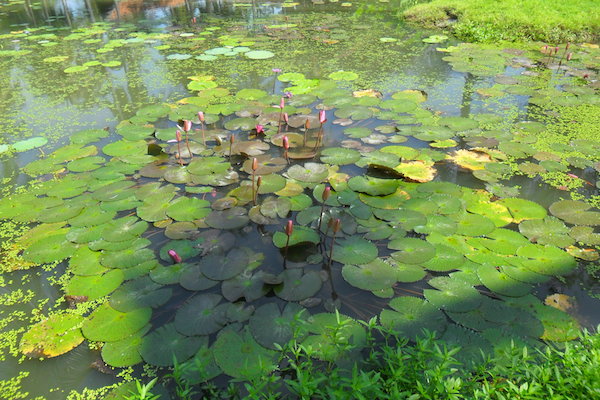 Talk amongst yourselves!