By Lambert Strether of Corrente
Ferguson
Prosecutor promised to release Garner grand jury evidence, then goes for "limited public disclosure" of mostly reported information [Bloomberg]. Odd.
Caskets to lead Garner march across Brooklyn Bridge [akacharleswade]. "Honoring the Dead," #43 – #46 of Gene Sharp's Non-Violent Methods.
Die-ins held on Brown and Garner (in no particular order) at Temple University, Philadelphia, PA; Clemson University, Clemson, SC; Detroit, MI; Pittsburgh, PA; Buffalo, NY; The College William & Mary, Williamsburg, VA; Columbia University, New York, NY; University of Deleware, Newark, DE; Philadelphia, PA; Emory University, Atlanta GA; Hamilton College, Utica, NY; Indiana University, Bloomington, IN; the White House, Washington, DC; Memphis, TN; University of South Alabama, Mobile, AL; Harvest Collegiate High School, NY, NY; Baylor University, Waco, TX; Lebanon Valley College, Lebanon, NH; Webster University, Webster Grove, MO; University of Southern California, Los Angeles, CA; Penn State, State College, PA; University of Chicago, Chicago, IL (Hi, Milt! [waves]).
The die-in, to Sharp, is a form of "Physical Intervention" (#162 – #173), like #162 (Sit-in), and #167 (Pray-in), although "Die In" is not mentioned specifically. The die-in takes the image of Brown's body, lying in the street, eyes open, uncovered, for hours, in the summer sun, and amplifies it.
Again, the list above isn't even a random sampling; it's just a quick aggregation, with no structural analysis to separate out college from non-college, for example. What is clear is that the answer to "How many die-ins are there?" is "A lot," and when you ask "Who's behind it all?" the answer is not, at least, Reverend Al or any of the Black misleadership class. I bet (no time now) if I searched for freeway blockages over the last few weeks, I'd find numbers that are similarly surprisingly large (though not as large, because they're harder to organize and riskier). I provide the aggregation to make the continuing point that the Fergusonians (I'll call them that, for lack of a better word) are working out, on the fly, methods of protest that scale continentally. It's impressive.
Meet the BART-stopping woman behind "Black Lives Matter" [Grist]. BART, like the freeways, being a transportation nexus. Continental scaling once again.
Garner video-er says the Grand Jury was rigged [Daily News]. On the video: "We've tried before to defend cops. … But there's simply no defending this" [NT2NY].
Now you can find what the Feds gave your cops, in the way of "tactical military equipment" like armored vehicles, rifles, night vision goggles, and so forth [Muck Rock].
Witness #40: A handwritten "diary," started on the day of Brown's shooting, that matches Wilson's story in every detail. Extraordinary [Esquire]. Missed this grand jury exhibit, which must be read to be believed.
Dash cams show the future of body cams [The Atlantic].'
DOJ appoints monitor to oversee "chaotic and dangerous" Cleveland police [Guardian]. Cleveland like Ferguson, IIRC, was severely hit by the foreclosure crisis, caused by banks. One hand grasps, the other manipulates…
2016
Democrats to hold wake post mortem autopsy taskforce on 2014 midterms debacle [HuffPo]. Get a load of the membership:
The post-mortem will feature a cross-section of party loyalists and activists, including Beshear, who was first elected in 2007 in GOP-leaning Kentucky; Schmidt, Google's former CEO and an informal adviser to Obama's team; Donna Brazile, the DNC's vice chair and a veteran of presidential campaigns; Colorado party chairman Rick Palacio and Lee Saunders, the president of the American Federation of State, County and Municipal Employees union.
Wowsers. That's some "cross section." Maybe somebody could ask Saunders why he's still there when, uniquely among all depressions hitherto, government employment actually went down on Obama's watch, due to the stimuless. And is wage-fixer Eric Schmidt the new Soros?
Although you'd never know it from the way Obots jammed Schumer's speech into the "he hates ObamaCare" box, the speech, though supremely tactical, is still the first serious look by a Democratic player on how the Democrats went off the rails in 2009 — I know, I know, but today is my day to be kind — and what they could do going forward, as we say [Ryan Cooper, The Week]. Incidentally — confirmation bias alert — this is the first Beltway-style, non-fringe article I've seen to point out the absence of filibuster reform in 2009 [NC, 2012] as a key fumble (again, I'm being kind). After all, if Reid did it for a few judges in 2013, why not do it for policy in 2009?
When Landrieu loses, "an end to the era of the Southern Democrats" [New York Times]. Maybe if they have to rebuild from the ground up, they won't try to be Republicans this time. A man can dream.
A famous anecdote from the trail in Louisiana [Bloomberg]:
"As you travel around, you meet these people who are very dependent on Medicaid, on Social Security," says former Senator John Breaux, who retired in 2004 and saw his seat won by Republican David Vitter. "These people could not make it without that. Those are basically Democratic programs, and those same people say, 'I don't want the government to interfere.' I remember when I chaired the Medicaid committee, I had a woman come up to me and say, 'Whatever y'all do make sure the federal government doesn't take over my Medicare.'"
Schumer's point exactly. The bitter fruit of not defending the proper role of government in serving public purpose for a generation.
Landrieu whines to the bitter end [Salon]. Don't cry for me, British Petroleum!
Hillary Clinton "pleased" that DOJ is investigating Brown and Garner shootings [Reuters]. "I personally hope these tragedies give us an opportunity to come together to find balance again." Again? Who's the "us" here?
Warren Buffet bets big on Clinton [Bloomberg].
Democratic committee clears Christie of involvement in Bridgegate [The Record]. Everybody's gonna get to go to DC!!!!
Why did Christie delete 12 Bridgegate text messages? [WNYC]. We may never know!
America the Petrostate
Denton, TX (!) sues to uphold local fracking ban [Ecowatch].
Stats Watch
Employment situation: Unemployment steady at 5.8%, long-term unemployed unchanged at 2.8 million over 27 weeks. Discouraged workers 698,000 for little change year-on-year. 321,000 jobs created, "significantly stronger than expected." Payroll beats expectations, too [Bloomberg]. Weisenthal: "OMG OMG OMG OMG 321K" (!). "The jump in payrolls 'is the kind of number you get in a booming economy'" [Bloomberg]. Handy chart shows dominance of oil and gas jobs in employment growth by sector [WaPo]. And the household survey: "[T]he proportion of the population in the labor force and the proportion of the population with a job both unchanged" [New York Times]. Modified rapture.
Mexico
The infrarrealista revolution in Mexico; a from-the-ground explainer [The New Yorker] Infrarealist manifesto (translated): "Let's get us headlong into all human barriers, so that things start to move within oneself, a hallucinatory vision of man."
Hong Kong
Hong Kong students consider tactical changes [Reuters]. From the armchair, I still say massive voter registration drive.
News of the Wired
* * *
Readers, feel free to contact me with (a) links, and even better (b) sources I should curate regularly, and (c) to find out how to send me images of plants. Vegetables are fine! Fungi are deemed to be honorary plants! See the previous Water Cooler (with plant) here. And here's today's plant (PQS):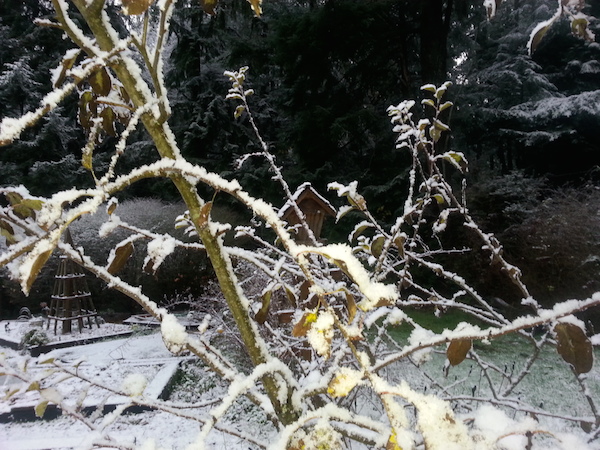 Seattle's peninsula. Still needing more wintry plants, even if from the tropics! And I'm not sure about feeders. Don't they make birds dependent and change their social structures?
Talk amongst yourselves!