By Lambert Strether of Corrente
Ferguson
"What's next for the American Winter of 2014?" [Philadelphia Inquirer]. Will Bunch. On a purely technical level, it's interesting that the Ferguson protests have continued, even intensified, in the cold weather.
Why the Ferguson protesters marched on Walmart [The Week].
Live streaming in Ferguson [New York Magazine]. Important. There's a reason both cops and black block hate live streamers.
Protester sign "edited," goes viral [Riverfront Times]. Why Internet evidence isn't evidence, sadly, absent iron-clad provenance.
Missing from the Grand Jury transcript [Another Word for It].
Prosecutors withheld Dorian Johnson testimony from Grand Jury document dump, they say at the behest of the Feds [Free Press].
St Louis circuit attorney to investigate police killing of Vonderrit Myers [St Louis Public Radio].
Philadelphia protests at Eagles game peaceful [Inquirer, Paul Tioxin]. From the city that pelted Santa…
Sunday protests at retail venues in Manhattan [Pix11]. Monday protest blocks Verrazano bridge [New York Post]. Union Theological Seminary one organizing hub [Think Progress].
New York prosecutors to probe police killings of unarmed civilians [Reuters].
Mexico
Alexander Mora, first of 43 missing students declared dead, on charred eye socket evidence [Sun Herald]. But where are the mass graves? [BBC].
Peña Nieto offers economic plan for Guererro (province where 43 students were disappeared [Yucatan Times]. Jobs paving roads, tax breaks, tourism promotion (!), and Federal police.
Protests continue, in Mexico City and regionally; "students, farmers, union groups and autonomous collectives" [Telesur]. Watch out:
Federal officials have finally agreed to investigate the Mexican Army's possible role in the deaths and disappearances of the Ayotzinapa students. However, Nieto also plans to proceed with the militarization of the state of Guerrero, what Nieto calls to "clear the Highway of the Sun" under his new "Hot Lands" operation, according to SPDNoticias.
Video appears to show a plainclothes police officer rescued after being pummeled by riot police, in the strongest evidence that state forces — not in uniform — are present when masked vandals attack government buildings after large peaceful marches [Vice]. Shocker: Cops wear masks and incite violence.
"The root of Mexico's violence is corruption" [Dallas News].
"Product of Mexico" [Los Angeles Times]. Fit this into your picture of the Mexican economy, and our role in it.
Hong Kong
Wong ends hunger strike, although two other students continue [Los Angeles Times].
Newly formed Student Front group plans to resist the police clearance of Admiralty using shields [Roydon Ng]. CEO Leung expects "fierce resistance" [Bloomberg].
Protester count shrinks pre-clearance [Reuters].
2016
Warren criticizes Weiss at meeting with her top 50 donors [Politico]. Attendee paraphrase of Warren: "At some point we have to recognize that there are other types of experience besides working on Wall Street that qualify people to do these jobs."
Koch Brothers building RNC-level data operation [Politico].
State Innovation Exchange (SiX): Another "progressive" roach motel? [Corrente]. Small-ball inititiatives, institutional focus sold as fighting the Koch Brothers. Let me know how that works out.
Corruption
Melissa Millan, MassMutual, stabbed to death. She had access to highly sensitive data on bank profits resulting from the collection of life insurance proceeds from her insurance company employer on the death of bank workers – data that a Federal regulator of banks has characterized as "trade secrets" [Wall Street on Parade]. "A reporter at the press conference indicated that she had spoken with sources and learned that Millan had not been robbed nor was it a sexual assault." Odd.
Shocker: "[E]ight months after [the Moreland Commission's] work was cut short, little in Albany has changed [New York Times].
Obama golfing buddy "uncooperative" in fraud trial on Blagojevich-era grant corruption [The Daily Beast].
Imperial Collapse Watch
Bush torturers close ranks with Obama administration against torture report [New York Times]. This is great: "The report is said to assert that the C.I.A. misled Mr. Bush and his White House." Plausible deniability achieved! Personally — and this is 100% speculation — I've always felt that Dick Cheney had a live feed from the Abu Ghraib cells right to his office. We know there was digital data collection from the cells, else why the CDs? The tell here, I think, is that nobody's ever interviewed any of the network administrators or sysadmins at Abu Ghraib, and other black sites, to find out what the flow of torture data was. And we all know how Cheney wanted raw, unfiltered intelligence, right? Besides, Cheney probably likes to watch.
"Intelligence" officers warn of violence if torture report is released [The Hill]. Which is rich, after Iraq, Abu Ghraib, the black sites, etc.
Stats Watch
Wages finally snapping back? [WSJ]. Who knows? We've seen blips before.
ObamaCare
"Gruber is Exhibit A that any English-speaking person knows what the subsidies language says" [Politico]. Gruber: "If you're a state and you don't set up an exchange, that means your citizens don't get their tax credits."
Democrats had a weak bench on health care reform before 2014, and now it's weaker [Politico]. Oddly, or not, the article doesn't mention John Conyers or Bernie Sanders: Both still in office, both single payer advocates.
Shocker: Californians discover that health insurance is not health care, as access problems persist [Fresno Bee]. "Health reform is rearranging the main players of the state's health system … — insurers, hospitals, doctors' groups — to create ever-larger clusters intended to serve more people for less money." Less money, and more profit. And ER use has not decreased [Sacramento Bee].
California Health and Human Services Secretary Diana Dooley: "Moving to coordinated care is at the heart of the Affordable Care Act" [Sacramento]. We tried HMOs once and people hated them. Now HMOs have been rebranded as ACOs (Accountable Care Organizations), but it doesn't matter whether people hate them or not, because the mandate forces you to purchase the product.
Upshot tries to turn unfair random variations in coverage into an advantage with "one size fits all" straw man [New York Times].
Big Brother Is Watching You Watch
Richard Posner: Give NSA unlimited access to digital data [PC World]. "Privacy interests should really have very little weight when you're talking about national security."
Angela Merkel calls for an end to net neutralty [Boing Boing].
News of the Wired
* * *
Readers, feel free to contact me with (a) links, and even better (b) sources I should curate regularly, and (c) to find out how to send me images of plants. Vegetables are fine! Fungi are deemed to be honorary plants! See the previous Water Cooler (with plant) here. And here's today's plant (JN):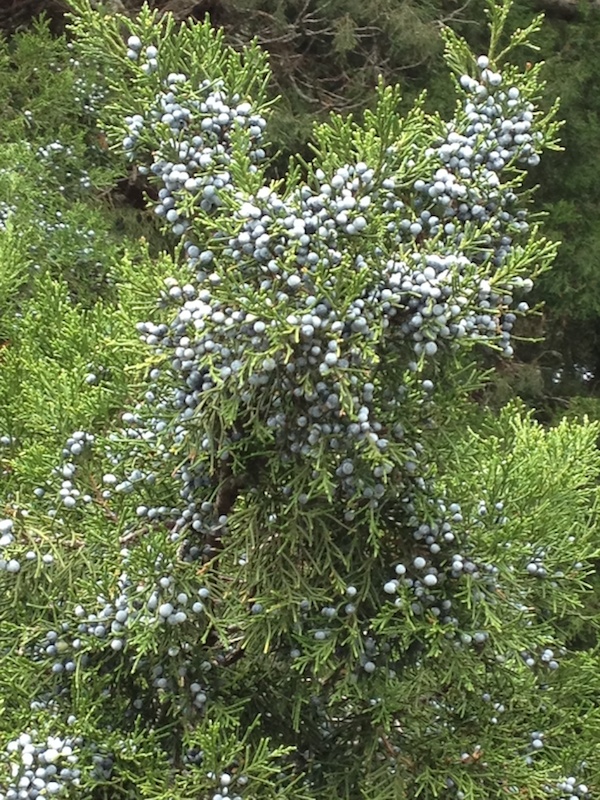 I have a vague memory of a holiday children's book about making juniper candles, although for an adult, bath tub gin might be more appropriate!
Talk amongst yourselves!