By Thomas Adams, a structured credit expert and attorney at Paykin, Krieg & Adams
A big puzzle, as oil prices have plunged and look unlikely to return to their former levels, is who is holding energy-related debt, particularly give the high level of issuance in 2014. Yet it is troublingly difficult to get hard information, a situation troublingly similar to the mortgage backed securities and CDO markets in 2008.
One issue under discussion is the energy debt concentration in CLOs. That has come into focus due to the amounts on bank balance sheets (numerous reports on Twitter indicate that the market froze last July) and that one of the provisions of Dodd-Frank gutting HR 37 that is now moving through Congress is to delay for two years a stipulation that would banks to sell most collateralized loan obligations held on their balance sheets. The reason for wanting CLOs out of banks is that they are actively traded vehicles, effectively mini hedge funds.
The reason for concern is the recent plunge in energy-related debt prices and their questionable prospects, and where that debt is sitting.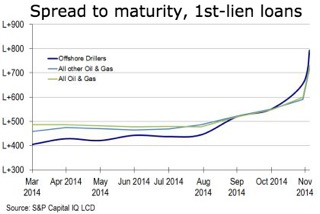 When the subprime mortgage market shut down, banks wound up eating a lot of their cooking. If that has happened again, it could show up not only in CLOs but in other assets and exposures. And if not the banks, then who were the bagholders?
This chart shows energy debt concentrations in top 40 CLOs. The maximum concentration is 15%, presumably set by section concentration limits.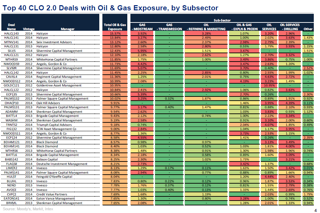 Unfortunately, it doesn't provide the dollar amount of those deals so we can't determine what the dollar amount of that energy related exposure is.
And this is from a discussion of a recent JP Morgan investor call:
High yield energy new issuance has doubled since 2008. It constitutes 16-20% of new issuance since 2011.

JP Morgan's projected default rates for US high yield energy: at $65 oil, 3.9% in 2015 and 20.5% in 2016. At $75 oil, 3.9% and 4.8%.
Those forecasts look to be in need of updating to show what would happen if oil prices remain at their current $50 (and below) level.
Total leveraged loan issuance was $530 billion in 2014 and $606 billion in 2013 (two year total $1.136 billion). If energy made of 16-20% of 2013/2014 issuance, via above info, that would be roughly $182 to $227 billion (16-20% of $1.,136 billion).
Total US CLO issuance in 2014 was about $120 billion (the most ever) and about $85 billion in 2013. If energy debt didn't exceed 15% of the CLOs issued in those years, that means CLOs bought less than $31 billion of energy debt, vs. around $200 billion of total energy debt issued.
Mutual funds had been big buyers of leveraged loans, but were net sellers by the second half of 2014. So who was buying all of those energy related leveraged loans – about $170 billion worth?
According to LeveragedLoan.com, other than CLOs and loan mutual funds, the buyers of leveraged loans were hedge funds, representing 9% of the total 2013-14 loan issuance (about $105 billion) and "other" representing about 6.4% of total 2013/14 loan issuance (about $72 billion). So, if hedge funds and "other" only bought energy loans, that might account for all of the energy debt left looking for a home after CLOs and mutual funds. That seems unlikely.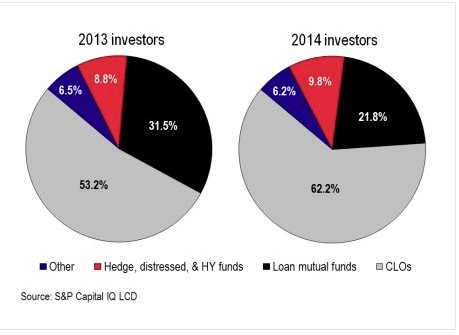 There may be a definitional issue. Maybe what CLOs call "energy related loans" are not what we, or leveragedloan.com or the bank analysts would call "energy related"?
Remember, there was a lot time spent during the crisis trying to define what was subprime vs. Alt A vs. prime? Then during financial crisis litigation, the various bank defendants just redefined all of those terms again, to deny responsibility.
Another possibility is that a lot of the loans never actually got sold to investors – and ended up staying on bank balance sheets.
Investors are asking a lot of questions and are worried. That's why the banks are parcelling out pieces of information. It's troubling that this sort of thing can't be answered easily. It's troubling that this sort of thing can't be answered easily.