By Lambert Strether of Corrente.
A kind reader sent me a PDF copy of the first deliverable of the Democratic Victory Task Force (DVTF), their preliminary findings. We've already looked at the big brainwave the DVTF had, the "National Narrative Project," so today, I'm going to put on my yellow waders and trudge through the sludge, lookly more deeply into the report. I'll look at the language of the report, the paradigm for the party that the report (still) supports, and finally the makeup of the committee, and what that might imply.
So, to language. Here's a Wordle of the most words the DVTF uses most frequently (larger is more):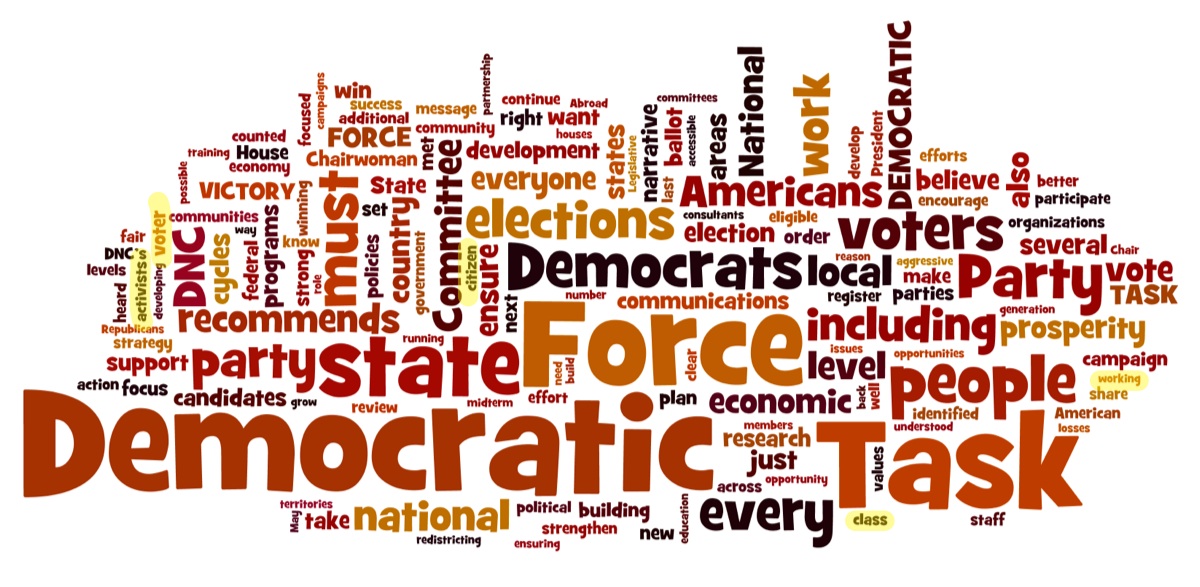 I've helpfully added yellow highlighting to a few of the smaller, less frequently used words; the algorithm fits them in between the most frequently used words, so some of them are vertical, and hard to find. These smaller words are, from left to right:
activists
voter
citizen
class
working
One might urge that a document designed to get people to vote for Democrats would give those voters themselves a little more prominence in its text; instead, institutional words dominate: "Democratic," "Task Force," "Democrats," "Party." To be fair, this is a preliminary deliverable, and perhaps that's when the institutional should dominate. From page 5 of the preliminary findings:
In May of 2015 the Task Force – in partnership with the Democratic National Committee – will release a strategic plan to guide the Party's efforts through the 2022 elections.
So we have many more reports to look forward to! Perhaps in future there will be more focus on voters — as opposed to "strategists" and donors and consultants and message crafters and pollsters and meeting facilitators and "grass roots organizers" and SEO weasels and Beltway site builders. And report writers.
Next, the DVTF's paradigm for the party. From page 8:
In order to win elections, the Democratic Party must reclaim voters that we've lost including white Southern voters, excite key constituencies such as African American women and Latinas, and mobilize the broadest coalition of voters possible to not only recapture state houses but also Congress.
In other words, the New Politics is still firmly in place, with tweaks. Michael Lind describes this paradigm as follows:
Today's Democratic Party … took shape between 1968 and 1980. Although George McGovern lost the 1972 presidential race to Richard Nixon in a landslide, the McGovernites of the "New Politics" movement wrested control of the Democratic Party from the old state politicians and urban bosses of the Roosevelt-to-Johnson New Deal coalition. Robert Kennedy's aide Fred Dutton, one of the architects of the disempowerment of the old New Deal elite, called for in his 1971 book "Changing Sources of Power: Politics in the 1970s." Sound familiar? That's because, nearly half a century later, the same groups are the core constituents of today's Democrats.
Basically, then, the DVTF's thinking is that they want to add another minority to their portfolio coalition: "Southern whites." (And never mind why, after having been the focus of Democratic party attention from the dear dead days of McGovern, African-American women and Latinas aren't already "excited"; could it be that the Democrats never actually deliver them concrete material benefits, as the old Roosevelt coalition did?)
We might summarize the "New Politics" approach as seeking to build coalitions using every method except providing concrete material benefits based on (economic) class. Take for example this story from yesterday's Times:
Health Care Opens Stable Career Path, Taken Mainly by Women
"We used to think about the men going out with their lunch bucket to their factory, and those were good jobs," said Jane Waldfogel, a professor at Columbia University who studies work and family issues. "What's the corresponding job today? It's in the health care sector."

In 1980, 1.4 million jobs in health care paid a middle-class wage: $40,000 to $80,000 a year in today's money. Now, the figure is 4.5 million.

The pay of registered nurses — now the third-largest middle-income occupation and one that continues to be overwhelmingly female — has risen strongly along with the increasing demands of the job. The median salary of $61,000 a year in 2012 was 55 percent greater, adjusted for inflation, than it was three decades earlier.

And it was about $9,000 more than the shriveled wages of, say, a phone company repairman, who would have been more likely to head a middle-class family in the 1980s. Back then, more than a quarter of middle-income jobs were in manufacturing, a sector long dominated by men. Today, it is just 13 percent.

As the job market has shifted, women, in general, have more skillfully negotiated the twists and turns of the new economy, rushing to secure jobs in health care and other industries that demand more education and training.
How can the "New Politics" approach leverage this major societal shift? Can they appeal to wage-earning nurses, as such, instead of Latina nurses + African-American nurses + Southern white nurses + female nurses + male nurses? In a word, no. That's not in paradirm. The objection may arise: There are nurses' unions to look after the interests of nurses. However, a union, by itself, can't deliver — say — single payer, which a majority of nurses are in favor of. Only an institution that can write and pass legislation can do that. Like, say, a functional political party.
And the same goes for many other issues of interest to the bottom 80% of society, considered as the wage earners they are, and not thrown — by "strategists" and donors and consultants and message crafters and pollsters and meeting facilitators and "grass roots organizers" and SEO weasels and Beltway site builders — into "identify as" buckets. A Post Office bank, from yesterday, is one such issue. Does a "grass roots organization" called "Latinas for a Post Office Bank" / "Latinas para una Caja Postal" (Google translate, sorry) sound likely to you? Does it even make sense? And yet the concrete material benefits provided by a Post Office Bank would help many Latinas, and their families.
Finally, let's look at the makeup of the DVTF, and what that implies. Here, I've helpfully color-coded the membership:

The first thing to notice is that the people who created the problems the Task Force is — presumably, unless it's simply a crude scam put together by grifters — are now to be put in charge of fixing it. Page 7:
Throughout the process, the Task Force has heard – from the very people who work for and vote for Democratic candidates – that the .
(We had comments to this effect in yesterday's post on the report.) Continuing:
This focus area – identified in the member survey, regional meetings and individual interviews – requires a thorough review of staffing structures, contracting policies and party policies and procedures. to ensure that the DNC's staffing, policies and procedures result in a national party that is reflective of the people and views it represents.
So the DNC is not open and will conduct the review to figure out why it's not open and then fix itself. Doesn't that strike as you one of those "If that were going to be done, it would already have been done"-type things? It reminds me of the Feds relying on the banksters to fix their banks because, after all, they understood the banking business.
Second, for a party that by its own admission has experienced "devastating losses," the DVTF has a remarkable level of denial, not to say delusion:
The national Democratic Party must never allow itself to become a party of Beltway consultants who routinely recommend cookie-cutter campaigns that are detached from the concerns of the people we hope to represent, at the city, state, and federal level.
Well, look again at the DVTF membership: Running "cookie cutter campaigns" "detached from the concerns of the people we [who] hope to represent" is what all these apparatchiks and all these consultants do; in fact, it's their business model.
Again, the people who created the problem are in charge of solving it. Take Donna Brazile — please! From the Department of I Have a Very Long Memory, Especially for Grudges, Donna Brazile in 2008:
BRAZILE: Well, Lou, I have worked on a lot of Democratic campaigns, and I respect Paul [Begala]. But, Paul, you're looking at the old coalition. A new Democratic coalition is younger. It is more urban, as well as suburban, and we don't have to just rely on white blue-collar voters and Hispanics. We need to look at the Democratic Party, expand the party, expand the base and not throw out the baby with the bathwater.
In other words, Brazile wants to tweak the New Politics paradigm. But not change it. (And notice "white blue collar." There's no such thing as "black blue collar"? "Latina blue collar"? Well, no. In the New Politics paradigm, no.)
And:
[BRAZILE: Obama's] going to have to put things on the table that perhaps many of us would not like to see a Democratic president put on the table in terms of cutting back on spending, freezing hiring and making some real tough decisions.
So, Brazile (and Obama's faction of the Democrats) got exactly what they wanted. And Obama indeed made the "tough decisions," the decisions that never seem to have tough consequences for the elites that make them. (To be fair to Donna, she might not have known that one of those tough decisions was installing the vile Tim "Foam the Runway" Geithner at Treasury, and another one was not to prosecute any bankster CEOs for accounting control fraud. Such "tough decisions" weren't "on the table.") Everything they wanted and, seven years later, here we are. Page 5:
We have suffered devastating losses at all levels of government since 2008 including:

69 House Seats
13 Senate Seats
910 State Legislative Seats
30 State Legislative Chambers
11 Governorships
And now the twist, the seeming paradox the DVTF is there to resolve:
Yet we know how to win elections. Elections in 2006, 2008, 2012 and ballot initiatives and other races this last cycle demonstrate that our issues and candidates resonate with voters.
Come on, 2006? That's back when Nancy Pelosi was still alive! And in 2008, Obama couldn't put McCain away until Lehman, and the lingering goodwill on the Democratic balance sheet from the New Deal ("Democrats are better on the economy") combined to drag him over the finish line. I'll give them close-all-the-way-but-never-in-doubt 2012, but only because of Romney's ectoplasmic nature. And in 2012, the ballot initiatives don't fit into the New Politics paradigm: Minimum wage increases benefit workers as workers for example. So, no, the Democrats don't know how to win elections, and the people do know how to win them aren't, er, consulted. Where's Kshama Sawant on the minimum wage? Heck, where are Zephyr Teachout and Tim Wu on corruption and industrial policy?
Third and finally, I hate to be cynical, but… who am I kidding? My problem is I'm never cynical enough! From the DVTF's conclusion on page 8:
The circumstances that led to the series of devastating electoral losses did not develop overnight. Instead they have been building over decades as the political system has been irrevocably changed by the passage of . Republicans, in many cases, have been quick to respond to these changes and take advantage of this new environment.
So, the problem is… Money.
Look again at the make-up of the committee, and you'll see a one-to-many relationship. Democratic funder and squillionaire Eric Schmidt is the one; and the Democratic apparatchiks and consultants are the many. So a cynic might conclude that the entire DVTF is a bunch of more or less interchangeable grifters getting together to put the bite on that one guy who can write them a big honkin' check for walking around money. If so, I can only hope these guys take Schmidt with the same ruthless efficiency that ol' Newt, bless his heart, took Sheldon Adelson. Come to think of it, that's in paradigm, too.
* * *
There's nothing new about the "New Politics" the DVTF is proposing to recycle. And the DVTF puts the people who caused the problem in charge of fixing it. If Schmidt has any sense, he won't give them a dime. Insanity is doing the same thing while expecting a different result.
* * *
NOTE The Victory Task Force is also wrong on voting machines. Page 6:
The Task Force recommends the development of an aggressive, multi-faceted legislative and legal strategy to ensure every eligible American is registered to vote, has access to the polls and has their ballot counted. It should feature building support for an explicit right to vote in the U.S. Constitution and a new law to revive the preclearance powers of the Voting Rights Act. It also should include fighting for full implementation of existing registration and voting laws, including the VRA, NVRA and HAVA and developing a strategy to pass federal, state and local laws to modernize voter registration modernization, expand access to the polls, eliminate long lines; and ensure that all eligible voters have their balloted counted.
Leaving aside the question of what kind of party apparatus takes this long to handle this basic, blocking and tackling issue, supporting HAVA means supporting electronic voting machines. Wrongo! Bzzt! Bzzt! Bzzt! Bradblog, the go-to blog on voting:
Last March, the country's highest court found that secret, computerized vote counting was unconstitutional. Unfortunately, the country was Germany, and the Constitution violated by e-voting systems was the one that the U.S. wrote and insisted Germans ratify as part of their terms of surrender following WWII.

Paul Lehto, a U.S. election attorney and Constitutional rights expert, summarized the German court's unambiguous, landmark finding:

"No 'specialized technical knowledge' can be required of citizens to vote or to monitor vote counts."
There is a "constitutional requirement of a publicly observed count."
"[T]he government substitution of its own check or what we'd probably call an 'audit' is no substitute at all for public observation."
"A paper trail simply does not suffice to meet the above standards.
"As a result of these principles,…'all independent observers' conclude that 'electronic voting machines are totally banned in Germany' because no conceivable computerized voting system can cast and count votes that meet the twin requirements of…being both 'observable' and also not requiring specialized technical knowledge.
Every day there's a new story about stolen data, or man-in-the-middle attacks, or hacked software, and these clowns plan to protect our right to vote with electronic voting machines? Please, can we develop a sense of reality about this?
Hand-marked, hand-counted paper ballots, publicly tabulated at every polling place in America are the gold standard. To be fair, maybe Schmidt has a plan to let everybody vote using Google Glass….