By Lambert Strether of Corrente.
2016
Morgan-Stanley exec unexpectedly won't be Clinton finance chair [Politico]. "Clinton is contemplating a very flat fundraising structure that doesn't include the customary post of finance chair – in part because the Clintons have so many friends." What could go wrong?
Glenn Greenwald on Hillary Clinton: "She's the ultimate guardian of bipartisan status quo corruption" [Salon]. Hmm. Ultimate, or penultimate?
Why hasn't that loveable goof, Joe Biden, issued a Sherman statement? And why does he keep travelling to Iowa, South Carolina, and New Hampshire? [Wall Street Journal, "Biden's Trips Fan 2016 Race Speculation"].
Wisconsin's Feingold to run again for Senate, say insiders [National Journal].
Republican superdonor Muneer Satter contributes $352,000 to Rahm Emanuel [Bloomberg]. But Emmanuel is a Democrat! Oh, wait…
Principled Insurgents
Walker now fundraising on attacks from the "liberal media" [New York Times], in this case Dan Balz and Bob Costa [Cilizza, WaPo], over the "I don't know whether Obama's a Christian" gotcha and ensuing flap. Interestingly, Cilizza makes the press part of the story. That's not done.

Walker said "No" on so-called right to freeload work legislation until it reached his desk, whereupon he said "I'll sign it!" [Appleton Gazette]. Seems a little Machiavellian for a P.K., doesn't it?

Cruz says some Republicans reined in Nixon when he "abused power", so where are the Democrats to do the same with Obama? [Business Insider].

Rubio on Clinton: "[I]f Hillary Clinton runs for president, she will get more money out of Wall Street than any presidential campaign ever — and that's a fact. Part of the reason is that many of these industries feel very comfortable with her there" [Boston Herald].
Clown Car
Litmus test: Candidates who question "Obama's religion [He's a Muslim!] and background [Birtherism!]" go in the clown car [The Hill]. Maybe the Republicans could try draining their fever swamp, starting with not making sh*t up? (The Hill quotes Norquist, on dealing with the base, saying "You may not like mosquitoes, but you will get bit if you don't prepare." I think the fever swamp — where the mosquitoes breed — is the buried metaphor Norquist had in mind.

Jindal, on the White House lawn: "The president has really disqualified himself to be our commander-in-chief" [Wall Street Journal].

Christie to shore up his standing in New Jersey with town halls, where 37% of voters now rate him favorably [Bloomberg].

State judge says Christie broke the law when he failed to make full payments into the state's public employee pension system [New York Times].
This story is making the rounds among Democratic tribalists [Star-Tribune]. Here's the headline, which encapsulates the rapidly propagating meme:
Idaho lawmaker asks if woman can swallow camera for gynecological exam before medical abortion
Cue the "party of stupid" jokes, along with "the party of sexist" jokes. (And to be fair, here, Conservapedia still has no entry for vagina; there's a redirect to Human reproduction, so indeed there's plenty of sexism and stupid to go around in the conservative tribe.) Nevertheless, the issue isn't what Republicans say, but what this Republican, Rep. Vito Barbieri, said, and while the headline is not fair, the article itself is:
"I was being rhetorical, because I was trying to make the point that equalizing a colonoscopy to this particular procedure was apples and oranges," [Barbieri] said. "So I was asking a rhetorical question that was designed to make her say that they weren't the same thing, and she did so. It was the response I wanted."
But the rhetorical question context didn't make it into my Twitter feed. The headline did, plus "Guess which party?" So, the Democratic tribalists can't pillory Barbieri for being a forced-pregnancy advocate, that's not enough or something; no, they've got to distort Barbieri's words to run the "We're smart and they're stupid" riff they've run a squillion times already. Well, I ran that kind of riff myself on a daily basis for several years, starting back in 2003, and though I say it, I was pretty good at it. But now it's 2015, the tribalists are running the same riffs, and the Democrats have "suffered devastating losses at all levels of government" (in the word of their post mortem). Maybe it's time to rethink tactics, starting (again) with not making sh*t up?
The Hill
"Failed Nominee Weiss Morphs Into Key Debt Official at Treasury" [Bloomberg]. Yves: "Having Antonio Weiss in Treasury in any capacity sends a powerful signal that Obama remains deeply committed to advancing the pet needs of major financial firms "
More on the DNC "autopsy"
(See NC here and here on the "Democratic Victory Task Force.")
The visual joke — remember this is a family blog — is priceless; do click through [WaPo]. "[W]hile the DNC's autopsy is skin-deep (at best), it does contain advice that the party should listen to. It probably won't. But it should."
"[P]art of the mission here is to reorient the Democratic donor class" [WaPo]. Starting with Eric Schmidt!
NBC's First Read [NBC]. This is one of those stupid infinite scroll sites where the URL and the title that come up in Google have nothing to do with what you want to find, which is like eighteen swipes down. Anyhow, the quote. Three points:
One, the chief shortcoming the DNC highlighted was message.… Two, this nine-page "preliminary" report PALES IN COMPARISON to the big report the RNC did after its losses in 2012. And three, the DNC omitted what is perhaps the organization's biggest shortcoming in the Obama Era: Obama's OFA (in many ways) has become a separate party organization
Herd on the Street
"The amount of land used for new property developments in China fell more than 25 per cent last year" [FT, "Slide in China land under new development"].
Yellen on the labor market. Some optimistic bullet points, but this: "However, the labor force participation rate is lower than most estimates of its trend, and wage growth remains sluggish, suggesting that some cyclical weakness persists" [Online WSJ, "Live Blog: Fed Chairwoman Janet Yellen's Report to Congress"]
"Brent crude oil rose more than $1 to around $60 a barrel on Tuesday after Libya's largest oilfield stopped production" [Reuters].
"Electronic trading makes stock markets more efficient by enabling them to react more quickly to new information, the Bank of England working paper concluded" [Bloomberg].
Stats Watch
Redbook, week of February 21, 2015: Year-on-year growth slows to 2.8 percent to 3.2 percent due to cold [Bloomberg].
Case-Shiller, December 2014: "Sales of existing homes may be slow but price traction is appearing, at least it did in December as Case-Shiller's adjusted 20-city index shows a sharp month-on-month gain of 0.9 percent" [Bloomberg]. Unadjusted year-on0year data tell the same story.
Consumer confidence, February 2015: Spiked in January and now coming down, with a "very steep" fall in the expectations component. Current situation also dips [Bloomberg]. "The decline in expectations is worth taking note, specifically reflecting not a rise in the number of pessimists but a decline in the number of optimists." Other reports in this space show the same decline; it could be the cold. ("Hey, kids! Let's go buy another tank of heating oil!")
Richmond Fed Manufacturing Index, February 2015: Flat [Bloomberg].
Big Brother Is Watching You Watch
Post-Citizen Four Oscar Reddit AMA with Edward Snowden, Laura Poitras, and Glenn Greenwald [Reddit].
"What the country still has to work out is whether the Snowden documents were simply revealing or actually transformative" [New Yorker]. Good review of Citizen Four.
Secret 2006 – 2014 HUMINT (not SIGINT) documents leaked from numerous intelligence agencies [Al Jazeera]. "The documents come from intelligence agencies around the world, including: Israel's Mossad, Britain's MI6, Russia's FSB, Australia's ASIO and South Africa's SSA."
"[I]f you want your encrypted web sessions to be hijacked just head to CNET Downloads or any freeware site, because they are all bundling HTTPS-breaking adware now" [How-to Geek].
"SSL-busting code that threatened Lenovo users found in a dozen more apps" [Ars Technica].
Abbott told his audience "the system has failed us", and warned of an "ominous" new "dark age", while doubling down on his commitment to expand the power of law enforcement agencies to fight "terrorism" [Al Jazeera].
Class Warfare
Harley Shaiken, a labor professor at Berkeley, says the "main catalyst" for the recent surge in labor unrest is inequality [Lexington Herald-Leader].
"On Monday, [Mallory] Heiney and fourteen other people who took out loans to attend Corinthian announced that they are going on a 'debt strike.' and will stop repaying their loans" [New Yorker]. Good. For-profit universities are a scam. Note that includes many departments within universities that are nominally non-profit, but functionally for-profit. You can spot them by their overpaid and transient administrators, as well as their impoverished adjuncts.
How and where the debtor's prison returned [The Marshall Project].
Sketching Davos [Hyperallergenic]. I like the one of Ken Rogoff and Jamie Dimon.
News of the Wired
* * *
Readers, feel free to contact me with (a) links, and even better (b) sources I should curate regularly, and (c) to find out how to send me images of plants. Vegetables are fine! Fungi are deemed to be honorary plants! See the previous Water Cooler (with plant) here. And here's today's plant, the second of Fungus Week (RM):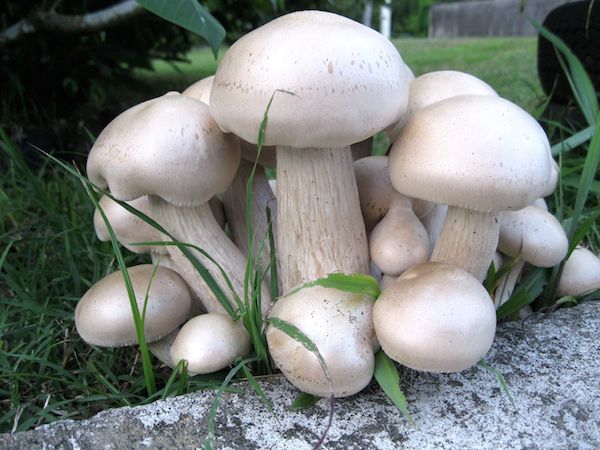 Next week: How about sending me some plants snow and/or ice? Seems appropriate?
If you enjoy Water Cooler, please consider tipping and click the hat. It's the heating season!
Yes, I've got to fix the hat! Thank you all for your generous help in the mini-fundraiser!
Talk amongst yourselves!