By Lambert Strether of Corrente.
2016
Only 606 days until November 8, 2016 [sob]. That's a lot of time to game out the Clinton/Bush race, isn't it?
Jerry Crawford, Ready For Hillary adviser and Clinton's "once and future main man" in Iowa represented Monsanto at his law and lobbying firm, and endorsed an Iowa Republican in 2010 [Alternet]. Well, bipartisanship.
If there were going to be a serious primary challenge to Hillary, there would already be a serious primary challenge to Hillary [WaPo]. In essence, challengers have no more runway.
"Mrs. Clinton's dominance has kept other top Democrats from taking the kind of steps that serious presidential candidates have typically taken by now" [New York Times].
The Democratic bench is stronger than people think: Ron Wyden, Sherrod Brown, Deval Patrick, "Mike" Bloomberg (!), and Amy Klobuchar could all challenge Clinton, at least theoretically [Slate].
The always entertaining James Carville to write for Media Matters [Politico]. But if we want Democratic talking points, don't we have "Talking Points Memo" for that?
"Clinton's team is redoubling its hiring and organizing efforts within the early presidential nominating states of Iowa, New Hampshire, and South Carolina, operating as if she were facing a serious Democratic challenger" [Politico].
Younger voters "tuning out" Clinton email story [Wall Street Journal]. "Americans who have grown up with social trails that live forever, as well as with self-destructing messages on services like Snapchat, may continue to see the Clinton email story differently."
Investigation-happy "Republicans might remind themselves of that by looking back at what all their investigations in the 1990s did for them" [WaPo].
The Establishment
"[A] review by The Associated Press of Jeb Bush's emails found that prominent donors to Bush and his family regularly urged him to appoint candidates for judgeships, public boards and other positions. One suggested Bush appoint a political supporter's step-daughter to a hospital board and asked the governor to support funding for his alma mater. One Palm Beach County fundraiser told Bush, the best man at his wedding, that companies hired him "because of my association with the administration and you" [HuffPo].

"Bush has famously said that a candidate has to be willing to 'lose the primary to win the general.' … [H]e might well make good on the first part of that sentence" [WaPo]. On both immigration and Common Core, Bush is out of step with the base. And the Republican base, unlike the Demcocratic base, finds it hard to accept being kicked.

Jebbie visited Iowa last week. This week comes New Hampshire, and next week South Carolina [CNN].
Principled Insurgents
Walker on Jebbie: "We had Bob Dole, John McCain, Mitt Romney. If it's just whoever's next up, that hasn't worked so well for the Republican party in the past. … Jeb's a good man. You're not going to hear me speak ill will of Jeb. He's a friend of mine, he called me two days before (announcing) his PAC, I think highly of him. I just think voters are going to look at this and say, 'If we're running against Hillary Clinton, we'll need a name from the future – not a name from the past – to win.'" [Tampa Bay Times]. With friends like these…

Diane Hendricks, the billionaire head of the largest U.S. wholesale roofing supply company, ABC Supply, is Walker's biggest individual political benefactor [Bloomberg].
Clown Car
Huckabee Op-Ed: "Critics say I'm a "populist," but the truth is I'm a nationalist. I put America and its workers first. Too many in the political class put Wall Street and Washington elites first" [Des Moines Register]. "Washington bails out 'too big to fail' Wall Street banks while 'too small to save' Iowa families, farmers and small businesses are punished with big government taxes and burdensome regulatory mandates." The bullet points of policy proposals are Clang Bird craziness. But the populist rhetoric is highly polished.
Herd on the Street
"The Trillion-Dollar Platinum Coin Is Back" [Bloomberg]. Remarkably, the coin is now a bullet point in conventional wisdom.
"Overall, U.S. economic data have been falling short of prognosticators' expectations by the most in six years" [Bloomberg].
"How Long Will It Take for India to Surpass China? " [Wall Street Journal].
Emanueldämmerung
[Chicago Tribune poll] shows Emanuel leading Chuy Garcia, 51 percent to 37 percent, with 11 percent of voters still undecided. .. Emanuel is buoyed by continued gains among African-American voters, who were primed to cost him a second term before the mayor's multimillion-dollar television ad blitz. Now, Emanuel holds a 21-point lead among black voters, 52 percent to 31 [Politico]. Eesh.
Howard Dean endorses Rahm Garcia (!) [Chicago Sun-Times]. Even if this is payback for Rahm gutting Dean's 50-state strategy, it's payback that's very well deserved.
"Dean's message on Garcia's behalf was sent to the [Democracy for America's] 1 million members, with a link to a fundraising page" [USA Today].
"Willie Wilson: Not even President Obama could convince me to back Rahm" [Chicago Sun-Times].
Black Injustice Tipping Point
"[T]he evidence strongly suggests that Ferguson is not even the worst civil rights offender in St. Louis County and that adjacent towns are also systematically targeting poor and minority citizens for street and traffic stops to rake in fines, criminalizing entire communities in the process" [Op-Ed, New York Times]. In fact, Ferguson could be the healthiest, since they've been able to resist.
"In order to fully understand how and why race became the central premise of policing in the St. Louis suburbs, we need to take another step back and consider the long and troubled history of segregation in St. Louis County" [Dissent]. Race and money; "willful racism aimed to generate cash." And see also mapping decline, a terrific series of interactive map/timelines of housing patterns, zoning, and urban renewal in St Louis, by the author.
Missouri state and county police took over protest security from local Ferguson police Thursday [CNN].
Ferguson protests resume quietly [New York Times]. The protesters "had a simple, symbolic goal: to keep the demonstrations alive the day after the two officers were shot."
Mya Aaten-White was shot in the head on the very first day of the Ferguson protests. The case is being investigated by the Ferguson police, who seem to have lose the bullet (it was removed in the hospital) and Aaten-White has not yet been interviewed [Riverfront Times].
Water
"We are withdrawing [California groundwater] from a fairly large bank account," said Tom Myers, a hydrogeologic consultant in Reno, Nevada, who has worked in Southern California. "But we are withdrawing from it a lot faster than we are putting back in. The problem is we don't know how close it is to empty" [Center for Investigative Reporting]. What could go wrong?
"Groundwater depletion in the United States can explain 1.4% of observed sea-level rise during the 108-year study period and 2.1% during 2001 – 2008" [Groundwater].
"Right now [California] has only about one year of water supply left in its reservoirs, and our strategic backup supply, groundwater, is rapidly disappearing" [Los Angeles Times].
"On Wednesday, Chilean mining company Antofagasta Plc announced that it had reached a deal to end protesters' blockage of its Los Pelambres copper mine. The protests, which began on February 28, centered on excessive water usage as Chile faces its eighth consecutive year of harsh drought" [Blouin News].
"The southeastern region of Brazil is seeing the worst drought in eight decades, which is causing reservoirs to be critically low on water. Residents in Sao Paulo have been forced to undergo water cuts for months, and Rio de Janiero could be next" [Latin Post].
Class Warfare
"The median retirement account balance when you look across all households? $2,500" according to a new report from the National Institute on Retirement Security [Bloomberg]. Amazingly, the article actuallly recommends doing something with Social Security benefits other than gutting them.
" [T]he relative gains for older workers come, not because they are worth it, but through the exercise of power" [Financial Times, "The dark underbelly of Britain's jobs miracle"]. No. The "gains" always come through the "excercise of power."
News of the Wired
* * *
Readers, feel free to contact me with (a) links, and even better (b) sources I should curate regularly, and (c) to find out how to send me images of plants. Vegetables are fine! Fungi are deemed to be honorary plants! See the previous Water Cooler (with plant) here. And here's today's plant, the fifth of, er, Miscellaneous Week* (Furzy Mouse):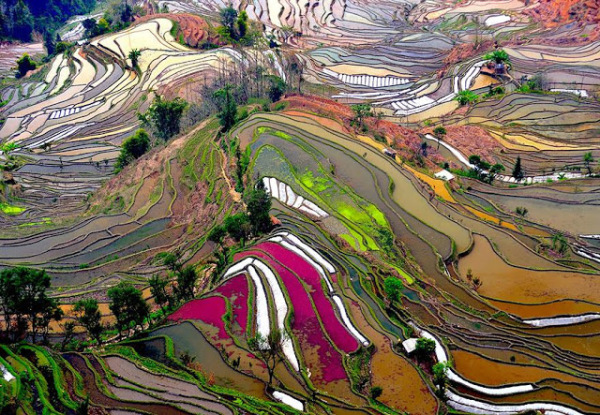 Rice paddies!
How about next week we try for "Plants that make us think of Spring?" I know that's probably optimistic, since mud season has hardly begun, but why not?
If you enjoy Water Cooler, please consider tipping and click the hat. It's the heating season!
* My concept was "Humorous Vegetables Week" (a Terry Pratchett reference) but the only submission was, well, not suitable for a family blog. So maybe that was not such a good idea. I wonder what would have been better?
Talk amongst yourselves!