By Lambert Strether of Corrente.
2016
"Al Gore should run for president" [Ezra Klein, Vox].
The 2016 Republican Presidential Nomination Bracket [WaPo]. And The 2016 Democratic Presidential Nomination Bracket. Spoilers ahead: Clinton gets byes all the way to the final. Oh, and Jindal and Pataki go to the NIT.
"Gawker Media is suing the U.S. State Department under the Freedom of Information Act for access to emails between former Deputy Assistant Secretary of State Philippe Reines" [HuffPo]. Reines last heard from telling now-dead Buzzfeed reporter Michael Hastings to "F*ck off." Classy!
"As she prepares a run for president, Clinton isn't talking about free-trade agreements opposed by organized labor, tougher Wall Street regulation demanded by her party's populist wing, or the wisdom of using tax reform to address income inequality" [Bloomberg].
Clinton's slowly increasing "unfavorable" ratings [WaPo]. Reversion to the mean.
Rubio, Paul, and Cruz to declare in early April [Politico].
Establishment
Bush on declaring: "I'm joyfully pursuing the possibility of this and I will decide at some point, and then I'll go at it" [Boston Herald]. "Joyfully considering…"

How Jebbie butchered Medicaid as Florida governor [Bloomberg]. "What makes [the] numbers interesting isn't just that they trail most other states. In many cases, they also trail the Medicaid program that Bush wanted to replace." The moral is that you can't apply market solutions in a lemon market, as ObamaCare will discover over time.
Principled Insurgents
Walker's sons skipping college this year to campaign with him [AP]. I guess that means Walker's going to announce at some point.
Clown Car
Huckabee raising money with an Internet infomercial for a "dubious" diabetes treatment [New York Times]. And "one ad arriving in January in the inboxes of Huckabee supporters, who signed up for his political commentaries at MikeHuckabee.com, claims there is a miracle cure for cancer hidden in the Bible." Alrighty then.

Say, what happened to that Jindal guy, anyway? [WaPo].

Cruz in New Hampshire [Yahoo News].

"The Obama economy is a disaster, Obamacare is a train wreck and the Obama-Clinton foreign policy of leading from behind — the whole world is on fire," Cruz said.

"The world is on fire?" the girl, later identified as Julia, asked the Texas Republican, according to the Concord (N.H.) Monitor.

"The world is on fire, yes," Cruz said, turning to the girl. "Your world is on fire."

"But you know what?" Cruz continued. "Your mommy's here and everyone's here to make sure that the world you grow up in is even better."

Eeeeew. That said, on the "world is on fire" thing; I wouldn't have pegged Cruz as accepting the reality of climate change, but whatever.
Gallup: For the first time since 1992, neither major party has an approval rating of 40 percent or higher [Bloomberg].
Obama interview with Vice founder Shane Smith [Vice]. With, absurdly, no transcript. Here's a highlight summary. The money quote:
ISIL is direct outgrowth of Al-Qaida  in Iraq which grew out of our invasion which is an example of unintended consequences which is why we should generally aim before we shoot.
Which we totally did in Libya, Syria, Ukraine…
Herd on the Street
"59 per cent of Americans said they drink a cup of coffee a day, down from 61 per cent in 2014 and 63 per cent in 2013" [FT, "Young Americans turn to tea"].
"The service would have about 25 channels, anchored by broadcasters such as ABC, CBS and Fox" [Wall Street Journal, "Apple Plans Web TV Service in Fall"].
"U.S. May Revoke Settlement Agreements in Currency-Rigging Probes" [Bloomberg].
Citigroup to exit Argentina custody business amid bond turmoil [Reuters].
Stats Watch
Housing starts, Feburary 2015: "Housing starts unexpectedly fell sharply in February," below consensus [Bloomberg]. Down everywhere, not just the Northeast (down a "whopping" 56.6%). So, "sluggish," though permits are up.
Redbook, week of March 14, 2015: Soft, though this year's early Easter will pull April sales into March [Bloomberg].
Emanueldämmerung
No time in Rahm's schedule for a forum on LGBT issues [Windy City Media].
Summary of Emanuel/Garcia debate [NBC]. Chuy seems aggressive [DNAinfo], but I'm not seeing Emanuel bleeding.
"There are now 120 known and documented cases of [Chicago Police Commander Jon Burge] related torture of African American men, at least 19 Burge torture victims still remain in prison, Burge continues to collect his police pension, as do all of his confederates, and the City, County and State have expended at least $125 million in settlements, legal fees, and police pensions in the scandal" [HuffPo]. Seems odd this isn't an issue in the mayoral race, especially if Garcia wants black votes. What am I missing?
Black Injustice Tipping Point
Why agent provocateurs could be committing a Federal crime [KeeganNYC]. Case study Project Veritas and "Laura Lewis" in an Eric Garner protest for #BlackLivesMatter.
"Many Richmonders let out a collective groan of disgust upon learning of a local group's plan to install a Confederate flag just off Interstate 95 in Richmond" [Richmond Style Weekly].
Health Care
House Republican budget will partly privatize Medicare, turns Medicaid into block grants to the states, and repeal ObamaCare [New York Times]. Here's the whole budget: "A balanced budget for a stonger America" [cough, spew].
ObamaCare net gains: National uninsured rate down from 20.3% to 13.2%, or a total of 16.4 million people [Guardian]. 30 million to go [Bloomberg].
"[H]ospitals can improve their bottom line and their reputation by focusing more on hospitality than health care — offering organic food by a celebrity chef rather than lowering medication errors, for example" [New York Times].
[T]he excess of revenue over expenses at these  [Minnesota health-care] nonprofits is eye-popping. In 2013, Mayo Clinic had a margin of revenue over expenses of $612 million [Star Tribune].
Big Brother is Watching You Watch
"34% of those who are aware of the surveillance programs (30% of all adults) have taken at least one step to hide or shield their information from the government" [Pew Research].
"The biggest problem with real names isn't about what kind of consistent identity you use. It's about the imbalance of power involved with sharing that information" [MindSpillage].
Wearables
"The very last thing I needed was my watch, TV, or car whining at me about my choices" [Another Word for It]. In Links today, but nothing wrong with hitting this twice.
"[W]earables need to be worn. In other words, having all of the pieces that work together is a second order problem; you have to first get the actual wearable on the wrist" [Stratechery]. Actually, there's a proven, communications-enabled wearable technology in use today: We call it "the ankle bracelet."
Microsoft's "Band" costs $200 and the charge lasts for two days [USA Today].
Class Warfare
Handy chart from [Mother Jones].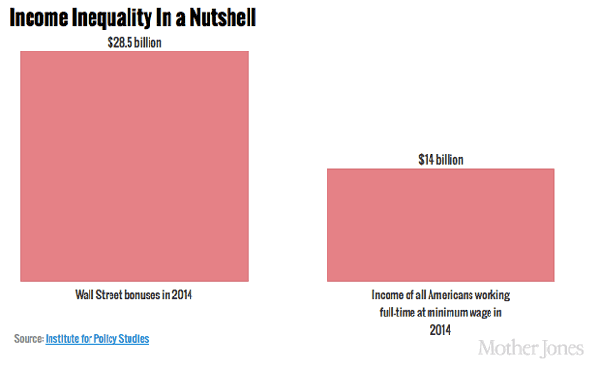 "A bevy of multibillion-dollar funds have gained as much as 9% this year as their managers bet against the euro" [Wall Street Journal].
"Family capitalism has experienced a renaissance.  Even giant firms are now often controlled by their owners the way Andrew Carnegie once captained his steel works or Henry Ford his car company" [TomDispatch].
Naomi Klein honors  Canadian Union of Public Employees picket line at University of Toronto [Market Wired (MR)].
Iggy Pop lectures on "free music in a capitalist society" at the BBC [Open Culture (recording)].
Seattle mayoral ally Pramila Jayapal endorses Kshama Sawant's reelection bid [The Stranger].
News of the Wired
* * *
Readers, feel free to contact me with (a) links, and even better (b) sources I should curate regularly, and (c) to find out how to send me images of plants. Vegetables are fine! Fungi are deemed to be honorary plants! See the previous Water Cooler (with plant) here. And here's today's plant, the second of "I Wish It Were Spring!" week (MR):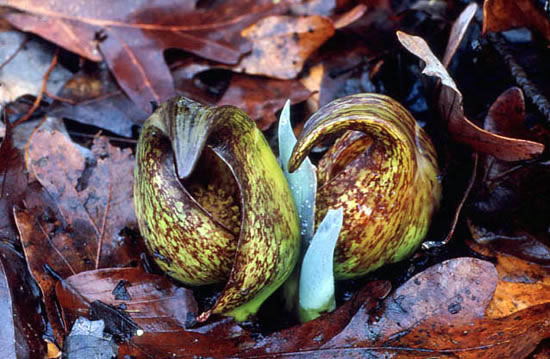 Skunk cabbage, in honor of the Skunk Party!
Readers sent in some very nice "I Wish It Were Spring!" photos, but I could always use some more. Glad to put this winter behind!
If you enjoy Water Cooler, please consider tipping and click the hat. It's the heating season!
Talk amongst yourselves!