By Lambert Strether of Corrente.
2016
The S.S. Clinton
Gamechanger: Evan Bayh endorses Clinton [The Times].

Krugman on Schweitzer book: [In the 1990s, there were "the Clinton rules, under which innuendo and guilt by association were considered perfectly OK, in which the initial suggestion of lawbreaking received front-page headlines and the subsequent discovery that there was nothing there was buried in the back pages if it was reported at all" [New York Times]. So, yeah, when I read about the Scaife-funded Hoover Institute emitting a Clinton scandal book, it seems like the same play from the same playbook; and I am "old enough to remember the 1990s." Krugman also writes: "Some of the same phenomenon resurfaced during the 2008 primary." I'm old enough to remember 2008, and it was Obots that did the resurfacing, too, which Krugman — note the lack of agency — gracefully avoids mentioning. My point being that bullshit seems to have an incredibly long half life, and moreover is an asset to be seized by any player.

"'I very much believe that that's the right policy, that we'll be even more transparent,' said Chelsea Clinton, the foundation's vice chairwoman" [The Hill]. So the cookie jar is transparent, and it shows your hand. And?

Schweitzer uranium scandal in 140 characters: "Hillary Clinton's State Department approved a sale of a mine while a person involved donated to her family foundation" [Wall Street Journal]. And you can say that makes the Clinton Foundation look like a money laundry, which it does. On the other hand, "looks like" isn't the same as proof, is it? And I suppose, if my corruption and impropriety tape measure were handy — it has a negative scale — "transparently" running a money laundry would rate a -8, but just outright taking checks in unknown amounts from unknown squillionaires via a SuperPAC would rate, oh, -24. Couldn't we cover this story using my tape measure? And is there a candidate at, say, -2, we can vote for?

Schweitzer's next book to be on Jebbie [Bloomberg].

Jebbie on Schweitzer book: "I haven't seen any of the contents of the book so I really can't comment" [MSNBC]. Jebbie has people for that.

Quinippiac: "30. Would you say that – Hillary Clinton is honest and trustworthy or not?" Independents: No, 61%; Yes, 30% [Quinippiac].

Clinton campaign to have paid staffers in all 50 states [HuffPo].

"Bill Clinton relied much more heavily on rural white counties in 1996 than Barack Obama in 2012 who consolidated Democratic advantages around diverse urban areas." With handy map [Wall Street Journal].
Republican Establishment
Jebbie's plan to outsource his campaign to SuperPACs could well be illegal under "a little-noted provision of the Bipartisan Campaign Reform Act of 2002" [Fred Wertheimer, Reuters].

Bush has one big problem: His last name [McClatchy].
The Koch dynasty [USA Today].
The Kennedy, Bush, and Clinton dynasties [WaPo]. Sensing a theme….
Stats Watch
Durable Goods orders, March 2015: "Manufacturing is on a dual track-transportation up and non-transportation soft" [Bloomberg]. "Within the core, orders were almost all down. The only major industry that gained was computers & electronics."
Pantry Clear-out
Jeni's Splendid Ice Creams of Ohio has recalled all of its products after health officials found listeria in a sample [FOX]. Second one after Blue Bell.
Black Injustice Tipping Point
Freddie Gray: Baltimore Police Union press release: "The images seen on television look and sound much like a lynch mob in that they are calling for the immediate imprisonment of these officers without them ever receiving the due process that is the Constitutional right of every citizen, including law enforcement officers" [Baltimore Sun]. Not to mention setting them on fire and stringing them up from a tree. Oh, wait….
Freddie Gray: Baltimore cops twisted him like "origami," says the man who filmed the fatally wounded 25-year-old's arrest [Daily News].
Natasha McKenna: "A mentally ill woman who died after a stun gun was used on her at the Fairfax County jail in February was restrained with handcuffs behind her back, leg shackles and a mask when a sheriff's deputy shocked her four times" [WaPo].
Description of Parma, where the police department resigned after the election of a black mayor [New York Times].
Parma's main strip looks like a bombed-out Wild West town, with abandoned brick buildings — an awning collapsing from one of them — broken windows and piles of rubble inside. There are two convenience stores and a couple of farming-related businesses, but generally little commercial life. Things here faded over the past several decades, as did the surrounding area, as small-time farming was overtaken by industrial operations, hurting the economy, residents said.
Whenever you see photographs of the protests, be sure to check the built environment in the background: Buildings, roads, signage. You'll see a generation's-worth of neoliberal disinvestment and infrastructure destruction wherever you look.
New Kinloch Mayor "Betty McCray was not only prevented from entering city hall, she was also told she'd been impeached before she got a chance to start" [FOX]. "After the election results were certified earlier this week by the St. Louis County Board of Elections, Kinloch's outgoing administration refused to allow the city clerk to give McCray the oath of office, claiming voter fraud…. Kinloch city attorney James Robinson informed McCray she had been impeached. However, the city refused to tell the new mayor the articles of impeachment." I grant I've got priors on St Louis municipalities, but this looks a little sketchy.
Police State
Armed U.S. marshall trash Beatriz Paez's phone, as bystander records it all [Photography is Not a Crime]. Pro tip: Hold your phone horizontally to get as much of the street as possible in the frame.
Big Brother Is Watching You Watch
Defense of Tor routers, from a company that makes them, but still not so bad [Ars Technica].
The DEA and the U.S. Army buy rootkits from Hacking Team, an Italian company that sells malware [Motherboard]. No backdoors in it, I'm sure.
"[T]he Pentagon will sink millions into creating a Silicon Valley-based Defense Innovation Unit X" to partner with startups [San Francisco Chronicle]. Taking a play from the NSA playbook.
Imperial Collapse Watch
"Bitter Cucumbers," a graphic novel on the rise of the Khmer Rouge [Cambodia Daily].
Pay conservative group ForAmerica $50,000, and you can hang out and shoot machine guns with Robert O'Neill, the former Navy SEAL said to have whacked Osama bin Laden [WaPo]. Classy!
"Pentagon can't account for $1 billion in Afghan reconstruction aid," "60 percent of all such spending under an emergency program" [McClatchy]. "The missing money was part of the relatively small amount of Afghanistan spending that was routed directly to military officers." Gee, I wonder who took it? To be fair, the officers must see everybody above them looting like crazy, so they'd be crazy not to do it themselves.
Class Warfare
"Corporations are immortal, transhuman artificial life-forms and humans are their gut flora. Gut flora and host organisms are often aligned in their interests. Ultimately, your gut flora's strategies are not yours" [Cory Doctorow, Boing Boing].
Headline: "The global economy's weird problem is that we have too much stuff" [WaPo]. The article's topic is over-production, but whaddaya mean, "we"? WaPo uses the Beltway "we" far too much.
News of the Wired
* * *
Readers, feel free to contact me with (a) links, and even better (b) sources I should curate regularly, and (c) to find out how to send me images of plants. Vegetables are fine! Fungi are deemed to be honorary plants! See the previous Water Cooler (with plant) here. And here's today's plant, the fifth of "I Wish It Were Spring!" week six (Kurt Sperry):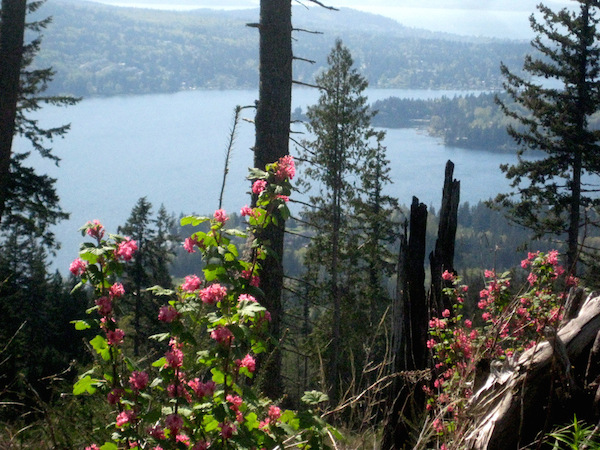 A wild Red Flowering Currant with Lake Whatcom as a backdrop.
Send me plantings and garden projects!
If you enjoy Water Cooler, please consider tipping and click the hat. It's the heating season!
Talk amongst yourselves!