By Lambert Strether of Corrente.
TPP/TTIP/TiSA
"[T]he myriad interests involved in the trade fight include some very large American corporations, which are currently padding their profits with labor costs kept low by modern-day slavery in Malaysia" [HuffPo]. This would be Obama's "new high standard rules", then.
Menendez on trafficking: "The scene described in news reports included cages for the human victims, and in one painfully poignant image, a single tiny orange slipper — evidence that children had been among them" [Roll Call]. Even the most corrupt pol can sometimes say or do a good thing. Even the lowliest worm can turn.
Obama: China has "already started putting out feelers about the possibilities of participating at some point" in TPP [NPR]. Obama at Nike: "If we don't write the rules for trade around the world, guess what? China will" [Market Watch]. So China's going to join an organization where they get no say in the rules? Make up your mind.
Obama explains the effect of TPP on workers: "In an economy of this size, there's always going to be some dislocations" [The Hill]. Yeah. When a bankster gets dislocated, he loses a bonus. When Obama gets dislocated, he goes over par. When you get dislocated, you lose your job or your house. And don't talk to me about training, which is just walking around money for Democratic non-profits.
"Republicans proponents of TPA estimate they will need about 190 GOP votes, leaving Obama to bring along roughly 30 Democratic votes to get the bill across the finish line" [The Hill].
"In the House, [Rosa DeLauro,] the Connecticut liberal has become the de facto leader of Democratic opposition, running a behind-the-scenes whip operation against new fast-track trade powers for the president" [Politico].
Op-Ed: "TPP backers say the deal will allow our businesses better access to foreign markets. But there simply isn't an equivalent foreign market" [Baltimore Sun]. For example, "the U.S. federal procurement market is approximately double the size of similar markets in the other TPP nations.This means that any new markets American businesses could pursue as a result of the deal would be outweighed by the impact of their new domestic competitors."
Shane Larson of the CWA: "We said, if Vietnam is not living up to the terms, why not let the AFL-CIO bring up charges? USTR said you don't understand how the system works" [David Dayen, Fiscal Times]. Loomis: "[That] suggests we're back in a pre-New Deal scenario."
TiSA: "They look like working documents," said Scott Miller who holds the William M. Scholl Chair in International Business at the Center for Strategic and International Studies. "Most of them have plenty of text that is in brackets. Bracketed texts are simply proposals. They aren't agreed to by anybody" [Fiscal Times]. But that's great, right?
TiSA: "Article 6 of the leaked text seems to ban any country from using free software mandates" [Ars Technica]. This would "prevent a European government from specifying that its civil servants should use only open-source code for word processing—a sensible requirement given what we know about the deployment of backdoors in commercial software by the NSA and GCHQ."
2016
"Voters of America: What exactly is your problem?" [Matt Bai, Yahoo News]. Seems like the political class is taking up Mouth of Yellen Hilsenrath's comedy sketch concept. "Why do you insist on dating bad boys like Scott Walker and Bernie Sanders when we've gone to such trouble to arrange reliable marriages that benefit everyone?"
Sanders
"In every debate, Sanders will argue that the party needs to do more to soak the rich" [Vox]. "Clinton surely sees this threat coming." Some threat!

"[Sanders] is advocating what is actually a modest redistribution of power and money through a federal rebuilding of our infrastructure, equal pay for women, a G.I. Bill-like free tuition, a higher minimum wage and a beginning move in the direction of European level sick leave and vacation" [Op-Ed, Lebanon Daily News]. Mic adds clickbait to the same content under the headline: "These Are the 6 Bold Ideas Fueling Bernie Sanders' "Political Revolution" [Mic]. Actually, both are wrong, if only because Sanders is a single payer supporter.

Sanders on Late Night with host Seth Meyers. Meyers: "Some have tried to frame you as this fringe candidate, but a lot of the things you believe are things that the majority of Americans believe" [New York Times]. Reads like a hazing session, though.

"While Bernie may come across as sincere about class politics, make no mistake, he's is a militarist that isn't about to challenge U.S. supremacy" [Counterpunch].

Sanders reaches out to Run Warren Run and their mailing list, having recently hired Kurt Ehrenberg, who previously worked on Run Warren Run, to spearhead his New Hampshire efforts [The Hill].

Sanders as Burlington mayor, 1981-89: "Thanks to the enduring influence of the progressive climate that Sanders and his allies helped to create in Burlington, the city's largest housing development is now resident-owned, its largest supermarket is a consumer-owned cooperative, one of its largest private employers is worker-owned, and most of its people-oriented waterfront is publicly owned. Its publicly owned utility, the Burlington Electric Department, recently announced that Burlington is the first American city of any decent size to run entirely on renewable electricity" [The Nation].
Round-up of the Democratic field [US News].
Lincoln Chaffee throws his hat in the ring: "Ban capital punishment, halt drone strikes and bring home Edward Snowden [US News]. "We will abide by the Geneva conventions, which means we will not torture prisoners" [The Intercept]. Crazy talk, like the metric system, which Chaffee advocated for. Apparently, Chaffee has no handlers.
The S.S. Clinton
Hillstarter.us: "a disruptive, innovative platform that democratizes access to Hillary Clinton by letting you pool your money with others to raise enough to get Hillary's attention" [The Intercept]. Unfortunately a work of satire, but these days, what isn't?

Clinton numbers sliding "in the realm of preferred media narratives," while voters overwhelmingly support her policy prescriptions [Greg Sargent, WaPo].

Clinton unfavorabilty numbers continue to rise [Politico].

Hillary gets her own squillionaire [Time]. Box CEO Aaron Levie.

"This should be a bright line in the primary, the most important substantive issue facing Hillary Clinton: How would she reform the tax and regulatory codes that unduly favor the financial sector?" [Joe Klein, Time]. Note O'Malley puffery at the end.

"Clinton's decision to deliver a substantive, high-profile speech on voting rights here on Thursday — in addition to fund-raising stops in Austin, Dallas and San Antonio — can do much to assuage" the feelings of Texas Democrats [New York Times]. Of course, it's a measure of the bankruptcy of Democrats that voting rights haven't been a front-burner issue ever since Jebbie tried to game Florida 2000 by scrubbing the voter rolls of likely Democrats in the Felon's List scandal. Let me get out my calculator: 2015 – 2000 = 15. That's 15 years ago. We're looking at is sclerotic, ancien regime-quality reaction time. More background here [Christian Science Monitor].

"Texas Republican Party brings giant rack-mounted computer server to mock Hillary about her email controversy" [Daily Mail]. Republicans: Always more feral.

"Bill Clinton's foundation set up a fundraising arm in Sweden that collected $26 million in donations at the same time that country was lobbying Hillary Rodham Clinton's State Department to forgo sanctions that threatened its thriving business with Iran, according to interviews and documents obtained by The Washington Times" [Washington Times]. Yes, "at the same time" doesn't mean "quid pro quo." But then "quid pro quo" isn't the defintition of corruption, either. Converting public goods to private gain is.
Republican Establishment
Rick Perry to run for… run… S-n-o-o-o-o-r-r-r-r-e [E! Online]. Anita Perry: "Rick is absolutely the guy that you want to have a beer with, but he's so much more than that" [People].

Headline: "Five Things to Know About Rick Perry's Indictment" [Bloomberg]. Not the sort of headline a candidate just coming out of the box likes to see. "An underlying allegation by the left-leaning watchdog group Texans for Public Justice, which isn't spelled out in the papers, is that Perry tried to eliminate the ethics unit to block its investigation of political backers who got state grants through a cancer-research program he sponsored."

Contrasts between California and Texas economic models [New York Times]. And to be fair to Perry, not all Texas growth is due to oil, though its booms and busts are.
Republican Clown Car
Headline: "Is 2016 the year of the Republican 'clown car'?" [Reuters]. Simple answers to simple questions: Yes.

Christie's administration omitted $335 million of "performance fees" from state pension analysis, many paid to Christie contributors. Then they cried poor and tried to cut pensions [International Business Times].

"A New Jersey Superior Court judge says Gov. Chris Christie's disclosure of the particulars of his security detail to a Cub Scout at a recent town hall meeting seriously calls into question the reasons he's given for keeping his security spending secret" [Star-Ledger]. A Cub Scout?!
Zephyr Teachout recruits teachers as candidates [Albany Project]. Smart.
Stats Watch
Portuguese 10-year bonds: "GSPT10YR:IND Yield 2.852; down 0.023; change: .8%" [Bloomberg]. Going down. Mr. Market less worried about contagion
"The U.S. Federal Reserve should delay a rate hike until the first half of 2016 until there are signs of a pickup in wages and inflation, the International Monetary Fund said in its annual assessment of the economy on Thursday" [Reuters]. Wowsers. IMF tries to call the shot for a sovereign country (or give J-Yel cover. Either way). Based on the loanable funds theory. It's a two-fer. More free money for rich people! Garçon! More champagne!
Challenger Job Cut report from May 2015: "Jobless claims are down and so is Challenger's layoff count" [Bloomberg]. Layoffs led by finance sector (JP Morgan) and goverment.
Jobless Claims, week of May 30, 2015: "[C]ontinue to run very low, down 8,000" right at consensus [Bloomberg].
Productivity and Costs, Q1 2015: "The grinding halt that the economy came to the first quarter pulled nonfarm productivity down by 3.1 percent and inflated unit labor costs by 6.7 percent" [Bloomberg]. "Looking year-on-year, productivity is on the plus side, though just barely."
Gallup US Payroll to Population, May 2015: " strongest month-to-month change for P2P so far this year, in line with an expected seasonal rise in full-time employment" [Bloomberg].
Bloomberg Consumer Comfort Index, May 2015: Down slightly to extend a string of declines. [Bloomberg].
"Intermodal traffic improved year-over-year, which accounts for half of movements – but weekly railcar counts continues deep into contraction" [Econintersect]. And the decline isn't all from coal.
News of the Wired
* * *
Readers, feel free to contact me with (a) links, and even better (b) sources I should curate regularly, and (c) to find out how to send me images of plants. Vegetables are fine! Fungi are deemed to be honorary plants! See the previous Water Cooler (with plant) here. And here's today's plant, the fourth of Gardens, Week Five (Diane):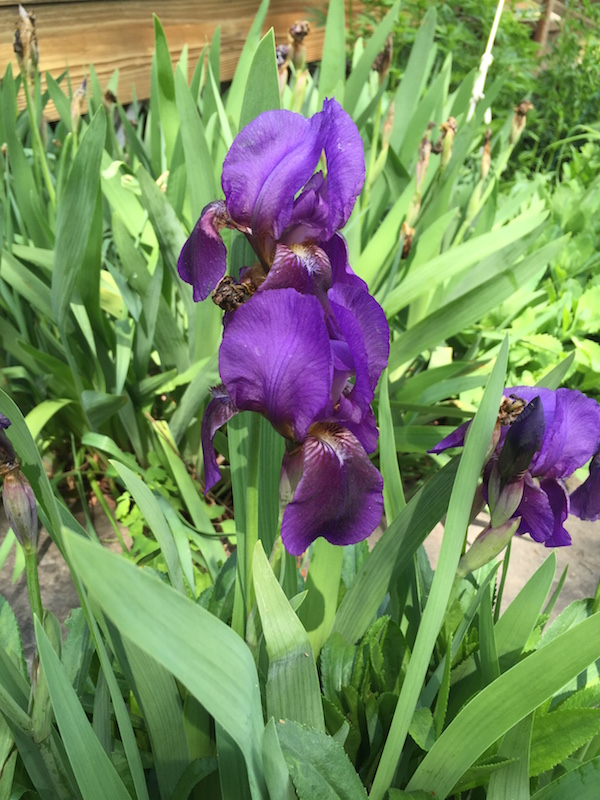 More iris from Montana!
Readers, the weekend's discussion for "Open Thread on Water" was terrific. So many interesting projects! Please, send me pictures of your projects, at least if plants are involved, and when aren't they? If only of maple twirlers in gutters!
If you enjoy Water Cooler, please consider tipping and click the hat. It's the soil, seeds, flats, and sheet mulching season, so I need straw!
(Readers will notice that I have, at long last, improved the hat!)