By Lambert Strether of Corrente.
TPP/TTIP/TiSA
G7 Leaders Declaration: "We welcome progress on major ongoing trade negotiations, including on the Trans-Pacific Partnership (TPP), [and] the Transatlantic Trade and Investment Partnership (TTIP) … We will make every effort to finalize negotiations on the TPP as soon as possible… We will immediately accelerate work on all TTIP issues" [White House].
"The fight over fast-track trade authority is coming to a head, with a House vote possible as early as Thursday" [The Hill].
"House Majority Leader Kevin McCarthy of California and other GOP leaders have not yet committed to bringing up Trade Promotion Authority by week's end, a sign that while pro-trade leaders in the House are closing in on the 217 ayes they need to pass the bill, the contentious vote remains very close" [Politico]. Ron Kind (Wisconsin) is the lead Democrat whipping for the legislation (that is, Pelosi's straw).
Congressional Black Caucus: "Even for a president who desperately needs them, on an issue he desperately wants, many of Obama's most loyal foot soldiers are expected to abandon him" [Christian Science Monitor].
"Chocolate makers accused of leveraging 'loophole' on child slavery" [Confectionary News]. Right now, 19 U.S. Code § 1307 prohibits importation of goods made by slave labor, except when "goods, wares, articles, or merchandise so mined, produced, or manufactured" cannot be made in sufficient quantities in the US to meet domestic demand. However, this pro-slavery provision could not be abolished without setting up a trade barrier, so TPP would freeze it in place. Another way of looking at the TPP, I suppose, is that if Lincoln's United States had signed the TPP, it would have had to compensate British cotton manufacturers for "lost profits" from passing the Fourteenth Amendment.
Op-Ed: "I truly believe that James Madison and many of the Founding Fathers would be completely disgusted by this entire issue. They would likely be incredulous that Congress would so willingly sign away its constitutional authority" [News-Advance]. The author is chair of the Virginia Tea Party Federation. And he's right.
Rand Paul: "To me, it's kind of you put the cart before the horse to give the permission to do something you haven't seen" [The Hill].
"The AFL-CIO, along with some public sector unions, announced a campaign finance freeze in March" "over a package of trade bills being debated in Congress" [Roll Call]. "[T]he freeze is frustrating and alienating plenty of House Democrats, many of whom say they are being punished even though they have been critical of the issue." No. The Democrats as a party need to repudiate TPA/TPP/TTIP/TiSA. Otherwise, they get to play the revolving heroes game. The AFL-CIO is quite right on this; the whining Democrats should bring pressure to bear on their leadership, not the unions.
"The Communications Workers of America says it will steal majority-female jobs from low wage workplaces like call centers, as well as higher wage sectors such as human resources" [HuffPo].
Does the TPP contain provisions that corporations can use to force us to privatize "public" things like our Post Office, public schools, public roads etc., so they can replace them with profit-making enterprises that provide a return only to the wealthy few? [CAF]. Simple Answers to Simple Questions: Yes. In fact, that's the whole point.
TISA: "The leaked draft language, proposed by the U.S. and several other countries, states that a government may not prevent a foreign services company 'from transferring, [accessing, processing or storing] information, including personal information, within or outside the Party's territory.' Essentially, this says that privacy protections could be treated as barriers to trade" [Slate].
"Unlike their counterparts on the right, however, the left has generally been less willing to primary Democrats on ideological grounds" [The New Republic]. Which is why Obama and a small minority of Democratic traitors in the Senate, along with Pelosi and perhaps 17 House Democrats, can sell the country down the river.
2016
Sanders
Sanders: "Let me tell you a secret: We're going to win New Hampshire" [Keene Sentinel].

Wisconsin straw poll, at the Wisconsin Democratic Party convention: Sanders, 41%; Clinton, 49% [Politico]. Speculating freely, Wisconsin Democrats remember quite well how the national Democrats threw them under the bus on the Walker recall. "The attendees at events like the state Democratic convention are the dedicated activists" [ABC].

"Tanned, Exquisitely Coiffed Bernie Sanders Tells Supporters Corporations Actually Have A Lot To Offer" [The Onion].
The S.S. Clinton
"Hillary Clinton is planning about a dozen speeches and announcements in the coming months on social and economic policy, aides say, with topics that include college affordability, women's pay equity and Wall Street regulation" [Wall Street Journal, "Clinton to Roll Out Policy Ideas in Series of Speeches"]. That's the lead? Yes. Yes it is. It's a Presidential campaign, so one would expect speeches, even on policy. Clinton campaign spokeshole:

"It's a long campaign, and she'll be taking the coming weeks and months to explain her vision how to continue building an economy that allows everyday Americans to get and stay ahead."

Translation: Clinton still wrapped in tissue paper, rather like a fragile art object. I mean, seriously. Think of what the country's been through since the Crash of 2008. And Clinton doesn't have "a vision"?

Clinton "called in to a convention of low-wage workers" to support their effort for a $15 minimum wage [WaPo]. She phoned it in?!

Clinton on the vote: "'So today, Republicans are systematically and deliberately trying to stop millions of American citizens from voting,' [Clinton] said in a speech in Houston. 'What part of democracy are they afraid of?' She charged them with promoting a 'phantom epidemic of election fraud.'" [Wall Street Journal, " Hillary Clinton Takes First Swings at GOP Rivals"]. Right on all counts, fifteen years after Jebbie tried to steal Florida 2000 for his brother, a period in which Democrats have been entirely supine.

Squillionaire Soros funding Democrats' voting rights lawsuits [New York Times]. So it makes sense that Clinton's first major speech is on this topic, eh? And the Democrats are so strapped they couldn't have funded such lawsuits all by their own selves?
Republican Principled Insugents
Iowa: Walker says his 2003 Harley had bullet hole decals [Wall Street Journal, "Republican Presidential Hopefuls Vie for Voter Attention at Iowa 'Roast and Ride'"]. Fake bullet holes, rather like his fake claims to be threatened by protesters.

Critique of the campaign logos [Bloomberg]. Rubio uses a map of the United States as the dot in the "i" of his logo. Hmm.
Republican Clown Car
Lindsay Graham: "If Caitlyn Jenner wants to be a Republican, she is welcome in my party" [Us]. Good for him!

Iowa voter: "Rick Santa-something? … Rick Sanitarium" [Kansas City Star]. No, no. That's not right at all.
Staff turmoil in the Carson campaign [WaPo].
Facebook: "[A]s much as 72 percent of the new material your friends and subscribed pages post never actually shows up in your News Feed" [WaPo].
Herd on the Street
"Kozmo pioneered the idea of same hour delivery in 1998, fifteen years before its time. Kozmo pioneered the idea of raising and spending hundreds of millions of dollars a year long before it became fashionable, even normal to do so. Kozmo nailed the practice of scaling while your unit economics are upside down. They took that practice into almost twenty markets before the capital markets turned on them and there wasn't money available to incinerate anymore" [Fred Wilson, AVC].
Stats Watch
Portuguese 10-year bonds: "GSPT10YR:IND Yield 2.985; up 0.036; change: 1.22% " [Bloomberg]. Going up. Mr. Market more worried about contagion, though only mildly.
"The budget deficit is now looking too small to sustain growth, as evidenced by the incoming data over the last 6 months" [Mosler Economics]. Headwinds for Democrats in 2016….
Black Injustice Tipping Point
"The Brief and Tragic Life of Kalief Browder" [The Atlantic]. Commits suicide after being sent to Rikers in 2010 for a crime he didn't commit.
"Ferguson Police Department from interim chief's point of view" [Los Angeles Times]. Wild stuff, some of it utterly unmoored from reality.
"Skyscrapers and Everything" [Paris Review].
"Why We Be Loving the 'Habitual Be'" [Slate].
Korean MERS Outbreak
Bird flu in the U.S., MERS in Korea…
"More than 2,500 people remain quarantined, either at home or in health facilities. And more than 1,800 schools remain closed" [CNN].
"[E]xperts do not consider this outbreak, in which all cases are hospital-associated, to have pandemic potential or even expect it to spread further within South Korea" [Nature]. Five reasons why.
"MERS becomes increasingly less contagious as it is spread from one person to the next. In Korea those infected by patient 1, the "super spreader," have in turn infected relatively few third generation MERS cases" [Voice of America].
"Health officials have linked all of the cases in South Korea to the 68-year-old man, whose MERS diagnosis came nine days after he initially sought medical help" [The Australian].
"[T]he man visited doctors and moved around medical facilities in South Korea from May 11 to 20 looking for answers for his symptoms—and apparently transmitting the potentially fatal virus to at least 30 people, including medical staff, fellow patients and hospital visitors" [Wall Street Journal, "South Korea MERS Outbreak Began With a Cough"].
"Hong Kong upgraded to 'serious' on Monday its response to an outbreak of Middle East Respiratory Syndrome (MERS) in South Korea" [Reuters].
"For the people who fought Toronto's devastating SARS outbreak in 2003, the news out of South Korea right now sounds eerily familiar" [CTV].
Corruption
"Justice Department probes banks for rigging Treasuries market" [New York Post]. At this point, wouldn't it be easier to make a list of markets that aren't rigged?
Class Warfare
"[T]he conditions that attend poverty—what a National Scientific Council report summarized as "overcrowding, noise, substandard housing, separation from parent(s), exposure to violence, family turmoil," and other forms of extreme stress—can be toxic to the developing brain, just like drug or alcohol abuse" [The New Yorker]. That's not a bug….
News of the Wired
What happened to the "the stentorian, phony-British Announcer Voice that dominated newsreel narration"? [The Atlantic].
"The Dark Enlightenment: The Creepy Internet Movement You'd Better Take Seriously" [Vocativ]. "Its belief system is unapologetically reactionary, almost feudal." In Silicon Valley. Naturally. See also on Technocracy, Inc. [Wired].
Seventy-year-old Xia Yunchen at Chinese press conference after Chinese cruise ship capsized: "You view the common people as if we are all your enemy. We are tax payers. We support the government. You had better change your notion of this relationship. You are here to serve us. You need to be humane" [Reuters]. Good for her.
* * *
Readers, feel free to contact me with (a) links, and even better (b) sources I should curate regularly, and (c) to find out how to send me images of plants. Vegetables are fine! Fungi are deemed to be honorary plants! See the previous Water Cooler (with plant) here. And here's today's plant, the first of Gardens, Week Six (Andrea):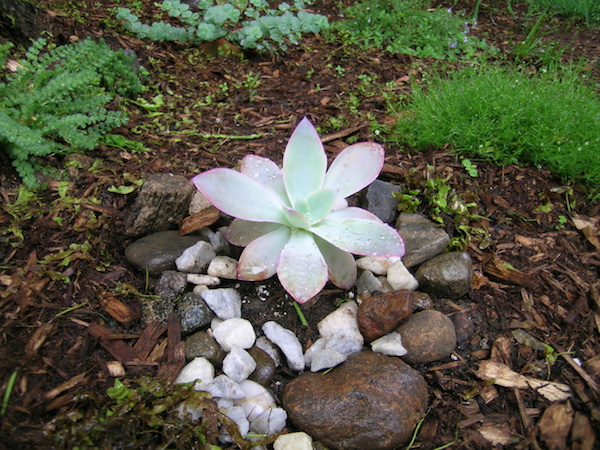 I'm not much of a one for cactus succulents, or cactus succulents in Maine, but I suppose the rocks serve as a sort of mulch to preserve the heat of the sun?
Readers, the weekend's discussion for "Open Thread on Water" was terrific. So many interesting projects! Please, send me pictures of your projects, at least if plants are involved, and when aren't they? If only of maple twirlers in gutters!
If you enjoy Water Cooler, please consider tipping and click the hat. I need to keep my server up!
(Readers will notice that I have, at long last, improved the hat!)