By Lambert Strether of Corrente.
TPP/TTIP/TiSA
400 pages of email traffic between USTR officials and industry advisors FOIAed [Intellectual Property Watch]. "The released emails, ranging from 2010 to 2013, are made public for the first time here (1 of 4), here (2 of 4), here (3 of 4), and here (4 of 4) [all pdf]."
What is striking is not that government negotiators seek expertise and advice from leading industry figures. But the emails reveal a close-knit relationship between negotiators and the industry advisors that is likely unmatched by any other stakeholders.

The cleared advisors in the email exchanges represent a range of industries and companies, including law firms. Among them are (in no particular order): Recording Industry Association of America, PhRMA, General Electric, Intel, Cisco, White and Case, Advanced Medical Technology Association (AdvaMed), Motion Picture Association of America, Wiley Rein, Entertainment Software Association, Fanwood Chemical, American Chemistry Council, CropLife, Medtronic, American Continental Group consultants, and Abbott. There is also an exchange with generics pharmaceutical industry representatives.

Many of the industry representatives are themselves former USTR officials.
In other words, they're Flexians, and the ISDS process is optimized for that Flex Net.
"Malaysian jungle graves add to Obama's trade pact headache in Congress" [The Star]. Malaysian take on Beltway maneuvering. Paul Ryan: "We shouldn't confer Malaysia's sins to these other countries that we're trying to get agreements with." That's a novel argument.
"The pharmaceutical industry has been pressing the Obama administration to insist that the Trans-Pacific Partnership include 12 years of monopoly pricing power" for biologics [Politico]. "Sales of biologics were $130 billion worldwide in 2013 and are projected to hit $290 billion by 2020." 
"President Obama's executive orders have already stripped Congress from much of its authority over immigration, carbon emissions and the environment. Why help Obama further extend the transfer of power to supranational bodies"? [The Oklahoman].
"Two members of House GOP leadership—Majority Whip Rep. Steve Scalise (R-LA) and Rules Committee chairman Rep. Pete Sessions (R-TX) Rep. Pete Sessions (R-TX)—refused to admit … whether they have read the text of the TPP" [Brietbart]. I hate to quote Brietbart, but just to show there's thunder on the right…
"This hit parade of failed arguments should convince any fence sitters that this is a bad deal. After all, you don't have to make up nonsense to sell a good product" [Dean Baker, Bill Moyers]. Good aggregation of said failed arguments, including a USA Today editorial later retracted (!).
Text of ASEAN's TPP-equivalent, the RCEP, leaked [EFF]. The IP agreements are worse than TPPs. (I can't imagine how this would be anything other than a non-starter in Thailand. Any Bangkok Mall is a collective copyright violation on a ginormous scale. And that's before we get to pharma.)
Grexit?
2:00PM updates, though the situation is indeed overly dynamic.
Snap elections? "At least two ministers suggested early elections could be an option if the creditors didn't back down" [AP].
The Alco survey for news website Newsit found 47 percent disagreed with how the government was handling negotiations, while 39 percent agreed. The June 3-4 telephone survey of 1,000 respondents also found 74 percent backed remaining in the euro, with only 18 percent of those polled preferring a return to a national currency.
However, take with a truckload of salt, since I have no idea of the quality of Greek polling or the tendencies of this outfit.
UPDATE from Telegraph live blog: "Reports suggest outfloows [sic] from Greek banks hit €700m today." William Hill puts odds of Grexit at 1/3 (and the bookies called the UK election correctly, while the pollsters got it wrong).
Tsipras addresses Parliament [Live Blog, Telegraph].
A brief summary: Alexis Tsipras says he is confident that Greece can come to an agreement with its lenders that avoids the country leaving the euro. Having said that, he's talking tough on Jean-Claude Juncker's "absurd" and "unreasonable" proposals tabled on Monday, to which he says the Greek government cannot consent.

On his list of requirements for a deal are debt relief, low primary surpluses, protection of pensions and redistribution of income.
In other words, there is not and has never been an agreed solution space between creditors — including the countries left holding the giant bag of crap that European banks handed them after the  2008  crisis, a point Syriza never makes, so WTF, dudes, who's your enemy? — and not from the very beginning, a point Yves has repeatedly made.
"The Greeks accuse the IMF of colluding in an EMU-imposed austerity regime that breaches the Fund's own rules and is in open contradiction with five years of analysis by its own excellent research department and chief economist, Olivier Blanchard" [Ambrose Evans-Pritchard, Daily Telegraph]. No question AEP — and oddly, at the Torygraph, until you factor in Euroskepticism — can get too close to his sources. That said, this:
Five key players in the radical-Left Syriza movement – meeting in the Maximus Mansion in Athens yesterday – took an ice-cold, calculated, and carefully-considered decision not to pay.

They knew exactly what they were doing. The IMF's Christine Lagarde was caught badly off guard. Staff officials in Washington were stunned.
Mind you, this is not to say either that (a) a solution space exists, or that Syriza is competent at (b) negotiating or (c) governing. But the narrative of childish Greeks is a tell.
Shoutout to Jacobon for this, this, this, and this: English-language articles from Syriza . Probably best to decode their intentions from these sources, not the press; the "defiance" narrative — classic rhetorical technique of infantilizing one's opponents — will not do. (Troll prophylactic: I'm not pom-pom waving. Sun Tzu says "Know your enemy and know yourself.")
"A similar degree of complacency was evident in the United States before the collapse of Lehman Brothers in September 2008" [Joseph Stiglitz, Marketwatch].
2016
Sanders
"Dear America: Meet Bernie Sanders. Properly, this time" [Medium]. And here is the NSWF version. Good colllection of talking points and links.
"John Cusack says Obama is worse than Bush. But he's just a guy with a boombox" [WaPo].
The S.S. Clinton
Clinton calls for universal voter registration [WaPo]. Good. Now how about universal health care? Note also that this sets up a "We wuz robbed!" narrative to delegitimize a Republican victory (which isn't even a possibility, of course, but just in case…). Again, Democrats should have been on this 15 years ago. And where are they on electronic voting, anyhow?
Republican Establishment
"A Preview of Jeb Bush's Super PAC Donors: Titans, Tycoons and Lobbyists" [The Intercept].

A listicle on Rick Perry [CrowdPac].
Republican Principled Insurgents
Rubio and his wife keep getting arrested [New York Times]. Should give them empathy with #BlackLivesMatter. Kidding!
The Hill
"Sister names victim of alleged Dennis Hastert abuse" [CNN].
Stats Watch
Portuguese 10-year bonds: "GSPT10YR:IND Yield 2.949; up 0.097 change: 3.40%" [Bloomberg]. Mr. Market more worried about contagion.
Employment Situation for May, 2015:  "[T]he May employment report proved very strong including payroll growth and, very importantly, an uptick in wage pressures" [Bloomberg]. "Another sign of strength includes the labor participation rate, up 1 tenth to 62.9 percent. The unemployment rate did tick 1 tenth higher to 5.5 percent which is unexpected but the gain reflects a solid gain in the labor force for both those who found a job and especially those who are now looking for a job." And: "The big contributor to employment growth this month was health care (46.8K), leisure and hospitality (57K), and admin services (39.6K)" [Econintersect].
"The Do-It-Yourself Economy Just Hired 1 Million American Entrepreneurs" [Bloomberg]. "The Kauffman Index of Startup Activity, which is an indicator of new business creation, had the biggest increase in the past two decades."
My prediction: Americans are optimistic and think in averages, so they think these startups will be on a bell curve: Some very good, most muddling along, a few failing. Unfortunately, elites, at least in this respect, are more reality-based, and think in power curves: A tiny fraction at the tippy top will do well, a steep shoulder, also small, will struggle for a time, and a "long tail" will fail, most quickly. The elite will then figure out how to get the few exemplars media time, while helping the failures in the middle of the putative, non-existent bell curve to blame themselves, purchase more self-help books, "turn to guns and religion," and so forth. It's also interesting, in an Alien-hatching-from-the-stomach sort of way, to see the glibertarian Silicon Valley "startup culture" — which only exists because there's so much QE free money for rich people sloshing about — being propagated outward to the flyover states by our famously free press.
Health Care
"Despite Obamacare, gap health insurance market explodes" [Reuters]. The market is saying ObamaCare is crapified.
"Six members of Congress have a bill to stop the costly and intrusive ICD-10 coding system due to be implemented on October 1st" [CCH Freedom]. Site is on the right, but very good nonetheless.
Black Injustice Tipping Point
"Baltimore Grapples with Blight Quandary" [Wall Street Journal].
Corruption
"[Harbin's] the only long-term staffer known to hail from the region where Hastert grew up and began his career. It is not clear what Harbin has been up to since he left Hastert's employ about three years ago. A source said he owns rental properties but has no job." [Yorkville Patch (optimader). In other words, Harbin's in real estate. Where Hastert made his money. As Speaker. Hmm.
"Deutsche Bank AG is conducting an internal probe into possible money laundering by Russian clients that may involve about $6 billion of transactions over more than four years"  [Bloomberg]. So give the money to Greece. Problem solved, and a stick in the eye to Putin's oligarchs. Kidding!
Imperial Collapse Watch
"The Pentagon announced today that it would no longer supply the Iraqi Army with American vehicles, artillery and rifles, and instead would supply materiel directly to ISIS" [Duffel Blog]. It's a game-changer!
Big Brother Is Watching You Watch
"In short, the NSA believes it has authority to operate a warrantless, signature-based intrusion detection system—on the Internet backbone" [Web Policy]. This is a more pointed, and correct, restatement of the Pando story summarizing this New York Times story in Links today. And if you believe that when the NSA controls the Internet backbone all they're going to do is use it against hackers, then there's something in Brooklyn that's big and not the Clinton headquarters that's for sale, and I would like to sell it to you.
Police State
"The FBI is operating a small air force with scores of low-flying planes across the U.S. carrying video and, at times, cellphone surveillance technology – all hidden behind fictitious companies that are fronts for the government" [CBS]. Somebody spotted one over Baltimore, got the tail number, tracked down the company to a box number in Northern Virginia, and concluded properly it was the Stasi (need a better word than "spooks," alas). Then the press took over and here we are. I suppose the bright side is that they're not using drones.
"U.S. military and civilians are increasingly divided" [Los Angeles Times]. Dangerous, especially if police departments seek out veterans.
News of the Wired
* * *
Readers, feel free to contact me with (a) links, and even better (b) sources I should curate regularly, and (c) to find out how to send me images of plants. Vegetables are fine! Fungi are deemed to be honorary plants! See the previous Water Cooler (with plant) here. And here's today's plant, the fifth of Gardens, Week Five (Rex):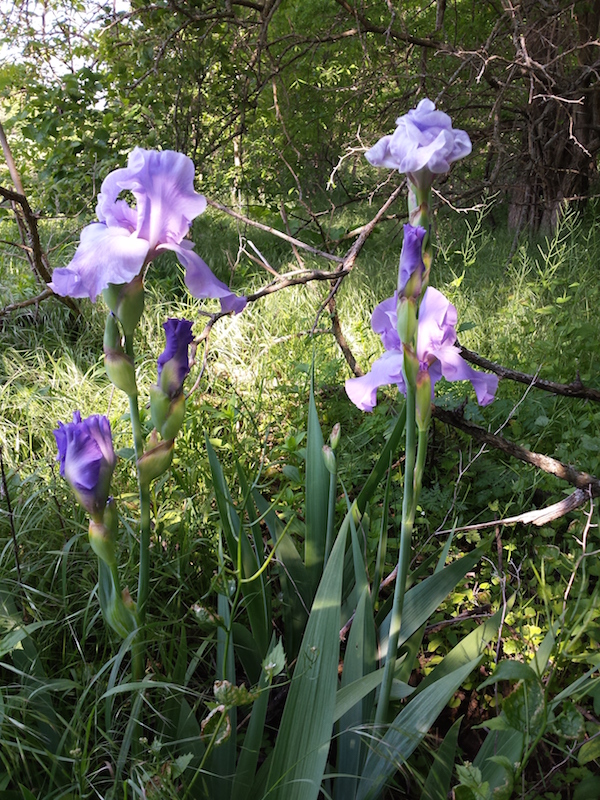 Volunteers from an Indiana roadside, so we'll call this an "emergent garden."
Readers, the weekend's discussion for "Open Thread on Water" was terrific. So many interesting projects! Please, send me pictures of your projects, at least if plants are involved, and when aren't they? If only of maple twirlers in gutters!
If you enjoy Water Cooler, please consider tipping and click the hat. I need to keep my server up!
(Readers will notice that I have, at long last, improved the hat!)