By Lambert Strether of Corrente.
TPP/TTIP/TiSA
"Leaked: What's in Obama's trade deal" [Politico (allan)].
POLITICO has obtained a draft copy of TPP's intellectual property chapter as it stood on May 11, at the start of the latest negotiating round in Guam. .. [T]he draft chapter will provide ammunition for critics who have warned that TPP's protections for pharmaceutical companies could dump trillions of dollars of additional health care costs on patients, businesses and governments around the Pacific Rim. The highly technical[i.e., deeply obfuscated by the very same corporate lawyers who will later appear before the ISDS so-called courts] 90-page document, cluttered with objections from other TPP nations, shows that U.S. negotiators have fought aggressively and, at least until Guam, successfully on behalf of Big Pharma.
Well, Presidential libraries don't come free. Anyhow, this would be perfectly in character, if that is the word I want, for Obama, whose secret betrayals with Big Pharma paved the way for ObamaCare. Same play, same playbook.
"Following Congress' hard-fought approval of 'fast-track' trade authority last week, U.S. Trade Traitor Representative Michael Froman vowed not only to complete the 12-nation Trans-Pacific Partnership but an even bigger pact with the European Union and three other major trade deals — all in the 18 months remaining in President Barack Obama's term" [Politico]. The Fast Track vote was a skirmish. This a war.
"A European Union (EU) trade expert secretly told a French economics minister that America's Trans-Pacific Partnership (TPP) seemed designed to provoke a confrontation with China, according to a US intelligence intercept published on WikiLeaks" [Sputnik]. OK, Russian media tossing the apple of discord, but since it's true….
"TTIP: MEPs pave way for plenary vote by retabling June amendments" [European Parliament]. "In the run-up to a plenary vote, negotiations between political groups are seeking common ground on the divisive issues that arose in the TTIP talks, and in particular whether a TTIP deal should provide for the use of private arbitration to solve disputes between investors and states."
Bold-faced names: Democrat trade traitors. Readers, more like this, please (contact form below). List of traitors; is one of them "your" "representative"?
2016
  Ouch [The Hill]. About the hope and change thing:
Here is the scoreboard of the political legacy that Obama may leave his party:

When Obama assumed office, Democrats controlled the House of Representatives. That majority was destroyed and a Republican House was elected on Obama's watch.

When Obama assumed office, Democrats controlled the Senate. That majority was destroyed and a Republican Senate was elected on Obama's watch.

When Obama assumed office, Democrats controlled a majority of governorships. The majority was destroyed, and Republicans took a majority of governorships on Obama's watch, which led to the reapportionment after the 2010 Census that was catastrophic for House Democrats.

Given this legacy of damage that Obama has inflicted against his party and his presidency, by depressing liberal Democratic voters and motivating conservative Republican voters in two midterm elections that were disastrous for Democrats, it was breathtaking that throughout the recent trade debate Obama demonstrated he still has not learned that the leader of a great party must not insult its core voters if it has any hopes of prevailing in future presidential and congressional elections.
Way to sharpen those contradictions, Obots. We owe you a solid.
Will that loveable goof, Joe Biden, toss his authenticity into the ring? [Bloomberg]. Maybe if he grovels on having passed the law that condemned millions of college kid to debt servitude. How about it, Joe?
Sanders
"Wittingly or not, Sanders seems to be joining a small cadre of other no-bullshit old people—think Betty White or Chuck Grassley—whose perceived lack of guile resonates with digital natives" [National Journal].
The S.S. Clinton
"The State Department on Tuesday released 3,000 pages of emails from the private server former Secretary of State Hillary Clinton used while in office" [The Hill]. Of course, that Clinton privatized a public function renders her unfit for public office, since knowing the boundary between private and public is essential to avoid corruption. But do let us continue to stare at each tiny fleck of color on the canvas, instead of stepping back to see the big picture snap into focus.
Republican Establishment
"Jeb Bush's Wealth Soared When He Left Governor's Office, Tax Returns Show" [New York Times]. "[A] significant leap in wealth that reflects the power of his connections and the breadth of his entrepreneurial pursuits." That's "dynastic connections." Fixed it for ya.
Republican Principled Insurgents
"What GOP primary voters most want is a candidate who will not compromise on conservative principles but can still win a general election. That's where Walker's triumph over public-sector unions really helps him" [The Atlantic]. And what are those principles? As I've been saying: Stomp Democrats (and the goddamn unions). Good article, which omits mention of Walker's ability, as a preacher's kid, to dog whistle with the best of 'em.

Walker giveaway to the Bucks arena contrasts with gutting the University of Wisconsin [Bloomberg]. Maybe decision making like that is why Wisconsin job growth lags neighboring states.
Republican Clown Car
"'Did Jesus ride dinosaurs?': Bobby Jindal's Twitter Q&A hilariously backfires" [Raw Story].

"Would Chris Christie Run America Any Better Than He Has Atlantic City?" [Forbes]. Simple answers to simple questions….
The Hill
"Chuck Schumer, the third ranking Senate Democrat, is trying to build congressional support for legislation that would allow Puerto Rico to declare Chapter 9 bankruptcy" [MarketWatch]. Everybody but students and homeowners and the rest of us get a break on debt, it seems. Perhaps some of Schumer's more important constituents are exposed?
Stats Watch
Many reports today!
Motor Vehicle Sales, June 2015:  "With about 3/4 of the data in, unit vehicle sales are running at about expectations" [Bloomberg]. "So far, today's results point to weakness for the motor vehicle component of the government's retail sales report." I don't understand. This is the greatest economy ever. What's wrong with these people?
MBA Mortgage Applications, week of June 26, 2015:  "Rates moved higher in the June 26 week, contributing to sharp declines in mortgage applications" [Bloomberg]. "Now that the Greece default crisis seems over (for the moment), Treasury yields and mortgage rates will continue rising in anticipation of The Fed's anticipated rate hike" [Confounded Interest]. "
Challenger Job Cut Report, June 2015: "[A]nnouncements totaled 287,672 for a 17 percent increase from a year ago." Retail and the chemical industry [Bloomberg]. "Announcements sometimes take months before jobs are actually cut so today's results, though a negative for the outlook, are not likely to affect expectations for tomorrow's employment report." "Retail was the leading job cutting sector in June with 17,947 job cuts. Most of those were related to the closure of all Canadian stores by Minnesota-based Target" [Econintersect].
ADP Employment Report, June 2015: "ADP estimates that private payrolls rose a larger-than-expected 237,000" [Bloomberg]. "ADP has missed badly the last couple of months, likely limiting its effect on expectations for tomorrow's employment report." "This month small and medium sized business created the majority of the jobs" [Econintersect]. Indeed, small business was confident.
Gallup US Payroll to Population, June 2015: "Full-time employment for an employer continued to increase through the first month of summer, after a slow start in 2015. It is now at its highest measurement since 2012" [Bloomberg]. "The percentage of U.S. adults participating in the workforce in June was 67.1 percent."
PMI Manufacturing Index, June 2015: "Slowing growth in June" [Bloomberg]. Exports; energy.
ISM Manufacturing Index, June 2015: "[S]teady rates of moderate growth"  [Bloomberg]. "Manufacturing has had a tough time this year and this report, though showing growth, will not be raising expectations for any second-half acceleration for the sector." "ISM Manufacturing represents less than 10% of USA employment, and approximately 20% of the business economy" [Econintersect].
Construction Spending, May 2015: "Construction spending rose a solid 0.8 percent in May" [Bloomberg]. "Areas of special strength include manufacturing facilities, up 6.2 percent in the month for a fourth straight outsized gain that belies declines in other measures of business investment." Interesting. "Turning to the key residential construction component, growth was less strong."
"As it became clear Greece would not make a key debt payment to the International Monetary Fund on Tuesday, markets shrugged, reclaiming some of the losses of the day before" [WaPo]. Ye"s, one would have expected something more like a plunge, as opposed to a blip.  "[S]tock markets have been on a seemingly unstoppable rally. Key indexes have doubled in value or more, even as the world economy logs disappointing growth year after year." Of course, early is wrong…
"Is There a Student Loan Debt Crisis?" [Credit Slips].
Black Injustice Tipping Point
Headline: "Why do people believe myths about the Confederacy? Because our textbooks and monuments are wrong" [WaPo]. Subhead: "False history marginalizes African Americans and makes us all dumber." Note lack of agency in the editor-written headline and subhead. Maybe I should read a biography of D.W. Griffith, whose Birth of a Nation was the Battleship Potemkin for the noxious "Lost Cause" cadres and apparatchiks.
Corruption
"Custodians' payments to RIAs for fund picks raise eyebrows" [Investment News].
Registered investment advisers like to promote themselves as being on the side of investors, but a growing number are quietly accepting money from custodians in exchange for recommending certain mutual funds — usually funds that are more expensive for investors. The payment is made to advisers as a "shareholder services fee."
Oh, the fees. The fee fees. Because feedom.
How the UK's Metropolitan Police covered up for Rupert Murdoch [Belling Cat].
Police State
"[A]nalysts believe that other nations have adopted a number of practices that contribute to less-contentious relations between police and residents – and might make a difference on US streets" [Christian Science Monitor]. "In Germany, a gun is not sexy." Good luck with that. Amazingly, German cops aren't ammosexuals. It's a funny old world.
Here's how cash cops seize in law enforcement for profit civil asset forfeiture gets divvied up [WaPo]. "In cases like Clarke's, where local and federal agents cooperate on a seizure, federal agencies typically keep at least 20 percent of the assets, while local cops split the remainder among themselves." 20%? Reminds me of the "2 and 20" in pirate equity. Coincidence?
The 420
"For the first time in history, a presidential candidate is openly seeking campaign contributions from the thriving cannabis industry" [East Bay Express]. Rand Paul.
As of today, "Oregonians can possess up to an ounce of cannabis away from home and up to 8 ounces at home. Every household can grow up to four marijuana plants" [Oregonian]. I only hope they've optimized for local growers. A corporate dope industry — sorry, I mean a new corporate dope industry — would be a huge missed opportunity.
As of today, "Minnesota's medical marijuana program is one of the most tightly regulated in the nation, and also the most clinical. Cannabis will be sold only in pills, oils or liquids, not as smokable plant material. The hope is that the manufacturers will be able to tailor doses, not only to different conditions, but to different patients and their needs" [Star-Tribune]. Read Michael Pollan's terrific Botany of Desire; humans have been getting loaded on plant matter since forever. In fact, plants evolve to help us do just that. I'll never understand "medical marijuana" as a rationale; as a politicized stepping stone, perhaps.
America the Petrostate
"The Department of Environmental Conservation has just issued their "Final Supplemental Generic Impact Statement on the Oill, Gas and Solution Mining Regulatory Program" that formally bans fracking in New York State" [Albany Project]. This is an amazing victory, and due entirely to the self-organizing capabilities of the citizens of New York. Come to think of it, marijuana legalization, though falling fall short of dynamiting the prison industrial complex, is also a victory.
Class Warfare
"US SEC Releases Details of Exec Compensation Clawback Proposal" [Market News]. "The Commission will consider whether to propose rules directing national securities exchanges and associations to establish listing standards requiring companies to develop and implement policies to claw back incentive-based executive compensation that later is shown to have been awarded in error." "Awared in error." You mean, like every dime since the 2008 Crash, and then some damages?
"Raise wages or lower them, it makes little difference compared to the new technology that does jobs both cheaper and better" [Fabius Maximus]. McDonald's Happy Meals from a kiosk.
News of the Wired
Healing plants for your garden [Los Angeles Times].
Contraband GMOs in the Phillipines [Interaksyon]. Corn, not rice. I don't like the implications of this.
"The Annotated Malay Archipelago by Alfred Russel Wallace" [Asian Review of Books]. The co-discoverer of the theory of evolution was a great naturalist.
"Once a Beloved French Symbol, Cousteau's Ship Now Rusts Into Oblivion" [New York Times (resilc)].
A new SI Unit: "One Hitler shall henceforth be a unit of measurement equal to 6.0*106 human deaths" [Reddit].
"How computers see porn" [Fusion]. Since every new medium is driven by porn, this is a more important article than it seems, aside from the facial and body recognition issues.
Why we are less nasty about stolen celebrity photos [The Atlantic]. Because there are more of them, and because with cellphones (see above) it can happen to us.
"How to make a gym commitment stick" [The Atlantic]. Maybe I should do this….
* * *
Readers, feel free to contact me with (a) links, and even better (b) sources I should curate regularly, and (c) to find out how to send me images of plants. Vegetables are fine! Fungi are deemed to be honorary plants! See the previous Water Cooler (with plant) here. And here's today's plant (via H). Look at this gorgeous arbor!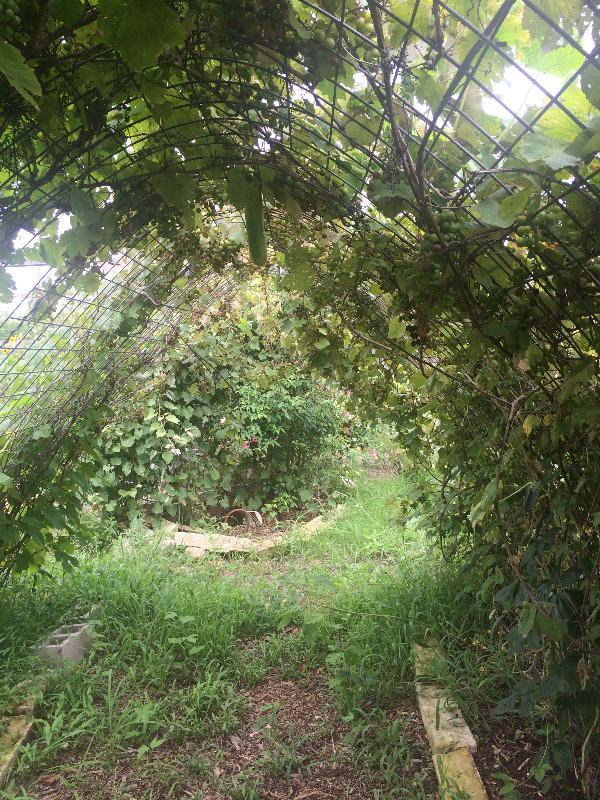 H writes:
All of these photos were taken in the last week of June 2015 at our house in Texas. If it looks kind of permaculture-y that is no accident. Listing these things out made me realize for the first time how much we have planted. We just gradually filled it in over the past couple of years.
And captions this photo:
3) What eventually happens when you plant cucumbers next to grapes
As readers may know, I set up the Naked Capitalism Water Cooler Desk in my garden in the summer month and into the fall until it gets too chilly. One day, I want to put my desk under an arbor. So I find this encouraging!
H sent some other pictures of his projects, and I'll run those, too. I encourage other readers with similar projects to send their photos in.
If you enjoy Water Cooler, please consider tipping and click the hat. I need to keep my server up! And pay the plumber….