By Lambert Strether of Corrente.
TPP/TTiP/TSA
List of traitors in House and Senate, with phone numbers. Hat tip, reader Vatch. Be sure to visit them when they return to the district. If a traitor is mentioned in Water Cooler, their name is in bold.
2016
Sanders
"Senator Chris Coons is 'not confident' that his colleague Senator Bernie Sanders is presidential material" [Bloomberg]. Readers will not be surprised to learn that Chris Coons is a trade traitor.

"The differences between both candidates will be evident during the televised Democratic debates (just ask President Nixon about televised debates), when Bernie Sanders will display attributes that money can't buy, and Hillary Clinton won't have the luxury of an expensive campaign apparatus calculating every word" [The Hill].
Governor Jawline also deleted official emails [The Intercept].
O'Malley does not appear to have created any mechanism for public access to any messages that might remain in his Gmail archive. Instead, he relied on an apparently secret legal interpretation according to which the governor's office does not always count as a state agency under Maryland law.
I'm not sure whether this is more like Clinton, because of the corrupt blurring of public and private boundaries, or more like Obama, because of the secret legal interpretation.
The S.S. Clinton
Clinton, first Iowa interview: "People should and do trust me" [CNN]. Really a no-win. If you have to say it…

"But the effort to script and train local supporters is unusually ambitious and illustrates the extent to which the Clinton campaign and its web of sanctioned, allied super PACs are leaving nothing to chance" [WaPo]. Oh no. Please, no. I don't think I can stand this. Clinton's emulating Obot conversion narratives from 2008 at Camp Obama. What next? "Check the website"?

Clinton on Greece [CNN].

[CLINTON:] I think what's happened in Greece is a tragedy. Their gross national product has dropped by 25 percent. They have youth unemployment over 50 percent. People are suffering. Pensioners are really worrying that they're not going to be able to afford food. So, I think it's imperative that there be an agreement worked out with Greece and I urge the Europeans to exert every effort to find one.

You know, Greece is a NATO ally. It's a member of the European Union. The United States has a great, active, successful Greek-American community. So I want to see a resolution. Obviously, at the end of the day, it's up to the Greek people to decide what they're willing to do. And I hope that we can see an outcome here that will actually help Greece recover and keep them in the Eurozone and keep Europe united.

Translation: Greece, I'm sorry your situation is so bad. I just wish there were something I could do!

Democratic one-issue megadonor Haim "Saban has been pouring money into Clinton's super PAC, $2 million by one estimate. This week, Hillary returned the favor. She wrote a long letter to Saban praising Israel and pledging to fight the Palestinian-led boycott" [Alternet]. Ka-ching.
Republican Clown Car
"Trump Tells Iowa Dairy Farmers He Has Cows 500 Times Bigger Than Theirs" [The Onion].

"The Professional Golf Association and Donald Trump have reached an agreement to move a Grand Slam event away from the Trump National Golf Club in Los Angeles" [The Hill].
Campaign staffer tracker [National Journal].
Stats Watch
MBA Mortgage Applications, week of July 3, 2015: "The purchase index rose 7 percent in the week with the refinance index up 3 percent" due to fall in rates [Bloomberg]. But its volatile!
" When a household is looking to buy a home, financial considerations are usually very important. … When these variables change, this likely affects the price a household is willing and able to pay for a home, and thus the housing market overall. However, measuring the strength of these effects is notoriously difficult [Liberty Street]. The "novel approach" described reminds me of nothing so much as Marxist economists trying to relate price to labor power under the labor theory of value. Or measuring "valuation" generallly.
Water
"Actor Tom Selleck had truckloads of water from a public hydrant delivered to his sprawling Hidden Valley ranch" [Los Angeles Times]. The rich are different. They have steal more water [hat tip, Carla].
"The Palm Springs City Council voted unanimously last week to turn the city's fountains back on" [USA Today]. As I said.
"[T]he underlying rule of water in the West is that the first people to show up and claim it were the first people to get it, and everyone who came after took a place further back in line. Called "prior appropriation," this remains the dominant thread in Western water issues, more than 100 years later" [Juan Cole]. A simpler example of the colonial mindset would be hard to find; we're not exactly looking at water as a common pool resource, are we?
"[A] new NASA study provides estimates for the global water cycle budget for the first decade of the 21st century" [Phys.org]. The study: "The Observed State of the Water Cycle in the Early 21st Century" [Journal of Climate (abstract only)].
"[U]sing new satellite technology, scientists have mapped trends of groundwater depletion in 37 of the world's biggest aquifers—about one-third showed signs of highly unsustainable water use" [EarthSky]. "Of the 37 aquifers studied, 16 showed positive accumulating trends and 21 showed declining trends. The aquifers with declining trends are shown in shades of red and yellow in the map below." With handy map; includes Southern US.
"Drought-weary California received encouraging news Wednesday when officials announced that residential water use had dropped 29% during the month of May — the first real indication that the state might meet unprecedented conservation reductions imposed by Gov. Jerry Brown" [Los Angeles Times]. Victory! Especially since Big Oil and Big Ag can suck all the water they want.
"Thailand's vital rice belt is being battered by one of the worst droughts in living memory, forcing impoverished farmers deeper into debt and heaping fresh pain on an already weak economy — seen as the junta's Achilles heel" [Malay Mail].
"Bangkok's tap water supply may run out in a month, as the country waits for long overdue rains to replenish sources depleted by drought and threatened by seawater creep" [Reuters]. Officialdom has walked this back, however.
"[T]he Bureau of Reclamation has begun studies on the impact of global warming on 22 Western water basins and is drawing up multidecade plans to begin rebuilding its Western water management systems" [New York Times].
A-a-a-n-d corruption [WaPo].
PEER [Public Employees for Environmental Responsibility] says at least some of the $48 million contract was supposed to pay for a feasibility study for fish and wildlife of whether farmers could use groundwater instead of pulling water from the rivers. But instead, the group says, the money was used for office space, equipment, salaries and other expenditures to defray expenses of the company, an association of Klamath Project irrigators.

The biologists discovered that money also was used to pump large amounts of groundwater to supply farmers during drought years until private wells went dry. All of these expenditures were made without any apparent legal authority to do so, PEER claims.
"Could the shafting sharing economy help solve California's water woes? Don't laugh" [Mother Jones]. I wasn't going to laugh. I was going to throw up. Mother Jones is getting worse and worse.
China Markets
"The Psychology Behind China's Bubble" [Noah Smith, Bloomberg]. Summary of theories for why there are bubbles if investors are rational. Oddly — by which I mean "incredibly," by which I mean, "Well, the dude's a professional economist, so what did you expect?" — Smith doesn't mention fraud, or leverage based on fraud. This after mentioning " the recent housing bubble, where many models of mortgage-backed bonds assumed that home prices would continue to rise"!
"Some analysts believe the suspensions are instead related to one of the scariest 'known unknowns' surrounding the market meltdown — just how many controlling shareholders have pledged their shares as collateral for bank loans. [FT, "Question & Answer: China's share trading suspensions"]. Wheeeeee!
"China's stock markets are, for the most part, a mom and pop affair—about 80% of the trading that happens in Shanghai and Shenzhen is done by Chinese individuals. They represent at most 14% of the total Chinese population" [Quartz]. I would imagine that traders follow a power curve. So I am guessing that while mom and pop — hold on to your hats, folks — will suffer in real life, it's the few "whales" at the top of power curve that might pose systemic risk. Readers more knowledgeable in China: What do you think?
"China's securities regulator banned major shareholders, corporate executives and directors from selling stakes in listed companies for six months, the latest effort to stop a $3.5 trillion rout in the nation's equity market" [USA Today].
"We've seen these kinds of falls in China before without financial crises so I'm skeptical on the last point. Having said that, the swiftness of the rise this time around does stink of margin so this one may be different. It must also be remembered that China still owns its banks so it can simply order them to lend even when they're insolvent" [Macrobusiness].
Headline: "How China's Stock Market Tumble Is Affecting the US," and " 1. U.S. Stock Market and Your 401(k)" [ABC]. Yeah, boy howdy, what a great idea it was to make your chances for retirement in dignity dependent on Chinese stock speculation.
Grexit?
"US's Lew: Greece Can Be Fixed With Enough Political Will" [Market News]. Lew says the "gap" could be "bridged" with a couple of billion. So if the U.S. writes a fat check, that would solve the "political will" issue tout suite. Or make it easy on ourselves: Grease the skids with some arms deals or something? Sell the Finns some F-35s for no cash down and easy terms?
Health Care
"With Merger Deal, Aetna, Humana Get Ahead of the Pack–Update" [NASDAQ]. So when the market finally consolidates to one or two firms, can we euthanize these guys and move to single payer?
Class Warfare
"Warren Buffett makes $2.84bn donation to Gates Foundation and charities" [Guardian]. Elite shifts money from one pocket to another.
News of the Wired
"A Representative Democracy to Reduce Interdependency in a Multimodel Ensemble" [Journal of Climate]. I found the title intriguing:
We would argue that, although the collection of models arising from the "ensemble of opportunity" is often seen as sacrosanct, the democratic policy of one model, one vote is no longer a logical one in the increasingly complex family tree of models available to the researcher. A subset of 10–20 models that are reasonably independent and perform well for the criteria that are judged to be relevant is very likely to be more skillful than the full ensemble.
Super-nerdy. I hope knowledgeable readers will weigh in.
"London is a city whose two priorities are being a playground for corrupt global elites who turn neighbourhoods into soulless collections of empty safe-deposit boxes in the sky, and encouraging the feckless criminality of the finance industry. These two facts are not unrelated" [Cory Doctorow, Boing Boing (PT)]. So he's moving to Los Angeles.
Good history of the union movement and collective bargaining [Dissent (TG)].
For American conservatives, there is also a larger principle at stake. They disdain organized labor because the union movement stands explicitly for a set of ideas and social impulses they find abhorrent: social solidarity, employment stability, and limits on the workplace power of corporate ownership, plus a defense of the welfare state, progressive taxation, financial regulation, and a government apparatus energetic enough to supervise the health and safety of American workers and consumers.
Perhaps "conservatives" believe these principles, and "liberals" merely accept them, but the end result is the same. Say, how's card check coming? Obama put on his shoes and walk the line for that one?
* * *
Readers, feel free to contact me with (a) links, and even better (b) sources I should curate regularly, and (c) to find out how to send me images of plants. Vegetables are fine! Fungi are deemed to be honorary plants! See the previous Water Cooler (with plant) here. And here's today's plant (Rex):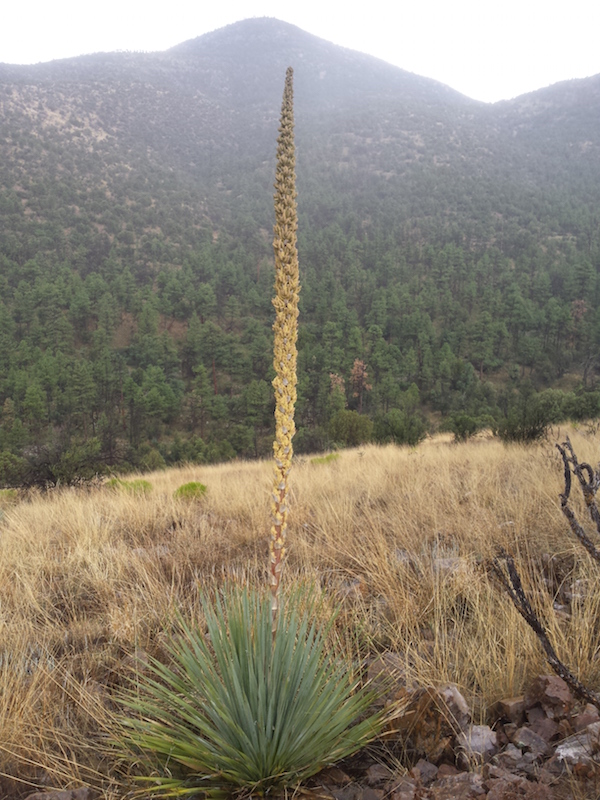 Rex writes:
Sotol (Dasylirion wheeleri), south central NM. Bees were swarming stalk flowers, save for photo during light rain.
Wow! I'm focused so much on the garden — right in front of me, as I type ♥♥♥ — that I forget the beauty to be found in the wilderness…
If you enjoy Water Cooler, please consider tipping and click the hat. I need to keep my server up! And pay the plumber….
NOTE: When you click the hat, the amount you choose from the dropdown should finally appear on the PayPal form. Feel free to test! Thanks to alert reader DK, who fixed the code. (And if you have problems, please let me know using the contact link, so as not to clutter the thread.)