By Lambert Strether of Corrente.
Patient readers: In line with Yves's thinking on comments here, I want to say a word on comments about US domestic politics in Water Cooler, before election 2016 really gets going. (Only 487 days!) Out-of-bounds topics are: (1) How you will vote, or how others should vote; (2) General partisan cheerleading, party-building, sloganeering, petitition building, meme propagation, scripts, etc. None of these are the "nuanced, non-binary, information dense argument" that is NC's calling card. James Madison wrote: "But what is government itself, but the greatest of all reflections on human nature?" (Federalist 51). There is plenty of NC calling card-style political material to be had that isn't framed by party, faction, or candidate. And there are other sites, like Kos, or any number of conservative sites, where people can wave their pom poms to their heart's desire. If that's what you want to do, go there.
TPP/TTiP/TSA
List of traitors in House and Senate, with phone numbers. Hat tip, reader Vatch. Be sure to visit them when they return to the district. If a traitor is mentioned in Water Cooler, their name is in bold.
"Obama To Upgrade Malaysia On Human Rights Despite Mass Graves" [HuffPo]. And the slavery, let's not forget. 
Cato Institute: "The president should act decisively to boost support for TPP by eliminating or modifying ISDS" [The Hill].
"New Leaked TPP Chapter Shows Countries Converging on Anti-User Copyright Takedown Rules" [EFF].
"Of the 31 chapters of a proposed Trans-Pacific Partnership free trade pact, six are expected to require "political settlement" at a ministerial meeting, according to Japanese government sources" [Japan News].
2016
Sanders
Nate Silver: Sanders could win in Iowa and New Hamster [FiveThirtyEight]. "And then lose everywhere else." Regardless, Clinton better rev that oppo machine.
The S.S. Clinton
So-called Millenial voter to press, after Brooklyn campaign tsotchke sale: "No thanks, we are good," one young woman said while giving this reporter the "talk to the hand" signal.  [Guardian]. Oh, is that the script?

"The Clinton Foundation will not be returning any funds raised from GOP presidential candidate Donald Trump" [The Hill].

Warren and McCain introduce a bill to bring back Glass-Steagall [The Hill]. Since gutting financial regulation at the behest of the Rubinite wing was a signature achievement under Clinton I, somebody should ask the would-be Clinton II what she thinks about this.
Republican Principled Insurgents
Scott Walker seems to have trouble using the phone [New York Times]. Remember when Walker got p0wned by a prankster posting as one of the Koch Brothers? Now there's this:

Last Wednesday, Stephen Moore, a scholar at the Heritage Foundation who is an outspoken supporter of an immigration overhaul, described a recent telephone call with Gov. Scott Walker of Wisconsin, in which he said Mr. Walker had assured him he had not completely renounced his earlier support for a pathway to citizenship for illegal immigrants.

""I'm not going nativist, I'm pro-immigration,'" Mr. Walker said, according to Mr. Moore's account of the call to a reporter for The New York Times.

On Sunday, after three days of pressure from Mr. Walker's aides, Mr. Moore said that he had 'misspoken' when recounting his call with Mr. Walker — and that the call had never actually taken place.

First, I'm amazed that Walker would use the "nativist" frame, and I'm not deploying the "Party of Stupid" card. He's done his homework (see next link). Second, I really hate the use of the word "scholar" to describe a think tank propagandist; it's language that drips with the rankest, most vile corruption and is, therefore, treated as completely normal in our political class.

"A Political Lifer, Scott Walker has Always Been Hhis Own Strategist [New York Times]. He's a student of the game. As Rove was.

Walker's budget passes: "The budget as passed holds property taxes in check, does not raise income or sales taxes, cuts University of Wisconsin funding by $250 million while freezing tuition for two years, and largely holds funding for public K-12 schools flat next year while also expanding the private school voucher program" [Post-Crescent]. Republican state legislators actually made it less virulent.
Republican Clown Car
"Trump [said] his call with [RNC chair] Priebus only lasted about ten minutes and that it was more of a "more of a congratulatory call" than a request to play nice on immigration [Talking Points Memo]. Crossed fingers Trump gets in the debates!
Stats Watch
Jobless Claims, week of July 4, 2015: "Claims data have been remarkably stable at very low levels since March. But now initial claims are up" above consensus [Bloomberg]. "[A]n important special factor will soon be at play in the claims data and that's auto retooling which shuts down parts of the auto sector in rolling layoffs centered in July." And: "Claim levels remain near 40 year lows" [Econintersect]. For a labor force of this size….
Chain Store Sales, June 2015: "[M]ostly stronger rates of year-on-year sales growth in June, hinting at a second straight month of strength for the core ex-auto ex-gas reading" [Bloomberg].
Consumer Comfort Index, week of July 5: "After a run of gains, the consumer comfort index eased back" [Bloomberg].
"The federal government ran a budget deficit of $314 billion for the first nine months of fiscal year 2015, CBO estimates. That deficit was $52 billion smaller than the one recorded during the same period last year" [Econintersect].
China Markets
"In short, a collapse in the stock market, in a climate of stagnant-to-negative growth in real estate, would almost certainly lead to a drop in household consumption and thus in consumption-driven industries. This is exacerbated by an environment that lacks substantial alternative investment avenues, in a period of slowing economic growth, slowing wage increases and rising unemployment" [Stratfor]. tl;dr: it's a mandate of heaven thing.
Corruption
"The brainpower that moves from government (not just the Justice Department) to private industry (not just Covington) in any given year could drive an entire economy. You might argue it does just that" [Bloomberg].
[An] amendment from Sens. Mark Warner, D-Va., and John Cornyn, R-Texas [to the massive K-12 education funding bill currently up for congressional reauthorization] would allow local officials to divert money from the federal government's multibillion-dollar fund for low-income school districts and use the cash to hire financial consulting firms. Both lawmakers are among the U.S. Senate's top 10 recipients of campaign money from the financial industry, and Warner is a former venture capital executive [International Business Times]. Ka-ching. It will come as no surprise to readers that Mark Warner is a trade traitor. Wherever there's a pile of money, these guys are on it like locusts.
"Just 12 weeks after Rahm Emanuel won a bruising battle for re-election, the Chicago mayor has unveiled a pension initiative that could be a significant financial boon for his largest campaign contributors. On Wednesday, the mayor proposed shifting city teachers' retirement savings into a state fund that invests heavily in — and pays big fees to — financial firms whose executives bankrolled the mayor's campaign" [International Business Times]. Ka-ching. Yes, the locusts seem to be in their swarming phase. On the bright side, locusts are edible!
Cancer stick flexians: "Starting in the 1980s, tobacco companies worked to create the appearance of broad opposition to tobacco control policies by attempting to create a grassroots smokers' rights movement. Simultaneously, they funded and worked through third-party groups, such as Citizens for a Sound Economy, the predecessor of AFP and FreedomWorks, to accomplish their economic and political agenda. There has been continuity of some key players, strategies and messages from these groups to Tea Party organisations" [British Medical Journal].
Cancer stick flexians go international: "From Ukraine to Uruguay, Moldova to the Philippines, the U.S. Chamber of Commerce and its foreign affiliates have become the hammer for the tobacco industry, engaging in a worldwide effort to fight antismoking laws of all kinds, according to interviews with government ministers, lobbyists, lawmakers and public health groups in Asia, Europe, Latin America and the United States" [New York Times].
"Amid a federal probe of airline pricing practices, a search on popular air travel booking websites shows virtually identical ticket pricing between popular city pairs on several carriers" [McClatchy]. Who knew?
I have the feeling this quote will be a gift that keeps on giving [@bettermarkets].
"Safer, stronger, financial system built by Wall St reform is something we can all be proud of." – @USTreasury Secretary Jack Lew #DoddFrank

— Better Markets (@Bettermarkets) July 8, 2015
Big Brother Is Watching You Watch 
Asked whether Justice was in talks with Snowden over a plea bargain, Deputy Attorney General Sally Quillian Yates dodged  [Wall Street Journal, "Deputy Attorney General Dodges Question on Status of Snowden Case "].
Black Injustice Tipping Point
"Becoming a member of a private mobile group chat for white supremacist teenagers was surprisingly easy" [Buzzfeed].
"Despite the efforts of lawyers, former co-stars and misguided pseudo-Black Nationalists who have fought desperately over the past year to protect the legacy of Bill Cosby, it has finally been revealed that in a 2005 deposition, he admitted to giving women drugs 'for sex' [Ebony]. Pound cake my Sweet Aunt Fanny.
"[A]rguing about personal non-racism is missing the point" [Medium].
Non-violence program in Richmond, CA yields 76% drop in homicides [Will Bunch, Philadelphia Inquirer]. Richmond, CA is a place to watch…..
Class Warfare
"How To Eliminate Extreme Poverty In 169 Not-So-Easy Steps" [NPR]. Interesting history of the UN's Millennium Development Goals, and their revision.
"In 2011, [Kelly Shue of the Chicago Booth School of Business] found that having the right friends matters a lot for executive pay" [Bloomberg]. Or, in MBA-ese: "[H]uman networks were a very important determinant of pay levels." A network is composed of nodes, and nodes are divided into classes, according to their properties. Just saying.
Climate
"According to the NOAA and NASA, the first five months of this year are the hottest since records started being kept in 1880. The data put 2015 on track to be the warmest year on record" [New York Magazine].
"ExxonMobil, the world's biggest oil company, knew as early as 1981 of climate change – seven years before it became a public issue, according to a newly discovered email from one of the firm's own scientists. Despite this the firm spent millions over the next 27 years to promote climate denial" [Guardian].
I love this tweet, and I am so happy that it comes up in Google under "plucky billionaries."
Plot idea: 97% of the world's scientists contrive an environmental crisis, but are exposed by a plucky band of billionaires & oil companies.

— Scott Westerfeld (@ScottWesterfeld) March 21, 2014
"Three billion-dollar weather-related disasters hit the Earth [in May]: a severe weather outbreak and flooding on May 23 – 28 in the Central U.S. that caused at least $1 billion in damage; flooding in China that caused $1.15 billion in damage; and the on-going drought in California and neighboring states that now has a price tag of at least $3 billion" [Jeff Masters, Weather Underground].
 Global Catastrophe Recap, June 2015 [Catastrophe Insight]. OK, the guy's in the insurance industry. On the other hand, they think about these things.
News of the Wired
"Making the Most of Your Time in the Archives: Research Technology" [The Junto]. Good stuff if you've gotten boxes of material in response to a FOIA request and you're a mere citizen.
"I feel as if we, in the cultural classes, have been perfectly happy to get caught up in the mythology that L.A. is somehow a Xanadu of art-making. Certainly, there are worse places to be an artist. (Brooklyn comes to mind.) " [Los Angeles Times].
"Brainflayer: A Password Cracker That Steals Bitcoins From Your Brain" [Wired]. "Money's out there. You pick it up, it's yours." –Blake, Glengarry Glen Ross 
"There are clear traces of the [Normandy invasion] landings still in the sand" [The New Yorker]. One can only wonder about the mud of Flanders, or the Somme.
"̌How Can States and Non-State Actors Respond to Authoritarian Resurgence?" [Political Violence at a Glance].
According to our research, the average nonviolent campaign takes 3 years to run its course. Most activists do not plan for three year's worth of tactical sequencing, communicating a viable alternative, broadening and deepening the levels of participation, prompting loyalty shifts in the regime's key pillars, etc. I think this problem is exacerbated by over-reliance on social media, which is facilitating rapid connections and communication—all great—but oftentimes thrusting activists and their movements into primetime before they are sufficiently prepared and organized.

Furthermore, regimes often have huge amounts of resources to dedicate to cyber-suppression, to usurping complete control of the media, co-opting real or potential dissent, preventing fraternization by security forces, and frightening people into supporting the status quo. With the exception of a few brutal leaders in Syria, North Korea, and Uzbekistan, most authoritarians can rely on a "velvet fist" to control populations and suppress dissent. They don't need mass violence.

Activists are forced to operate in fluid, quickly changing environments. They often lack access to key pieces of information while their movement is ongoing, making it difficult to evaluate what's working and what's not and adapting their strategies and tactics accordingly. Their heavily resourced, patient, regime opponents are simply out-performing and out-maneuvering them in many cases.
Questions of organizational capacity crop up everywhere once you look.
* * *
Readers, feel free to contact me with (a) links, and even better (b) sources I should curate regularly, and (c) to find out how to send me images of plants. Vegetables are fine! Fungi are deemed to be honorary plants! See the previous Water Cooler (with plant) here. And here's today's plant (Dimitri):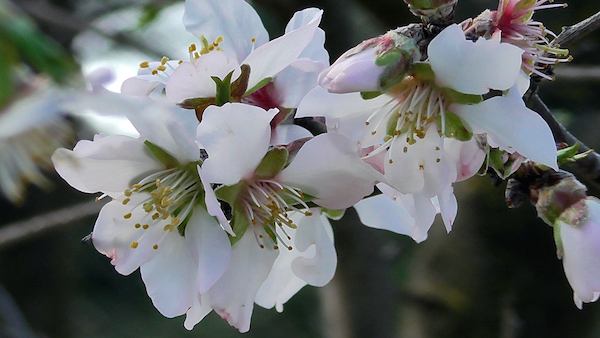 NOTE: When you click the hat, the amount you choose from the dropdown should finally appear on the PayPal form. Feel free to test! Thanks to kind reader DK, who fixed the code. (And if you have problems, please let me know using the contact link, so as not to clutter the thread.)
If you enjoy Water Cooler, please consider tipping and click the hat. I need to keep my server up! And pay the plumber….