You're More Creative When You're Sarcastic, Says Study Huffington Post (furzy mouse)
Headlines editors probably wish they could take back Columbia Journalism Review
Humans cling to their primal fear of the dark Astronomy Magazine (furzy mouse)
Cecil the lion's killer may have trouble avoiding extradition, experts say Washington Post (furzy mouse)
New insights into the production of antibiotics by bacteria PhysOrg (Robert M)
Iran city hits suffocating heat index of 165 degrees, near world record Washington Post (furzy mouse)
Ebola vaccine trial proves 100% successful in Guinea Guardian (furzy mouse)
Mt. Gox head arrested over loss of 650,000 bitcoins ars technica. As we've said, Bitcoin = prosecution futures.
What It's Like to Have the Oldest Phone in San Francisco Gawker. What a poseur! My phone is older than hers (see image)! And I even have a fresh one in the same antique model (as well as another battery) as backup.
Google has secretly released a new version of Glass Business Insider. It's not secret any more!
All Power to the Makerspaces Jacobin. Chuck L: "A meditation on the economic, social and political implications of "replication" (i.e. 3D printing)."
What Pierre did next Mark Ames, Pando
Debris Shows MH370 Didn't Nose-Dive Daily Beast (furzy mouse)
U.S. Decides to Retaliate Against China's Hacking New York Times
Why China's Olympic win might not be a cause for celebration Washington Post (furzy mouse). BTW an acquaintance used to organize heliskiing near Almaty, the loser to Beijing. I gather it was fantastic skiiing.
Calais migrant crisis: PM offers extra fencing and dogs BBC
Grexit?
Total health spending down to 8.65 pct of GDP as public healthcare sees big drop MacroPolis
SYRIZA Central Committee Session Turns into a Battlefield Greek Reporter (Sid S)
Hay for cheese? Barter booms in cash-squeezed rural Greece Reuters
Capital controls are eased but companies see it as insufficient ekathirmerini
How could the third Greek bailout change without the IMF? Open Europe. Note that funding isn't the biggest issue. The other creditors need the IMF as a babysitter and enforcer.
Syraqistan
Despite bombing campaign, Islamic State is no weaker than a year ago Japan Times

Iran calls for Israel's nuclear disarmament Christian Science Monitor
Big Brother is Watching You Watch
Obama Administration War Against Apple and Google Just Got Uglier Pando. Wow, when Google and Apple are the good guys, you know it's bad. Of course, the tech cos' opting for a smidge in the way of principles is due to the loss of business overseas due to how much access the US government has to users' info.

Windows 10: A Potential Privacy Mess, and Worse Lauren Weinstein (furzy mouse)
Imperial Collapse Watch
How Pentagon war fund became a budget buster Washington can't resist Reuters (EM)

US Corruption vs. World Corruption Ian Welsh (furzy mouse)

The Cimmerian Hypothesis, Part Three: The End of the Dream Archdruid (Chuck L). Today's must read.
Trade Traitors
Progress' but no deal at TPP talks BBC. Trust me, the fracas in Congress made it easier for smaller states to throw sand in the gears. This is deadly: "No date has been set for the next round of talks."

Trade talks fail to break TPP deadlock Financial Times
$1m donors show elite's role in US race Financial Times
Ted Cruz's Super Stingy Sugar Daddies Daily Beast (furzy mouse)
Chris Christie: Exxon's Lobbying Firm Donated To His Super PAC As Governor Pushed For New Jersey Environmental Settlement International Business Times
Drones impede air battle against California wildfires. 'If you fly we can't,' pleads firefighter Washington Post
Black Injustice Tipping Point
Police State Watch
SC cop killed teen with two shots to the back during weed bust — and didn't even report it: attorney Raw Story (Oregoncharles)
The world gears up for a surge in the US dollar Financial Times
Sex, Lies, and Interest Rates BuzzFeed (Lambert)
Here It Comes: Puerto Rico Is Headed for a Debt Default Slate
Economics feeling the bite of declining demand Sydney Morning Herald. EM: "'Faculties of economics are becoming business schools' – does exchanging ivory-tower voodoo priests for MBAs represent progress, or is it just trading one evil for another?"
Hedge Fund Risks May Be Bigger Than Regulators Know, Despite Dodd-Frank International Business Times
A Slack Lifeline for Drowning Homeowners Gretchen Morgenson, New York Times. Important. HAMP is still foaming the runway for banks.
Class Warfare
Antidote du jour. If I were into birds, I'd want to have one. @planetpics: "Ruff, a rather peculiar bird from Norway":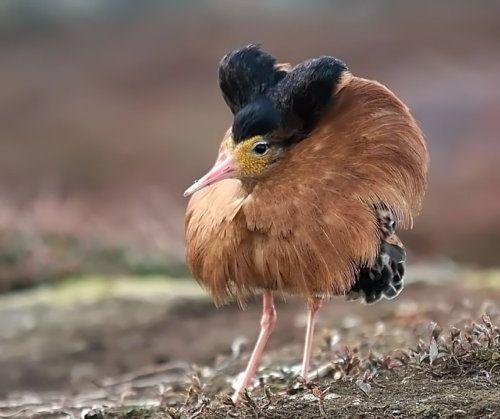 See yesterday's Links and Antidote du Jour here.