By Lambert Strether of Corrente.
Just stepping on stage to do the happy dance for a moment: David Sirota was kind enough to tweet this post by Yves ("How CalPERS' Consultant, Pension Consulting Alliance, Promotes Intellectual Capture by Private Equity"), and then Alec Baldwin retweeted Sirota's tweet. Balwin has a long-standing interest in politics. He's written for Huffington Post and weighed running for New York governor ("I'm Tocqueville compared to Arnold Schwarzenegger," as well as New York City mayor (but now he gets to play one on HBO instead). Here it is: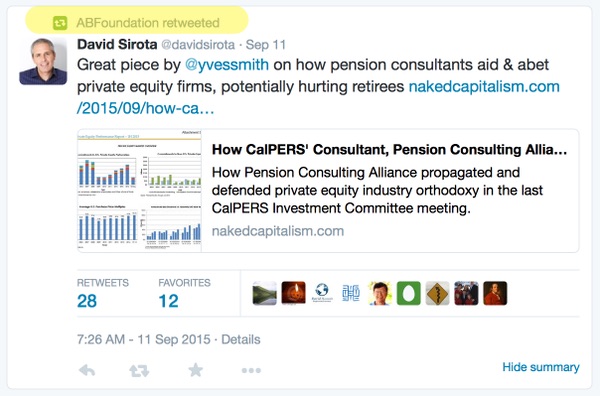 Baldwin has over a million followers, so I guess we could say the story's getting out.
* * *
NC readers will also recall that Yves discussed these subjects on KPFA on Friday of last week; KPFA summarizes:
California's massive retirement funds are struggling to maintain their funding levels – and critics are starting to point the finger at the state's heavy reliance on investments in private equity firms. Yves Smith of Naked Capitalism will join us to talk about why she thinks two of the world's biggest institutional investors are getting fleeced.
Here's the audio for your listening pleasure; alert reader Ed B. says that Yves starts at 35:55:



And if the player above doesn't work, you can try the KPFA site.
* * *
Oh, in case you're in California and want to cause further PR headaches for CalPERS, do consider writing a letter to the editor of the Sacramento Bee. Here's the form. Perhaps you might suggest politely that if the Bee doesn't wish to cover the story, they could refer their readers to the KPFA show?
Alternatively, California Treasurer John Chiang — the top elected official on the CalPERS board — lives in Torrance, CA. Here's how to submit a Letter to the Editor to the Torrance Daily Breeze; you could make the same suggestion as to the Bee.
Yay!