One of the major fallacies skillfully employed by the lending industry since the foreclosure crisis is that the meddling defense attorneys and pro se litigants were clogging the courts with their dilatory motions and challenges, unnecessarily prolonging the foreclosure process, creating neighborhood blight and costing homeowners billions in property values by preventing "market clearing." This was presented to state lawmakers as a rationale to tighten the rules on foreclosure challenges and eliminate consumer protections, ensuring that lenders could bulldoze their way through the courts.
It never appeared to be true, however, given that plaintiff's attorneys routinely allowed cases to rot, filed motions to delay, withdrew cases at the last minute and so on. Some of this was due to problems with documents and procedure, some of it was inscrutable, some of it maybe even based on squeezing more money from investors. But the main investor in mortgages, the GSEs, continue to play along, whether wittingly or not.
Last week, Fannie Mae and Freddie Mac, in successive days, extended their foreclosure timelines in a majority of the states where they own mortgages. The timeline is a guidance for how long a foreclosure is supposed to take, from the initial delinquency to the foreclosure sale. This includes the timeline for an uncontested foreclosure proceeding.
In theory, if servicers go beyond the timeframe they get fined a "compensatory fee," which they pass on to the foreclosure mill law firms to get them to hurry up. But servicers can provide "reasonable explanations" to waive the fee, like bankruptcy, probate or an active trial modification. There's also a compensatory fee moratorium for Washington D.C., Massachusetts, New York and New Jersey, which presumably is related to their more stringent foreclosure laws.
Here's a look at the Fannie Mae timelines (the Freddie timelines are seemingly identical), and you can read the compensatory fee allowances on the second page. As you can see the timelines are incredibly long, from a low of 300 days in the District of Columbia to a high of 1,080 days – nearly three calendar years – in Hawaii and Oregon. The timelines don't correspond to the usual assumption that judicial foreclosure states take longer, by the way – Oregon, Washington, Rhode Island, Nevada and Maryland are examples of non-judicial states with timelines over 720 days.
But the focus for this post will be Maine, because Tom Cox, the lawyer who did the Jeffrey Stephan deposition that led to the robo-signing scandal exposure, is apoplectic about that state's timeline increasing another 300 days, to 990, one of the highest in the country. Cox thinks the timeline was already too long, and I'll get to why he considers that a problem in a moment.
But first, let's look at Cox' calculations. According to statistics provided by the Maine Judicial Branch to the legislature's Joint Judiciary Committee, the average time in court for a foreclosure with no delaying motions from either side was 317 days. If you add to that:
• 120 days from the last paid installment of the mortgage to the commencement of foreclosure, a required period under new CFPB regulations;
• 90 days from final judgment to the end of the redemption period, where the borrower can still get their home back after foreclosure by paying off the loan and fees;
• 30 days from the end of the redemption period to the date of sale.
You still come up with 240+317=557 days, tip to tail. But the allowable timeline for GSE loans – and the GSEs are big enough that they're really the industry standard – was increased from 570 to 690 days starting in November 2014, and is now 990.
Why are these foreclosures taking so long, even in uncontested cases? Delaying motions, says Cox, whether motions for continuance, stays or to extend statutory time limits. A motion increases the time in court from 317 to 548 days on average, pushing well past the November 2014-era timeline. And who's filing the motions? The plaintiffs, 81.5% of the time. In uncontested cases that increases to 88.1%. I've put the chart below (click to embiggen).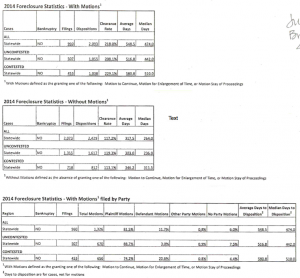 Cox doesn't think this is a problem limited to Maine, and given my experience with cases around the country I don't either. It's true that Maine is somewhat unique because of the Greenleaf case, where Bank of America couldn't prove ownership of the mortgage because MERS didn't have the authority to convey the right to enforce the lien. But lawyers were not quick to restart their cases because of the Greenleaf decision, in some cases holding them for over a year, deliberately extending the timelines.
This is duplicated in cases that get dismissed. A report for the Joint Judiciary Committee in Maine based on a random sample from Pine Tree Legal Assistance, the nonprofit where Cox volunteers, shows that foreclosure mills take 343 days on average to take action on inactive cases. I've definitely seen this in other states too. Hopefully some defense attorneys can chime in, either in the comments or offline.
Cox cites delays at the referral stage, from the time when a law firm gets the case to the time to file. He thinks that should take no longer than 30 days, but the random audit showed this taking a whopping 377 days on average. He also claims that local banks' counsel file cases more expeditiously, while attorneys for the large servicers sit around waiting for the court to schedule a trial. This relieves them from doing any work to prepare a summary judgment, increasing the payment-per-man-hour on the case. There are also delays in setting up foreclosure sales and suspicious postponements of foreclosure sales. And when the homeowner does contest a case, usually to get a court-ordered mediation to work out a mod, the national servicers fail to bargain in good faith, and are repeatedly sanctioned by the court for this behavior. This also extends the timeline.
Aside from chuckling with glee knowing that banks are complaining about a situation their own lawyers are causing, it raises several unanswered questions. First of all, why is this a problem? Cox makes several good points. Fannie and Freddie are getting ripped off, and given that their profits all go to the Treasury that means taxpayers, when their servicers get an extra year to foreclose. They pay for maintenance and upkeep if the home is abandoned, they have to pay taxes and insurance in many cases, and they don't recoup their investment in a timely manner. In areas with a lot of blighted properties, that problem lingers; even if the homeowner remains in the home, they have no incentive to make repairs on a home they might lose.
And despite the image of freeloading homeowners living without rent, they aren't helped by delays either, Cox said. "The family remains unsettled, under tension, and having it drag on doesn't help. It also leaves them with a delayed beginning point for credit repair." If they're seeking a loan mod while the timeline extends, they get continued arrearage on their mortgages, increasing the chances of the mod being denied or the forbearance being excessive.
Worst of all, the financial industry uses these elongated timelines to get lawmakers to roll back consumer protections, so they act as a faux demonstration project for why homeowner due process should be eliminated. It's telling that local banks file their cases much more quickly than the nationals; they're the ones who benefit the most from a legislature doing their bidding and greasing the foreclosure skids.
That could be one reason why this is happening. Another is that it's potentially a way for lawyers to collect extra on the case by keeping it alive longer, though frequently they get paid on a per-case basis. Certainly servicers profit from extending foreclosure timelines, because they can add on fees that could get paid off at the expense of investors (whether on property inspection or processing or whatever), as well as for deficiency judgments, going after the homeowner post-foreclosure. Cox suspects that "between lawyers reporting to servicers, and servicers reporting to Fannie and Freddie, somebody's hiding the ball."
I actually contacted Fannie Mae about this, but while their spokesman asked me to call he never called me back. I can't say why the GSEs are allowing these timelines to be so ridiculously long without imposing compensatory fees. Nobody wants to see any foreclosures, but stretching them out, especially in uncontested cases, has little redeeming value. It's just servicers and law firms making a buck off the taxpayer, with everybody else taking the hit. Are the GSEs colluding with the big banks to force state legislatures to smooth foreclosures and take away due process? We've certainly seen troubling signs of that before.
Hopefully we'll see some real investigation of this. It's another example of a broken industry with conflicted players.