2:00PM Water Cooler 10/21/2015
This is Naked Capitalism fundraising week. 806 donors have already invested in our efforts to combat corruption and predatory conduct, particularly in financial realm. Please join us and participate via our Tip Jar, which shows how to give via check, credit card, debit card, or PayPal. Read about why we're doing this fundraiser, what we've accomplished in the last year, and our fourth target, 24/7 coverage, 365 days a year.
* * *
By Lambert Strether of Corrente
TPP/TTIP/TiSA
"Negotiators meeting this week to forge a sweeping trade agreement between the U.S. and the European Union are nearing a deal to eliminate tariffs on at least 97% of goods traded across the Atlantic, officials close to the talks say, building momentum for what would be the most ambitious trade pact in more than 20 years" [Wall Street Journal, "Salty Issue in U.S.-European Trade Talks: Feta Cheese"]. "If successful, the U.S.-EU talks would likely result in each side accepting the other's auto-safety regulations. Car companies would save millions by no longer having to build different versions to meet two sets of safety rules."
What data exclusivity for pharmaceuticals means in practice [CBC]. "Dr. Navindra Persaud has been fighting for four years to get access to thousands of pages of drug industry documents being held by Health Canada. He finally received the material a few weeks ago, but now he's being prevented from revealing what he has discovered" [via an NDA]. "He's also been instructed to destroy the documents after he's reviewed them and to notify Health Canada in writing that the documents have been destroyed." Sheesh. Does he have to buy his own burn bag, or will Health Canada pay?
2016
Voters
True, the Presidential candidates are all narcissists — by definition — so let's make the best of the situation. Some tips [Psychology Today].
Policy
"[The Bush administration] were warned of the threat in contract and actionable ways and they ignored it because they didn't buy that non-state-terrorism could be that big a threat" [Talking Points Memo]. Not a Marshall fan, but he's got that right and the whole piece is worth a read (especially if you weren't paying attention at the time, or came in late).

"It's unnerving to agree with Donald Trump, as I did, for a moment, when Mr. Trump needled Jeb Bush on Sunday about his brother George's record. "Why did your brother attack and destabalize the Middle East by attacking Iraq when there were no weapons of mass destruction? Bad info?" [Andrew of the Rosenthal family, New York Times].
The Trail
Webb drops out, may run as independent [USA Today]. I don't get this. Can't he write off his book tour anyhow?

Biden: "I really respect the members up there and I still have a lot of Republican friends. I don't think my chief enemy is the Republican Party. This is a matter of making things work" [CNN]. Just what the Democratic Platform said in 2008, after Obama's faction took control of the party. So why tamper with success?

Biden: "I actually like Dick Cheney for real" [Bloomberg]. Dick "Dark Side" Cheney? "Fourth Branch"? The guy who shot an old man in the face and then didn't phone the White House for eight hours? 

"Jeb Bush's allies are starting to sound like Ron Paul's in 2012. That's not a good sign" [WaPo]. Fun with early state delegate math.

"Bush plummets to single digits in new Florida poll" [Politico].
The Hill
The House reminds me of an old couch with the stuffing coming out of it. So I'm adding some buckets to handle the mess.
Benghazi
"Hillary Clinton is set to appear before the House Select Committee on Benghazi on Thursday for what will be the highest profile moment to date in the GOP-led panel's 17-month-and-counting investigation into the 2012 attacks on the U.S. consulate in Libya" [Slate]. Committe chair: Trey Gowdy (R-Wingnutz); ranking member: Elijah Cummings (D-Black Misleaderhip Class).

Trey Gowdy's three dogs are named Judge, Jury and Bailiff [McClathy]. "I'll be judge, I'll be jury, said cunning old Fury. / I'll try the whole cause, and condemn you to death." –Lewis Carroll, The Mouse's Tale

"Gowdy's pleas to keep Benghazi probe above politics have gone unheeded" [WaPo].

"More than half the Republicans serving on the panel have been mentioned as potential candidates to replace Speaker John Boehner (R-Ohio). And the committee's chairman, GOP Rep. Trey Gowdy (S.C.), is widely viewed as having a bright political future back home in South Carolina" [The Hill].

"[I]n the three years since the Benghazi attack, we have had seven major investigations into what happened there — the ongoing Gowdy committee probe is the eighth. Most of the previous seven investigations have been led by Republicans" [Atlanta Journal-Constitution].

"It's time to shut down the Benghazi kangaroo court" [Trudy Rubin, Seattle Times]. 
Leadership Contest
"I have found the only candidate who can lift House Republicans out of this management morass: a large rock with the word 'NO' painted on it" [Chicago Tribune]. Weapons-grade snark… 

"John Boehner's allies publicly and privately are ratcheting up the drumbeat: They want him to stay speaker through at least year's end if Rep. Paul Ryan passes on the job" [CNN]. "If Ryan passes up the job, there will be an all-out dash, with close to a dozen potential candidates scrambling to win the 218 votes necessary to become speaker. If that occurs, Boehner supporters are worried that it could seriously jeopardize the ability of Congress to reach an accord with the White House on hot-button fiscal issues, potentially prompting the first-ever U.S. default in November and a government shutdown in December." Sounds like an ideal time for a Grand Bargain!
Default/Shutdown Cliffs
"As U.S. financial system regulators gather in New York to study possible solutions to rare liquidity glitches in the Treasuries market, the Treasury Department's expert on the issue has warned, the biggest liquidity event of all would be the threatened breach of the nation's debt limit" [Market News]. #MintTheCoin…
Stats Watch
Housing Starts, October 20, 2015:  "Starts, driven by a spike in multi-family units, came in much stronger than expected in September, news offset however by a significant decline in permits" [Econoday]. "But it's the permit side of the report that's weak, down 5.0 percent to only 1.103 million which is well below Econoday's low estimate. And it's the multi-family component that's especially weak, down 12.1 percent to 406,000 which is the lowest reading since March." I wish I knew if multi-family starts were driven by private equity; it is in my university town. But: "The spike in permits in front of the June 15 expiration of a NY tax break is running it's course, as permits continue to fall. Starts follow permits and will soon be tapering off as well" [Mosler Economics]. And: "Although the data is noisy – it appears that the trend currently is decelerating growth. [And] Before we start thinking all is well, the residential home industry is about half of the pre-2005 peak" [Econintersect]. And: "In terms of economic growth, housing will be a supportive sector, though it is simply not big enough to carry the economy on its back, as it did in the mid-2000s" [Across the Curve].
"Condominium and housing cooperative (co-op) mortgage originations nationwide rose 31 percent to $39 billion in the second quarter of 2015 compared with $29.7 billion in the same quarter of the previous year (Figure 1). The growth was driven mainly by a 65-percent increase in the dollar volume of refinance loans" [Econintersect].
"The $50 billion [Nicaraguan] project is led by the Hong Kong Nicaragua Canal Development Group (HKND), a privately-held international infrastructure development firm headquartered in Hong Kong and with offices in Managua, the capital of Nicaragua" [Maritime Executive]. "HKND Group's Chairman and Chief Executive Officer is Wang Jing. According to reports, the Chinese stock market crash wiped out almost 90 percent of Wang's net worth."
Ag: "Rains 'to save' red wheat – but white wheat still under threat" [Agrimoney].
The Fed: "The Fed has been engaged in quantitative tightening (QT) for about a year now. Unless depository institution demand for reserves were to fall, an increase in Fed policy interest rates would require a further contraction in the supply of Fed reserves. Barring a sufficient pick up in commercial bank credit, this would imply a further deceleration in total thin-air credit" [The Big Picture]. Hmm…. 
The Fed: "The entire point of a central bank like the Federal Reserve is to empower one group of people to do something as unpopular as slow the economy down" [New York Times]. Not a democracy but a republic and not a republic but an oligarchy… 
Fear & Greed Index, October 19, 2015: 52 (+4); Neutral [CNN]. Last week: 38 (Fear). (0 is Extreme Fear; 100 is Extreme Greed). I've never seen the needle trip over into greed before! MR SUBLIMINAL Wait! It's a trap!
Canadian Election
"Liberals win symbolic victories in Western Canada" [MacCleans]. Calgary, Winnipeg, Vancouver.
"The Liberal win smashed the record for the number of seats gained from one election to the next. The party had been a distant third place party in Parliament before this election" [CNBC]. Of course, the NDP helped by totally imploding after they moved to the center. "Trudeau, 43, the photogenic son of former Prime Minister Pierre Trudeau, has pledged to run a C$10 billion annual budget deficit for three years to invest in infrastructure and help stimulate Canada's anemic economic growth."
"Is Justin Trudeau the sexiest politician in the world?" [Daily Mirror]. I've gotta say, I've got my doubts about anybody from Canada whose first name is Justin….
Black Injustice Tipping Point
"I have covered countless wrongful convictions in nearly two decades of work as a legal analyst but I don't think that any case, any cause, ever touched me the way the Glenn Ford story did. Here was a man, an uneducated black man in the South, who was railroaded into a murder conviction and death sentence" [Brennan Center]. "He then was left to languish in solitary confinement for decades in one of the most despicable prisons on Earth, and then upon his belated release denied the compensation he was owed by the state of Louisiana, by some of the very officials who allowed his false conviction and sentence to fester for 30 years in the first place."
"For the second time this year, St. Louis Circuit Attorney Jennifer Joyce's office has subpoenaed St. Louis Public Radio and 'requested' that we keep silent about it" [St Louis Public Radio]. "For the second time, we're speaking out because the public — you — has much at stake when a prosecutor goes on a fishing expedition in a news organization's files." The Mansur Ball-Bey case….
"Emanuel blames Chicago crime uptick on officers second-guessing themselves" [Chicago Tribune]. How did a nice guy like Obama ever pick a horrible human being like Rahm for his chief of staff?
Black Injustice Tipping Point
Investigators ask for public's help after 6 fires at St. Louis-area churches [Fox].
Corruption
Bill and Melinda Gates bafflegab and bullshit on "school reform" [WaPo]. The writer didn't get out their Magic Markers, but it's still a nice, detailed takedown of entitled arrogance and pure ignorance. Story idea: "Squillionaires and Those Who Suck Up to Them." And those who don't.
"Return of dollar black market shows limits of Myanmar reforms" [Reuters]. This has been the real banking system for a long time, however… 
Gaia
"One of the Chinese nuclear power firms pushing for a stake in the UK's energy industry left out hundreds of critical steel rods when building its first reactor near Hong Kong in 1987 because workers misread the blueprint" [Guardian]. Oopsie.
Handy diagram of first robot camera to enter Fukashima Unit 3 [TEPCO].
"Secrets buried beneath Westlake landfill" [KDSK].  Like two semis driven in at night, and then buried (!). You'd think the number of trucks going in would always equal the number of trucks going out, but maybe not…. 
"In Nigeria, Solar-Powered Fridges at Outdoor Markets Save Food From Spoiling" [Gizmodo].
Class Warfare
Abolish restaurants: A worker's critique of the food service industry [Prole.info].
"In defense of tipping" [Richard Cohen, WaPo]. "I like to reward, but occasionally I like to punish." Some people find a punishment course the most delicious part of the meal!
"There are 123,800 ultra-high-net-worth (UHNW) individuals in the world, according to Credit Suisse's 2015 Global Wealth Report" [Business Insider]. There are not very many of the Shing… 
News of the Wired
"Teen finds fame with 'on fleek' slang term" [NWI Times].
"MIT neuroscientists have discovered a brain circuit that can trigger small regions of the brain to fall asleep or become less alert, while the rest of the brain remains awake" [MIT Technology Review].
"Facebook will now notify you if you're the target of a state-sponsored attack" [Ars Technica]. Including "my own" state?
"Google's growing problem: 50% of people do zero searches per day on mobile" [The Overspill]. Too hard to type in a search string with your thumbs on miserable virtual keyboards? You can get anything you want in your walled garden of choice?
"Inside Stanford Business School's Spiraling Sex Scandal" [Vanity Fair]. Lots of schadenfreude here, plus insight into Silicon Valley networks, plus dominance games and academic politics, played for keeps. And Deans getting caught in the wringer!
* * *
Readers, feel free to contact me with (a) links, and even better (b) sources I should curate regularly, and (c) to find out how to send me images of plants. Vegetables are fine! Fungi are deemed to be honorary plants! See the previous Water Cooler (with plant) here. And here's today's plant (Marisse):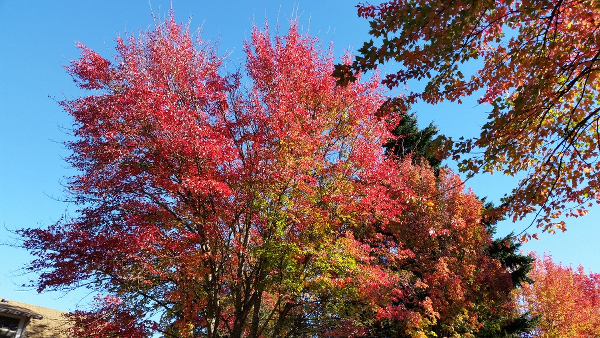 Very much of two minds about Fall Foliage, but on the other hand, it's always best to live in the present, not the future….
Readers, Water Cooler is funded solely by you, through the Tip Jar below; that is, the Naked Capitalism fundraiser going on now covers my regular posts, Links, and everything else Yves kindly mentions here, but not Water Cooler. And so far, your contributions have been generous enough to allow me to keep Water Cooler going. (I'm pretty fast, as readers see when I correct things on the fly, but it does take several hours of foraging and writing!)
If you can, and without detracting from Naked Capitalism fundraising week as a whole, what would remove a lot of stress from me and really take the edge off would be more subscriptions from you, in any amount, over the course of the year. 30 subscriptions and I'd be happy; 40, and I'd be ecstatic. Just click the hat below. Thank you!