By Lambert Strether of Corrente
Readers, Water Cooler will be light today, since it is, after all, a holiday, and since it's a lovely day I can go outside and do some stuff.
Columbus Day
This seems to be the, er, money quote on Columbus Day. Howard Zinn:
"They … brought us parrots and balls of cotton and spears and many other things which they exchanged for the glass beads and hawks' bells. They willingly traded everything they owned…. They were well-built, with good bodies and handsome features…. They do not bear arms, and do not know them, for I showed them a sword, they took it by the edge and cut themselves out of ignorance. They have no iron. Their spears are made of cane…. They would make fine servants…. With fifty men we could subjugate them all and make them do whatever we want."

The Indians, Columbus reported, "are so naive and so free with their possessions that no one who has not witnessed them would believe it. When you ask for something they have, they never say no. To the contrary, they offer to share with anyone…." He concluded his report by asking for a little help from their Majesties, and in return he would bring them from his next voyage "as much gold as they need … and as many slaves as they ask." He was full of religious talk: "Thus the eternal God, our Lord, gives victory to those who follow His way over apparent impossibilities."
2016
The first Democratic debates are tomorrow. Here's the whole schedule:
Dem debate 1: During Game 4 of NLDS Debate 2: College football Saturday Debate 3: Saturday Debate 4: NFL playoff Sunday

— Brett LoGiurato (@BrettLoGiurato) October 12, 2015
Gee, that's odd. It's almost like the DNC wants to bury them, isn't it? And then there's this:
"D.N.C. Officer Says She Was Disinvited From Debate After Calling for More of Them" [New York Times]. You've got to read all the way to end for the real kicker:
[In 2016] the candidates could be excluded from the sanctioned debates if they take part in ones that are not approved by the national committee.
So, the odious Debbie Wasserman-Schultz's DNC elbows the League of Woman Voters, who used to run debates, aside, and muscles their way to a monopoly. They then use their monopoly to reinforce their preferred candidate. Unsurprising for those who remember when, in 2008, the DNC took delegates away from one candidate, and gave them to their preferred candidate. All of which is fine, if the Democrats didn't pretend to be something other than cigar-brandishing pols in a smoke-filled room.
We have two (entirely artificial) potential fiscal crises coming up: Another debt ceiling, and another budget/government shutdown. Given that the Republicans control the House, have fallen to fighting among themselves, and might end up not raising the debt ceiling, and might even enjoy shutting down the government (which they were elected to do, after all), it's hardly surprising that… Can you guess what? That's right:
This guy might be the one responsible for depositing the platinum coin. https://t.co/bW79PuQhzW

— guan (@guan) October 11, 2015
Interestingly, retweeted by Joe Weisenthal, and with Yglesias included in the thread. In other words, #mintthecoin is inside the Overton Window, an amazing achievement. More Beltway chatter:
@ezraklein Has anything changed in the last couple years since you wrote this? http://t.co/sLQPB1Fz4u

— PeteB2 (@PeteB2) October 12, 2015
Somebody better get to Vox tout sweet and help out with the explainer…
As usual with the Daily Mail, the headline tells the story — "Revealed: The ghost fleet of the recession anchored just east of Singapore" — but then this picture does too: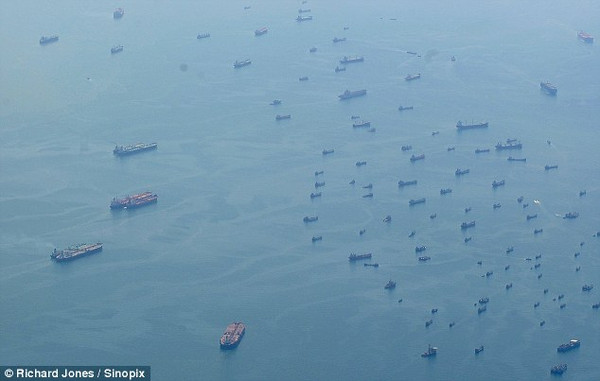 This image, from September 8, 2009, is a proxy for the depression conditions of that time. And, unlike statistics, the ships (assuming provenance) are part of the real economy (much like the periodic reports of business and social conditions we ask for are real).
Statistics are all very well; but the problem with them is not that they are noisy (though some of them are) but that they are gamed. That doesn't mean that they can't move markets; they do, which is why its important to watch them. (After all, that weather reports are noisy, and gamed, doesn't mean that one shouldn't pay attention to them.) But when economics statistics are gamed, they move away from the real economy of work, food, house and home, health, relationships, and all the other ways we lead our lives — if our goal in life is something other than making a killing in the markets. So they aren't especially useful to us, not being designed for that purpose. (The classic example is the unemployment statistics, which are taken as a proxy for the health of the labor force, but which leave out, erase, suppress those thrown out of the labor force.)
A second example of a proxy: An acquaintance thought something was up a year ago in China, when California almonds stopped being shipped from ports on the West Coast. To them, that meant that the Chinese middle class had cut back on buying luxuries; we see the same sort of proxy when we hear that Chinese squillionaires aren't buying as many fancy guilty conscience-inspired bolt-holes from impending chaos condos as they used to.
Readers, do you have your favorite proxies for the state of the real economy?
This Maine bear asks, because on the one hand we have people like LaGarde and Carney and Summers with their hair on fire because the financial system — hold onto your hats, here, folks — hasn't been fixed, so what happens when this already long-in-the-tooth recovery ends in tears, and on the other, the stats are telling the story of a US economy that's bumping along and will continue to bump along. Every so often a red light will flash, and people get excited, and then it will go out. Then a green light will flash, and people get excited, and then the green light won't pan out either. But the feeling of a crappy recovery that stays crappy, and the hair-on-fire doominess of some elite factions don't seem commensurate to me. True, the elites could be talking their book, and pleading with J-Yel for more free money, because free money. So how do we get a check on the stats, and a check on the elites? Proxies from the real economy, say I. But which?
* * *
Readers, feel free to contact me with (a) links, and even better (b) sources I should curate regularly, and (c) to find out how to send me images of plants. Vegetables are fine! Fungi are deemed to be honorary plants! See the previous Water Cooler (with plant) here. And here's today's plant (Eric):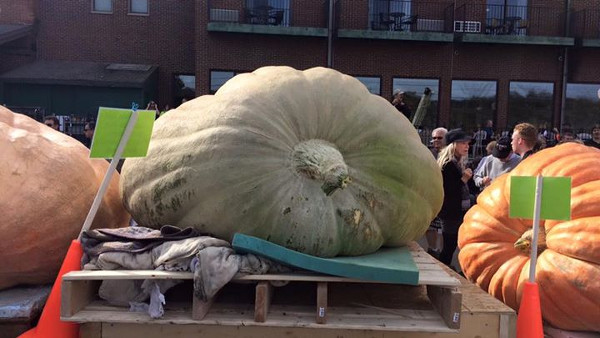 This is an extremely large pumpkin! Via the Stillwater Harvest Fest. The Fest closed yesterday, so you missed the Pie Eating Contest. But the Democratic debates are tomorrow!
If you enjoy Water Cooler, please consider tipping and click the hat. Winter is coming, I need to buy fuel, and I need to keep my server up, too.