By Lambert Strether of Corrente
TPP/TTiP/TISA
"Investor-to-state dispute settlement (ISDS) places investment tribunals above states, above democracies. This places the development of law beyond democratic scrutiny. At a national level, parliaments can change laws that do not work out well. This is not possible at the supranational level. The transfer of power is as good as definitive: it is practically impossible to withdraw from (deep integration) trade agreements" [InfoJustice]. Lots of good detail on ISDS.
"Section by Section Commentary on the TPP Final IP Chapter Published 6 November 2015 – Part 1 – General Provisions, Trade mark, GIs, Designs" (PDF) [Kim Weatherall]. Weatherall is an Associate Professor, Sydney Law School, University of Sydney, Australia.
"Section by Section Commentary on the TPP Final IP Chapter Published 5 November 2015 – Part 2 – Copyright" (PDF) [Kim Weatherall].
"Article 11.2 of the agreement confirms that financial services providers are covered under the minimum standard of treatment obligation. This means that almost any change in financial regulations affecting future profits could be challenged in an extra-judicial tribunal, even if they equally applied to foreign and domestic firms and even if they were enacted in response to a crisis" [David Dayen, The Intercept].
"The most shocking revelation from today's release is how the TPP's Investment chapter defines "intellectual property" as an asset that can be subject to the investor-state dispute settlement (ISDS) process. What this means is that companies could sue any of the TPP nations for introducing rules that they allege harm their right to exploit their copyright interests—such as new rights to use copyrighted works for some public interest purpose" [EFF]. "A good example of this might be a country wishing to limit civil penalties for copyright infringement of orphan works, which are works whose authors are deceased or are nowhere to be found."
"[T]he TPP allows for Parties to withdraw from this Agreement by providing written notice of withdrawal to the Depositary and the other Parties. Such withdrawal shall take effect six months after the Party provides such written notice" [Malaysian Digest]. What?!?!
"Here are the competitive races where trade is likely to come up as an issue in 2016" [Roll Call]. Senate: Ohio, Pennsylvania, Wisconsin; House: Minnesota Eighth, Michigan Eighth, Michigan Seventh.
"President Obama singled out Detroit automakers as being helped by a Pacific Rim trade deal which was released in detail on last week, but at least one — Ford Motor — complained it still doesn't go far enough to address currency manipulation" [USA Today].
2016
Policy
"[Sanders is] pushing for the post office to be able to offer Americans basic financial services to raise revenue. He's fought big delays to mail delivery as plants have closed" [WaPo]. "He's even blocked a slate of nominees to the agency's governing board because he believes they would slash jobs and outsource one of America's oldest institutions to private companies." And he's right. Nice to see the wonkish and policy-driven Clinton weighing in on this. Oh, wait…. 
Voters
"There's a reason Bush, Kasich and other establishment Republicans aren't gaining traction. Their conservatism no longer makes sense" [Michael Lind, Politico]. "One response might be a kinder and gentler Trumpism—combining a defense of middle-class entitlements with some measure of protectionism in the lower end of the labor market."
 Money
"How Much the Presidential Candidates Raised from Real People" (handy charts) [Bloomberg].
The Trail
"10 Reasons I'm Only Voting for Bernie Sanders and Will Not Support Hillary Clinton" [HuffPo].

Clinton spokeshole: "It's disappointing Sen. Sanders and his campaign strategists have chosen to change direction and engage in the type of personal attacks that they previously said he wouldn't do" [Wall Street Journal, "Clinton Campaign Fires Back at Bernie Sanders"]. How soon Clinton forgets Sanders' defense of her on email in debate, eh? Anyhow, it's clear that any criticism of Clinton will be framed as one sort of personal attack or another, so this is just noise. As for example:

Primitive Berniebro fossils from 2003 https://t.co/V6c0F9JLDl pic.twitter.com/sfnMuA150G

— Mark Ames (@MarkAmesExiled) November 9, 2015

"Let's get excited about Hillary Clinton: She's not a savior — but she is exactly what we need" [Amanda Marcotte, Salon]. Come for the headline; stay for the tortured rationalizations!

"Ben Carson isn't being treated unfairly. He's being treated like a frontrunner" [Chris Cilizza, WaPo]. And yeah, I forgot about Obama's composite girlfriend [Red State]. However, I think the more relevant question was and is: What kind of person writes two autobiographies?

"Jeb Bush seeks to shed Mr. Nice Guy image" [CNN]. I hate this talking point. A "nice guy" wouldn't have purged the voter roles of disproportionately Democratic voters in Florida 2000. And a "nice guy" wouldn't have used a woman in a persistent vegetative state to score political points with his base.
Stats Watch
Labor Market Conditions Index, October 2015: "After dipping in the spring, this indicator is now on a six-month winning streak where the rate of growth has averaged, however, only 1.4, well below the mid-single digit trend of the prior two years" [Econoday]. "The Fed's research department has created a labor market conditions index (LMCI) based on 19 labor market indicators. It is not an official report. However, the monthly publication is carefully noted by Fed Chair Janet Yellen and has gained market attention."
"US labour force participation stays at a 38-year low" [Business Insider].
"Warehousing companies added 5,100 jobs in October, according to the Labor Department, defying weak hiring in other sectors. Trucking added only 400 jobs in October while employment at railroads fell by 200. Warehousing and storage is on a roll, however, and have added 18,200 jobs since June, and 46,100 jobs over the past 12 months" [Wall Street Journal, "Today's Top Supply Chain and Logistics News From WSJ"].
"The Federal Reserve Board's Labor Market Conditions Index (LMCI) increased in October to +1.6 (anything above zero indicates that the labor market is absorbing slack)" [Amherst Pierpont Securities, Across the Curve]. "The current level of the index is quite high by historical standards…. The doves continue to argue that there is an immense amount of slack above and beyond what the classic U-3 unemployment rate would suggest, but the Fed's own LMCI suggests otherwise…. The LMCI supports my view that the labor market is rapidly moving toward a pretty mature stage of the expansion."
Consumer credit: "In a record report, consumer credit data are strongly confirming the strength of the consumer. Credit outstanding surged $28.9 billion in September for the largest gain in the history of the series which goes back to 1941. Nonrevolving credit, in part reflecting vehicle financing and also student loans, rose $22.2 billion. Revolving credit, reflecting a rise in credit-card debt, jumped $6.7 billion to extend an emerging run of strength that suggests consumers are now less reluctant to run up their credit cards which, for retailers certainly, is a good omen for the holidays" [Mosler Economics]. Mosler comments: "Hard to detect anything happening here except some volatility and maybe consumers borrowing more in response to low personal income growth?"
"Seven years after the collapse of Lehman Brothers jolted the global economy, the world's biggest banks may need to raise as much as $1.2 trillion to meet new rules laid down by financial regulators" [Bloomberg].
"Chevron paid only $248 tax on $1.7b profit, Senate tax inquiry told" [Australian Financial Review].
"The cloud wars explained: Why nobody can catch up with Amazon" [Business Insider]. Good explanation of the economic and technical logic behind cloud computing.
"I spoke to Newcomb, who confesses that for six months the company struggled to come up with a way to actually earn money" [Techcrunch]. Froth.
Today's Fear  & Greed Index: 67 (-5); Greed [CNN]. Last week: 73 (Greed). (0 is Extreme Fear; 100 is Extreme Greed)
Dear Old Blighty
On the draft investigatory powers bill: "What we are looking at is the end of private reading in this country" [Guardian]. "The draft bill proposes that henceforth everyone's clickstream – the URLs of every website one visits – is to be collected and stored for 12 months and may be inspected by agents of the state under certain arrangements. But collecting the stream will be done without any warrant."
Black Injustice Tipping Point
"University of Missouri president quits after faculty walks out" [USA Today]. Let's not forget the hunger strike. Or the rest of the demands!
Class Warfare
Uber to open own bank to pay drivers immediately (ultimately scaling to become the Amazon of day labor) [Quartz].
"The Great Enrichment" [Deirdre McCloskey, National Review].
"So what's happening in Hollywood [to the Hollywood Sign] is a disturbing peek into the future of digital cartography. A few dozen homeowners in one of the city's wealthiest zip codes—who bought their homes knowing (I assume) about the letters hanging just outside their bedroom windows—have found a way to keep people out of their neighborhood by manipulating technology" [Gizmodo]. "This is the next iteration of a gated community."
Via Ycombinator startup incubator CEO [Paul Graham].
Any industry that still has unions has potential energy that could be released by startups.

— Paul Graham (@paulg) November 8, 2015
Thanks for making that clear…. 
News of the Wired
"Twitter has never understood how people use it. Every single time Twitter has tried to bring in new people, it has done so contrary to what existing Twitter users considered to be valuable" [Baekdal]. Twitter still thinks people are using Twitter to chitchat. The reality, though, is that most of the value that Twitter creates is from people who are communicating instead. We are not chatting on Twitter. We are communicating. And we are communicating about things and topics around us." Twitter is run by stupid money and rotten management. So far, amazingly, they haven't been able to destroy it.
"Please Stop Writing Secure Messaging Tools" [Dymaxion]. "Given that we still have so far to go, why am I telling people they should stop writing secure messaging tools?  Because we have too many other tools we also need.  I've worked inside a number of distributed organizations and talked to folks at many more, and there's a giant list of software that people rely on to get their work done." Interesting read… 
"Crypto e-mail service [ProtonMail] pays $6,000 ransom, gets taken out by DDoS anyway" [Ars Technica].
"Michelin includes street food for first time in Hong Kong guide" [Guardian].
"A venture capitalist searches for the purpose of school. Here's what he found" [WaPo]. This is actually not that awful to read, if you discount the decades we've spent optimizing all social structure for people exactly like this guy.
"The Whitney Rejected This Masterpiece Sculpture" [Vulture]. Of Huck and Jim. One more book to reread… 
"Mathematicians prove the triviality of English" [Guardian]. A = 1. And B = 1. And C = 1… 
"Why Torture Doesn't Work: The Neuroscience of Interrogation" [Nature]. "Why then, given its uselessness in eliciting valuable information, do people torture? It is a form of vengeance or punishment, intended to discourage the victim from future transgressions and to communicate to others that harm will not be tolerated." And that sure worked great in Iraq and Afghanistan, didn't it? Somebody should tell the neo-liberals running the economy that torture doesn't work there, either.
"[W]e can't see our culture very well, because we see with it. Being the one who sees one's own culture, who stands without the frame, is a variously attentiongetting and lucrative gaff, and should always be suspect as such, particularly when it comes to the output of one's own inner futurist." [William Gibson, Medium].
* * *
Readers, feel free to contact me with (a) links, and even better (b) sources I should curate regularly, and (c) to find out how to send me images of plants. Vegetables are fine! Fungi are deemed to be honorary plants! See the previous Water Cooler (with plant) here. And here's today's plant (JN):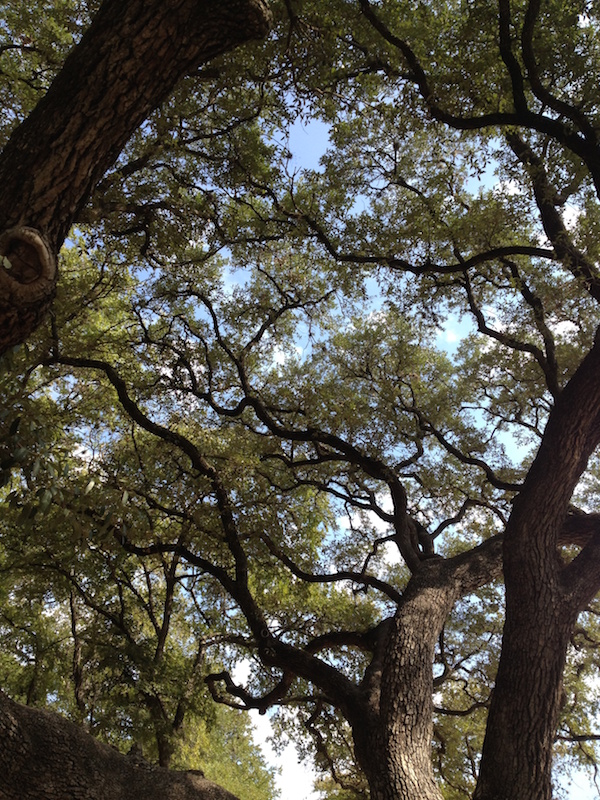 Austin autumn.
If you enjoy Water Cooler, please consider tipping and click the hat. Winter has come, I need to buy fuel, and I need to keep my server up, too.