The Best Offense in College Football Is Also the Laziest WSJ. There's a lesson here for all of us!
'Gigantic mis-selling phenomenon' FT
The Mega-Danger of Mega-Deals: Monopolies Are Crushing U.S. Workers and Consumers David Dayen, Fiscal Times
How Twitter can see the financial future – and change it The Conversation
The definition of recession needs a rethink FT
PPI Unexpectedly Declines Second Month; Another Big Decline Likely Next Month Global Economic Analysis
Use the Post Office to Help the Unbanked Bloomberg. The Editorial Board (!).
How disruptive technology destroys pensions FT
The Secrets in Greenland's Ice Sheet NYT (DL).
Creation Care tried to bring evangelicals into the climate movement. Here's why it failed. Vox
Montreal is going to start dumping untreated sewage into one of Canada's biggest rivers Reuters
Syraqistan
Study finds more child abuse in homes of returning vets USA Today
China?
Paddy-whacked The Economist
A Pro-Democracy Landslide in Myanmar The Atlantic
Tens of Thousands March in S. Korea Anti-Government Rally VOA
More couples saying, 'I do … but not yet' Japan Times
Trade Traitors
Obama Faces a Tough Road with TPP Trade Deal Fortune

Utah Senator, Crucial Ally for the Pacific Rim Trade Deal, Is Now Its Main Hurdle NYT

Germany protests lack of transparency in US trade talks EU Observer
Blairites, Brownites, Corbyn refuseniks: where do the New Labour tribes go next? Guardian
Portugal's Novo Banco Has $1.5 Billion Shortfall in Stress Test Bloomberg
Police State Watch
Chicago cops conducted unauthorized spying on protesters Chicago Sun-Times

Marksville infighting made a bad situation worse Shreveport Times. What's that Orson Welles movie with the candybar-munching Sheriff? Touch of Evil. Marksville sounds a lot like Los Robles….
Missouri Lawmaker Seeks To Block Students From Studying Restrictive Abortion Law HuffPo (RH).
Black Injustice Tipping Point
Stories of race: People and events that have had an impact on MU The Missourian

Mizzou has a history of stalled race initiatives St Louis Post-Dispatch
2016
Democratic Debate
UPDATE Here's the transcript (Fresno Dan). Let the meme generation begin!

Winner of the 2nd Democratic debate: John Dickerson Politico. You can be sure that if Politico thought Clinton won, they'd say just that. But CBS and Dickerson did very well. Why, it's almost as if CBS, unlike CNBC and Fox, is a news organization…

Hillary Clinton Missed Her Chance to Explain How She Would Defeat ISIS Slate

Clinton wobbled on foreign policy in debate Olivier Knox, Yahoo News

Sweet: Clinton, distancing herself from Obama on Islamic State, wins Dem debate Lynn Sweet, Chicago Sun-Times. That's Chicago Sun-Times.

Sanders: I'm not as much of a socialist as Ike USA Today. When Sanders said his top rate wouldn't be as high as Eisenhower's 90%, to laughter and applause. That talking point has been around a long time, glad to see Sander use it.

I actually listened to the debate. We'll have to wait a couple of days for the press to impose the narrative on us, but I thought Clinton was shifty, long on context but short on policy specifics*, and I thought her point that SuperPACs were no problem because 60% of her donors are women was idiotic (though idiotic in precisely the way that Democratic identity politics makes you idiotic). Sanders improved. He reminds me one of those scrappy underdogs that keeps hanging around, hacking and chipping away, until the third quarter, when everybody wakes up to the fact that the big school might actually lose, despite all that money and the fancy uniforms.

* Except, tellingly, on her minimum wage proposal for $12, where she had a complex argument all worked out: $12, she thinks, is fine for the fly-over states, and places like Seattle will have to pay $15. So why not $15 for the fly-over states, and $18 in Seattle? $12 will be hard to sell to the base, I think, or what we used to think of as the base.
How The Old Farmer's Almanac Previewed the Information Age The Atlantic
This man has been tasked with turning Facebook into a best friend that can get you whatever you need Business Insider. Please go away.
It's Way Too Easy to Hack the Hospital Bloomberg. (This excellent article is JavaScript heavy and you may need to switch browsers to read it.)
The World's Most Musical Languages The Atlantic
Simon Schama: The rediscovery of Shelley FT. Lost work rediscovered:
Millions to fight compell'd, to fight or die
In mangled heaps on War's red altar lie.
The sternly wise, the mildly good, have sped
To the unfruitful mansions of the dead.
Antidote du jour: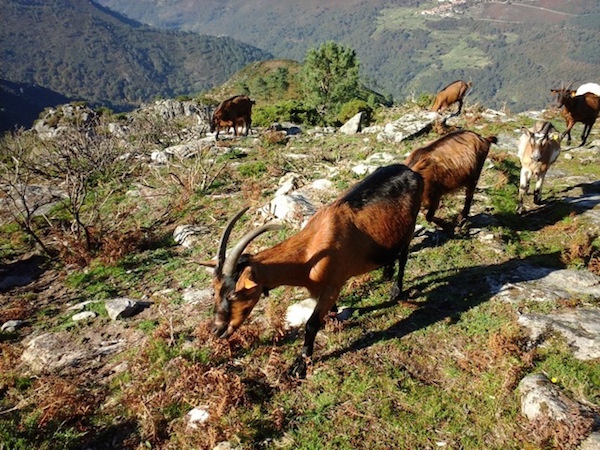 Ceu, Isabel's adopted goat, in the foreground.
See yesterday's Links and Antidote du Jour here.