By Lambert Strether of Corrente.
Readers, what follow is a link- and quote-fest of Paris attack information. On the attacks proper, I don't think we know very much — first a passport was found on or near the body of one of the attackers, then it might have been fake, and so forth — so I've focused more on material that gives context. This topic isn't going to go away, at least for awhile, so we might as well give our critical thinking skills as much material as possible, as soon as possible. Please feel free to add links in comments, and if we have any readers in Paris, I'd love to hear from you! 
The Chain of Events
Timeline of the attacks across the French capital France24. France24's coverage was calm and collected.
The Paris Attacks: What We Know The Atlantic. Good roundup, with lots of "solidarity" images. (Personally, I'm counter-suggestible, so I regard acts of solidarity like, for example, overlaying my Facebook avatar with the tri-color as forms of "cheap grace." Real solidarity would consist in avoiding a second bout of 9/11-like insanity.)
Paris attacks were carried out by three groups tied to Islamic State, official says WaPo and Seven Militants Led Deadly Paris Attacks WSJ:
"It is an act of war that was waged by a terrorist army, a jihadist army, by Daesh, against France," Mr. Hollande said, using an Arabic name for Islamic State. "This act of war was prepared and planned from the outside, with accomplices inside," he added, saying France would respond to the attacks.

Islamic State claimed responsibility for the attacks on a social media account but didn't provide specific information that would allow the claim to be verified. It said the attacks were retaliation for French airstrikes against the group in Syria and Iraq.
Strategy and Tactics of the Attackers
How the Paris attacks combined more than a decade of terrorist tactics into one night WaPo
Paris attacks: Three Isis teams led atrocity FT
Even as the events in Paris were unfolding, officials and analysts said they were struck by how tightly co-ordinated the series of attacks seemed to be — a level of sophistication in planning and execution that had not been seen since the 2008 attacks in Mumbai.
Paris Attacks Suggest Shift in Islamic State's Strategy WSJ
"Let France and all the nations following in its path know that they will continue to be at the top of the target list for Islamic State, and that the scent of death will not leave their nostrils.…Indeed, it is just the beginning," Islamic State said in its claim of responsibility for Friday's attack.

Given just how simple it is to kill random civilians in a Western city, that isn't an idle warning. Its also one that calls into question the U.S.-led policy of using limited means to contain, rather than decisively defeat, Islamic State.
Belgium's home affairs minister says ISIL communicates using Playstation 4 Quartz
Paris Attackers Used Nearly Identical Explosive Devices: Prosecutor NBC
The Paris Attacks Have Nothing to Do With Refugees Slate
[The] actual killers knew Paris very well. At least one has already been identified as a French national, known to the police. Others drove a Belgian rental car. I don't care how all of the other killers entered the country: This operation wasn't planned by refugees. They picked targets—bars, a theater, the national stadium—in integrated neighborhoods, places that were frequented by young Parisians of all backgrounds.
The History of ISIS, and the Origins of "Radical Islam"
UPDATE Some observations about the carnage in Paris Angry Arab News Service (G3). Well worth reading in its entirety, disagree or no:
1) ISIS has gone on the offensive: in ten days, they downed a Russian civilian airliner, massacred Hazara Shi`ites in Afghanistan, bombed the southern suburbs of Beirut and now Paris.

2) Western governments: US and France in particular along with their Saudi,Qatari, and Turkish allies are directly responsible for the rise and expansion of ISIS through their policies in Syria which cuddled and nurtured ISIS and its sister terrorist organizations.

3) there is no way on earth to stem the menace of ISIS and Al-Qa`idah like organizations without going to the source, in Saudi Arabia which is the official headquarters of the Ibn Taymiyyah's terrorist interpretation of Islam.
Whovever "Ibn Taymiyyah" is. But at least we can discuss that, instead of the feels. More on our friends, the Saudis, below.
US embassy cables: Hillary Clinton says Saudi Arabia 'a critical source of terrorist funding'  Guardian. Surprised Sanders doesn't mention this.
Our terrorism double standard: After Paris, let's stop blaming Muslims and take a hard look at ourselves  Salon
How Saudi Arabia exports radical Islam The Week:
The Islamic State of Iraq and Syria sees itself as purer than the Saudi regime, but its fundamentalist Sunni doctrine has its roots in Wahhabism. Bob Graham, a former Democratic senator from Florida who has called for declassification of the portion of the 9/11 Commission report dealing with Saudi Arabian links to the hijackers, says ISIS "is a product of Saudi ideals, Saudi money, and Saudi organizational support."
There Is Only One Way to Defeat ISIS Charles Pierce, Esquire:
It's not like this is any kind of secret. In 2010, thanks to WikiLeaks, we learned that the State Department, under the direction of then-Secretary of State Hillary Rodham Clinton, knew full well where the money for foreign terrorism came from. It came from countries and not from a faith. It came from sovereign states and not from an organized religion. It came from politicians and dictators, not from clerics, at least not directly. It was paid to maintain a political and social order, not to promulgate a religious revival or to launch a religious war. Religion was the fuel, the ammonium nitrate and the diesel fuel. Authoritarian oligarchy built the bomb. As long as people are dying in Paris, nobody important is dying in Doha or Riyadh.
Hilariously, Pierce manages to get through his piece without mentioning Obama once. The cossacks work for the Czar, after all, and Clinton, last I checked, had a boss.
The hidden hand behind the Islamic State militants? Saddam Hussein's. WaPo.
Even with the influx of thousands of foreign fighters, almost all of the leaders of the Islamic State are former Iraqi officers, including the members of its shadowy military and security committees, and the majority of its emirs and princes, according to Iraqis, Syrians and analysts who study the group.

They have brought to the organization the military expertise and some of the agendas of the former Baathists, as well as the smuggling networks developed to avoid sanctions in the 1990s and which now facilitate the Islamic State's illicit oil trading.
French Particularities
When you see a chart like this, France's radicalism problem becomes really obvious WaPo. Here it is: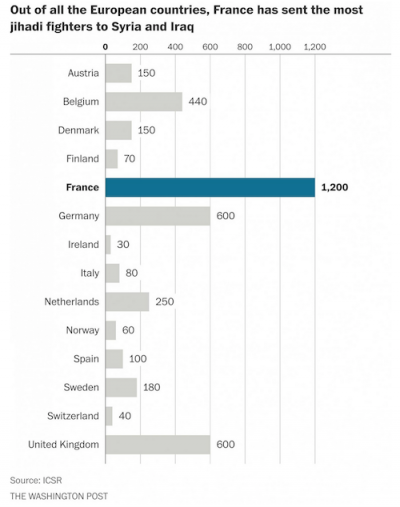 Ghostly Paris The New Yorker. Of the attacks on Le Petit Cambodge and Le Carillon:
The bars and restaurants that have cropped up in traditionally working-class or immigrant right-bank neighborhoods, like the Canal Saint-Martin and Belleville, Menilmontant, and Barbès, are popular among residents and all but unknown to most tourists, and this is exactly why yesterday's attacks, beyond their number and breadth and sheer mortal effectiveness, have so shocked the city.
The Other France The New Yorker:
Ben Ahmed, who is thirty-nine, works as a liaison between residents and the local government in Bondy—a suburb, northeast of Paris, in an area called Department 93. For decades a bastion of the old working class and the Communist Party, the 93 is now known for its residents of Arab and African origin. To many Parisians, the 93 signifies decayed housing projects, crime, unemployment, and Muslims. France has all kinds of suburbs, but the word for them, banlieues, has become pejorative, meaning slums dominated by immigrants. Inside the banlieues are the cités: colossal concrete housing projects built during the postwar decades, in the Brutalist style of Le Corbusier. Conceived as utopias for workers, they have become concentrations of poverty and social isolation. The cités and their occupants are the subject of anxious and angry discussion in France. Two recent books by the eminent political scientist Gilles Kepel, "Banlieue de la République" and "Quatre-vingt-treize" ("Ninety-three"), are studies in industrial decline and growing segregation by group identity. There's a French pejorative for that, too: communautarisme.
Sounds like Pruitt-Igoe in Saint Louis.
France is on the Verge of … What? Counterpunch
According to the Le Figaro, when asked by IFOP, a respected French poling agency, if they would accept a non-democratic form of government to bring necessary reforms to France, 67% of the French said they would opt for a government of non-elected technocrats. 40% percent said they would back a non-elected authoritarian regime.

Again, that survey was carried out the day before the bloody carnage in Paris. People may have poured out into the streets in an impressive show of unity earlier this year in the wake of the Charlie Hebdo killings, but that moment of attempted racial harmony was brief and the situation has been fraying ever since.
Refugees in France Fear Islamic State Violence Has Followed Them Bloomberg
What the Paris Attacks Mean for Europe's Free Borders The Atlantic. "Following Friday's shootings and explosions, the country has reimposed border controls."
Media Critique
Debunked: Fake images and rumours around Paris attacks France24. France24 comes through again. This type of story should be a regular feature for all events like the Paris attacks.
A Day Before the Paris Attack, Suicide Bombers Killed 43 in Beirut Mic. Oddly, or not, this attack got virtually no coverage.
Beltway Meltdown and Warmongering
Honestly, what do we do, assuming we have a larger goal than optimizing the Mediterranean and Black Sea littoral for conflict investment? So do we invade Iraq a second time? How about we arm and train some more Syrian moderates? Have Bibi nuke it all, which he's dying to do? Let Vladi handle it? What, exactly?
I've made "climate change" and "death tax" a part of everyday language.

Now, I shall do the same with #Daesh.  https://t.co/QiHmmxEinq

— Frank Luntz (@FrankLuntz) November 14, 2015
Rubio: Paris Attacks Wake-Up Call to 'Clash of Civilizations' Bloomberg. "Florida Man Channels Samuel P. Huntington."
 What Parisians Need Are Guns, Trump Says Bloomberg. One word: Crossfire.
Obama under fire for saying that ISIS has been 'contained' just hours before Paris attack as he heads to Turkey for G-20 Summit Daily Mail
On Terror, We're All Right-wingers Now Politico. Whaddaya mean, "we"? Anyhow, the Democratic debate was relatively sane, by Washington standards. All agreed that it wasn't just our fight, but that the locals have to be involved.
After Years Of Insults, US Conservatives Now Express Solidarity With France International Business Times
It's Time to Give Jihadists the Apocalypse They Long For — and Other Thoughts About the Nightmare in Paris National Review. What could go wrong?
* * *
All for now. Readers, have at it!