By Lambert Strether of Corrente
Readers, my Mac laptop is still in the shop for the final stage of its keyboard transplant, so Water Cooler will be shorter than usual as I re-accustom myself to the different keyboard of my PC laptop, and the absence of my usual tools.
2016
Policy
"No Uber union needed, says former Obama aide David Plouffe" [Seattle Times]. File under "Democrats reveal their true colors" (as if we didn't already know).
Voters
What Would It Take To Turn Blue States Red? [FiveThirtyEight]. Fun interactive.
Money
"Open Letter: Let's Sit-In to Save Democracy From the Billionaire Class" [Rhana Bazzini, Medea Benjamin, Ben Cohen, Jodie Evans, Joseph Huff-Hannon, Lawrence Lessig, Joan Mandle, Kai Newkirk, Carlos Saavedra, Umi Selah, Paul Song, Zephyr Teachout, Cenk Uygur and Winnie Wong, The Nation]. Normally, I'd dismiss this as Nation-cruise stuff, but there are some impressive names on that list, especially New York's next Governor, after Cuomo gets indictedMR SUBLIMINAL A man can dream…., Zephyr Teachout:

And we write to ask you to do something difficult and uncommon: to join us in Washington, DC, next April to take a dignified, determined stand for democracy that may result in your arrest.

Where's the Sanders campaign on this? Sounds like it's in their wheelhouse.

"Attendees will pay $33,400 to the Hillary Victory Fund, according to the people, who asked not to be identified because there was no public announcement of the event," sponsored by Warren Buffet [Bloomberg]. Gee, that's odd. Why wouldnt' the Clinton campaign issue an announcement?
The Trail
"A new CNN/ORC poll finds Donald Trump alone at the top of the Republican field with 36%, followed by Ted Cruz at 16%, Ben Carson at 14% and Marco Rubio at 12%"" [Political Wire].

"Less than two months before the caucuses, voters say they still haven't settled on favorites" [Bloomberg].

"Trump picked stock fraud felon as senior adviser" [AP]. Horses for courses…

Jeffrey Goldberg and Chris Christie discuss ball-breaking [The Atlantic].

Christie: No one will break my balls like you do.
Goldberg: I don't break your balls. This is nothing.
Christie: This is ball-breaking.
Goldberg: You're a prosecutor from New Jersey and you think this is ball-breaking? Pathetic.
Christie: You think I mean ball-breaking being painful?
Goldberg: Oh, you mean—
Christie: —This is ball-breaking!
Goldberg: The good ball-breaking.
Christie: Yeah, ball-breaking like where we come from. With a smile on your face.
Goldberg: Alright, that's better.

Stay classy, Governor! Don't ever change!

"Clinton-aligned group claims to have mole in Koch machine" [The Hill. What fun!
Stats Watch
Employment Situation, November 2015: "Payroll growth is solid and, though wages aren't building steam, today's employment report fully cements expectations for December liftoff." [Econoday]. "Despite soft spots and though earnings are flat, this report confirms that the nation's labor market is solid and growing and, for the Fed, it supports arguments for the beginning of policy normalization." Subject to revision, of course. And: "November's jobs report's 211,000 payroll additions was not nearly as strong as October's revised 298,000, nor did it exceed the 12-month average of 220,000 but it was enough to keep alive the general anticipation that it won't be the labor market that stands in the way of any Federal Reserve liftoff later this month" [Market News]. But: "The rate of growth for employment dramatically decelerated this month" [Econintersect]. Reminding us: "The monthly headline data ends up being significantly revised for months after the initial release – and is subject also to annual revisions. The question remains how seriously can you take the data when first released." Wait, what? I thought the Fed was data-driven?
International Trade, October 2015: "The nation's trade deficit came in at the high end of expectations in October, at $43.9 billion with details reflecting oil-price effects but also soft foreign demand. Exports fell 1.4 percent in the month while imports, pulled down by oil, fell 0.6 percent" [Econoday].
"According to new estimates derived from the monthly Current Population Survey (CPS) median annual household income in October 2015 was $56,671 compared to $56,392 for September" [Econintersect].
"According to new estimates derived from the monthly Current Population Survey (CPS) median annual household income in October 2015 was $56,671 compared to $56,392 for September" [Econoday]. But before we celebrate: " The Sentier Household Income Index stands at 98.8 (January 2000 = 100.0) indicating that median household income in October 2015 was 1.2 percent lower than January 2000." Now that's what I call an unbroken record of success.
Shipping: "Rail Week Ending 28 November 2015: Contraction Growing Faster. Rail Traffic in November Down 10.4%" [Econintersect].
Dear Old Blighty
Projected Government consumption of goods and services as share of nominal GDP [Office for Budget Responsibility]. 1948 levels: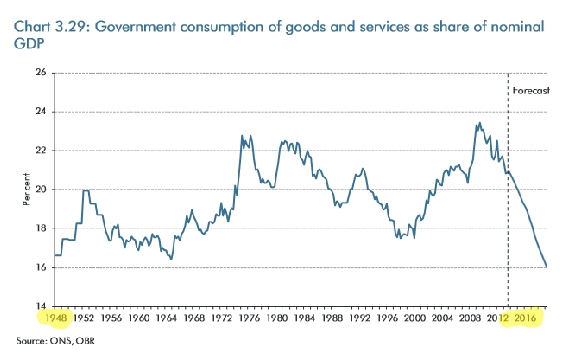 And not so coincidentally, "Labour has comfortably won its first parliamentary byelection since Jeremy Corbyn became leader, storming ahead of Ukip by more than 10,000 votes in Oldham West and Royton in Greater Manchester" [Guardian]. "McMahon's clear win will be cheered by both the Corbyn and non-Corbyn factions of the Labour party. The former will see his victory as a vindication of the direction of the party under the new leader. The latter will be relieved, seeing McMahon as a pro-business pragmatist." Well, maybe the whinging and backstabbing and stiffing and blinding from the Front Bench will subside now. Not.
Gunz
"Authorities Say Country Still An Active Shooter Situation" [The Onion]. "Citizens Advised To Remain Alert, Stay Indoors."s
"Australia enacted one of the largest gun reforms ever nearly 2 decades ago — and gun deaths plummeted" [Business Insider].
"Afraid of guns? Buy more guns! The circle of life in America" [First Dog on the Moon, Guardian]. A self-licking ice cream cone.
Gun trade association says that gun industry has $42 billion of "economic impact" [David Sirota, International Business Times]. Ka-ching. The association is the National Shooting Sports Foundation, located in Newton, CT, site of the Sandy Hook shooting. During Sandy Hook coverage, mention of this happy coincidence seemed virtually taboo, so its interesting to see it mentioned now.
"Senate blocks effort to keep guns from terrorists" [The Hill]. Kayfabe.
Gaia
December 4 is World Soil Day.
"Why You Need to Add World Soil Day to Your Annual Calendar" [Natural Resources Defense Counsel]. Make the Physiocrat in your life happy!
"World Soil Day highlights Top 10 practices for soil health" [Tri-State Neighbor].
[R]researchers have tended to downplay the risks of soil extinctions, in part because of the perception that soil microbes and other subterranean organisms are widely distributed around the globe. In many places, however, scientists have little idea of what is living in the soil or the novel roles played by individual organisms" [Science].
Paris Scherzo [Resilience]. "Hanging out in the halls of Le Bourget one often hears the phrase, "the elephant in the room," in reference to unspoken but huge issues that may threaten the negotiations if they are disturbed. In our view, the room is actually full of elephants, and it is a wonder delegates can even squeeze in to find their seats."
"On the duality of climate scientists: … how integrated assessment models are hard-wired to deliver politically palatable outcomes (PDF) [Kevin Anderson].
"Norwegian energy giant Statoil has received approval to explore for oil in an area next to the Georges Bank and the entrance to the Gulf of Maine, raising environmental concerns on both sides of the border" [Portland Press Herald]. Well, maybe the lobsters heading North to escape global warming will turn around and head south when they encounter the oil slicks. Seriously, leave the stuff in the ground. Or maybe the lobstermen can bring an ISDS suit?
Corruption
"Before Senate win, Rubio turned political 'juice' into personal profits" [WaPo]. "Rubio's business deals during the period between his Tallahassee and Washington chapters demonstrated the ways he leveraged his enduring power inside government to make a profit on the outside. And they add to the contradictory picture of his personal finances that has emerged as his presidential campaign has gained traction — of a young man who struggled financially even as his personal income soared along with this political success." Florida man to set up his own influence-pedding and money-laundering Foundation, I guess. Seems like a disqualifier for any serious candidate, no?
"An investigation into dealings by a Malaysian government development fund is bringing unwanted attention to a number of Swiss banks, including a small wealth manager snapped up by an Abu Dhabi investor during the financial crisis" [Wall Street Journal, "Swiss Probe of Malaysia's 1MDB Puts Falcon Bank in Spotlight"]. "Swiss authorities investigating executives at Malaysia's 1Malaysia Development Bhd., or 1MDB, are focusing on transactions tied to the public fund that were made using Zurich-based Falcon Private Bank AG, people familiar with the matter said."
Imperial Collapse Watch
Former DIA head Michael Flynn: "I think the narrative was that al Qaeda was on the run, and (Osama) bin Laden was dead. … They're dead and these guys are, we've beaten them" [CNN]. "But the problem was that no matter how many terrorist leaders they killed, they 'continue to just multiply.'" They multiply in an entirely predictable self-licking ice cream cone of ka-ching, called blow-back. Which is the story, not the administration's "narrative."
"McCain Says F-35's Cost May Force Pentagon to Cut Back Purchases" [Bloomberg]. McCain: "I'm not making a judgment but it seems to me that if we had planned on originally procuring a thousand of them [by the end of this fiscal year] and instead we have procured 179, there may be some mismatch there." I love dry humor.
Guillotine Watch
"Former Massey CEO found guilty of conspiracy in West Virginia mine blast" [Reuters]. Finally, a CEO found guilty of something!
Class Warfare
"Online Classes Appeal More to the Affluent" [New York Times]. "Free online educational courses may not be democratizing education as much as proponents believe, a new study reports." Won't prevent them from imposing it on the rest of us, of course.
"Big Pharma distanced itself from [glibertarian Pharma dudebro Martin] Shkreli on Thursday. "He is not us," Kenneth Frazier, CEO of Merck, said during a panel." [Gawker]. BWA-HA-HA-HA-HA-HA!!! That Kenny. Such a kidder. Anyhow, read the article for vile quotes from Shkreli.
News of the Wired
"How People Spend Their Time in Each State, in 6 Maps" [Governing]. Maine #1 for work. We're not lying back on our chaise lounges eating bon bons up here, you know!
* * *
Readers, feel free to contact me with (a) links, and even better (b) sources I should curate regularly, and (c) to find out how to send me images of plants. Vegetables are fine! Fungi are deemed to be honorary plants! See the previous Water Cooler (with plant) here. And here's today's plant (OregonCharles):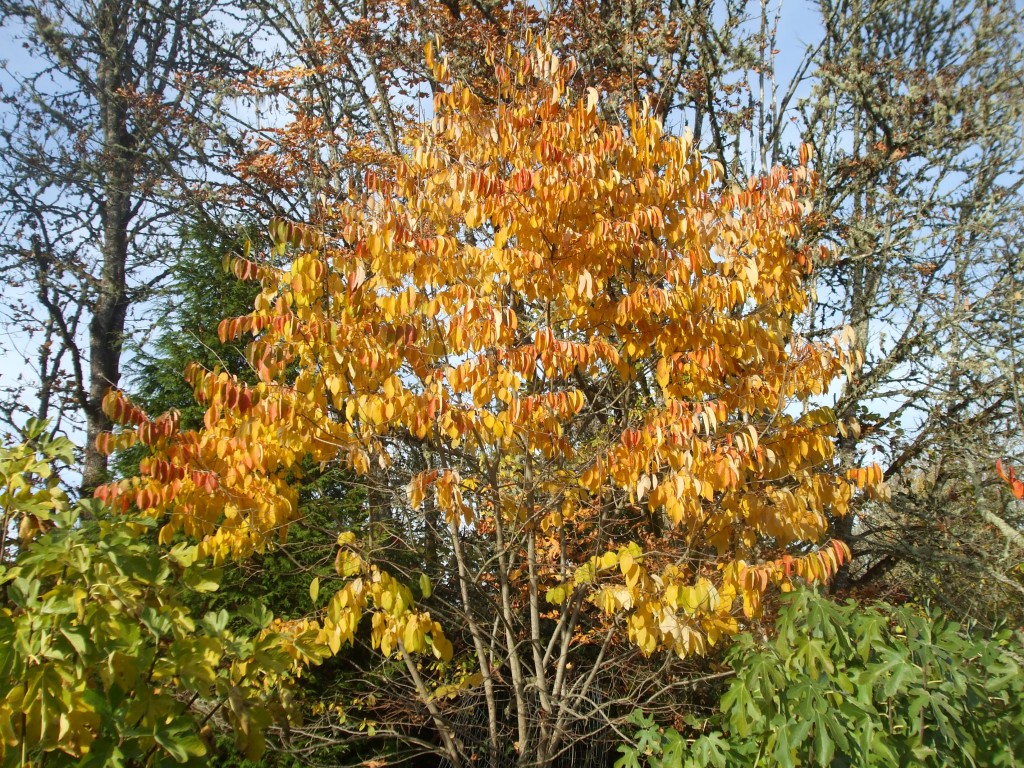 OregonCharles writes:
This is American persimmon. I had no idea the fall color was so brilliant. From a seed – but it's male. Figs in the foreground.
The more I live with plants, the more I come to appreciate the canopy, the third dimension above the beds.
* * *
If you enjoy Water Cooler, please consider tipping and click the hat. Winter has come, I need to buy fuel, and I need to keep my server up, too.