US artist Ellsworth Kelly dies aged 92 BBC
Start-Up With Bitcoin in Its DNA Stumbles on Fund-Raising Trail New York Times
Humans blamed for extreme weather Financial Times. Subhead: Global temperatures to rise by symbolic 1C this year
The Yellowstone of the Future New York Times (David L)
The Money Network of Malaysian Politics Wall Street Journal
China?
US warns Europe over granting market economy status to China Financial Times (Sid S)

TPP is a giftwrapped wealth-transfer to China Boing Boing (resilc)

IBM and Microsoft jockey for position as China seeks better smog forecasting tech Reuters
Refugee Crisis
Finland blocks refugees from cycling across Russian border into Lapland Washington Post (furzy)

Interpol: 1% of 2014 European Terrorism by Muslims Juan Cole (resilc)
Syraqistan
I revealed the truth about President Erdogan and Syria. For that, he had me jailed Can Dündar, Guardian (margarita)
Imperial Collapse Watch
The Global Conflicts to Watch in 2016 – Defense One (resilc)

US Increasingly Dominates Global Arms Trade: Congressional Report Military.com
Big Brother is Watching You Watch
China adopts first counter-terrorism law Xinhuanet. Bill B:

"Under the new bill, telecom operators and internet service providers are required to provide technical support and assistance, including decryption, to police and national security authorities in prevention and investigation of terrorist activities."

The alleged heroic defenders of privacy in Silicon Valley will likely opt to "obey the law." The Chinese market is simply too lucrative. Officials complain that Apple's end-to-end encryption is impregnable. Noise for rubes who've never implemented a backdoor: security is a branding mechanism. Open your wallet…

T.S.A. Moves Closer to Rejecting Some State Driver's Licenses for Travel New York Times
2016
Michael Moore just exploded the right's biggest lie Salon (furzy)
DoJ shuts down asset forfeiture program after Congress slashes its budget Boing Boing (resilc)
The Battle for the Future of GOP Foreign Policy New York Magazine
Black Injustice Tipping Point
No Indictment for Cleveland Officers in Shooting of 12-year-old Tamir Rice Wall Street Journal

Cleveland Officer Who Fatally Shot 12-Year-Old Tamir Rice Will Not Face Charges Guardian
Police State Watch
Gunz
What The NRA's Wayne Lapierre Gets Paid To Defend Guns Forbes (resilc)
Saudis unveil radical austerity programme Financial Times
Saudi riyal in danger as oil war escalates Ambrose Evan-Prictharc, Telegraph
$10 Trillion Investment Needed To Avoid Massive Oil Price Spike Says OPEC OilPrice
Capex continues to be stagnant Business Insider
At Capital One, Easy Credit and Abundant Lawsuits ProPublica
Puerto Rico's Debt Trap Simon Johnson, Project Syndicate
Puerto Rico governor: U.S. backtracking on island's independence Reuters
Guillotine Watch
Private planes delay flights to West Palm Beach Page Six (Michael M. Thomas)

"Affluenza" Teen Detained Near Mexican Beach Town With His Mother Gawker
The Origins of Totalitarianism Part 2: Antisemitism Ed Walker, emptywheel. Since we are no longer getting regular doses of Hannah Arendt in comments…
Class Warfare
The Marriages of Power Couples Reinforce Income Inequality New York Times

The Effort to Divert Class War Into Generational War: Lessons On Economics You Won't Get from Jeff Bezos Dean Baker (Angry Bear)
On the historic art of price gouging Izabella Kaminska, FT Alphaville. Important. Argues that app based flexible pricing is a step backwards.
Antidote du jour. Barbara B: Prison inmates take part in a foster-cat program at an Ohio prison."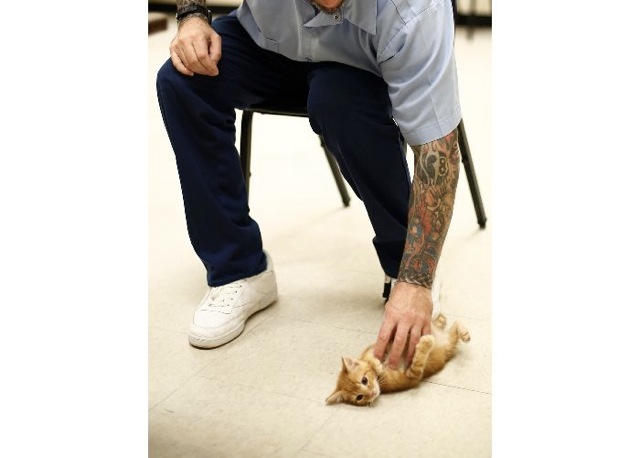 See yesterday's Links and Antidote du Jour here.