Yves here. What Wolf describes is how most sites make their living via advertising. If you have a very specialized audience, you might be able to sell your own ads. For instance, one of our previous WordPress jockies had as her main client a site which was the leader in reviewing high-end watches, as in a $5000 watch would be low end for them. Needless to say, the site was lousy with what she called "watch porn," as in really busy (and pricey) watch ads.
For the record, while we do have contextual ads, we do not use Google Adsense. Our ad service sells premiums ads across a "vertical" of sites with similar demographics to NC, and the rest of the space goes to "remnant" ads from a host of advertisers. Our ad service claims it monetizes that space at a better rate than Google.  In addition, I am separately leery of Google on general principle (why do I want to be in business with a company that makes its living off of spying on people and makes it virtually impossible to reach a real human being when you have a problem you need fixed) and because former employees have alleged that Google systematically cheats its biggest publishers (not that I would rise to that level but who wants to take that chance?)
Also, if you are new to the site, or missed the post, please see here how NC leaves a lot of ad dollars on the table by refusing to run really intrusive ads, like popups or ads that are inserted into the text of an article. So we really do go to some lengths to be considerate about advertising.
By Wolf Richter, a San Francisco based executive, entrepreneur, start up specialist, and author, with extensive international work experience. Originally published at Wolf Street
Funny thing happened. My article about Deutsche Bank's decision to dump its stake in a Chinese bank, as other global banks had already done [What Secret Do Global Banks Know about Chinese Banks?], immediately triggered a long comment about … internet advertising.
"Nick Kelly" ruminated about the ads he'd seen as he was reading the article. It triggered a slew of other comments about the baffling, funny, aggravating, sometimes spooky, and often nonsensical aspects of internet advertising.
We might laugh or scream in despair or tear our hair out in frustration, but internet advertising and everything that comes along with it, such as incessant snooping, is a relentlessly booming industry.
It signals an epochal change. Numerous traditional newspaper publishers have gone bankrupt. Others are barely hanging on. Life is switching to the internet, and so they too scurry to the internet to make a living there. But internet ads don't pay nearly as much as paper ads. And the old math no longer works.
The problem: a ballooning supply of ad space competes for limited demand by advertisers. And rates for ads have been crashing over the years.
So they make it up with volume – and evermore intrusive and obnoxious ads: internet advertising revenues in the US in the third quarter reached $15 billion, a new record, up 23% from the third quarter in 2014, which itself had broken all prior records (chart).
The report hinted at how these record dollar figures are being obtained: "Brands and agencies are focusing ever more attention on interactive screens, following consumers as they flock to digital platforms to be entertained, engaged, and informed."
"Following consumers…." That's the key.
We got a tiny fraction of that $15 billion in Q3. It came our way via the ads you see on this site. Most of them are from Google's ad exchange Adsense, where advertisers bid to have their banners displayed on participating sites. It all happens in microseconds. The highest bidder gets the spot.
You occasionally also see ads that we place directly for our clients. Google isn't everything. (If you want to explore advertising on Wolf Street, contact me.)
So when you open a page on my site, a mad scramble ensues behind the scenes at Google as to which ads appear, based on keywords in the article, cookies and browsing data stored in your device, your online dossier, what you've done with your smartphone, and a million other things.

Advertisers bid on the space. The winners get to place their banners in the article. They pay Google, which eventually pays my company, Wolf Street Corp, its cut.
This can produce bizarre results. Nick Kelly put his finger on it. And commenters replied with their own stores. Here's "hidflect" to "Nick Kelly":
Nick, your ads are different depending on your region, browser, OS and especially what cookies you have on your machine. It can be very disturbing to have an email conversation with someone about, say, controlling your weight through exercise and 10 minutes later see ads for dumbbells cropping up in your margin.
"picobello" to "Nick Kelly":
Welcome to the Internet in the year 2015, Nick, where you are being profiled by Google, Facebook, and god knows who, to give personalized adds depending on the email content you get in your Gmail, sites you visit, Google search terms you use etc., etc. These are even linked to your phone and what sites you visit on your phone. Don't worry, you don't need to have an actual Google or FB account as they'll just make a shadow profile. If I have your phone number in my phone with your name etc., and I install the FB app, it will upload your phone number, name, email address etc., and they make a shadow profile. Next time you buy something online and fill in your name voila! They know it's you. So that's how you get personalized ads.
"Mary" to "picobello":
It can be fun, or alarming, to try and figure out how ads are chosen for your eyes only. My version of Wolf Street is heavily populated by offers to test me for Alzheimer's. But the creepiest: A couple of months ago, I accidentally turned on my Mac's iSight camera and took a picture of myself. Since then a wrinkle removal ad has been rotating that has a crude line drawing of my face.
"Yoshua":
I'm targeted by good looking Chinese women who wish to "date" me. Obviously these women know something too since they are prepared to pack their things and leave the "miracle economy" and move to Europe.
"Thomas" to "Yoshua":
I get the same but from beautiful Russian women. Are we being racially profiled by Google or are they just datamining pornographic preferences… hmm.
"Nick Kelly" then shared this elucidating tidbit:
Once after surfing porn between real work, I got a pop- up:

"You have visited a pornographic site! Protect your job, your marriage, your reputation! For just $10, we can remove all traces! We are an authorized MS contractor."
A couple of years ago, a reader sent me a screenshot of a sushi ad next to my article on Fukushima!!
And then there's this… Remember the rise, almost-IPO, and sudden belly-flop of Ashley Madison, the cheating service that was hacked? All heck broke loose in September after its members' data was posted online. As I was reviewing Larry Kummer's article on this topic that I'd posted on my site, the banner that appeared in the text about halfway down was, let's say, peculiar – and I took this screenshot: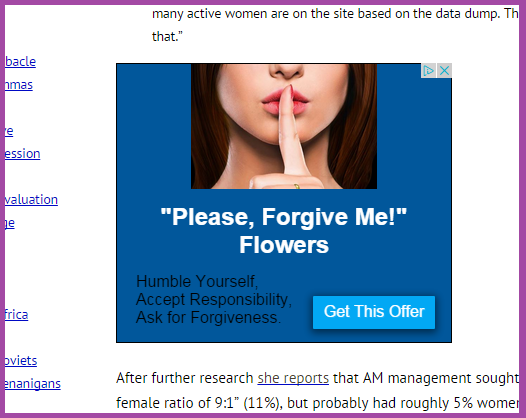 The image – I don't know what deal or scam it led to – is very similar to the image Ashley Madison used, the same frame of a woman from the nose to the shoulders, signaling to be quiet, with a wedding band on her ring finger.
"Life is short. Have an Affair," was Ashley Madison's motto while it was still perceived as a cheater service rather than just a scam of bots and fake pics tricking guys into spending money.
Now we fooled-men get the "Please forgive-me" Flowers ad to be fooled once again. Typical Google sarcasm.
It's "contextual" advertising. Whether or not you ever checked out Ashley Madison, you might have seen that "Please forgive-me" Flowers ad on Wolf Street based on the context of the article, and nothing more. It's not your fault!
So here are the dark lessons from Ashley Madison that are seldom mentioned by the media. Read… Three unmentionable insights about people, free from Ashley Madison