By Lambert Strether of Corrente.

2016
The Voters
On Trump voters: "[A]ll these issues are symbols of a white America that no longer exists — at least to the white people who feel threatened by the fact that their culture is changing" [Heather Digby Parton, Salon]. Or maybe it's the "stunning rise in death rate, pain levels"? Just to clarify how "literal" "disappearing" really is, in this context. It's not like everything has to be cultural, or about symbol manipulation.

"How an obscure adviser to Pat Buchanan predicted the wild Trump campaign in 1996" [The Week]. About columnist Samuel Francis. Much touted, but very good:

What so frightens the conservative movement about Trump's success is that he reveals just how thin the support for their ideas really is. His campaign is a rebuke to their institutions. It says the Republican Party doesn't need all these think tanks, all this supposed policy expertise. It says look at these people calling themselves libertarians and conservatives, the ones in tassel-loafers and bow ties. Have they made you more free? Have their endless policy papers and studies and books conserved anything for you? These people are worthless. They are defunct. You don't need them, and you're better off without them.

And the most frightening thing of all — as Francis' advice shows — is that the underlying trend has been around for at least 20 years, just waiting for the right man to come along and take advantage.
Money
"Hillary Clinton: The cure for Citizens United is more democracy" [Hillary Clinton, CNN]. Yes, and there's a candidate running on exactly that platform.

"Hillary Clinton says she doesn't regret taking speaking fees from national financial firms" (video) [Des Moines Register].

"[B]y trampling Wall Street's favorite candidates in national polls, Trump and Cruz have made vast cash contributions and super-PAC donations look silly. Bankers boast about spending political money just as astutely as they invest at work, but their favorites have struggled" [Bloomberg]. I dunno. Buying up an entire class of people in tassel-loafers has to be good for something.
Policy
A big change in CNN's Iowa polls: Clinton was judged to be best on health care 63-31, now it's Sanders 51-45. pic.twitter.com/im9wwTSzNX

— Taniel (@Taniel) January 21, 2016

"Ash Carter: It's Time to Accelerate the ISIL Fight" [Politico]. Time to get those gaslights flickering?

"Clinton E-Mail Hits Obama on Iran" [New York Times]. Oh, wait. That's from 2007, not 2016. Sorry.

"The 'Anti-Manning' Positions of Hillary Clinton on National Security and Surveillance" [Marcy Wheeler, The Real News Network]. If I understand this correctly, the national security establishment, including Clinton, would like to make social media a part of security theatre.

"Democratic presidential candidate Hillary Clinton is escalating her criticism of rival Sen. Bernie Sanders over the issue of foreign policy, attempting to depict him as a novice on the issue" [NBC]. Yeah, if only Sanders had the experience the Governor of Arkansas did, he too might have voted us into the Iraq war… To be fair, good judgment comes from experience, and experience comes from bad judgment. But does it always?

Ben Carson set up a "secret mission to the Middle East"? [Politico]. Not The Onion!
The Trail
"[A] new survey of Iowa voters released late Thursday afternoon shows Sanders with a "solid" 8-point lead over his rival in the early caucus state" [Juan Cole]. "According to the CNN/ORC poll, Bernie Sanders' success in Iowa is because his economic message resonates with Iowa residents." Cautionary note: "Of Democrats who caucused in 2008, Clinton leads Sanders, 55% to 38%" [CNN].

UPDATE "Sanders is up with this remarkable new ad in Iowa whose tagline — "a future you can believe in" — conspicuously echoes Obama's 2008 "change you can believe in" formulation" [WaPo]. "Paul Simon's song "(All Come To Look For) America" plays over scenes of rural and suburban America." Includes a good discussion of Sanders' "theory of change." So far as I can tell, Clinton doesn't have a theory of change, or see that one is necessary. So far as I can tell, Clinton's unique selling proposition, at least on domestic policy, is that she'll be the best Democratic strategist EVAH. But being pragmatic and experienced isn't the same as being a President.

"How Bernie Sanders's sharp words for Obama led to his own presidential bid" [WaPo]. Note how the editor framed the headline: "Sharp Words," but the reporter's original choice is in the URL: "Critique."

UPDATE Warren on the Senate floor today:

"Anyone who shrugs and claims that change is just too hard, has crawled into bed with the billionaires." @SenWarren pic.twitter.com/VB1Z13PH4a

— Josh Smith (@joshsmith) January 22, 2016

Setting up her O'Malley endorsement?

Clinton's Lovato event in Iowa City: "Several students said afterward that the event was fun, but surprisingly short" [Des Moines Register]. "The event drew one of Clinton's biggest crowds of the campaign, in a town where many young people favor her liberal rival, Vermont Sen. Bernie Sanders. The Lovato concert provided an opportunity for Clinton's campaign to encourage volunteers and collect contact information for potential supporters as they entered the hall." If they collected a lot of names, I don't envy the staffers who have to follow up after that five-minute speech.

"National Review Slams GOP Front-Runner in New Issue Titled 'Against Trump'" [NBC].

"The conservative magazine came out swinging at Donald Trump last night, glittering a royal blue and gold like the robe of a heavyweight champ" [The New Republic]. The RNC then disinvited them from co-hosting the next Republican debate (February 25). Since Cruz is as nasty a weasel as you could ever hope to meet, it seems that a lot of the Repubilcan nomenklatura is making their peace with the Donald.

"National Review, conservative thinkers stand against Trump" [CNN]. "Conservative thinkers." Burke? Plato? de Maistre? Schmitt?

"Conservative intellectuals have become convinced that Mr. Trump, with his message of nationalist-infused populism, poses a dire threat to conservatism, and released a manifesto online Thursday night to try to stop him" [New York TImes]. Time for these clowns to find a new grift?

"To get Glenn Beck to denounce Donald Trump as an unsound thinker makes about as much sense as hiring Larry Flynt to write about how Hugh Hefner demeans women" [The New Republic].

Trump releases first TV ad, attacking Cruz on immigration [The Hill]. Cruz counters by attacking Trump on eminent domain.
Stats Watch
Leading Indicators, December 2015: "The index of leading economic indicators fell 0.2 percent" [Econoday]. "A drop in housing permits and weakness in manufacturing orders weighed on December though trends in the index, boosted in large part by favorable interest rates [*** cough *** financial manipulation *** cough ***], are still pointing to moderate growth ahead." And a useful reminder: "The index does not adjust for inflation or population growth, is not final for several months after being published, and is subject to annual revision" [Econoday].
Chicago Fed National Activity Index: "The economy's growth again declined marginally based on the Chicago Fed National Activity Index (CFNAI) 3 month moving (3MA) average – and remains below the historical trend rate of growth (but still well above levels associated with recessions)" [Econoday].
PMI Manufacturing Index Flash, January 16, 2016: "The manufacturing PMI is improving this month" [Econoday]. "This report underscores the strengths of yesterday's Philly Fed report where rates of contraction are noticeably slowing, and it contrasts with the Empire State report where January's contraction deepened sharply."
Existing Home Sales, December 2015: "Existing home sales bounced back sharply in December, up an outsized 14.7 percent to a 5.46 million annualized rate that just tops Econoday's top-end forecast" [Econoday]. "But November was an unusual month skewed lower by new documentation rules that pushed sales into December. Averaging the two months together shows a 5.11 million rate that is well below the 5.43 average of the prior six months." But: "[E]ven with this improvement the rolling averages declined" [Econoday].
"Many of the world's prominent economists have declared that the market swoon looks out of step with fundamentals" [The Economist]. So we're doomed, then?
Today's Fear & Greed Index: 12, Extreme Fear (previous close: 13) [CNN]. One week ago: 10 (Extreme Fear). (0 is Extreme Fear; 100 is Extreme Greed).
Corruption
"This Is a Great Story (by an MTV VJ) About Conmen So Lazy It's Actually Kind of Insulting" [New York Magazine]. So why isn't this guy working for Goldman or Citi?
Water
"EPA official resigns over Flint water crisis" [The Hill].
Gaia
"Greene and colleagues found 404 feral alfalfa populations on roadsides. Testing revealed that over one-quarter (27 percent) of them contained transgenic alfalfa—that is, plants that tested positive for the Roundup Ready gene" [Ecowatch]. And if that transgenic alfalfa had grown in a farmer's field, not on the roadside, Monsanto could have sued that farmer. (Gee, it's almost like seeds are designed to propagate, or something.)
"Lancashire Farmer Prosecuted Over Anti-Fracking Signs" [Scisco Media].
"One of the least recognized factors is how social and cultural norms in various communities and even households will shape food distribution and preferences during shortages, [Ed Car of Clark University] said." [Inside Climate News]. Carr: "If there is inadequate food available to households––who gets to eat?"
Gunz
"'Preliminary accounts indicate that an intoxicated suspect entered one of the theaters and was fumbling with a handgun he had in his possession when it went off, striking another patron seated in front of him,' Renton police said in a statement" [Seattle Post-Intelligencer (RS)].
"You Take Away Guns, And Someone's Just Gonna Invent, Manufacture, And Use A High-Powered Knife Launcher" [The Onion].
Class Warfare
"A National Labor Relations Board judge has ruled that Wal-Mart Stores Inc. unlawfully disciplined workers who staged protests in May and June of 2013 and ordered the retailer to reinstate 16 former employees, as well as give them back pay" [AP]. "The judge also ordered Wal-Mart to hold a meeting in 29 stores throughout the country to inform employees of their right to strike, and to promise not to threaten or discipline employees for doing so. The complaint was filed on behalf of the labor-backed group 'Our Walmart,' which called it a huge victory."
"Donald Trump and the Politics of Resentment" [The Archdruid Report (hunkerdown)]. On the question of method:
It so happens that you can determine a huge amount about the economic and social prospects of people in America today by asking one remarkably simple question: how do they get most of their income?
What the Archdruid is calling the "waged class" I've been calling (following Occupy) the 80%. And what he calls the "salaried class" I've called the 20% (some of whom are only wannabes, others of whom have real power). The reason I hesitate(d) to make the wage/salary distinction is that I question putting a (salaried) Walmart or McDonalds supervisor into the same bucket as, say, a (salaried) university Dean, a (salaried) network anchor, or a (salaried) Human Resources manager at a large corporation. (I grant that they both might go in adjacent buckets, since from a 30,000-foot view, their roles in the workplace are the same.) And I also think that the Archdruid credits the salaried class with too much power, and the 1% (really,the 0.01%) with w-a-a-y too little; it's as if he described how planets move through the curvature of space, without mentioning the immense mass and size of the sun that creates the curvature. That said, it's a wonderful piece, and I hope readers will weigh in with critiques in comments.
"Older Drivers Hit the Road for Uber and Lyft" [New York Times (DG)]. Yeah, who needs Social Security when you can sharecrop for the company store? Here's the beauty part:
Drivers are in such demand that last July Uber and Life Reimagined, a subsidiary of AARP, the organization for people over 50, formed a partnership to recruit more people as drivers.
I've heard that the AARP is basically in the insurance business now, and isn't really an advocacy group (except, of course, on behalf of top management). Am I being too cynical?
"Why the poor do better on these simple tests of financial common sense" [WaPo]. "If you spend all your time thinking about money, chances are, you're going to get pretty good at thinking about money." Of course, the 1% don't think about money; they have people for that. They think about capital. Not the same.
"When Will the Candidates Start Talking About the Economy?" [Mohamed A. El-Erian, New York Times]. Whenever you hear "the economy," ask "Whose economy?"
"In 1990, the top three automakers in Detroit had among them nominal revenues of $250 billion, a market capitalization of $36 billion, and 1.2 million employees. The top three companies in Silicon Valley in 2014 had nominal revenues of $247 billion, a market capitalization of over $1 trillion, and only 137,000 employees" [Business Insider]. Data point at Davos.
News of the Wired
"On average, averages are stupid" [Seth Godin].
* * *
Readers, feel free to contact me with (a) links, and even better (b) sources I should curate regularly, and (c) to find out how to send me images of plants. Vegetables are fine! Fungi are deemed to be honorary plants! See the previous Water Cooler (with plant) here. And here's today's plant (pq):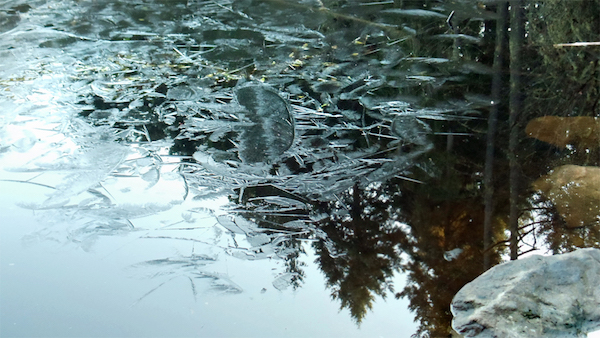 Douglas Firs reflected on ice.
* * *
If you enjoy Water Cooler, please consider tipping and click the hat. Winter has come, I need to buy fuel, keep the boiler guy and a very unhappy and importunate obstreperous plumber happy, and keep my server up, too.