By Lambert Strether of Corrente.
TTP/TTIP/TiSA
"New Zealand Says Laws To Implement TPP Will Be Passed Now, Despite US Uncertainties, And Won't Be Rolled Back Even If TPP Fails" [TechDirt].
"A $15 billion lawsuit by the company behind the Keystone XL pipeline against the US government shows the serious threat to democracy posed by special privileges for investors, a new report has said. TransCanada is suing under investor-state dispute settlement (ISDS) clauses of the North American Free Trade Agreement (NAFTA) to demand damages following rejection of the controversial pipeline due to its climate impact" [Transport Environment]. It can't happen here…
2016
South Carolina
Readers, I should have a Super Tuesday wrap-up, but there were so much of interest in the South Carolina post mortems (partums?) that I focused on that. Please share on Super Tuesday in comments!

"Across the board, Sanders' numbers have steadily increased among black voters throughout his campaign, typically climbing around 1% every week" [Carl Beijer]. "You could probably come up with all sorts of elaborate circumstantial explanations for this involving various improvements in Sanders' platform, but this does little to explain the sheer consistency of his ascent. The simpler and more compelling explanation here is that Sanders started with relatively low name recognition among black voters, and that the more black voters get to know him, the more they like him."

Whether that slow ascent is compatible with an insurgent campaign, I'm not sure. And from part 2 of the piece: "the name recognition gap is almost entirely explained by national media coverage" [Carl Beijer].

"[T]his year, much as in previous years, what we're seeing is that the black vote acts as the bulwark of the most reactionary wing of the Democratic party, the right wing of the Democratic party, and its standard-bearer this time around, Hillary Clinton" [Glen Ford, The Real News Network]. "Well, we've been saying that the best thing that could come out of Bernie Sanders' challenge to Hillary Clinton, and to the establishment of more corporate democrats would be a split in the Democratic party…. But that clearly, if that's going to happen, is going to happen because of militancy and great frustration on the part of those new, young, white voters who are so excited about Bernie Sanders and will be very, very frustrated and maybe angry when his candidacy finally does dissolve."

"In 1976, Ronald Reagan fought the GOP establishment all the way to Kansas City, and that set the stage for conservatives to take over the party just four years later. Remember, the same pundits who cluck about possible disunity among the Democrats are pretty much the same dopes who told us that Trump would collapse any day now" [Will Bunch, Philadelphia Inquirer].
Policy
"Setting the Record Straight on Medicare for All: An Open Letter From 560 Physicians and Medical Students" [HuffPo] (582 endorsers, so far).

"According to Dr. Steffie Woolhandler, a physician at the Montefiore Medical Center, Harvard Lecturer and CUNY professor: "The recent attacks on single payer reform by some liberal economists and politicians are mystifying. When I met with Hillary Clinton some years ago she acknowledged that single payer would be the cheapest and most efficient way to cover all Americans. Her only objection then was that single payer wasn't politically feasible. Now she's charging that the numbers don't add up. And economists who once projected large savings from single payer, are now saying the opposite, without citing any new data. They're playing political games at the expense of the truth."

In other words, the Clinton personally, the Clinton campaign, and the Clinton campaign's credentialled cronies are lying like rugs. Film at 11.

"Clinton talks of possibly decades-long occupations and orderly regime changes, yet somehow Sanders is the fantasist" [Marcy Wheeler, Salon].
The Voters
"There are the protected and the unprotected. The protected make public policy. The unprotected live in it. The unprotected are starting to push back, powerfully" [Peggy Noonan, Wall Street Journal]. "The protected are the accomplished, the secure, the successful—those who have power or access to it. They are protected from much of the roughness of the world. More to the point, they are protected from the world they have created. Again, they make public policy and have for some time. They are figures in government, politics and media. They live in nice neighborhoods, safe ones. Their families function, their kids go to good schools, they've got some money. All of these things tend to isolate them, or provide buffers. Some of them—in Washington it is important officials in the executive branch or on the Hill; in Brussels, significant figures in the European Union—literally have their own security details." I never thought I'd live to see the day that Nooners became a Communist. She concludes: "I don't know if the protected see how serious this moment is, or their role in it." I do. They don't, and they don't.

"The idea here is that if Bernie can win over young people of all stripes to social democracy, then given that political attitudes are pretty sticky over time, that will mean social democrats have a real chance in the near future as old people die and young people replace them" [Matt Bruenig]. Also a nice takedown of the vile Elias Isquith — future press secretary? — who helped orchestrate the Clinton campaign's Huerta smear.

"Luntz's poll found that young Americans are optimistic about both the country's future and their own: 61 percent say the best days of the United States are still ahead of us rather than behind us, and 88 percent are somewhat, very, or extremely optimistic about their economic prospects. But they have concerns, too. Their biggest, in order, are "corruption," "greed," and "inequality'" [Bloomberg]. "President Obama is not their favorite political figure — Bernie Sanders is. Indeed, 31 percent said Bernie Sanders is the major political figure they "like and respect the most" — more than Obama (18 percent) and Hillary Clinton (11 percent)." True, Luntz is talking his book, since he wants work opposing this tendency. However, the link allows me to note my astonishment at (1) the visible self-satisfaction of the Democratic establishment at stamping out a youth revolt, and (2) resolutely refusing to notice that a small-donor driven campaign can compete nationally. Heck, the story of Congresscritters whining because of all the time they spend sucking up to rich people is practically a genre piece. So you'd think they'd welcome operative proof they don't have to suck up anymore. But n-o-o-o-o-o-o. My conclusion: They like it. Here's an example of the double-think going on in the Democrat hive mind:

[Portland Mayor Charlie Hales, attending a $2700-a-plate Clinton fundraiser] said he would also attend a Sunday evening rally at Memorial Coliseum featuring Vermont Sen. Bernie Sanders, who is running second to Clinton in polls of the Democratic presidential race.

Hales shrugged when asked if Clinton's closed-door visit would serve as a poor contrast to Sanders' free rally. "Unfortunately you need to raise money," said Hales, adding it was a chore no candidate can escape.

But Hales is going to a rally with a candidate who doesn't need $2700 dinners! The contrast escapes both Hales, and the reporter.

Since Maine's own Governor LePage is in the news: "So how did LePage win twice in moderate Maine? Simple: More Republicans turned out to vote than Democrats. The 2010 and 2014 elections were both low-turnout midterms, and Republican waves nationwide allowed fringe candidates like LePage to succeed even where they had no business doing so. If Democrats want to keep radical conservatives off their turf, they can't shunt the blame onto others. They must solve the riddle of winning downballot elections for themselves" [Boston Globe]. Yes, the Democratic schtick of blaming voters for being stupid (or in slightly more sophisticated terms, "voting against their interests") really is getting old. I'll add two tidbits on 2010 that aren't in the article: First, the 2010 election was a three-way between LePage (R, 38%), Cutler (I, 36%), and Mitchelll (D, 19%). If LePage were indeed the devil incarnate, as Democrats now say, Mitchell should have thrown her votes to Cutler, who would then have won. See under Iron Law of Institutions. Second, the outgoing Baldacci administration was demonstrably corrupt, as our experience with the landfill showed. It's a party's job to make the ask and win votes. If they don't, they have nobody to blame but themselves. Democrats still don't — or rather, won't — understand this. Maine is also a big state, and much of its not that moderate.

"In the end, the activist was thrown out and we hear Clinton utter "Let's get back to the issues." That single sentence is how I feel most matters of racial justice play out for white people. When you are fully free (and acknowledged as fully human), you don't understand the urgency of someone else's desire to get free because you have never not been free. Whether you are the poorest white person in the backwaters of the Delta or Appalachia to the waspiest WASP in the northeast, to possess white skin in a society that normalized and centered whiteness is to hold a privilege that others see but often the holder of said privilege cannot see" [Black Girl in Maine].

"I define Black Twitter as a temporally linked group of connectors that share culture, language and interest in specific issues and talking about specific topics with a black frame of reference. And when I say "black," that isn't just limited to U.S. blacks, but blacks throughout the diaspora" [The Atlantic]. If you read Black Twitter, you will never see "Blacks" as a monolith ever again.
Money
"Democratic presidential candidate Bernie Sanders has raised $36 million this month and is shooting to make it $40 million by midnight, his campaign said Monday" [Bloomberg].

"F.E.C. Tells Sanders Campaign That Some Donors May Have Given Too Much" [New York Times]. "Such glitches are common in political campaigns," and the sheer volume of the Sander's donations may challenge their systems.

And then there's this:

How much each state has given, per person, to U.S. election candidates https://t.co/O6wcBFI7hi pic.twitter.com/EoZLgGRGI2

— Bloomberg Business (@business) February 29, 2016
The Trail
"Hillary's Missing Speeches" [LA Times Progressive]. At last!

"American voters back Sen. Bernie Sanders of Vermont over Republican candidates by margins of 4 to 10 percentage points in head to head presidential matchups, according to a Quinnipiac University National poll released today. The closest Republican contender is Ohio Gov. John Kasich who trails Sanders 45 – 41 percent. Former Secretary of State Hillary Clinton trails or ties leading Republicans in the November face-off" [Quinnipiac].

"Unless the Democrats Run Sanders, A Trump Nomination Means a Trump Presidency" [Current Affairs]. "Trump's political dominance is highly dependent on his idiosyncratic, audacious method of campaigning. He deals almost entirely in amusing, outrageous, below-the-belt personal attacks, and is skilled at turning public discussions away from the issues and toward personalities. This campaigning style makes Hillary Clinton Donald Trump's dream opponent. She gives him an endless amount to work with. The emails, Benghazi, Whitewater, Iraq, the Lewinsky scandal, Chinagate, Travelgate, the missing law firm records, Jeffrey Epstein, Kissinger, Marc Rich, Haiti, Clinton Foundation tax errors, Clinton Foundation conflicts of interest, "We were broke when we left the White House," Goldman Sachs… There is enough material in Hillary Clinton's background for Donald Trump to run with six times over." Actually, it's the cattle futures that are the most obviously corrupt of all.

"The Clinton campaign has stuck, just as her critics charge, to a rather safe, barely left-of-center, utterly non-radical list of reform priorities. That's true. It really is. But in her stump and issue-specific speeches, Clinton has referred to ways by which issues, such as Voter ID laws, gun violence, criminal justice reform, gender wage imbalances and the long unchanged minimum wage, directly and even more deeply shape and distort the lives of black and Latino Americans. The natural conclusion of that discussion is: 'Here is what my policy will do for all of us, and here is what it will do for those Americans who yes, actually or disproportionately have it worse.'" [WaPo].

"The case against Hillary Clinton: This is the disaster Democrats must avoid" [Salon]. A very good summing up, worth circulating.

"'For many Republicans, Trump is more than just a political choice,' said Kevin Madden, a veteran operative who advised 2012 nominee Mitt Romney. 'It's a litmus test for character'" [WaPo]. Finding a Republican operative with character is like finding a Syrian moderate.

"Donald Trump Blames Earpiece for Declining to Disavow David Duke" '[New York Times]. Well, I dunno…. Then again, if I were Trump, I'd want my tech people to handle my earpiece, for the exact same reason I'd want my mechanic to service my plane.

A must-read on Donald Trump, Roger Stone, and Al Sharpton [Mark Ames, Pando Daily].

Trump picked a really bad time to go into the mortgage business [WaPo].

"Former CIA director Michael Hayden believes there is a legitimate possibility that the U.S. military would refuse to follow orders given by Donald Trump if the Republican front-runner becomes president and decides to make good on certain campaign pledges" [WaPo]. Entirely spontaneously, of course. Interestingly, the Brit political class raised the same spectre with Corbyn: "British Army 'could stage mutiny under Corbyn', says senior serving general" [Independent]. I wonder if Trump will be hit by a lone gunman, acting alone, but very conveniently leaving behind a diary?
Stats Watch
Chicago PMI, February 2016: "Another month of wild volatility for the Chicago PMI which lurched from solid expansion in January to noticeable contraction in February," much below consensus [Econoday]. "[T]his report is closely watched and confirms other early indications of February softness, not only for manufacturing but for services as well since this report tracks both sectors. The good news in the report is that new orders have held over breakeven 50 which hints at better readings in next month's report. Now the bad news. Production is down sharply, backlogs are in a 13th month of straight contraction, employment is down and in a fifth month of contraction, and prices paid are contracting at the fastest pace since 2009. The resilience in new orders limits the signal of damage from this report, but production and other activity look to have slowed in February following respectable strength in January."
Pending Home Sales Index, January 2016: "[S]lowed in January, down an unexpected 2.5 percent" [Econoday]. "Today's report is yet another disappointment for a sector that, despite high employment and low mortgage rates [***cough*** manipulation ***cough***], is getting off to a flat start for 2016."
Dallas Fed Mfg Survey, February 2016: "The Dallas Fed's general activity index came in at a deeply minus 31.8 in February vs minus 34.6 in January. New orders contracted a further 8.4 points in the month to minus 17.6 for their lowest reading since 2009" [Econoday]. "[I]n a rare sweep of weakness, all 17 current components are in contraction! The company outlook index is at minus 17.4 with a quarter of the sample saying their outlook has worsened during February. The latter is a telling reading and suggests very strongly, in line with all other anecdotal readings this month, that the factory sector, hit by weak exports and a weak energy sector, fell back in February."
"Mervyn King: the eurozone is doomed" [Telegraph]. "The 'only way' to stop countries staring into the abyss of 'crushing austerity, continuing mass unemployment' with 'no end in sight to the burden of debt' faced by debtor nations is for them to abandon the euro."
"Monetary union has created a conflict between a centralised elite on the one hand, and the forces of democracy at the national level on the other. This is extraordinarily dangerous" [FT, "Former BoE chief King predicts collapse of the eurozone"]
"U.S. Treasury Secretary Jack Lew called on G20 members on Saturday to redouble their efforts to boost global demand instead of relying on the American consumer to drive growth" [Reuters]. "[Lew] also said the dollar's strength was a function of a strong economy, and that the meeting had underscored that U.S. growth remained a bright spot in the global economy."
"In the first decade of this century, America lost 56,190 factories, 15 a day" [In These Times].
Technical analysts worried about "bearish crossover" [Marketwatch].
Today's Fear & Greed Index: 55, Neutral (previous close: 57, Greed) [CNN]. One week ago: 51 (Neutral). (0 is Extreme Fear; 100 is Extreme Greed). Last updated Feb 29 at 10:31am. Oh noes! Back to neutral!
Dear Old Blighty
"NHS: UK now has one of the worst healthcare systems in the developed world, according to OECD report" [Independent]. "Hospitals are now so short-staffed and underequipped that people are also dying needlessly because of a chronic lack of investment. Staff are too rushed to improve levels of care that have in many areas fallen below countries such as Turkey, Portugal and Poland. Almost 75,000 more doctors and nurses are needed to match standards in similar countries." Rule #2 of Neoliberalism.
"Public Spaces Protection Orders (PSPOs) are unprecedently 'blank cheque' powers, which allow a single council official to ban activities in public spaces within a matter of days, after a brief consultation with the police" [Manifesto Club].
Groves of Academe
"Carolyn Stefanco, president of the College of Saint Rose, cut 23 faculty positions and 12 academic programs. She won a prize for her efforts" [Inside Higher Education]. The award was for "disruption." "'Disrupter,' a word native to start-up culture [!!], typically describes someone who balks at conventional wisdom and comes out ahead. A disrupter discovers newer, better ways to run businesses and manipulate industries."
"Activism: Frustrated postdocs rise up" [Nature].
Corruption
"The nation's big consumer banks collected about $11 billion in overdraft fees last year, which accounted for 8 percent of their profits, according to a report by the Consumer Financial Protection Bureau." [New York Times]. Say, I've got an idea! How about a cost-of-doing-business fine?
"Former Judges Take On One of Their Own in Recusal Case at High Court" [National Law Journal]. "Virginia Sloan, president of the nonpartisan Constitution Project, recruited the former judges for the brief. "It was amazing how easy it was" to find judges who made the central point of the brief, she said. "It's a collegial experience and one judge can have influence over the whole court, especially if it is the chief justice." Or the senior judge, i.e., Scalia.
"Three former executives from Tokyo Electric Power (Tepco) have been charged with contributing to deaths and injuries stemming from the triple meltdown in 2011 at the Fukushima Daiichi nuclear power plant" [Guardian]. "Their indictment on Monday marks the start of the first criminal action to be taken in connection with the disaster, which forced the evacuation of 160,000 residents, many of whom are still unable to return to their homes." But our bankers have impunity.
Class Warfare
Interesting how "income inequality" — please tell me why "class warfare" isn't more accurate — is now taken for granted at part of discourse on the Beltway [Robert Samuelson, WaPo].
[T]he CEA emphasizes the role played by "economic rents," enjoyed mostly by highly profitable firms. An economic rent is a price or wage premium above what's necessary for a company to sell its product or a worker to take a job. A company selling its gizmo at $50 when $30 would earn a reasonable return has a $20 rent.

Rents can result from market power (including monopolies), better products or technologies, favorable regulations and laws, import tariffs, corruption and much more. Rents earned by superior performance are defensible; rents created by preferential policies or industry consolidation are suspect.

The trouble is that rents are invisible and can only be inferred. In practice, they show up as strong profits and cash flows
"The evidence points to a clear decline in labor's share of income following capital account liberalization (see Chart 5). Focusing on the medium-term impact, which can be estimated more precisely than short-term effects, labor's share falls by about 1 percentage point in advanced economies and by about 0.6 percentage point in emerging market economies. As was the case with the Gini measure of inequality, these are big effects. The changes in the labor share have a standard deviation of 2.25 percentage points (that is, nearly 70 percent of the time, when the labor share changes, it does so by less than 2.25 percentage points). Hence, capital account liberalization is associated with large declines in labor shares" [IMF].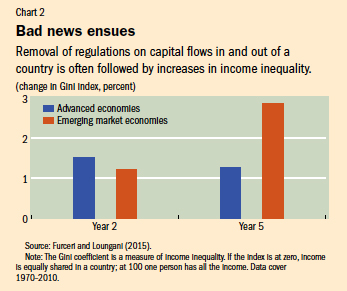 And: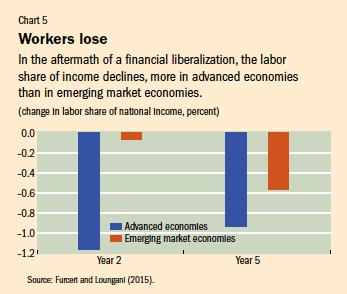 "Adults with incomes below $25,000 a year are about three times as likely as higher income people — 34 percent versus 13 percent — to say the health care they personally receive is only fair or poor" [NPR].
"As the candidates in America's presidential race pontificate on the growing divide between the haves and the have-nots, the country's airlines are busy segmenting customers between the haves, the have-lesses, the have-somewhats, the have-nots and, now, the have-nothing-at-alls" [The Economist, "America's airlines are introducing a class below economy"].
News of the Wired
"What You Don't Know About TripAdvisor" [Medium]. "TripAdvisor started in 2000 and built a huge following as a 'trusted source of travel information.' Once it gained a dominant share of the market, the number of fake reviews skyrocketed, resulting in multiple court cases around the world. But instead of taking measures to verify and guarantee the reliability of the reviews, they simply changed the 'trust' slogan to 'the biggest' and began making money as a booking engine, charging companies for preferential visibility, acquiring the booking engines like Viator to profit from the tours they supposedly recommend without bias, and pressuring companies to give up 20–30% of their sales in commissions for added 'access to traffic.'" Ugly.
"Automating Amazon/Hotel/Travel Reviews (+ Human Intelligence Test (HIT))" [Another Word for It]. See above?
"For Cinephiles, Netflix Is Less and Less an Option" [KQED]. "Check out this 2013 Netflix PR video communicating that the company should no longer be looked upon as a massive movie library. What it really is, it says, is the "Internet's largest television network.'" So long, "long tail." Same deal with Google, if the crapification of their search results is any indication.
"An Oregon man who has spent more than 15 years living inside of a decommissioned Boeing 727 airplane converted into a home wants to build another in Japan" [Esquire].
"Easter Island Civilization Not Destroyed by War, New Evidence Shows" [Live Science]. "Thousands of small, sharp, spearlike objects scattered throughout Easter Island have long been presumed to be evidence of massive warfare that led to the demise of its ancient civilization. But new evidence from archaeological investigations suggests that these objects, called mata'a, were not used as weapons at all."
* * *
Readers, feel free to contact me with (a) links, and even better (b) sources I should curate regularly, and (c) to find out how to send me images of plants. Vegetables are fine! Fungi are deemed to be honorary plants! See the previous Water Cooler (with plant) here. And here's today's plant (Margrave):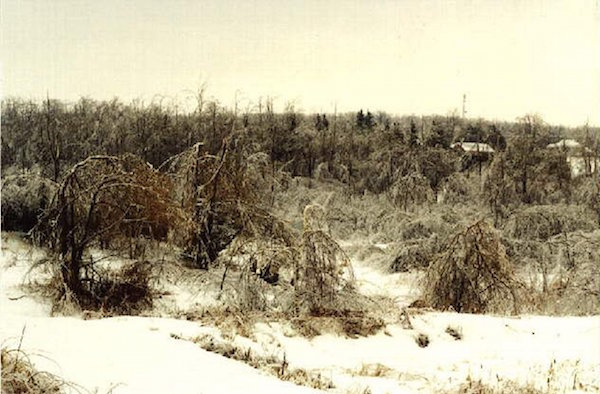 From the famous Montreal ice storm of 1998. Look at the poor trees!
* * *
If you enjoy Water Cooler, please consider tipping and click the hat. Water Cooler would not exist without your support.