By Lambert Strether of Corrente.
TTP/TTIP/TiSA
The Petersen Institute study on the trade benefits of TPP assumes that trade surpluses do not change" [Dean Baker, Los Angeles Times]. "Working from the assumption that the TPP doesn't change the trade balance, if the pharmaceutical industry starts getting more money for its drugs, then other American industries will start getting less money for whatever they try to sell overseas. Manufacturing is quite likely to be a big loser. In effect, the money foreigners might have spent on our cars and other manufactured goods will instead be used to pay Pfizer higher prices for its drugs."
"Disney CEO Bob Iger has sent a letter to the company's employees, asking for them to open their hearts—and their wallets—to the company's political action committee, DisneyPAC. In the letter, which was provided to Ars by a Disney employee, Iger tells workers about his company's recent intellectual property victories, including , a Supreme Court victory that destroyed Aereo, and continued vigilance about the "state of copyright law in the digital environment." It also mentions that Disney is seeking an opening to lower the corporate tax rate" [Ars Technica]. How feudal. Perhaps Lord Iger should simply reinstitute the corvée?
2016
Policy
"Wanted: Goal-Oriented Non-Ideological Fiscal Policymaker" [N. Kocherlakota]. Interesting. "[W]e need a government that is firmly committed to using the power of fiscal policy to fill the void that is being left by monetary policy." At a high-level, I'm dubious about the possibility of "non-ideological" "goals" when making "policy."

"SENATOR SANDERS'S PROPOSED POLICIES AND ECONOMIC GROWTH" [Christina D. Romer and David H. Romer]. "However, a wide range of evidence suggests that while there is likely some output gap currently, it is not nearly large enough to accommodate growth of 5.3% per year for ten years without pushing the economy well above its productive capacity." I can't speak to most of the paper. Readers? But I'm not so sure about the output gap. See this handy chart from Doug Short and Steve Hansen:

So far as I can tell, we wouldn't even be having this "conversation" if Sanders hadn't made his proposals and Friedman hadn't costed them out. So why would I care about the Romers' carefully parsed prose? Do neoliberal economists really imagine themselves to be scholars? There's work everywhere that needs doing, but "the economy" can't get it done. So the spectacle of the class of people who run "the economy" all piling onto this one economist and savagely kicking down would be amusing, if it weren't so pathetic. And so damaging. Would it be too cynical to imagine that the only jobs they're concerned with are their own?

"Big Banks and the White House Are Teaming Up to Fleece Poor People" [Foreign Policy]. The way to solve the problems of "the unbanked" is a Post Office bank, not whatever new looting scheme JP Morgan has in mind.

"Donald Trump's Big Socialist Idea" [HuffPo]. "In November 1999, the businessman proposed a one-time, 14.25 percent tax on the total wealth of individuals and trusts with a net worth of $10 million or more."
Corruption
"TV Pundits Praise Hillary Clinton On Air, Fail to Disclose Financial Ties to Her Campaign" [The Intercept]. Very, very detailed. Names names. Ka-ching.
Money
"Thanks to the combination of the court ruling and congressional action, donors will be able to make an annual donation of $666,700 to the Hillary Victory Fund. (Previously, donors were limited to giving $123,200 to candidates, parties and political action committees per election cycle.) And some are already giving large sums" [HuffPo]. "Philanthropist Laure Woods gave $334,400, wealthy Chicagoan Fred Eychaner gave $353,400, Esprit co-founder Susie Tompkins Buell gave $320,000 and real estate billionaires J.B. and M.K. Pritzker each gave $320,000. Integrated Archive Systems CEO Amy Rao also gave $100,000. The $600,000 sent to the DNC by the super joint fundraising committee represents only a small slice of the group's funds. [ka-ching]. The other $1.75 million has yet to be distributed to either the DNC, the Clinton campaign or the various state parties."

"[Trump's] report shows he has assets valued between $1.5 billion and $2.1 billion. But included in that are 23 assets whose value is labeled 'over $50 million'" [Wall Street Journal, "Donald Trump's Financial Disclosure — What We Learned"]. With PDFs of the disclosure forms.
Voters
"Bernie Sanders Still Has a Path to Victory. Here It Is" [In These Times]. Lots of detail on delegates and caucuses, but this is a good summary of voters: "Polling in upcoming states, to the extent that polling can even be trusted in the modern campaign era, is virtually nonexistent. Sanders won huge margins of young voters in both Iowa and New Hampshire, but we've yet to see if that will hold true with young voters of color. Clinton is expected to win the African-American vote, but it's unclear whether she'll be able to do so with the same overwhelming margin that Obama did in 2008. Sanders is reaching white voters that Obama lost to Clinton, and Clinton is winning over households with higher incomes that Obama won. Turnout so far has not been nearly as high as it was in 2008. There are a lot of unanswered (and unanswerable) questions."

"Marshall Kirkpatrick, of social-media analytics company Little Bird, took a look at the 21 people the Donald has blessed with his fantastic, luxurious retweets this week, and discovered that six of them follow major white-nationalist accounts, and 13 of them follow multiple accounts that have used the #whitegenocide hashtag" [New York Magazine]. Somehow, I don't think many of those accounts are Sanders supporters. (Of course, the left generally — let alone career "progressives" has no framing for the "'Stunning' Rise in Death Rate, Pain Levels for Middle-Aged, Less Educated Whites," so that rather leaves the door open for white nationalists, doesn't it?)
The Trail
"Sanders unloads on Clinton during raucous speech in Chicago" [WaPo]. Good. My $0.02 is that Sanders needs a simple question, akin to "What does Stanton stand for?" in Primary Colors, that he can ask over and over again. That contextualizes the policy inconsistencies. That's what his supporters on the Twitter are trying to tell him with #WhichHillary. In fact, "Which Hillary?" might do the trick.

"Twitter Attacks Clinton's Record With #WhichHillary" [Wired].

"Trump does not proceed from the assumption that government is the problem; government mismanaged by stupid and/or corrupt elites is the problem. He is not committed to the idea that free markets and limited government are the solution to people's economic ills. He promises to destroy Obamacare — reflexively — but he envisions a government role of some kind in making sure everyone has health care. He pledges not to touch entitlements, breaking with the sacred Paul Ryan covenant. He does not genuflect before George W. Bush's national security greatness; he ridicules it" [Greg Sargent, WaPo]. And the substance of Rubio's attacks assumes all of these shibboleths.

"There's a Science of Snap Political Judgments—and Trump and Clinton Are Winning" [Bloomberg].
Republican Debate
"Transcript of the Republican Presidential Debate in Houston" [New York Times]. What the heck, I made a Wordle from the text*:

Despite WaPo's Dana Milbank calling out Trump for his third-grade level vocabulary, there doesn't seem to be any overarching abstraction arising from the Republican field, collectively. We see "people" "going," and not "freedom" or "liberty" or even "markets." Odd. All the issues are tiny little words around the periphery. (* I took out the speaker names, like "TRUMP:", but as you can see, "LAUGHTER" and "CROSSTALK" still came through.)

"11 most interesting moments of the GOP debate" [Politico]. Good summary, but the political class wants Trump to lose so bad that it's hard to run a bullshit detector on the hot takes. I wonder what their body language was like if you watched the TV with the sound off; I'd bet Rubio still looked like a Junior High School valedictorian. So it seems to me what the pollsters have to say is key; if they, too, aren't totally gamed. And on Trump's tax returns and fraud (at Trump University): Trump's elite. Therefore, he has impunity. So it will be interesting to see if a special exception is made for him.

"Debate Takeaways: Rubio, Cruz Aggressively Take on Trump" [New York Times]. "'If he hadn't inherited $200 million, you know where Donald Trump would be right now? Selling watches in Manhattan,' Rubio charged." And we all know what color those people are. Amazing.

"Republican Debate Takeaways: Descent Into a Free-for-All" [New York Times]. "Mr. Trump's supporters may be indifferent to his limitations as a candidate, but his obvious discomfort handling policy questions and his apparent unwillingness — or inability — to elaborate on his ideas, may further unsettle Republicans already concerned about his capacity to compete in a general election." If you're the sort of voter who wants to extend a giant upraised middle finger to the political class, and there are many such voters, then "policy" doesn't matter very much, does it? That's an Acela thing. And as far as whoever drops out next: Do people really believe the dropout voters will all go to Anybody But Trump?
Stats Watch
GDP, Q4 2015: "An upward revision to inventory growth made for an upward revision to the second estimate of fourth-quarter GDP, to an annualized plus 1.0 percent rate for a 3 tenths increase from the initial estimate" [Econoday]. "Given slowing in demand during the quarter, the gain for inventories, at $81.7 billion vs an initial estimate of $68.6 billion, very likely reflects a build in unwanted inventories. A clear negative in today's report is a downgrade for personal consumption expenditures." But: " The latest number puts us 14.7% below trend, the largest negative spread in the history of this series" [Econintersect].
GDP: "Despite the upside surprise to the headline, real final domestic demand was actually marginally weaker than expected, as the gauge was revised from a 1.6% rise to a 1.4% gain. Real consumer spending growth was shaved from 2.2% to 2.0% based on new data on gasoline sales, apparel prices, and new motor vehicle registrations. Business fixed investment was essentially unrevised, as a small downward adjustment to structures was roughly offset by a slight upward revision to equipment. Government spending was lowered to account for softer state and local government construction figures for December, while federal outlays for defense were also revised downward. Finally, the trade balance narrowed from the preliminary reading" [Amherst Pierpont Securities, Across the Curve]. " In sum, real final demand turned out to be marginally weaker than the preliminary print.
International Trade in Goods, January 2016: "In a report pointing to economic weakness, the nation's trade gap in goods widened" [Econoday]. "Exports fell across the board including industrial supplies at minus 3.0 percent in the month and capital goods down 2.3 percent. The decline in imports included a steep 6.8 percent drop in industrial supplies and a 2.4 percent decline for capital goods. The declines in industrial supplies are tied in part to low prices for oil and petroleum products while the declines in capital goods points to lack of global confidence in the business climate and lack of business investment in global productivity."
Personal Income and Outlays, January 2016: "There's plenty of life in the consumer. Personal income jumped 0.5 percent in January as did consumer spending, both readings higher than expected" [Econoday]. "But the big story of the report is the core PCE, especially the year-on-year rate which is up from 1.4 percent to 1.7 percent and is pointing confidently toward the Fed's 2 percent line. Total prices, which include food and energy, rose only 1 percent but the year-on-year rate for this reading has been on a tear, moving from about zero late last year to plus 1.3 percent in January."
Consumer Sentiment, February 2016: "The break out of Donald Trump's presidential bid did not affect the consumer sentiment index" [Econoday]. Wow. Editorialize much?
"What Is The Real Unemployment Rate?" [FiveThirtyEight]. "The economy has improved a lot over the past six years, though, and economists don't agree about how many people are still stuck on the sidelines of the labor force. Officially, there are about 600,000 discouraged workers (roughly 300,000 more than when the recession began), but the government's definition is pretty narrow. … [I]f there are really hundreds of thousands or even millions of willing workers just waiting to get back into the labor market, that means there is room for job growth to continue without driving up inflation."
"The report [from the Economic Policy Institute], released this month, found that while unemployment rates have fallen across much of the country and the national unemployment rate is now half of its recession-era peak, only a handful of states have seen meaningful improvement in the labor market for African-American and Latino workers. And conditions vary greatly from state to state" [Wall Street Journal, "Black Workers in Many States Haven't Seen Much of a Recovery, Analysis Suggests"].
Today's Fear & Greed Index: 58, Neutral (previous close: 53) [CNN]. One week ago: 50 (Neutral). (0 is Extreme Fear; 100 is Extreme Greed). Last updated Feb 26 at 10:39am. Big flip to greed.
Water
"Two top advisers to Gov. Rick Snyder urged switching Flint back to Detroit's water system in October 2014 after General Motors Co. said the city's heavily chlorinated river water was rusting engine parts, according to governor's office emails examined by The Detroit News" [Detroit News].
Health Care
"The Agonizing Limbo Of Abandoned Nursing Home Residents" [Kaiser Health News]. Another win for multi-payer health care!
Imperial Collapse Watch
"Pentagon Destroyed Islamic State Cash By Investing In F-35" [Duffel Blog].
Gaia
"The panel of federal regulators that oversees operations on the nation's railways is moving to allow railroads to prioritize freight trains over passenger systems such as Amtrak" [The Hill]. I love the parsing:
"The law requires that '[e]xcept in an emergency, intercity and commuter rail passenger transportation provided by or for Amtrak has preference over freight transportation in using a rail line, junction, or crossing … However, 'preference' is not defined by statute," the panel said in a notice of its proposed policy change.

"Currently, we do not view the preference requirement as absolute," the panel said. "In other words, a host rail carrier need not resolve every individual dispatching decision between freight and passenger movements in favor of the passenger train. Under this view of preference, the Board would take a systemic, global approach in determining whether a host carrier has granted the intercity passenger trains preference."
Yeah, it's not like passenger trains need to adhere to schedules, even notionally.
"Officials: Lancaster County tornado unprecedented" [Philadelphia Inquirer]. Global weirding.
"A team from Northwestern University has examined the hidden costs of parental empathy. They found that while the children of empathetic parents are better off physically and emotionally, the parents' cells reveal chronic, low-grade inflammation. When their children suffer psychologically, empathetic parents' immune systems take a hit" [Quartz].
Class Warfare
"From 2010 to 2013, for example, employment in the most prosperous neighborhoods in the United States jumped by more than a fifth, according to the group's analysis of Census Bureau data. But in bottom-ranked neighborhoods, the number of jobs fell sharply: One in 10 businesses closed down" [New York Times]. "Officially, the economy has grown every year since 2010, at an average annual rate of expansion of just over 2 percent. But don't bother telling that to many Americans: A Fox News poll last year showed that 64 percent of people still thought the economy was in a recession, echoing an NBC News/Wall Street Journal survey in 2014 that found much the same thing." (Study from Economic Innovation Group. Note "Innovation," so count the spoons when they leave the house. Oddly, or not, I can't find any mention of their funding sources on their site.)
"Campaigners in many rich countries want to strip private banks of the power to create money. In Switzerland members of the 'Vollgeld Initiative' presented the government with enough signatures in December to trigger a national referendum on the subject. Bank deposits, they point out, make up some 87% of the readily available money in Switzerland, vastly exceeding notes and coins. Since money creation is the main fuel of both inflation and growth, they argue, it should not be in private hands, let alone entrusted to institutions that are prone to binge and purge" [The Economist, "Shake your money makers"]. "The Swiss government responds officially to every issue to be put to a referendum. On February 24th it released its verdict on the Vollgeld Initiative (the actual vote will not take place until next year at the earliest). It is not a fan. As the central bank issued more money, the government points out, its liabilities (cash) would rise without any increase in its assets. This, the government fears, would undermine confidence in the value of money."
"More phones, few banks and years of instability are transforming Somalia to a cashless society" [Quartz]. "'People are doing business without any fear of losing cash to militants or conmen,' [Halima Aden, a member of the Somali Economic Forum] said. 'The country's telecommunications sector has undergone a rapid rise, fueled by intense competition amongst the numerous telecommunication firms that dominate the country.'"
"Mercedes says it is replacing many of its production line robots with humans – a reversal of recent trends" [Sky News]. "Head of production Markus Schaefer said: "Robots can't deal with the degree of individualisation and the many variants that we have today."
News of the Wired
"Codex: A Legal Scripting Language for Ethereum" [Medium]. With a focus on contracts. I wonder what our banking IT gurus think of this?
"How did NEJM respond when we tried to correct 20 misreported trials?" [Compare]. Is there a doctor in the house?
"A Robot That Has Fun at Telemarketers' Expense" [New York Times]. "Whenever Mr. Anderson hears from a telemarketer, he patches the caller through to his robot, puts his phone on mute and lets his bot do the talking."
Who knew novels without words could be so distinctive? https://t.co/Q0jZfLHNTg Confession: Mine have lots of dashes. pic.twitter.com/mSO2kj3iWQ

— Jessica Strawser (@jessicastrawser) February 26, 2016
* * *
Readers, feel free to contact me with (a) links, and even better (b) sources I should curate regularly, and (c) to find out how to send me images of plants. Vegetables are fine! Fungi are deemed to be honorary plants! See the previous Water Cooler (with plant) here. And here's today's plant (Claudia F):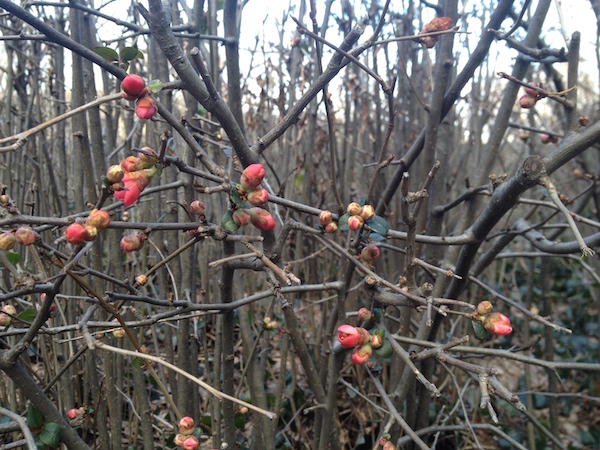 Claudia writes: "I took this pic yesterday in Central Park. I'm fairly sure it's a Japanese flowering quince. it looks like it jumped the gun a bit; i hope it survives this week! Spring is coming :)" I'm so jealous. And I wonder if the plant has survived?
* * *
If you enjoy Water Cooler, please consider tipping and click the hat. Water Cooler would not exist without your support.