Monocle-Wearing Oil Baron's Cigarette Holder Splinters In Clenched Teeth After Hearing Bernie Sanders' Environmental Platform Onion (David L)
Number of Female Genital Mutilation victims found to be 70 million higher than thought Guardian (Dr. Kevin)
Morocco Unveils A Massive Solar Power Plant In The Sahara NPR
China?
Dollar tumbles as Fed rescues China in the nick of time Ambrose Evans-Pritchard, Telegraph

IMF's Christine Lagarde: China can avoid 'hard landing' but spillovers seen Sydney Morning Herald. EM: "It's always sunny if you're the head of the IMF."
Grexit?
Violence Erupts in Greece Against Pension Reform US News. Headline overstates the situation.

Greece fell into a sociopolitical coma because of Troika failed evolution
Refugee Crisis
Big Brother is Watching You Watch
Exclusive: Snowden intelligence docs reveal UK spooks' malware checklist BoingBoing

Maryland Attorney General: If You Don't Want To Be Tracked, Turn Off Your Phone Motherboard (resilc)

Wikileaks' Julian Assange is arbitrarily detained, UN panel finds BBC
2016
U.S. House Debate on Financial Oversight Bill C-Span. Kevin C: "The bill would limit the Justice Department's Operation Choke Point program, which investigates certain banking practices. The House later voted 250-169 to approve the measure."
White America's 'Broken Heart' New York Times
First research links California quakes to oil operations Associated Press
Fed
Global Indicators Point to Fed Reversal Bloomberg

Rate Expectations: Not So Fast, Fed Wall Street Journal
Look Out Below
Why it would be wise to prepare for the next recession Marin Wolf, Financial Times

The End of the New Normal? Mohamed El-Erian, Project Syndicate (David L)

More Bad News in the Shipping Data Bloomberg
Oil
Obama proposes $10 per barrel oil tax Financial Times

Take 2 Minutes To Learn Why Obama's $10 Fee On Oil Is So Important Huffington Post

Oil nations face years of pain, says IMF chief Christine Lagarde Telegraph
ICE chief calls IEX speed bump plan 'un-American' Financial Times
Chicago on Brink of Bond Market Shutoff: Tax-Exempt Yield Hits Stunning 8.50% Michael Shedlock
The benefits of scrapping cash Gillian Tett, Financial Times. Scott: "Her commenters are having none of it."
An Idiot's Guide to Prosecuting Corporate Fraud Dave Dayen, Intercept
Guillotine Watch
Martin Shkreli Pleads the Fifth C-Span (Kevin C). It's actually worth watching. He smirks repeatedly. That sort of behavior is going to get the book thrown at him in his criminal securities fraud trial.

Leon Black is mystery Picasso buyer Financial Times
Class Warfare
Uber Drivers and Others in the Gig Economy Take a Stand New York Times (Dan K)

Living Out of a Van is the New American Dream Vice (resilc)
Antidote du jour. @im461 via Richard Smith: "This penguin was rescued in New Zealand His feet were injured. Rescuers fitted him blue soft shoes? Now he's better."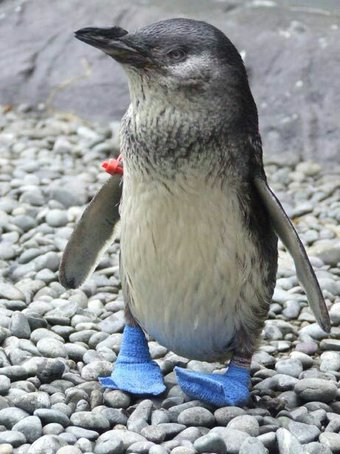 See yesterday's Links and Antidote du Jour here.