By Lambert Strether of Corrente.
TTP/TTIP/TiSA
CETA: "This agreement is a clear break from the current ISDS system and shows the commitment to work together to establish a multilateral investment tribunal" [European Commission (press release)]. Or a commitment to change the color of lipstick on the pig.
2016
Super Tuesday
It's odd there's so much pearl-clutching about Iowa and New Hampshire when Super Tuesday, mostly composed of conservative states the Democrats will never win in the general, exercises near-veto power of the Democratic candidate, and is the immediately following phase of the gauntlet an insurgent candidate must run.

"As voters go to the polls on Super Tuesday, many will be casting ballots in states that have passed strict election laws that didn't exist during the last presidential race" [WaPo]. Nice to see the Democrat establishment has been fighting this tooth and nail, since Florida 2000. Why, just this year, they ran a huge new voter registration drive, and helped people with their IDs! Oh, wait…

"Before polls even open on Super Tuesday, as many as 40% of the votes will have been cast," due to early voting [Wall Street Journal, "Early Voting Seen as a Boost for Front-Runners in Super Tuesday Polls"]. Yet another barrier to insurgents.

Super Guide to Super Tuesday: Republicans [FiveThirtyEight]. State-by-state roundup.

Super Guide to Super Tuesday: Democrats [FiveThirtyEight]. State-by-state roundup. Sanders leads in Colorado, Oklahoma, and Vermont.

"Super Tuesday: Voters head to the polls, but not all are pleased by the choices" [WaPo]. Weird headline, not really supported by the person-on-the-street interviews. "On the Democratic side, Clinton was widely expected to sweep six Southern states, including Virginia, where her longtime friend Terry McAuliffe is governor. Clinton's trouncing of Sanders in South Carolina on Saturday, by nearly 50 percentage points, revealed an overwhelming advantage among African American voters that should play out in the minority-heavy South on Tuesday. Less clear is whether her winning streak will dampen Sanders's previous advantage among the five other states at stake — Colorado, Minnesota, Oklahoma, Massachusetts and Sanders's home state of Vermont." This is the conventional narrative, which IMNSHO sets expectations for Sanders too high; see above.

"Jeff Berman, the Democratic front-runner's campaign's consultant for delegate strategy, says he believes Clinton is on the cusp of becoming the party's presidential nominee" [Bloomberg]. Well, he would, wouldn't he? MRDA.
Policy
Who knew, Thorpe's study trashing Medicare for All, gleefully propagated by every hack on the Beltway, bearded or not, was a veritable steaming load, concocted of false assumptions [Gerald Friedman, The American Prospect].

This is an 11 percent increase in spending, including an increase of nearly one-third for "discretionary" activities, such as doctor visits.

This rate of increase is inconsistent with the experience of other countries. When Canada, for example, adopted a single-payer program like that proposed here, there was no increase in average doctor visits per capita. When Taiwan adopted single-payer like that proposed here, visits by those previously uninsured increased, but there was no increase in utilization by those already insured. In both cases, there was a re-allocation of visits from higher-income to lower-income patients, suggesting that with supply constraints in place, physicians were more carefully regulating their activities and reducing unnecessary visits from healthy affluent patients so as to care better for those who are sick and less affluent, a re-allocation that will improve health and save lives.

Clinton should really stop saying she and Sanders have the same goals. They don't, as this disgusting episode shows.

"Gabbard, an Iraq war veteran, said she knows the cost of war firsthand. "I know how important it is that our commander-in-chief has the sound judgment required to know when to use America's military power—and when not to use that power" [Quartz].
Corruption
"'It may not be good for America, but it's damn good for CBS,' [CBS Chairman Les Moonves] said at the Morgan Stanley Technology, Media & Telecom Conference in San Francisco, according to The Hollywood Reporter — perfectly distilling what media critics have long suspected was motivating the round-the-clock coverage of Trump's presidential bid" [Politico]. Letting the scum-sucking weasel out of the bag, there, Les.

"DNC Chair [Wasserman Schulz] Joins GOP Attack On Elizabeth Warren's Agency" [HuffPo]. "Going after the CFPB is becoming something of a habit for Wasserman Schultz. In November, she voted to undercut the agency's standards on auto lending, helping car dealers charge higher prices to customers of color. She recently signed onto a letter to CFPB Director Richard Cordray asking him to exempt credit unions and banks with up to $10 billion in assets from consumer protection rules." Sanders had better add a riff about that to his stump speech.
Money
"Bernie Sanders campaign raised nearly $6m today, bringing it to $42m in contributions for the month of February" [Guardian]. Impressive. On to Philly!
The Voters
"Black Democrats are actually more likely to identify as moderate than liberal, compared to 40 years ago," as opposed to whites, who are moving in the opposite direction" [Philip Bump, WaPo]. With charts. However, look at this chart of Black youth:

(Here let me confess I found this from a trusted source on my Twitter feed, but can't find the original! If some reader spotted it too, please let me know. That said…) Bump's charts assume Black voters are monolithic by age. That's not so! I'd argue that Sanders has managed to appeal to the future of the party — a future the present Democratic establishment is gleefully stomping — and further, that he did it with a policy appeal (probably free college). Again, when Sanders solves the name recognition problem, and people get to know his policies, they'lll vote for him — regardless of identity politics. Whether there's enough time this year to get that message out isn't clear, though. And what we have in election 2016 is two forces of reaction — Trump and Clinton — competing on their respective brands of identity politics, and trying to stamp this movement out.

"Trump and Sanders are thus in many ways the yin and yang of America's present discontent; both address, in different ways, the seething sense of unfairness, of inequality in Americans. Their supporters tend to be angry, somewhat less educated, more-industrial-age-than-information-age-skilled Americans—and in other cases, insecure young people just out of college, for whom unemployment until the age of 30 still averages 12 percent—who believe their political parties no longer represent them" [Politico]. "Trump emphasizes shutting down job-stealing immigrants and getting "better" deals from the world; Sanders, imprisoning wealth-gobbling, spoiled Wall Streeters and getting "fairer" deals from the world. Both candidates plainly appeal to people who feel that no one is really standing up for them and what used to be known as their middle class; people who want more of the pie than they've been getting for a long time, and people who realize that their political parties are at best half-hearted about doing anything about that."

"[Chip Berlet, co-author of the 2000 book, Right-Wing Populism in America] says changing racial demographics have created anxiety among white working people at a time when decades of wage stagnation have left them behind. 'They're angry, and they have the right to be angry,' he says." [The Nation]. "'And the left has failed to reach out to them and explain that it's greed — not Obama or the Jews or the Muslims or the Federal Reserve – that's causing their economic stress. So they reach out for conspiracy theories. Because their failures can't be a failure of capitalism. And it can't be because they're not competent, so there has to be a conspiracy.'" And: "The Democratic establishment from Obama to Hillary Clinton has been continually surprised by the anger and sense of betrayal within its progressive wing, which is why so few people took Sanders seriously at first (including the Clintons)." Damn straight. And Clinton's trust numbers are rotten for everybody, not just "progressives."

This is probably the best "Editor's Note" ever: "Editor's note: Donald Trump is a serial liar, rampant xenophobe, racist, misogynist, birther and bully who has repeatedly pledged to ban all Muslims — 1.6 billion members of an entire religion — from entering the U.S." [HuffPo]. That said, Trump hasn't blown thousands of faraway brown people to pink mist. So there's that.

"Chicago-based marketing analytics firm Networked Insights tracked social-media conversations pertaining a number of top contenders for the US presidency. It identified "stress" as the overwhelmingly definitive theme of discussions surrounding Bernie Sanders and his money-conscious campaign platform. NI found 6% of social conversations around Sanders triggered stress, and 4% triggered anxiety—significantly higher than the average for Donald Trump, Hillary Clinton, or Ted Cruz. Sanders is the only candidate for whom "stress" and "anxiety" made it into the top six signifiers" [Quartz]. That's interesting. Contrast how Trump, an experienced entertainer, creates jouissance.

"Nor was this sway toward socialism triggered by Sanders's candidacy: as far back as 2011, a Pew poll revealed, fully 49% of Americans (not just Democrats) under 30 had a positive view of socialism, while just 47% had a favorable opinion of capitalism" [Harold Meyerson, Guardian]. "Indeed, the current socialist emergence was foretold by the polls that showed most American looked positively upon the message of Occupy Wall Street – that the 1% has flourished at the expense of the 99%. Bernie Sanders didn't push the young toward socialism. They were already there." Of course, the Democrat establishment, including very much the local apparatchiks in South Carolina and elsewhere, are doing everything possible to stamp this out. Funny how the demographics aren't magically working for them!
The Trail
"'The Bernie Sanders movement might break out into a major conflict at the convention in Philadelphia if the Sanders people feel that they're being cheated, being swindled out of votes,'" said Dr. Anthony Monteiro, the Dubois scholar and veteran activist who helped pull together a national conference on the Black Radical Tradition, in January. 'The Republican Party might also collapse under the pressure of the 'angry' white men and women" supporting Donald Trump, said Dr. Monteiro. 'The situation is so dynamic and unlike anything that we have experienced since the Civil War and Reconstruction'" [Black Agenda Report]. Philly is lovely in the summer, I'm told. Not humid at all.

"Sanders is still drawing 'yuuuge' crowds. But is the revolution unraveling?" [WaPo]. We know what WaPo wants, but by Betteridge's Law, no. A key number to watch will be Sanders small donations after Super Tuesday.

"What Sanders did, however, was demonstrate that with a different messenger — one willing to draw sharp contrasts, perhaps someone who was not a wild-haired socialist in his '70s from Vermont — the appetite was there in 2016 for a truly progressive candidate to capture the Democratic nomination. That candidate did not run. Progressives of a pessimistic bent might feel that they just missed a once in a generation opportunity to reorient the Democratic Party" [Salon]. Could be the Cherokee thing gave her cold feet. Politics ain't beanbag.

"NASCAR CEO Brian France, some drivers endorse Donald Trump for president" [USA Today].

"Responding to reports Clinton campaign planned to deploy Bill Clinton to criticize Trump's statements on women, Trump, who has criticized the former president's affairs, said, 'I hope they do that. If Bill tries to portray me as a sexist, he's going to have a hard time'" [Bloomberg]. I hate it when Trump's right.
Stats Watch
PMI Manufacturing Index, February 2016: "slowing to a crawl" [Econoday]. "This report, which runs hot compared to other manufacturing reports, is sitting near recovery lows and is offering its own signal of renewed trouble for manufacturing, a sector that continues to get hit by weak exports and weak energy-related demand." Ha ha. "Recovery."
ISM Mfg Index, February 2016: "Early indications on the February factory sector are all negative but the most closely watched one, ISM's manufacturing index, perhaps shows the least weakness" [Econoday]. "This report should help limit concern that February was a breakdown month for what is still, however, a fragile factory sector."
Construction Spending, January 2016: "Construction spending rose a strong 1.5 percent in January in strength, however, that does not include housing. A one-month surge in highway & street spending skewed the headline higher as did gains for manufacturing and on Federal construction projects" [Econoday].
Fodder for the Bulls: "While the Standard & Poor's 500 Index finished February 0.4 percent lower, what's remarkable is that the benchmark retraced almost 95 percent of a loss that topped 5 percent. Such reversals happen just once every four years on average in data going back to World War II, with stocks trading higher by 12 percent a year later compared with a normal 12-month return rate of 8.7 percent" [Bloomberg].
Commodities: "[Glencore's] net income excluding some items plunged 69 percent to $1.34 billion during the year as prices for metals and oil collapsed, the Baar, Switzerland-based company said in a statement Tuesday" [Bloomberg].
Shipping: "Chris Welsh, secretary general of the Global Shippers' Forum, said: 'The received wisdom is that bigger ships and alliances are good for competition because of the benefits they are said to confer. If the reality is that they add costs because of the negative externalities they impose on others, and if they restrict choice through reduced service competition, then other regulatory or competition policy approaches may be necessary to deal with the competition issues raised by mega vessels and alliances'" [Splash247].
The Fed: "What I actually mean is that being driven by the data is about having a policymaking strategy. It's about implementing consistent and predictable behavior that is driven by the economy's performance relative to our goals" [John C. Williams, Federal Reserve Bank of San Francisco]. Maybe I'm crazy, but doesn't this sound a lot like central planning?
Bonds: "[D]espite the fact that US government debt has risen substantially relative to US GDP over the last decade, US government bond yields have not risen. What makes US government bonds "safe assets"? Our answer in short is that safe asset investors have nowhere else to go but invest in US government bonds" [NBER].
"Yahoo said it may have to write down the goodwill value of Tumblr, more than two years after the web pioneer spent $1.1 billion to buy the microblogging site" [VentureBeat]. That's what they get for nuking all the pr0n.
"It is almost impossible to assess the progress of the United States economy over the past four decades without feeling disappointed. From the perspective of the typical American, nearly one-third of the country's productive potential has been thrown away on spending that adds nothing to real wealth or destroyed by the 2008 financial crisis" [Brad DeLong]. "The real-world purpose of an ideology is not to provide understanding, but to offer its adherents a sense of certainty as they navigate a complex world. An ideology becomes successful not by suggesting policies that work, but by helping people feel comfortable, happy, and sure of what they are doing." The authors recommend pragmatism. Which oddly reinforces Clinton's branding.
"Euro-area factories cut prices at the fastest pace in almost three years in February, compounding an already worrisome inflation environment for the European Central Bank" [Bloomberg].
"For its entire life, Uber has argued its valuation was justified because ridesharing would replace car ownership the world over. With the driver economics clearly not working in the US and Uber throwing in the towel on winning China, it needs a new story" [Pando]. Turns out the story is logistics. Like pizza delivery. So how come that crook Kalanick's company doesn't have a valuation like a pizza delivery firm?
Today's Fear & Greed Index: 57, Neutral (previous close: 54, Greed) [CNN]. One week ago: 51 (Neutral). (0 is Extreme Fear; 100 is Extreme Greed). Last updated Mar 1 at 10:38am. Creeping into greed again.
Guillotine Watch
"How 3D printing is shaking up high end dining" [BBC]. "Unlike some other food-capable 3D printers, the Foodini device has been designed from the start to be a specialised food-printing machine. With suitable ingredients the machine is capable of printing structures several centimetres high, making possible some quite elaborate 3D designs." Pretty cool. But when I hear "high-end dining," I can't help but think of the kind of artifice displayed here:
And speaking of Versailles, Jamie Dimon interview: "DIMON: But, you know, honestly, who owns the future?" Pretty good operattional definition of being a userer, no? [Bloomberg]. "DIMON: People need to understand: Businesses are going to make mistakes. They shouldn't be shot and hung every time." The issue isn't mistakes. The issue is fraud.
Corruption
"As for the Malaysian attorney general's conclusion that the $681 million deposited to Mr. Najib's account was a Saudi royal-family donation, the international investigators have found no evidence any of this came from Saudi Arabia, according to those familiar with their probes" [Wall Street Journal, "1MDB Scandal: Deposits in Malaysian Leader Najib's Accounts Said to Top $1 Billion"]. Granted, Malaysia is at or near the top of the corruption league tables. But a billion dollars… I wonder if it would be possible do a back of the envelope calculation on the size of the corruption bezzle based on Najiib's grift? Suppose there are a 1,000 Najibs, which seems not unreasonable. That would make the corruption bezzle 1/70 of World GDP (in nominal terms). There are many who don't operate on Najib's scale, so 1/70 would be low. But perhaps there aren't 1,000 Najibs; 1/70 would be high. (This year, there are 1,645 declared billionaires, but who in their right mind declares anything?)
"French prosecutors investigating corruption in world athletics have expanded their remit to include the bidding and voting processes for the Rio 2016 and Tokyo 2020 Olympic Games" [Guardian].
"Citigroup Inc. said in a securities filing Friday that it has received a subpoena in connection with the FIFA bribery scandal, making it the first major U.S. bank to disclose a link to probes involving soccer's governing body" [Wall Street Journal, "Citigroup Receives Subpoena in FIFA Probe"]. No! Not Citi! Say it's not so! Part of a larger investigation: "The May indictment [from U.S. Attorney for the Eastern District of New York] mentioned more than 20 banks used by FIFA officials to allegedly transfer and receive bribe payments, including HSBC, Standard Chartered, Barclays PLC, Citigroup, J.P. Morgan Chase & Co. and Bank of America Corp."
"[U.S. Representative Jeb Hensarling] private [blook club, which is run by the chairman of the Financial Services Committee, is a little-known fundraising vehicle where lobbyists for Wall Street banks, insurance companies and accounting firms gather monthly to discuss literature with a Republican panel member. The designated lawmaker picks the book and pulls in the day's haul, which attendees estimate is often in the $60,000 to $80,000 range" [Bloomberg]. How cozy! One night equals about three times the U.S. per capita income for a year. Ka-ching.
Class Warfare
"Harvard jointly filed an amicus brief to the National Labor Relations Board on Monday arguing against the unionization of graduate students, joining six other Ivy League universities, Stanford, and MIT in a call for the board to uphold existing rulings that define the relationship between private universities and graduate students as strictly academic" [Harvard Crimson]. "Love me, love me, love me, I'm a liberal…."
News of the Wired
"Wikimedia Foundation director resigns after uproar over 'Knowledge Engine'" [Ars Technica].
* * *
Readers, feel free to contact me with (a) links, and even better (b) sources I should curate regularly, and (c) to find out how to send me images of plants. Vegetables are fine! Fungi are deemed to be honorary plants! See the previous Water Cooler (with plant) here. And here's today's plant (pq):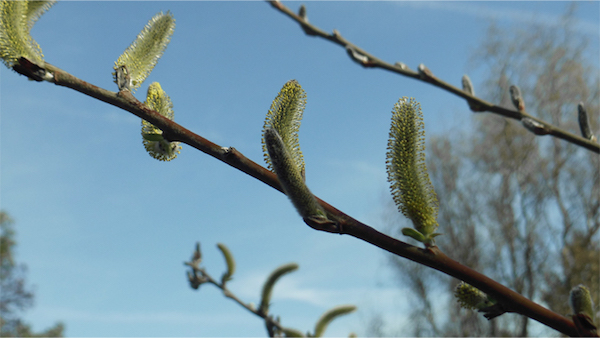 Budding trees… I'm so jealous!
* * *
If you enjoy Water Cooler, please consider tipping and click the hat. Water Cooler would not exist without your support.