By Lambert Strether of Corrente.
TTP/TTIP/TiSA
"EU-Vietnam ISDS not conform European Parliament resolution" [FFII]. I know this is not TTP/TTIP/TiSA, but the ISDS clause has multiple amazing features. Here's the one I like:
The adjudicators would be paid per day worked. This creates perverse incentives to accept frivolous cases, let cases drag on, and to let the only party that can initiate cases (foreign investors) win to stimulate more cases.
Wow!
2016
Super Tuesday
"Time for Bernie Sanders to Get in Line" [Michael Tomasky, The Daily Beast]. I'm sure that Tomasky doesn't report directly to Chelsea Clinton, board member of IAC, the Daily Beast's parent company.

Trump pivots to the general in his Super Tuesday victory speech [New York Magazine]. Here's the full video.

"People in the middle-income groups are making less money than they were 12 years ago. And in her speech, [Hillary Clinton] said 'they're making less money.' Well, she's been there with Obama for a long period of time. Why hasn't she done anything about it?"

Obama to the banksters: "My administration is the only thing between you and the pitchforks." Indeed!

"Trump looks a lot easier to beat on paper then he is in reality. Moreover, we saw a pivot tonight from Trump to the general election with what is likely to become a standard line of attack against Clinton this fall: she was part of what caused the problems, which means she can't be part of what fixes them. If eight years of Obama hasn't "fixed" the economy and the lives of middle-class Americans, how will someone who has been in politics for the last 25 years offer a better solution? Clinton had better have a strong, substantive and believable answer to that question going forward. If she doesn't, Trump will exploit it to his benefit" [National Journal].

"Chris Christie's wordless screaming" [WaPo]. As Christie stood behind Trump, during Trump's victory speech; that won't happen again! This is a very funny column. At the same time, it's a political class dogpile. ("Progressive" mockery of its political enemies hasn't worked in over a decade. But they can't quit it.)
Trumpanic
"The Trouble with Trump for Bankers" [The American Banker]. "While Trump has steered clear of anti-Wall Street rhetoric so far, in a race against Clinton, he's likely to drift in that direction. Sen. Bernie Sanders, D-Vt., has shown how vulnerable Clinton is on Wall Street issues, and in a general election Trump is almost certain to use that to his advantage." Almost makes me want to vote for the guy.

"Trump's rise illustrates how democratic processes can lose their way" [Larrry Summers]. "The problem is not with Trump's policies, though they are wacky in the few areas where they are not indecipherable. It is that he is running as modern day man on a horseback—demagogically offering the power of his personality as a magic solution to all problems—and making clear that he is prepared to run roughshod over anything or anyone who stands in his way." Wait, is this the same Larry that turned the Harvard endowment into a trash fire? Apparently so! Anyhow, I dunno. People who actually watched Trump's speech say he had a lot to say about trade — the Clinton Dynasty, having brought us NAFTA, would like to bring us TPP — and that he pivoted to the general. So the "man on horseback" trope may be yesterday's news.

"Donald Trump embodies how great republics meet their end" [Martin Wolf, Financial Times]. FT thinks this column is so important that it's unlocked! "The US is the greatest republic since Rome, the bastion of democracy, the guarantor of the liberal global order. It would be a global disaster if Mr Trump were to become president. Even if he fails, he has rendered the unthinkable sayable." Wolf seems to think Trump is a Caesar. He might be a Crassus.

And then there's this:

They are having way too much fun at NYDN! #SuperTuesday pic.twitter.com/r8war4T8Kd

— MATT DRUDGE (@DRUDGE) March 2, 2016

Can't. FACTA. And for some, Medicare isn't portable abroad.

"David Remnick, editor of The New Yorker, told his readers last summer that Donald Trump was running for president to promote his own brand and that the "whole con might end well before the first snows in Sioux City and Manchester'" [Politico]. And many other similar bad calls. I'm singling out the editor of the once-great New Yorker because I well remember when Henryk Herzberg decided to shift from reporting to advocacy — in its reporting.

"The day the Republican Party ruptured" [Politico]. "No one is going to call for us to get behind [Trump]," Rubio said. "They know that the nomination of Donald Trump means the end of the modern conservative movement and the modern Republican Party in a very devastating way." Rubio is just so weak. "[I]n a very devastating way."
The Trail
"[H]istorical patterns and political data all show that the real presidential election is confined to just seven states: Florida, Ohio, Virginia, Colorado, Nevada, Iowa and New Hampshire" [US News]. "[B]ased on recent Clinton vs. Trump head-to-head polls in these seven states and the likelihood that the white vote may increase in 2016, Trump is within striking distance of winning a general election against Clinton. For those who believe a Trump presidency is not really possible in today's America, you may want to re-think that proposition." And then there's this: " And, remember, Trump's campaign manager, Corey Lewandowski, not only ran the Koch political network's national voter registration efforts, he also directed AFP's New Hampshire office."

"Hoping to avoid a repeat of the messy fight for the Republican nomination in 2012, the party drew up a calendar and delegate-selection rules intended to allow a front-runner to wrap things up quickly" [New York Times]. And along came Trump!

"Why Donald Trump's Tax Returns May Prove He's Not That Rich" [Fortune]. Only $180 million a year.

This sounds tough but fair: "[T]hat's been the story of Bernie Sanders' campaign even here in South Carolina. It's been a tour of colleges, a tour of black colleges, a tour of state colleges, but never any penetration into the black community, not even being able to go a block away from those colleges to actually go out into the community [Readers?]….The other thing that people are not paying attention to in this huge victory that Hillary Clinton had over Bernie Sanders is the fact that so many people didn't vote from 2008 to 2016. I would say that a lot of those people that didn't vote didn't vote because of their reticence to the Clintons and what happened between them and Obama and understanding that history. … But while Bernie Sanders—I hate to say it—while he's talked about a movement campaign, he hasn't run a movement campaign. He's just run a campaign. And if he's talking about something long-lasting to build out in the communities, well, he hurt himself here in South Carolina. He left South Carolina like the first defeat of the North in Bull Run. And to not be with his people in defeat, that went out and did the best they could, lets you know what he thinks about black voters, in some people's minds. I think it's going to hurt him tremendously in the South, moving forward" [Kevin Alexander Gray, Democracy Now! (SV)].

What I notice on Black Twitter is that many, many Sanders supporters just don't have the language. The Clinton's support for the Crime Bill was converted into an argument that the Clintons were responsible for systemic racism, or in crude form, were racists themselves ("superpredators"). This appeal to tu quoque ignored two facts that were pointed out over and over again, and not by Clinton bots: (1) the Crime Bill really was a response to a real problem: The crack epidemic was real; I couldn't begin to count the horrifying stories involving family members; (2) Many in the black community supported the bill because they wanted relief. So the Sanders supporters came off — indeed were — ignorant of the history and the nuances. What was true was (a) while the voters were expressing a need for relief, it's up to the policy makers to think through the long-term consequences; Sanders got this right, and the Clintons got this wrong (cf. Iraq). And (b), Hillary Clinton most definitely used racist tropes to sell the bill ("super-predators"). But those points, though acceptable, weren't made. And the points black voters really could never accept, were repeated over and over again. That's not a good look. Isn't anybody managing the Sanders online presence? Sanders really better pull something out of his hat for Flint. I mean, there's a reason the Clinton campaign picked that venue, right?

"Here's What You Can Learn From 40 Million Black Lives Matter Tweets" [New York Magazine]. "The researchers identified six major groups that engage in BLM discussion on Twitter, most of which are supportive of the movement's goals in abolishing police violence against minorities: Black Lives Matter, amorphous hacktivist group Anonymous, black celebrities, black Twitter, mainstream news organizations, and conservatives. (See if you can guess which groups are not supportive.)" And now, there's the campaign!
Stats Watch
ADP Employment Report, February 2016: "Friday's employment report may be on the strong side based on ADP's private payroll count for February which is a stronger-than-expected 214,000" [Econoday]. "ADP isn't always an accurate barometer of the government's data but it has been the last two reports, pointing to a surge in December followed by a retreat in January." Two reports?
Gallup U.S. Job Creation Index, February 2016: "U.S. workers' reports of hiring in their workplaces were steady in February" [Econoday]. "The U.S. Job Creation Index score of plus 29 in February reflects 41 percent of workers saying their employers were hiring and expanding the size of their workforce, and 12 percent saying their employers were letting people go and reducing the size of their workforce. The remaining 42 percent of workers said the size of their workforce was not changing." But: "Employment is a rear view indicator, and looking at this ADP data – the overall trend for the year-over-year rate of growth has been flat since mid-2010" [Econintersect].
MBA Mortgage Applications, week of February 26: "Housing permits and residential construction spending have been flat in contrast to purchase applications for home mortgages" [Econoday].
ISM manufacturing index: "And even though the headline index remained in contractionary territory for the fifth consecutive month, direction matters, and this report suggests that the US manufacturing sectors is on the mend" [TD Securities, Across the Curve].
Honey for the Bears: "Next U.S. Recession May Not Be a Biggie But Could Be a Long One" [Bloomberg]. "If a slump does begin this year, it 'will probably look more like the 2001 or the 1990-91 recession,' said Bruce Kasman, chief economist at JPMorgan Chase & Co. in New York. 'It won't have the same kind of financial dislocations and stress that was associated with' the last one. … 'Other than an inventory overhang, the U.S. doesn't have any big imbalances,' said Peter Hooper, a 26-year veteran of the Fed who is now chief economist for Deutsche Bank Securities in New York." FWIW, this Maine Bear agrees on the imbalances, but JP Morgan? Deutsche?? These are the guys that got things so wrong the last time! What we don't know is how the FIRE sector is wired up to the ongoing crises in Europe and China (and if you make a list of crises right now, it's a long list.) And, as we learn from NC (and The Big Short) the FIRE sector is run by criminals who got away with it. And by Akerlof's concept of phishing equilibrium, the same criminals will be doing what they do today. Maybe they've got the sense not to get too greedy this time? Dubious.
"China aims to lay off 5m to 6m state workers over the next two to three years as part of efforts to curb industrial overcapacity and pollution. Coal and steel industries are likely to lead the cutbacks, with other sectors where overcapacity is hurting including cement, glassmaking and shipbuilding also facing significant change" [Splash247]. "On shipbuilding, which has seen massive contraction in the last three years, the job losses could be in the hundreds of thousands, Splash understands."
"Why China and Nicaragua's Canal Project Is Floundering" [Fortune].
Today's Fear & Greed Index: 64, Neutral (previous close: 54, Greed) [CNN]. One week ago: 51 (Neutral). (0 is Extreme Fear; 100 is Extreme Greed). Last updated Mar 1 at 5:30pm. Needle swings firmly into greed territory, now.
Gaia
"'Humble little fungus' is oldest known land fossil" [BBC]. "Scientists think that early fungi contributed to soil formation and the rotting process, thereby paving the way for flowering plants and trees, then animals."
"These fossils – which come from the Xiaoshiba biota in south China – are so well preserved that you can see individual nerve roots ten times thinner than a human hair" [The Conversation]. "The most interesting conclusion we can draw is that the origin of the arthropod nervous system required the dramatic reduction in the number of nerves, and that this event took place after the early Cambrian period."
"Some of Europe's earliest inhabitants mysteriously vanished toward the end of the last ice age and were largely replaced by others, a new genetic analysis finds" [Science Daily]. "At the peak of the ice age, around 19,000 to 22,000 years ago, people hunkered down in climactic 'refugia,' or ice-free regions of Europe, such as modern-day Spain, the Balkans and southern Italy, Posth said. While holdouts survived in a few places farther north, their populations shrank dramatically." Then the temperature spiked, and the holdouts were "replaced."
"If you live in the eastern U.S., it's almost time to put that snow shovel away and get out the gardening tools" [Bloomberg]. In Maine, we plant on Memorial Day. That's a long time away.
Corruption
"Olympus, the nation's largest distributor of endoscopes and related equipment, will pay $646 million to resolve separate criminal and civil investigations into claims of kickbacks and foreign bribery, company and federal officials announced Tuesday" [New York Times]. And no executives go to jail, because impunity.
Class Warfare
"However, in a higher-education environment in which the subsidies once enjoyed by university presses have shrunk or entirely vanished, editors are left with little choice but to consider sales potential before accepting a manuscript for publication" [The Conversation]. "[I]n many academic fields the publication of scholarly books still remains the standard by which emerging scholars are credentialed. Is it acceptable that a PhD student in one of those fields might feel forced to choose a dissertation topic based on how a publisher views its sales potential as a book rather than on its contribution to the field?" Must-read for anybody in or near a university.
"An internal meeting was called and Perrero gathered with co-workers, expecting good news of some sort. Instead, they were notified that had 90 days remaining at Disney and would be laid off on Jan. 30, 2015. But before that happened, they would be training their foreign replacements" [ComputerWorld]. Yay, globalization!
Police State Watch
"By law, police need a judge-issued warrant to search your home in all but the rare case when someone might be in immediate danger—but a review of the NYPD's actual practices shows something quite different, with police making unlawful entries in far-from-emergency situations" [Gothamist]. "When the man said … officers could not search his home, one said, 'You're fucking lying…I can do anything I want.'"
News of the Wired
"Autonomous Google Car Hits Public Bus During Test Drive" [New York Times]. When the libertarians get rid of public transportation, this won't be a problem.
"Apple silent on mysterious noises from Sunnyvale complex" [San Jose Mercury News]. "That mysterious hum that neighbors said originated in the complex could come from charging a high-intensity electrical capacitor."
"People Blindly Follow Their Robot Leaders" [Science of Us].
"St. Paul's Before and After the Owen Labrie Rape Trial" [Vanity Fair].
"Cambodia's Kampot pepper wins EU protection, joins food elite" [Asian Correspondent].
* * *
Readers, feel free to contact me with (a) links, and even better (b) sources I should curate regularly, and (c) to find out how to send me images of plants. Vegetables are fine! Fungi are deemed to be honorary plants! See the previous Water Cooler (with plant) here. And here's today's plant (pq):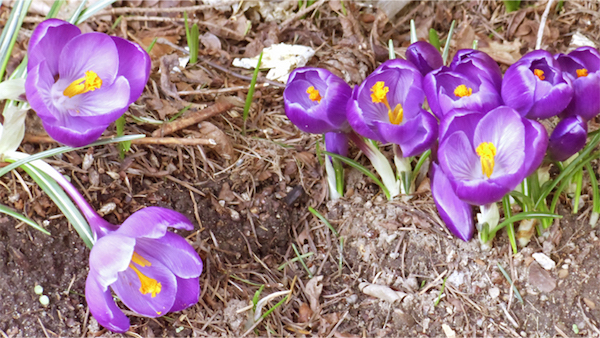 "Crocuses up 3 weeks ago." Ouch.
* * *
If you enjoy Water Cooler, please consider tipping and click the hat. Water Cooler would not exist without your support.