By Lambert Strether of Corrente.
TTP/TTIP/TiSA
"TPP Threatens Indigenous Land Rights Says the UN" [TeleSUR]. "According to Tauli-Corpuz, the major issue with the TPP is "the clause of non-discrimination between a local and an international investor … (it) grants more rights to transnational firms, often at the expense of indigenous rights," she said in an interview with the International Work Group for Indigenous Affairs. This is a crucial issue, she argued, as most of the remaining natural resources available on earth are located on indigenous lands — because protecting them is part of the indigenous culture, or because they are located on remote lands."
2016
Trumpanic
Romney, 2016: "[ROMNEY:] Here's what I know: Donald Trump is a phony, a fraud. His promises are as worthless as a degree from Trump University. He's playing members of the American public for suckers: He gets a free ride to the White House, and all we get is a lousy hat" [CNN].

Romney, 2012: "[ROMNEY:] Donald Trump has shown an extraordinary ability to understand how our economy works to create jobs for the American people. He's done it here in Nevada, he's done it across the country… He's one of the few people who stood up and said, you know what, China's been cheating. They've taken jobs from Americans" [Political Wire].

"[TRUMP:] Mitt Romney is a stiff. Mitt Romney will not get elected. Mitt Romney failed twice and really failed last time. He was going against a president that should have been beaten" [Politico].

"Donald Trump and a small team of confidants began planning his White House bid just weeks after Mitt Romney's 2012 loss to President Barack Obama." [Wall Street Journal, "Donald Trump's Presidential Run Was Long in the Making"]. "The businessman trademarked his "Make America Great Again" slogan in November 2012, according to federal records… Between 2012 and his presidential campaign launch last June, Mr. Trump gave more than $1 million to GOP candidates, super PACs and groups such as the Republican Governors Association, records show. He declined to renew his contract to host "The Apprentice" in early 2015."

"The Koch brothers, the most powerful conservative mega donors in the United States, will not use their $400 million political arsenal to try to block Republican front-runner Donald Trump's path to the presidential nomination" [Reuters]. Unless they're lying. And who could tell, dark money being what it is? As we saw yesterday, Trump's campaign manager used to work for the Kochs. So I dunno….

"Clinton is doing what pretty much every Republican in the country failed to do — she's taking Trump seriously" [Alternet]. "Another way to damage Trump is to beat him at his own game. The Rand Corp. found recently that the biggest predictor for whether someone will support Donald Trump is if they believe that 'people like me don't have any say about what the government does.; To keep people from defecting to Trump, you need to make them feel like they have a stake in your campaign, which is probably where the Clinton people could learn a thing or two from Bernie Sanders' campaign." And won't.
Policy
"In his proposal, Trump says allowing insurance to be sold across state lines will end up "allowing full competition in this market" so that "insurance costs will go down and consumer satisfaction will go up." However, in 2012, Georgetown University researchers looked at states that had enacted legislation to encourage cross-border insurance commerce. They found that the initiatives "do not address the true drivers of health insurance costs nor do they adequately take into account the complexity of how insurance products are sold and regulated." They also found that "none of the across state lines laws resulted in a single insurer entering a new market or the sale of a single new insurance product" [International Business Times].

"Mr. Cruz's argument is confusing because the United States already has socialized medicine for the elderly: Medicare. Nearly every American over the age of 65 qualifies for the government program. There are some services that Medicare doesn't cover, and in some cases, patients may have to wait to get a doctor's appointment or a surgery date, just like Americans with any other insurance. But the Medicare program itself does not decide which people should get services like hip replacements first and who should have to wait. Indeed, patients in Medicare typically have faster and more equal access to health care than nonelderly adults in the United States, because they have universal insurance coverage and Medicare is widely accepted by doctors and hospitals" [New York Times]. But heaven forfend we should have Medicare for All!
Money
Clinton raised $30 million in February and has $31 million on hand. Sanders raised $43 million, and didn't announce cash (but had $15 million at the end of January) [Politico]. Clinton also paid off the DNC to the tune of $4.4 million. Mook now touts small donors, but they maxed out all the big ones, right?
The Voters
"Beneath Hillary Clinton's Super Tuesday Wins, Signs of Turnout Trouble" [New York Times]. Example after example of Democratic fecklessness and indifference to increasing voter registration, preventing voter ID restrictions, the problems with e-voting, etc., etc., etc.:

A new group called Black Votes Matter, led by Democratic strategists based in New York, is trying to raise $25 million for a new effort to identify and energize African-American voters. Charlie King, a former executive director of the New York Democratic Party, said the group would focus on five states where black voters were particularly pivotal for Democrats and where, in some cases, lawmakers had also imposed new voting restrictions in recent years.

Great. A tiny palliative late in the day. With Democratic strategists taking a cut. Heaven forfend there should be a concerted national effort!
The Trail
"Rule 40 of 'The Rules of the Republican Party'" [Medium]. The possible procedural vector for a Repbublican convention trainwreck.

The Trump campaign uses NationBuilder [Bloomberg]. "NationBuilder is the creation of Jim Gilliam, who worked at Lycos, the search engine, before becoming an antiwar activist in the early 2000s." Fortune passes everywhere.

"Donald Trump-Megyn Kelly rematch and other things to watch for in the GOP debate" [Los Angeles Times]. Trump melting down has been predicted so many times. Would we even recognize it if it happened?

"According to three Fox sources, Fox chief Roger Ailes has told people he's lost confidence in Rubio's ability to win. 'We're finished with Rubio,' Ailes recently told a Fox host. 'We can't do the Rubio thing anymore'" [New York Magazine]. "Ailes is now back to searching for a candidate the channel can rally behind. 'He's thinking, What do we do about the whole damn thing?' one of the news executive's friends said." Let me know how that works out…

"[Tad Devine, Mr. Sanders's chief strategist] said that Mr. Sanders would overtake Mrs. Clinton with wins in upcoming states, starting this weekend with caucuses in Nebraska, Kansas and Maine, and then in Michigan's primary on Tuesday" [Wall Street Journal, "Bernie Sanders Campaign Aides Say Vermont Senator Will Press On"]. "[Clinton campaign manager Robby Mook countered] that Mr. Sanders may win in this weekend's caucuses, but she will counter with victory in Louisiana, which also votes on Saturday. If Mr. Sanders wins in Michigan, Mr. Mook said, Mrs. Clinton will offset that with victory in Mississippi, which votes the same day." Democratic establishment has a Southern strategy, where states Democrats will never win in the general determine who runs in the general. Plus the super-delegates, of course. Weird. Fragile.

"Not so long ago the Sanders campaign had the feel of a startup inching its way toward relevance. Nearly a year after launching, it has evolved into a more professionalized operation that looks and feels like a modern presidential campaign, with all the complications that entails. Money is pouring in—and rushing out the door" [Wall Street Journal, "Sanders Campaign Evolves From Small Startup to Election Machine"]. Lots of money for television.

This is interesting:

The team running @BernieSanders' online $ operation — @revmsg — is also joining @deray's Baltimore mayoral campaign.

— Gabriel Debenedetti (@gdebenedetti) February 29, 2016
Handy compendium of (many) Clinton scandals [The Atlantic]. Does not include the cattle futures thing, arguably the worst ("Hillary Clinton Turned $1,000 Into $99,540, White House Says"). As the punchline to the old joke goes: "Just lucky, I guess." On corruption:
the essential questions about the Clinton Foundation come down to two, related issues. The first is the seemingly unavoidable conflicts of interest: How did the Clintons' charitable work intersect with their for-profit speeches? How did their speeches intersect with Hillary Clinton's work at the State Department? Were there quid-pro-quos involving U.S. policy? The second, connected question is about disclosure. When Clinton became secretary, she agreed that the foundation would make certain disclosures, which it's now clear it didn't always do. And the looming questions about Clinton's State Department emails make it harder to answer those questions.
"Thanks to the 2010 victories they won on this map six years ago, Republicans are overextended. Democrats have better-than-even odds of recapturing Republican-held Illinois and Wisconsin, and they have several other targets, while Democrats are defending an open seat in Nevada and another potentially competitive seat in Colorado" [Sabato's Crystal Ball]. "If it turns out to be a Clinton-Trump contest, the nation will never have been in a comparable place before."
Stats Watch
Challenger Job-Cut Report, Feb 2016: "The energy sector continues to inflate Challenger's layoff count, at 61,599 in February following January's outsized 75,114" [Econoday]. "Other sectors show much less damage but energy and energy-related troubles are likely to become increasing drags on the nation's employment." And: "After surging to a six-month high to begin the new year, downsizing slowed in February, as US-based employers announced 61,599 job cuts during the month, 18 percent fewer than the 75,114 in January" [Econintersect].
Jobless Claims, week of February 27: "The labor market remains solid and unemployment claims very low" [Econoday]. "Continuing claims, where data lag by a week, remain near historic lows." And: "The four week rolling average of initial claims are 11.5 % lower (improvement from the 7.7 % for last week) than they were in this same week in 2015" [Econintersect].
Productivity and Costs, Q4 2015: "An upgrade for fourth-quarter output, first indicated by last week's second estimate for fourth-quarter GDP, gave productivity a lift and brought down unit labor costs. But productivity is still in the contraction column, at an annualized rate of minus 2.2 percent vs an initial estimate of minus 3.0 percent, while labor costs rose at annualized 3.3 percent vs an initial estimate of 4.5 percent" [Econoday]. "The fourth quarter was a weak one and early indications on first-quarter growth are much more positive. Further strength in growth would help improve productivity and help bring down costs."
Gallup Good Jobs Rate, February 2016: "[S]uggesting an underlying increase in full-time work beyond seasonal changes in employment" [Econoday].
PMI Services Index, February 2016: "Markit Economics' U.S. service sample reported unusually flat activity in February with the final PMI at 49.7 vs 49.8 for the February flash and against 53.7 in January. This is the weakest reading since the government shutdown of 2013" [Econoday]. "Slowing in the service sector would leave the economy without a central point of strength. The declines in this report, though possibly reflecting weather factors during the month, do raise the important question whether domestic demand is on the downswing and falling in line with sinking demand overseas."
Bloomberg Consumer Comfort Index, week of February 28: "Consumer confidence readings have held mostly steady this year though the decline in this report may hint at an uneasiness perhaps tied in part to uncertainty in the election campaign" (!) [Econoday].
Factory Orders, January 2016: " Factory orders rose a strong 1.6 percent in January as wide strength in durable goods, where orders rose 4.7 percent, was offset by energy-related weakness in orders for non-durable goods which extended a long series of declines at minus 1.4 percent" [Econoday]. "Core capital goods, boosted by orders for machinery, fabricated metals, and computers, are a key positive in the report, up 3.4 percent to nearly offset a 3.5 percent decline in December. … The early indications on February are broadly negative"
"Life insurers are supposed to be bedrocks of financial stability, dependable institutions whose long-term business models set them apart from scandal-hit banks." [Alastair Grey, Across the Curve]. "Yet shares in the leading US insurers, which help millions of Americans through retirement, have been anything but stable in recent weeks. Titans of the industry have been hit almost as hard as lenders in this year's stock market rout….. The biggest worry is rock-bottom interest rates, which push up the value of the insurers' liabilities and make it a struggle for them to generate adequate returns on their vast investment portfolios."
"Iowa restaurants starved for workers" [Des Moines Register]. If only there were something… Something like an invisible hand… That could adjust the supply of workers to the demand for them!
ISM Non-Mfg Index, February 2016: "The great bulk of the nation's economy enjoyed a solid February based on ISM's non-manufacturing report where the headline index held solidly over breakeven 50" [Econoday]. "Other details include a nearly 4 point rise in output (defined as business activity in this report) which is a solid indication for first-quarter growth. Prices for inputs remain in contraction and inventories continue to expand modestly."
Today's Fear & Greed Index: 68, Greed (previous close: 66, Greed) [CNN]. One week ago: 53 (Neutral). (0 is Extreme Fear; 100 is Extreme Greed). Last updated Mar 3 at 1:48pm. Greed still rising.
Health Care
"In a major win for the industry, health insurers will not be forced to have minimum quantitative standards when designing their networks of hospitals and doctors for 2017, nor will they have to offer standardized options for health plans" [Modern Health Care]. Well, of course. How could they underwrite if they couldn't game narrow networks, or crap around with obfuscated policies?
The rule also addresses the surprise medical bills that patients see when an out-of-network doctor involved in their care at an in-network hospital bills them for the balance not covered by their insurer.

Starting with 2018 plans, the CMS said, all services provided by an "out-of-network ancillary provider in an in-network facility" will go toward the member's in-network annual cost-sharing limit. However, the provision does nothing to prohibit balance billing, and the CMS still defers to states that have more stringent laws that tackle surprise bills.

"Our intent in establishing this policy beginning for the 2018 benefit year is to permit us to monitor ongoing efforts by issuers and providers to address the complex issue of surprise out-of-network cost sharing at in-network facilities across all CMS programs in a holistic manner, and amend our policy in the future to accommodate progress on this issue, if warranted," the CMS said.
"In a holistic manner." Oh. OK.
Corruption
"Honest, Guv, I Didn't See Nuffin'" [Craig Murray]. "Jimmy Savile met the Royal family not just on many official occasions, but frequently socially. He was a private Hogmanay guest of the Prime Minister on seven occasions. Of course not only on 31 December, I just think that fact illustrates how close he was. I do not believe that all of these people knew nothing about his persistent and repeated behaviour. It is not only that I do not believe they could fail to notice. It is that anyone with that level of frequent access to the Prime Minister, other ministers and Royal family would be checked out by the security services."
Police State Watch
"Under new guidelines, the FBI is instructing high schools across the country to report students who criticize government policies and "western corruption" as potential future terrorists, warning that "anarchist extremists" are equivalent to ISIS and young people who are poor, immigrants or travel to "suspicious" countries are more likely to commit horrific violence" [Alternet]. "This overwhelming threat is then used to justify a massive surveillance apparatus, wherein educators and pupils function as extensions of the FBI by watching and informing on each other." The FBI's "Preventing Violent Extremism in Schools" has been iterated for five years, under a totally not authoritarian and distinctly not fascist Democrat administration.
Gaia
"Using models to predict the ranges of 78 venomous snake species across the Americas, researchers at the University of Kansas' Biodiversity Institute found snakebite risk areas could increase significantly. By 2050, they could reach as far north as Alberta and Quebec and southward into Argentina and Chile" [Inside Climate News].
Water
"The roots of the Syrian civil war, which according to a recent estimate has killed at least 470,000 people and helped set in motion one of the most significant human migrations on record, can be traced in part to the drought. The drought, along with other factors, forced about 1.5 million rural residents, including farmers, to urban areas in Syria to look for work, including Aleppo and Damascus" [Mashable]. "The government's inadequate response to the drought and resulting massive internal displacement was one of a series of events that helped spark what was initially a series of uprisings against the government of President Bashar Al-Assad, but soon turned into a devastating, all-out civil war."
"Gov. Rick Snyder has hired two outside attorneys in connection with the Flint drinking water crisis, including a criminal defense attorney retained to serve as "investigatory counsel," a Snyder spokesman confirmed Thursday" [Detroit Free Press]. "The contracts, which are to be paid with state funds, are just below the $250,000 threshold for contracts requiring approval from the State Administrative Board, which meets in public to approve state contracts and grants. Adler said that was by design because the governor wanted to hire the attorneys quickly in early February."
Class Warfare
"How the U.S. Government and HSBC Have Teamed Up to Hide the Truth From a Pennsylvania Couple" [Liberty Blitzkreig]. A classic old-school blog post, where mainstream reporting has the knobs turned up to 11 where appropriate. Key paragraph:
The Wall Street Journal reports:

WEST CHESTER, Pa.—When Dean Moore ran into roadblocks with a request for mortgage relief, he did what many people do: He sat down at his kitchen table to bang out an angry letter.

The letter has thrust Mr. Moore, a chemist, and his wife, Ann Marie Fletcher-Moore, a part-time bookstore manager, into a high-stakes battle over whether HSBC Holdings PLC must release a secret report on its compliance with a $1.9 billion money-laundering settlement.

A "secret" report. You've got to be kidding me.
I'm quoting this because I wonder if there are any readers who have banged out angry letters and are in similar situations?
"While many in the financial advice industry admirably try to help regular folks figure out how much to save and how to allocate their assets, a stubbornly large group is in the business of systematically ripping people off" [FT Alphaville]. It's a phishing equilibrium.
News of the Wired
"How microdosing helped me kick my internet habit" [Vox]. So long as the acid's not brown…
"Muting users on Twitter – Achtung! State, DoD, Other US Censors" [Another Word For It].
"Physicists May Have Discovered a New 'Tetraquark' Particle" [Scientific American]. "Hopefully there will eventually be a theory that explains these observations to gain a better understanding of these quarks and the forces acting between them"
"A Unicorn Is the Last Thing This Web 2.0 Survivor Wants" [Wired]. "The nice thing about revenue is it's not diluted capital."
"Repeating radio signals coming from a mystery source far beyond the Milky Way have been discovered by scientists. While one-off fast radio bursts (FRBs) have been detected in the past, this is the first time multiple signals have been detected coming from the same place in space" [International Business Times] (original). Aliens fooling with the remote…
"A massive volcano on Mars spewed so much lava 3.5 billion years ago that the weight displaced the Red Planet's outer layers, according to a study that reconstructed the planet's geologic history" [ABC Australia].
"The architect of the Reich" [The New Criterion]. Albert Speer retrospective.
* * *
Readers, feel free to contact me with (a) links, and even better (b) sources I should curate regularly, and (c) to find out how to send me images of plants. Vegetables are fine! Fungi are deemed to be honorary plants! See the previous Water Cooler (with plant) here. And here's today's plant (pq):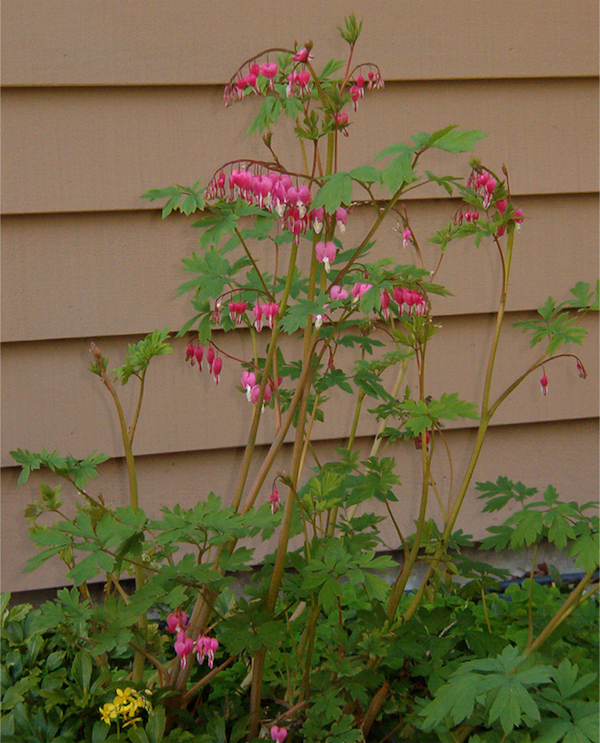 I love bleeding hearts; mine did beautifully last year!
* * *
If you enjoy Water Cooler, please consider tipping and click the hat. Water Cooler would not exist without your support.