By Lambert Strether of Corrente.
2016
Republican Debate
"The Fox News GOP debate transcript, annotated" [WaPo].

"What We Learned from Thursday's Debate" [Roll Call]. Nice round-up of GOP insiders.

"Five Big Questions After a Vulgar Republican Debate" [Frank Bruni, New York Times]. (TRUMP: "[H]e referred to my hands, if they are small, something else must be small. I guarantee you there is no problem. I guarantee.") Oh, my goodness! Bruni — along with the entire political class — clutches his pearls and heads for the fainting couch because Trump — in his own inimitable fashion, I grant — went sex positive! The horrified reaction is particularly rich coming from "progressives," who invented and propagated "teabaggers [NSFW]" as a sobriquet for the Tea Party. Of course, blowing faraway brown people to pink mist is never vulgar. Or seducing an intern to whom you owe a duty of care. This will be my first animated *.gif, but since Mr. Bruni's visual is so compelling, I feel constrained to use it:

(Readers, if the animation drives you nuts, let me know and I'll substitue a still. OTOH, you may wish to save this out to use on your Twitter feeds!)

Credit due, even if Axelrod probably doesn't write his own tweets:

Once again, @realDonaldTrump boasts about assets we cannot see.#GOPDebate

— David Axelrod (@davidaxelrod) March 4, 2016

Signals the next phase of attacks, based on Trump's tax returns?

"Rather than engaging with the other candidates, Kasich focused on his own record, mentioning himself 134 times, more often than Rubio and Cruz mentioned themselves, and more often than he'd done in any prior debate. Kasich is seeking a home-state win in the Ohio primary on March 15" [Bloomberg]. If Kasich hopes to win with a brokered convention, he'd better have some votes on the floor…
Policy
"If 'decline' means stagnation, then the U.S. has been in decline for roughly 15 years" [Bloomberg]. "So the narrative of decline being pushed by Donald Trump — and echoed by many other presidential candidates — is real."

"The Clinton-Backed Honduran Regime Is Picking Off Indigenous Leaders" [The Nation]. "Cáceres was a vocal and brave indigenous leader, an opponent of the 2009 Honduran coup that Hillary Clinton, as secretary of state, made possible. In The Nation, Dana Frank and I covered that coup as it unfolded. Later, as Clinton's emails were released, others, such as Robert Naiman, Mark Weisbrot, and Alex Main, revealed the central role she played in undercutting Manuel Zelaya, the deposed president, and undercutting the opposition movement demanding his restoration. In so doing, Clinton allied with the worst sectors of Honduran society."
Money
"Carson spent heavily on consultants, lightly on campaigning" [AP]. "All told, the Carson campaign turned over at least one-quarter of the money it raised — $16 million — to fundraising and marketing firms owned by a pair of his top consultants, Mike Murray and Ken Dawson. By contrast, the Carson campaign's payroll for nine months cost less than $700,000, finance documents show, and the campaign spent less than $600,000 on television and radio advertising during the month that voting has taken place." That's good grift, but not on a Bushian scale.
The Voters
"Five theses on the Super Tuesday results" [Corey Robin, Jacobin].

I've seen lots of claims that Sanders is only winning because of white men; among every other demographic, he loses. That simply isn't true.

In Vermont and New Hampshire, he beat Clinton among all women voters. In Oklahoma, as I said, he nearly tied Clinton among women voters. In Nevada, he nearly tied her among Latino voters (though the experts are still debating that one). In Massachusetts, as I said, he got 41 percent of non-white voters.

"Although the Democrats may avoid an open rupture with the Sandernistas in Philadelphia this summer, Hillary Clinton's corporate machine will move quickly to reposition the party to the right in November so as to absorb the white 'moderate' exiles from the Republican rubble – thus, further alienating Bernie's insurgents [Black Agenda Report]. "Black voters, who are fully aware that they saved Clinton from ignominious defeat in the early primaries, will in very short order be pushed back in their 'place': the captive constituency. But this, too, is unsustainable if even half of the duopoly comes undone, because the duopoly system is the cage that traps Blacks inside the Democratic Party."

"GOP voter turnout in this year's presidential race is up 62 percent relative to 2008, the last time both parties had open contests. But Democratic voter turnout is down by 29 percent across all the primary and caucus states that have voted so far. In all but two states, fewer Democrats turned out to vote in 2016 than did in 2008" [HuffPo]. "Eight out of the 16 states that have held primaries or caucuses so far have implemented new voter ID or other restrictive voting laws since 2010. Democratic turnout has dropped 37 percent overall in those eight states, but just 13 percent in the states that didn't enact new voter restrictions. To put it another way, Democratic voter turnout was 285 percent worse in states with new voter ID laws." And boy howdy, did the Democrats fight those restrictions tooth and nail. Oh, wait….

But voting restriction isn't the only reason for Democratic apathy: "To be specific, 65% of Republicans say a candidate has come up with good ideas for solving the most important problem facing the nation, compared with 45% of independents and 49% of Democrats" [Wonk Wire]. Would be nice to have a candidate breakdown on that, but I'm guessing Clinton's existential position of fighting the greatest force for evil in the history of the known universe — the Republican Party — with a strategy of incremental small fixes isn't selling. And why would it? From the Gallup Survey:

Bottom line: This lack of conviction among Democrats that candidates have answers, along with other indicators of lower enthusiasm about the election, could portend poorly for Democratic turnout next November, providing a distinct advantage for Republicans.

"[W]hat we're seeing among the Republican electorate this year is not remotely normal" [FiveThirtyEight]. "Trump does not just divide rank-and-file voters from Republican poo-bahs. He's also extremely divisive among Republican voters, much more so than a typical front-runner. In exit polls so far, only 49 percent of Republican voters say they would be satisfied with Trump as their nominee — remarkable considering Trump's lead in votes and delegates. But compounding the GOP's problems, Marco Rubio or Ted Cruz would leave only slightly more Republican voters happy"

"Fascists transform politics, as philosopher and cultural critic Walter Benjamin pointed out, into aesthetics" [Chris Hedges, Truthdig]. "And the ultimate aesthetic for the fascist, Benjamin said, is war." Here again, however, Hedges' schematicism betrays him. Trump not only told South Carolina that Iraq was a debacle, but said Bush faked the WMDs, unheard of "even" for Democrats. Frankly, if Trump's ultimate aesthetic ins't war, but kayfabe, the country might end up better off, given that Clinton's "experience" amounts to setting the Mediterranean littoral on fire for no visible policy gain.

"It's Time to Abandon the Pursuit for Great Leaders" [Foreign Policy].
The Trail
"Are Donald Trump's fingers weirdly short? An investigation" [WaPo]. Result: "Trump is not a 'short-fingered vulgarian,' for the sole reason that he is not short-fingered."

"If the people in the rest of the nation vote as the Super Tuesday results suggest they would, Mr. Trump would easily amass a majority of delegates and avoid the contested convention that his opponents hope to force and win" [The Upshot, New York Times].

"A trio of truthful attack ads about Trump University" [WaPo]. "[They're] being aired by the American Future Fund, a politically active nonprofit group that does not disclose its donors but backed Mitt Romney in the 2012 campaign." A little late for the oppo to begin…

"Cleveland seeking to buy riot gear for Republican National Convention" [Plain-Dealer]. Frank G. Jackson, mayor of Cleveland is, of course, a Democrat.

"Sanders agrees to participate in Fox News presidential town hall without Clinton" [WaPo]. Clinton picking out the drapes for the Oval Office.

"Hillary Clinton's Campaign: Myth Vs. Fact" [The Onion].

"Susan Sarandon: Hollywood stars 'afraid' of backing Sanders" [The Hill]. Sarandon, let us remember, immediately propagated the video that showed the Clintonites "English Only" smear after Nevada was a lie.

"Socialists and the Horse Race" [Jacobin]. Jacobin is so hot right now.
Stats Watch
Employment Situation, February 2016: "The labor market is adding jobs at a very strong rate. Nonfarm payrolls rose 242,000 in February vs the Econoday consensus for 190,000 and a high estimate of only 217,000. Adding to the punch are upward revisions to the two prior months totaling 30,000" [Econoday]. "A negative in the report is a 0.1 percent decline in average hourly earnings that follows, however, January's outsized 0.5 percent gain. Year-on-year, average hourly earnings are down 3 tenths to 2.2 percent." So, more jobs but crappier wages. (To be fair, there's apparently a statistical quirk where one February paycheck isn't counted 'til the next report.) And: "The big contributor to employment growth this month was food services (40.2K), health care and social assistance (57.4K), and retail trade (54.9K).
Manufacturing was was down 16K, and construction was up 19K" [Econintersect].
International Trade, January 2016: "January was a weak month for cross-border trade with exports down a steep 2.1 percent and imports down 1.3 percent, making for a wider-than-expected trade imbalance of $45.7 billion" [Econoday]. "Exports of capital goods were especially weak as were imports of capital goods." And: " January 2016 Trade Data Becoming Recessionary" [Econintersect].
Fodder for the Bulls: "We've got a real strong job market going," said Carl Tannenbaum, chief economist at Northern Trust. "It does suggest that fears about a U.S. recession have been greatly overdone" [New York Times].
Shipping: "Carriers are ditching canal transits on backhaul trips from the US East Coast (USEC) to Asia and North Europe to Asia, opting to save fees and head via the southern tip of Africa instead. Soon they might start to do the same on fronthaul trips, moots Danish analysts SeaIntel" [Splash247].
"Over all, bookstore sales rose 2.5 percent last year, to $11.17 billion, from $10.89 billion in 2014, according to the Census Bureau. It is the first time that bookstore sales have grown since 2007" [New York Times]. "After decades of decline, the number of independent bookstores is on the rise."
"The [Japanese] Cabinet on Friday approved a set of bills to help banking groups expand their information technology businesses and to recognize virtual currencies as having a function similar to real money" [Japan Times].
Today's Fear & Greed Index: 69, Greed (previous close: 69, Greed) [CNN]. One week ago: 57 (Greed). (0 is Extreme Fear; 100 is Extreme Greed). Last updated Mar 4 at 9:49am. Stalled?
Gaia
"Bird droppings were the likely cause of a December shutdown at a nuclear power plant outside New York City, according to the operator" [NBC]. So awesome.
"A 2014 incident in France's oldest nuclear plant, located near the German and Swiss borders, was more serious than previously reported, German media claimed Friday" [France24]. "[O]perators temporarily lost full control over the plant's reactor 1 in the April 9, 2014 incident after water had incapacitated one of two parallel reactor security systems."
"Volcanologists on NRA panel accepted donations from utility-linked firms" [Japan Times].
"It hasn't snowed enough in Alaska this year for the Iditarod to start properly" [Quartz]. "This is the third year in a row that lack of snow has disrupted the famous race."
"Climate Change Could Kill Half a Million by 2050" [Bloomberg]. "Lower fruit and vegetable consumption and changes in body weight may raise the risk of non-infectious illnesses including heart disease, stroke and cancer, the study [published in The Lancet] showed. Food availability may drop 3.2 percent per person by 2050, compared with a scenario without climate change. Lower- and middle-income countries will be hardest hit by reduced food supplies, especially the western Pacific region and southeast Asia, including China and India, the study showed."
Militia Watch
"Ammon Bundy says jail 'most difficult thing I've ever done'" [Oregonian].
"The story of the eradication of the original Ku Klux Klan" [Slate]. John Wilkes Booth has a lot to answer for.
"Fourteen more people have been charged in connection with a high-profile 2014 standoff over cattle grazing rights between armed protesters and federal agents at the Nevada ranch of Cliven Bundy, federal prosecutors said on Thursday" [Reuters]. "One of the newly-charged defendants, New Hampshire resident and former U.S. Marine Jerry DeLemus, has headed a veterans' group formed by the presidential campaign of Republican Donald Trump."
Class Warfare
"'Idiocracy' Is One of the Most Elitist and Anti-Social Movies Ever—Why Do Liberals Love Referencing It?" [Alternet]. "[W]e direct our disdain at the pseudo-problem of not being adequately intelligent, as if such a problem operates independent of material factors. This sentiment is a common thread in left discourse. While nowhere near as reactionary or meanspirited, being smarter than the other guy was a feature of the Jon Stewart era of political comedy…. ."
"Costco Wholesale Corp. will lift its minimum wage for the first time in nine years, by a $1.50 an hour, as the labor market tightens and competitors start giving workers a raise" [Bloomberg].
"For as Willem de Kooning once said, 'The trouble with being poor is that it takes up all your time'" [Medium].
News of the Wired
"The idea behind the [Google "Hands Free"] program is that anyone can walk in to a store, find what they want and head to the register, requiring only their face and a moment's conversation to purchase something" [WaPo]. Wow! Ubiquitous facial recognition! What could go wrong?
"San Bernardino DA says seized iPhone may hold " [Ars Technica]. Damn. What's that high-pitched warbling noise?
"It's really anyone's best guess as to what Google is doing testing a 100KW transmitter in the middle of New Mexico" [9to5Google]. Well, they're not improving their crapified customer service or search results, that's for sure.
"A drone came within 5 meters (16 feet) of a potentially catastrophic collision with an Air France jet landing at Paris Charles de Gaulle airport in the closest encounter yet between one of the remotely operated devices and a civil airliner" [Bloomberg].
This year is Alfred E. Neuman's Sixtieth Birthday [Paris Review].
"The Dog Thief Killings" [Roads and Kingdoms]. Wonderful long-form read for Southeast Asia hands, and for those interested in how class issues play out generally.
* * *
Readers, feel free to contact me with (a) links, and even better (b) sources I should curate regularly, and (c) to find out how to send me images of plants. Vegetables are fine! Fungi are deemed to be honorary plants! See the previous Water Cooler (with plant) here. And here's today's plant (margrave):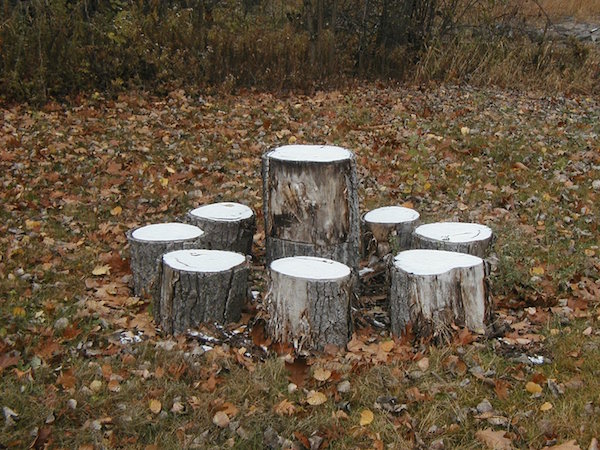 I like a rotting stump; it's a tiny little ecology.
* * *
If you enjoy Water Cooler, please consider tipping and click the hat. Water Cooler would not exist without your support.