It's frustrating to see a group that is dedicated to good causes, and has chosen a deserving target, go off the rails in trying to make its case. Worse, like minded individuals who are hungry for backup for their beliefs, and who cite half-baked studies play into a stereotype that the Powers That Be are keen to promote: "Those who deny that we are living in the best of all possible worlds don't know what they are talking about."
Today's object lesson is a report by Oxfam, Extreme Wealth is Not Merited" by Oxfam. Author Didier Jacobs works through some assumptions (more on that shortly) and comes to the implausibly precise estimate that 74% of American billionaires' wealth comes from rent seeking (oddly, the chart from which you can compute that result is in the webpage summarizing the paper but not the paper proper). And mind you, there are good efforts on this front. Later this week, we'll discuss a recent paper on inequality that hasn't gotten the attention it deserves that is much more careful and more important, points to concrete policy measures.
This isn't the first report by Oxfam on wealth that has been criticized for simplistic-to-the-point-of-being-misleading statistics.
Now of course, it's not hard to agree that a sizable portion of the current top wealth comes from rent extraction of various sorts, given the correlation in time frames between deregulation, greatly weakened anti-trust enforcement, and the dramatic rise in concentration of wealth and incomes in the US. But just because a piece of work confirms one's prior beliefs does not mean it's sound.
This report has such significant conceptual flaws that it's better to address them than get down in the weeds of lower-level issues.
Estimating how much income or wealth comes from rent extraction is an impossible exercise. Oxfam was beaten before it started. Even if you could get the right data, how do you draw the line between supposedly virtuous profit-seeking versus rent extraction? Let's start with your cable bill. Some portion of that does represent the actual cost of the service, an adequate return on capital and justifiable profit margin. But even figuring that out is not trivial. And then you need to aggregate that across companies and industries and figure out how that maps into the wealth of the richest.
At a higher level of abstraction, having a business that achieves sustainable profits over time entails creating or exploiting market inefficiencies. Perfectly efficient markets generate thin to no profit. Now creating profitable niches can create wins for the customer, like putting a convenience store on a freeway, where people will pay a ridiculous amount for a soda or a candy bar or gas because the next opportunity is a hundred mile away because they need whatever they need now and accept that running a store in the middle of nowhere doesn't have the greatest economics even with those high prices. Another example is a fashion designer that creates a particular look that appeals to a group of customers who come to buy clothes from that designer regularly. But most large-scale enterprises benefit from all sorts of subsidies, which raises the question of whether what they give (in terms of price, product/service quality and taxes and fees paid to the government) is fair? It's doubtful that one can set a clear boundary even in narrow cases.
And even when companies engage in abuses of market power, like requiring customers to sign agreements that have them give up their right to litigate, how do you determine what that is worth in any particular case?
Rentier activity is a lot like pornography: hard to define in a way you can operationalize, but you know it when you see it.
This conundrum illustrates why almost always a bad idea to try to come up with single point estimates of complex phenomena. If you do attempt to put metrics on them, its better to measure what you can measure reasonably well, paramaterize other important issues as best you can, and make qualitative conclusions.
One example of why this exercise is fraught: While the paper shows estimates of what percent of activities of various industries come from rents, the industry definitions are so broad as to be meaningless. What is "finance"? That ranges from useful but somewhat overpriced retail banking to socially useful lending and capital raising to generally excessive secondary market trading (other economic studies have found the resources devoted to trading are to the detriment of economic growth). Yet even though too much in the way of economic resources goes into casino capitalism, it does not follow that your discount brokerage account enables some rent-seeker on the other side (as in "rent-seeking" is a subseet of "socially unproductive" and that might have been the better frame of reference).
Moreover, there are other issues with how "finance" is categorized. The Oxfam report does correctly, based on other research, depict it as heavily subsidized by government. It fails to consider the fact that "finance" has gotten more than occasionally been involved in criminal activity, such as money-laundering and bid rigging (both on mass scales), mortgage and foreclosure fraud, and debt collection abuses.
And the report omits that the biggest winners, in terms of entry into the billionaire's club, have been hedge fund and private equity fund managers. They enjoy massive tax subsidies, something the report fails to mention.
Now the paper could still have approached this exercise with the modesty that befits what they sought to achieve versus the limited means (data and resources) they had to devote to this exercise. There's still merit in exercises meant to stimulate more research and debate. But this article reaches conclusions that are far too firm for the nature of the exercise.
The article reinforces the shibboleth of meritocracy. This is simply stunning. Jacobs states the he is putting aside theories of social justice and accepts the framing of Greg Manikw, that "no one objects" when wealth is perceived to have been fairly earned:
My sense is that people are rarely outraged when high incomes go to those who obviously earned them. When we see Steven Spielberg make blockbuster movies, Steve Jobs introduce the iPod, David Letterman crack funny jokes, and J.K. Rowling excite countless young readers with her Harry Potter books, we don't object to the many millions of dollars they earn in the process
This happens to be a US perspective on this matter. Most of rest of the world does not treat the workings of capitalism or the wealthy with the same reverence as Americans. It's not hard to understand that many people work hard and have talent, yet only a few stumble into the circumstances that allow for them to earn exceptional, or even very good, incomes.
Mind you, Jacobs is not using meritocracy as a straw man. He astonishingly asserts that the economy operates on a meritocratic basis….except for the really rich (and those stuck in poverty traps:
Market pay does generally reflect talent, effort, and risk-taking—but not at the extremes. For all the imperfections of our market economies and of the government policies that underpin them, middle-class people are roughly compensated on merit: an architect who is marginally better than another is likely to earn marginally more, and likewise for most professions and trade.
In other words, Jacob's framing does not just unwittingly reinforce "meritocracy" as attainable attainable and desirable. He claims, with no foundation, that many people's pay reflects what they are worth.
Yet as we discussed at length in a 2006 article in The Conference Board Review, meritocracy is unachievable. It's a myth that legitimizes disparities in income and status. As we wrote:
The Illusion of Meritocracy
OK, so diversity programs may not serve the people they are designed to help. One of the reasons is that these initiatives are assumed to undermine merit-based hiring and promotion. Indeed, as Barres points out, citing research, "When it comes to bias, it seems that the desire to believe in a meritocracy is so powerful that until a person has experienced sufficient career-harming bias themselves they simply do not believe it exists." But the idea that an organization can be truly meritocratic is, alas, a fiction.

On a practical level, the best a company can hope for is that, taken as a whole, the people it hires and promotes are "better"—as defined by the company—than the people it rejects. On an individual level, the role of luck, combined with inherent shortcomings of performance-appraisal systems, make it impossible to have confidence in the fairness and accuracy of any particular staffing decision….

Now, for most people, it's well nigh impossible to pick apart the importance of ability versus good fortune. Yet early career decisions and moves often have an arbitrary element (a young person takes a rotation into a new area that takes off, or has a bad run of assignments and gets discouraged) that can influence later career success.

Other factors can thwart an organization's meritocratic efforts (many of these observations derive from a 1992 paper by Patrick D. Larkey and Jonathan P. Caulkin, "All Above Average and Other Unintended Consequences of Performance Appraisal Systems"). Many people, for instance, run up against conflicts between individual and organizational interests. Implicitly, any employee's job is to serve his boss, when his check is actually being cut by the company. If the employee views his role as being different than his boss sees it, the boss's view prevails, whether or not it is correct. In an extreme case, if the boss wants the employee to run personal errands, and the employee refuses, he runs the risk of getting a negative review.

There's the Peter Principle conundrum that the skill requirements at one level may bear little relationship to the demands of the next. You've heard the old chestnut, "Promote your best salesman, and you lose a good salesman and gain a lousy manager." But this situation puts bosses in a real bind. If you promote the person who is best in a department, his skills may fall woefully short of the requirements of his new role. But if you promote the person you deem best suited for that job, and not the top performer at his current role, you will demoralize his former peers, create resentment against him (undermining his authority and effectiveness), and raise questions about your judgment.

And then there are difficulties in ranking employees across organizational units. Even though organizations want consistent ratings firmwide, it's a practical impossibility. There are considerable barriers to a manager giving his staff member honest and useful feedback that lead to inflated ratings. They have an ongoing relationship; and thus both sides do not want the review process to create friction. Yet most employees have an inflated view of their achievements, which predisposes them to doubt, perhaps even resent, a truthful appraisal. And since the assessment of a job of any complexity is largely subjective, it's difficult forthe boss to defend a rating that is at odds with the employee's self-assessment. In addition, managers consider themselves at least partly responsible for their subordinate's performance. Thus a low rating reflects badly on them.

The consequences are profound. It means that the typical defense against the failure to achieve diversity, that the company was in fact hiring and promoting based on achievement, is hollow. These systems not only are subjective (inherent to most ratings) but also often lead to capricious, even unfair results.

And there is evidence that subjective processes set a higher bar for minorities and women. For example, a 1997 Nature paper by Christine Wenneras and Agnes Wold, "Nepotism and Gender Bias in Peer-Review," determined that women seeking research grants need to be 2.5 times more productive than men to receive the same competence score. In 1999, MIT published the results of a five-year, data-driven study that found that female faculty members in its School of Science experienced pervasive discrimination, which operated through "a pattern of powerful but unrecognized assumptions and attitudes that work systematically against female faculty even in the light of obvious good will."

So here you have the worst of all pos sible worlds. You want to achieve diversity, if for no other reason than to forestall lawsuits and present a better face to your customers. Yet you have long believed the main reason is that you haven't been able to find enough "talented" members of the various groups to fill out your managerial ranks. But your performance-appraisal system is subjective and probably unreliable, and the complex nature of organizations means that who rises is largely arbitrary, and it is likely that "out" groups are subject to higher performance standards. All this to say that women and minorities' frustration at their failure to achieve reasonable representation may well be completely justified. Your organization may be guilty as charged.
Mind you, if it is impossible within an organization, even assuming diligent and well-intentioned management, to achieve meritocracy, how can it possibly be a reasonable expectation across society?
A key analytical framework is hopelessly flawed. This is how Jacobs sets his hierarchy of rent extraction: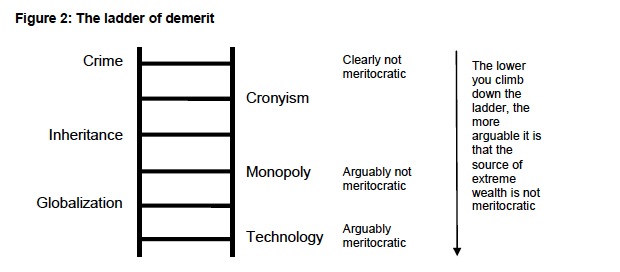 First, these categories are analytically sloppy. Even though they include many of the explanations given for inequality, they aren't even close to a mutually exclusive, collectively exhaustive list of opportunities for rent extraction. They are incommensurable. A classic and more obvious example comes from the what is purported to be an ancient Chinese encyclopedia, the Celestial Emporium of Benevolent Knowledge, as reported by Jorge Luis Borges. Per Wikipedia:
The list divides all animals into one of 14 categories:

Those that belong to the emperor
Embalmed ones
Those that are trained
Sucking pigs
Mermaids (or Sirens)
Fabulous ones
Stray dogs
Those that are included in this classification
Those that tremble as if they were mad
Innumerable ones
Those drawn with a very fine camel hair brush
Et cetera
Those that have just broken the flower vase
Those that, at a distance, resemble flies
And as we alluded to earlier, that's before you get to the fact that Jacobs seems to regard criminal activity as only successfully prosecuted criminal activity, like drug dealing or Ponzi schemes.He fails to acknowledge criminal activity that is a meaningful component of the activity or strategy of a company. For instance, Jacobs accepts the Greg Makiw view of Steve Jobs as someone whose wealth was fairly earned. Yet Jobs was at the center of a wage-fixing operation. Price fixing is criminal. In the mid 1990s, five companies were investigated for price fixing in the lysine market, which resulted $105 million in criminal fines and three executives at the company most deeply involved, ADM, going to prison. But this is the new millennium and Silicon Valley icons like Steve Jobs, Eric Schmidt and George Lucas are too famous to jail.
Finally, Jacobs seems to greatly underestimate the degree to which large swathes of "technology" depend on government subsidies. All 12 of the core technologies in the iPhone were developed by the government. Yet Apple goes to great lengths to avoid paying taxes in the US. Similarly, as we've mentioned regularly, Big Pharma also benefits from ample government support and R&D tax breaks, yet also shifts profits offshore when they arrive.
The article exhibits a limited understanding of how commerce works. So as to avoid taxing reader patience, here is one illustration:
Economies of scale are a technological reality in all industries: division of labor increases productivity. Some of the lower cost is passed on to consumers; the rest is kept by the company's owners.
Sweeping and inaccurate generalizations further undermine the credibility of this work. There are plenty of cases where economies of scale do not operate because the increased supervision/coordination costs more than offset whatever benefit is derived from narrowing job tasks. Banking is a classic. Studies have consistently found that banking exhibits an slightly increasing cost curve (as in it shows diseconomies of scale) once a certain size threshold is achieved; the research differs only on where that size level sits.
I wish this discussion were tidier, in that flawed research provides useful grist for critical thinking. But this paper's weaknesses are so fundamental that it's hard to talk about them in as crisp a manner as I'd like. The flip side is there is a good deal of solid thinking being done in this area and so there's no dearth of research that makes a powerful case that we'd all be better served, including the rich*, if their wealth was reined in.
____
* See here for details.