By Lambert Strether of Corrente.
TPP/TTiP/TISA
"Medicines New Zealand chair Heather Roy, a former consumer affairs minister, has indicated drug companies may not bother to register drugs here unless the government makes more concessions on the TPP" [Scoop].
"It's time to give TTIP a chance" [Manfred Weber, Politico]. "We must now talk to citizens, take up their concerns and show how much we care." Articles like this are suddenly all over the place. Somebody must have written a lot of checks.
"The mutual recognition of standards was always a benefit of the trade agreement. The Federation of German Industries (BDI) even produced campaign videos featuring production managers explaining the cost savings that will follow if they no longer have to worry about the extra inspections and certifications when exporting to the US" [Correctiv]. "Even critics of TTIP agree this makes sense. But it is becoming more and more clear that these benefits are not likely to be included when the agreement is accepted. … The American side cannot mandate the removal because each individual state decides how products are approved." Hence, support for TTIP is "crumbling" among medium-sized German businesses (who are assuming trade deals are about trade).
"Chevron lobbied the EU to give foreign investors the legal right to challenge government decisions in a major US-EU trade deal because it would act as a deterrent against laws such as fracking bans, the Guardian can reveal" [Guardian].
2016
Policy
"When you hear Hillary Clinton repeatedly tell the public that she wants to continue along the same pathways as President Obama and that the restoration of the Glass-Steagall Act is not needed, let the image of Goldman Sachs Bank USA and its FDIC insurance logo and its $41 trillion in derivatives come to mind" [Wall Street on Parade]. "According to the [December 31, 2015 OCC] report, the credit exposure from derivatives versus the bank's risk-based capital is as follows: JPMorgan Chase 209 percent; Bank of America 85 percent; Citibank 166 percent and Goldman Sachs (wait for it) – a whopping 516 percent." Wait, what? I thought the big banks weren't playing the ponies any more?

"They Made Him a Moron The strange career of Alec Ross" [Evgeny Morozov, The Baffler]. Fun stuff. Ross entered ClintonLand…
Voters
"More than half of American voters believe that the system U.S. political parties use to pick their candidates for the White House is "rigged" and more than two-thirds want to see the process changed, according to a Reuters/Ipsos poll" [Reuters]. I've been listening to a podcast on the Civil War that includes an episode on the Lincoln Douglas debates. At that time, Senators were elected by State legislatures, and although Lincoln won the popular vote, he lost the state legislature due to Democrat gerrymandering and over-representation. Plus ça change…

"WASHINGTON – Tom Steyer, the billionaire environmentalist who spent millions to help elect Democrats in 2014, Monday launched a $25 million campaign to drive the youth vote in November's presidential and congressional elections" [USA Today]. Another squillionaire with a bright idea. Look, if the Democrats wanted voter registration drives to happen, they would already have happened, right? Along with getting people free Voter IDs, that would be normal behavior for an actual, functioning political party that wasn't simply an ruling class epiphyte sucking money as if it were air.

"Obama has presided over a greater loss of electoral power for his party than any two-term president since World War II. And 2016 represents one last opportunity for him to reverse that trend" [WaPo].

Between 2008 and 2015, Democrats lost 13 Senate seats, 69 House seats, 913 state legislative seats, 11 governorships and 32 state legislative chambers, according to data compiled by University of Virginia professor Larry J. Sabato.

The dogs won't eat the dogfood. It's not a money problem at all, as the Sanders campaign proves.

"'Insurance Warrior' helps patients get pricey therapies covered" [Stat]. Makes me wonder if constituent services could be unbundled from the political parties and delivered by, say, some new standalone organization on the left.
Our Famously Free Press
"Devolution watch: Maddow's problem with the truth!" [Daily Howler]. The Howler can be a little… acerbic, but he's been at the media critique since Bush v. Gore.

"Bernie Sanders and the Politics of Doom" [Vice]. By a Senior Editor:

[Sanders] has been out there telling the kids that they are f*cked, in so many words. "Forty years ago, before the explosion of technology… before the global economy, it was possible in America for one person, one breadwinner, to earn enough money to take care of the entire family," he began one of his riffs Tuesday. "Today, mom is out working, dad is out working, the kids are out working, and they have less disposable income than a one-breadwinner family had forty years ago. Something is wrong with our economy." That last line, , brought on a massive applause break as Sanders sipped from a glass of water.

"Believe it or not." These guys really are totally out of touch.
PA, MD, CT, RI primaries
Readers, I should have more on yesterday's primaries, but the press coverage was so corrosive that my yellow waders sprung a leak. What I would like to know, for the Democrat campaign, is whether the New York pattern of strong support for Clinton from the credentialled classes, and weaker support for Clinton from the poor, continued, especially in PA. However, the screaming for Sanders to drop out (as in Frank Bruni's column today that Yves linked to), and the insistence that Trump hadn't clinched it, was so vehement I had problems finding any real news. Lots of noise, very little signal.

"Before a boisterous crowd of 1,300 in Philadelphia, Clinton asked Democrats to imagine a more hopeful, compassionate country 'where love trumps hate'" [WaPo]. So much wrong with here, even ignoring the tiny (paid?) crowd. I mean, there are operational definitions for making our country more loving: Not killing its citizens, or ensnaring them in debt, or paying them wages below what it takes to live (Medicare for All, tuition-free college, $15/hour minimum wage). Clinton is purveying offensively sentimental slop.

"Sanders vows to go all the way, but signals a new focus on influencing Clinton" [Politico]. And when he finds that can't be done? Nevertheless:

"That is why this campaign is going to the Democratic National Convention in Philadelphia with as many delegates as possible to fight for a progressive party platform that calls for a $15 an hour minimum wage, an end to our disastrous trade policies, a Medicare-for-all health care system, breaking up Wall Street financial institutions, ending fracking in our country, making public colleges and universities tuition free and passing a carbon tax so we can effectively address the planetary crisis of climate change," he continued.

If this pulls the Overton Window left, then good.

"Sanders found a silver lining Tuesday in Rhode Island, where he notched a victory in the nation's smallest state. It's not much, and worth little in terms of delegates, but his disheartened supporters will happily take it" [NBC]. I wonder what the difference was? Rhode Island is notoriously corrupt; perhaps the Sanders message resonated for that reason?
Money
"During a rally at World Café Live at the Queen on Market Street, [U.S. Sen. Tom Carper, D-Delaware] offered support for the presidential candidate with a rendition of the Donna Summer classic "She Works Hard For the Money'" [Delaware Online]. More confirmation of the idea that they really don't think they're doing anything wrong.

What does Bernie's attitude toward campaign finance mean for Hillary?" [The New Yorker].

Clinton needs to find her voice on the question of campaign finance—to talk more about money, not less—because valid doubts about the integrity of the system are fuelling Trump's campaign, too. That won't change if Bernie is gone.

What we are hearing is Clinton's voice. It's also the voice of the professional part of her base. Remember this from Thomas Frank:

Everyone strode with polished informality about the stage, reading their lines from an invisible tele­prompter. And back and forth, the presenters called out to one another in tones of supportiveness and sweet flattery. … Those were just the first few minutes. It kept on like that for hours. When someone's "potential" was mentioned, it was described as "boundless." People's "stories" were "compelling" when they weren't "inspiring," "incredible," or "incredibly inspiring." A Kenyan activist was introduced as "the incomparable."

Happily trapped in their glittering bubble, they genuinely believe they are not corrupt.
The Trail
UPDATE "Poll: Trump, Clinton face divides in their parties even if they win nominations" [USA Today]. "Sanders finds himself on solid ground among Democrats on some issues. Even if Clinton clinches the nomination, "

"Clinton's tricky task now: Can she ignore Sanders?" [McClatchy].

UPDATE "Today Is Clinton's Chance To End The 'Groundhog Day' Campaign" [FiveThirtyEight]. Nate's b-o-r-r-r-e-d. Call the whaaaambulance!

UPDATE "You quit the party, and you make it a little easier for the assh*les in the Democratic Party to remain in control. They want you to quit. Please don't" [Kos, Daily Kos]. Beg, Kos. Grovel. We like that. You're not doing it nearly enough. Try harder.

"Before 'unity,' Sanders must stay in the fight" [Katrina vanden Heuvel, WaPo].

Before endorsing Clinton, for example, Sanders could force platform debates and move the party toward more progressive stances on tuition-free higher education, the minimum wage, corporate trade deals, money in politics and foreign policy. He also could call for new rules to make future primaries more transparent and democratic, such as reducing the role of unelected superdelegates.

Just because Clinton said "Never, ever" on Medicare for All is no reason for vanden Heuvel to leave it off her list.

"Bernie Sanders is no fool. He'll back Clinton when he drops out" [Dana Milbank, WaPo]. "Sanders sounded like an Monday night when he said Clinton, if she won the nomination, would have to earn his supporters' votes by embracing single-payer health care, free college tuition and a carbon tax — all things Clinton rejected in her (successful) campaign against Sanders." Heaven forefend the left should exercise some political muscle! Or run a policy-based campaign.

"Contested primaries are, by definition, contentious. That provides a natural disinclination to view opponents charitably. The question is whether or not supporters of losing candidates will end up backing the other candidate from the same party. Or if, once again, 2016 will prove to be exceptional" [Philip Bump, WaPo]. "We know better by now than to try and predict that." One reason 2016 is not like 2008 is that the distinction between Sanders and Clinton is very much based on policy. The idea is that voters "come home" to the Democrat Party, but what if you want to leave home?

"A New York judge ruled Tuesday that a fraud lawsuit brought by the New York attorney general against Donald Trump and his real estate school will go to trial, setting up a potentially unprecedented situation that could feature the Republican presidential front-runner taking the stand" [Wall Street Journal, "Trump University Fraud Suit to Go to Trial, Judge Rules"]. Boy, New York AG Eric Schneiderman's really being a bulldog on this case, isn't he?
Stats Watch
MBA Mortgage Applications, week of April 22, 2016: "Purchase applications are not pointing to Spring acceleration for the housing sector" [Econoday].
International Trade in Goods, March 2016: "Trade activity slowed sharply in March though the deficit narrowed, down a sharp 9.5 percent to $56.9 billion vs February's $62.9 billion. Exports fell 1.7 percent to $116.7 billion with consumer goods showing a steep decline together with wide declines for industrial supplies, autos, and foods" [Econoday]. "A positive, however, is a 1.5 percent uptick in capital goods exports, one that follows a smaller gain in February and hints at resiliency for global business investment. But the import side of the report points at declining domestic demand with consumer goods down a very steep 9.1 percent." Best economy ever. I'm sure there won't be any stumbles until after November 7.
Pending Home Sales Index, March 2016: "Growth in the housing sector this year has been mostly soft though today's pending home sales report does hint at greater strength ahead." [Econoday]. "Sales data show little momentum going into the Spring selling season."
"Apple Inc (AAPL.O) on Tuesday posted its first-ever decline in iPhone sales and its first revenue drop in 13 years as the company credited with inventing the smartphone struggles with an increasingly saturated market" [Reuters]. "The company's sales dropped by more than a quarter in China, its most important market after the United States, and it also forecast another disappointing quarter for global revenues."
Shipping: "We now have an industry full of insolvent and bankrupt shipping companies that have a fleet, in excess of demand of more than 30% in some sectors, whose revenues do not meet operating expenses and whose ship values have greatly reduced" [Splash247]. The answer is, of course, consolidation….
The Fed: "The Fed Is Meeting in April to Talk About June" [Bloomberg].
Helicopter Money: "To get out of a slump, the world's central banks consider handing out cash" [The Economist, "Money from heaven"]. "Advocates of helicopter money do not really intend to throw money out of aircraft. Broadly speaking, they argue for fiscal stimulus—in the form of government spending, tax cuts or direct payments to citizens—financed with newly printed money rather than through borrowing or taxation." "Rather than" [snort].
Today's Fear & Greed Index: 72, Greed (previous close: 71, Greed) [CNN]. One week ago: 75 (Greed). (0 is Extreme Fear; 100 is Extreme Greed). Last updated Apr 27 at 12:10pm. Greed is a sin. Sin boldly, for pity's sake!
Gaia
"Japanese Monks Recorded the Climate for 700 Years" [National Geographic].
Health Care
"How Medicaid forces families like mine to stay poor" [Vox]. "You'll have to get rid of everything." Remember, ObamaCare forces you into Medicaid. Remember also that Operative K thinks Medicaid is The Answer ("I Have Seen The Future, And It Is Medicaid"). The essential point here is that Medicaid isn't Operative K's future.
"Study Reveals That Giving Poor People Health Insurance Reduces Their Medical Debt" [New York Magazine]. So imagine what Medicare for All would do.
Police State
"The NYPD Is Running Stings Against Immigrant-Owned Shops, Then Pushing For Warrantless Searches" [Econintersect (Pro Publica)]. In poor neighborhoods, naturally. "At least a third of the East Harlem businesses agreed in their NYPD settlements to install cameras that the police could access upon request, and half to use the electronic card readers." And you've got to maintain the cameras, or else you get fined.
Our Famously Free Press
"The Mainstream Media's Big Disconnect: Why They Don't Get Middle America" [Bill Moyers]. "The most powerful [political journalists] – the ones you read, see and hear the most – constitute an elite so far removed that it could only understand us through the most aggressive sympathetic imagination. And that is not going to happen." They won't be the ones that lose their jobs either, since they're brands.
"What I Learned About the Washington Post From Four Years Collecting Data on Police Violence" [Gawker]. Nothing good. This is an important post on how the Pulitzer sausage is made. How does Wesley Lowery live with himself?
Corruption
"Obama's Controversial Offshore Drilling Proposal Rests On Research Funded By Fossil Fuel Industry" [International Business Times].
"Grant Park Rental Worth $3.2 Million, But NFL To Pay $103,000" [DNA Info Chicago].
Class Warfare
"How the state of the economy is literally killing people" [New York Post]. As we know from the Case-Deaton study, among others. So how come we read this in the pages of the post? Why aren't the "liberal media" focusing like a laser beam on this?
"'Public education…could die on our watch," [Keron Blair of Alliance to Reclaim Our Schools] said at a recent event for the Milwaukee Teachers Association. 'The reality is what drew me to this fight is the shared acknowledgement that we are in fact at war, and what I've learned about wartime is that you cannot operate with the same kind of rules. You've got to make some wartime adjustments"' [Think Progress].
"New report raises chilling possibility that mystery of 43 Mexican students' disappearance will never be solved " [Los Angeles Times]. And in a way, that means it is solved. Eh?
"One Texas judge is responsible for most of the student debt-related arrests in America" [Fusion]. Well, that's a relief.
"China's first intelligent security robot debuts in Chongqing" [People's Daily]. Hmm. I wonder if the Chinese government has any pressing need for this technology?
News of the Wired
"Companies such as Apple, Google and the education publisher Pearson will be allowed to award cut-price degrees to British students under proposals to be announced in a white paper next month. " [London Times].
"Nearby massive star explosion 30 million years ago equaled detonation of 100 million suns" [Phys.org].
"How the world's leading authority on the English language used Google to write the most comprehensive treatment of English usage ever published" [Business Insider].
"How to Save a Dying Language" [Smithsonian]. Aramaic.
* * *
Readers, I still need to fix my fershuggeneh contact form! Hopefully noting that fact publicly will serve a lash and a spur to my endeavors. (Meanwhile, thanks to readers, who already have my email address, who sent in images of plants!)
See the previous Water Cooler (with plant) here. And here's today's plant (Keith):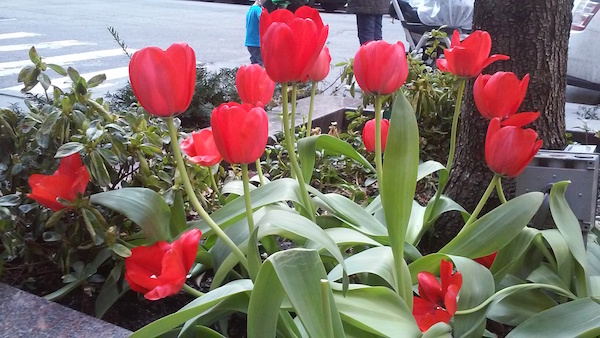 Keith writes: "Tulips. Found on Wall Street. Amusing."
* * *
Readers, Water Cooler will not exist without your regular support. Your tip will be welcome today, and indeed any day. If you enjoy what you're reading, please click the hat!