By Lambert Strether of Corrente.
TPP/TTiP/TISA'
"The Transatlantic Trade Investment Partnership as a Foreign Policy Tool (PDF) [Council on Foreign Relations]. Note this chart: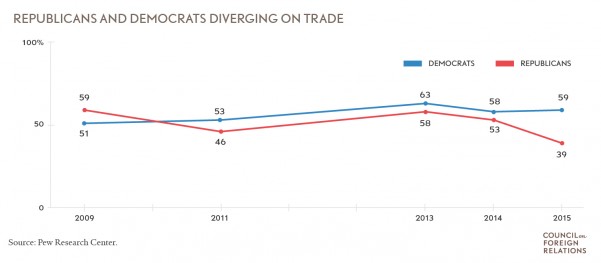 2016
Policy
"Trump Repeats Hoax Story About Shooting Muslims With Pigs Blood to Rapturous Applause" [Mediaite]. Of course, intellectually and morally, the fables of neoliberalism have exactly the same status as Trump's "hoax story." But then, they get "rapturous applause" from Very Serious People.

"The definition of acting "presidential" – for denizens of the White House and even their pets – has, at times, been stretched. But as Donald Trump struggles with admonitions from advisers who want the pugnacious Republican front-runner to ratchet back his freewheeling bombast, those who study the presidency say he's got a long way to go" [McClatchy]. I think the more interesting question is whether Trump is a fascist. Thing is, I'm so old that I remember when there was a serious critique of Bush as a Fascist (2003-2006) based on his usurpation of executive power. Heck, Bush matched the checklists! Of course, that critique died instantly when Obama took office and proceed to normalize and legitimize everything Bush did. (Heck, it died in 2006 when Pelosi took impeachment off the table.) So, when I hear career "progressives" crying "Fascism!" I remember that episode.
The Voters
"The 2016 presidential season will only be of historical significance if it leads to a fracturing of the duopoly electoral system in the United States, a 'trap within a trap' in which the rich control both parties – one of which is always the overt party of white supremacy" [Black Agenda Report].

Sanders: "'The Democratic Party has to reach a fundamental conclusion: Are we on the side of working people or big-money interests?' Mr. Sanders asked the crowd. 'Do we stand with the elderly, the children, the sick and the poor? Or do we stand with Wall Street speculators and the drug companies and the insurance companies? Now our job is not just to revitalize the Democratic Party, not only to open the doors to young people and working people — our job is to revitalize American democracy'" [New York Times]. The headline: "Bernie Sanders, Shifting Tone, Takes On Democratic Party." I know that's the narrative the political class wants; they are now in that stage of the campaign where they're pulling the wings off flies — those candidates deemed losers. (In 2008, they started doing this to Clinton in February.) But it's not clear to me this is a tone shift at all: Clinton is, after all, the embodiment of the Democrat Establishment.

"Former Bernie Sanders Staffers Seek To Elect A 'Brand New Congress'" [HuffPo]. "Though it could be challenging to find Republican candidates who won't flee from any affiliation with former Sanders supporters, the PAC hopes to recruit Republicans to run in districts hostile to Democrats. " [Salon] comments:

Sanders has yet to endorse the group, but I suspect he will after the election – and he should. His campaign has shown that the country will respond to a progressive platform if it's couched in the right terms. Sanders has outraised the Clinton machine for three consecutive months on the backs of small individual donors and despite being far behind in the delegate count. He's amassed a two-million-person donor list, which can be used to leverage support for progressive House candidates nationwide. That Sanders, a relative unknown on the national stage a year ago, could accomplish this much this quickly says something significant about the mood of the country.

Yes, the Sanders list is a big issue in the game. Hope the DNC doesn't steal it.
Corruption
"[The] key argument of the right-wing justices in Citizens United has now become the key argument of the Clinton campaign and its media supporters to justify her personal and political receipt of millions upon millions of dollars in corporate money: 'Expenditures, including those made by corporations, do not give rise to corruption or the appearance of corruption" — at least when the candidate in question is Hillary Clinton'" [The Intercept]. It's not clear to me how the Unity Bandwagon squares this circle, particularly since Obama's nominee to the Supreme Court, Merrick Garland, has taken no position on Citizen's United.
The Trail
"In a hypothetical Clinton v. Trump contest in November, voters under 35 [in a a new USA TODAY/Rock the Vote poll] would choose Clinton by a crushing 52%-19%, a preference that crosses demographic lines. Among whites, she'd be backed by nearly 2-1, 45%-26%. Among Hispanics, by more than 4-1, 61%-14%. Among Asian Americans, by 5-1, 60%-11%. Among African Americans, by 13-1, 67%-5%. And the yawning gender gap she has against Sanders would vanish: Clinton would carry young men and women by almost identical margins of more than 2-1" [USA Today].

"Mapping the 2016 Electorate: Demographics Don't Guarantee a Democratic White House" [Cook Political Report].

"Hillary Clinton Campaign Offers Supporters A Literal 'Woman Card'" [Talking Points Memo]. Whoever heard of a cash card with the swipe stripe on the front?

"Here Comes The Victim" [Blind Gossip].

"A top Clinton supporter explains how Hillary and Bernie can make peace" [Greg Sargent, WaPo (April 26)]. DiFi to open her "manse" for peace talks.

Clinton responded that she had not demanded that Obama meet any "conditions" when she endorsed him in 2008 after a bitter, hard fought primary.

If she's saying that, non-disclosure was part of the deal. Honestly, does Sargent think his readers are little children?

"The end is near: Clinton and Sanders camps quietly signal resolution" [Greg Sargent, WaPo (April 28)]. If Sanders offers the Clinton camp anything, he'd better feed it to them on a long stick. Because if he doesn't, they'll take his hand off at the shoulder.

Here is the intraparty dynamic at play [Greg Sargent, WaPo (September 23, 2010)].

Top Obama adviser David Axelrod got an earful of the liberal blogosphere's anger at the White House moments ago, when a blogger on a conference call directly called out Axelrod over White House criticism of the left, accusing the administration of "hippie punching."

"We're the girl you'll take under the bleachers but you won't be seen with in the light of day," the blogger, Susan Madrak of Crooks and Liars, pointedly told Axelrod on the call, which was organzied for liberal bloggers and progressive media.

The call seemed to perfectly capture the tense dynamic that exists between the White House and the online and organized left: Though White House advisers in the past have dumped on the left, anonymously and even on the record, Axelrod repeatedly pleaded with the bloggers on the call for help in pumping up the flagging enthusiasm of rank and file Dems.

"You play a great role in informing people about the stakes of elections," Axelrod told the bloggers. "One of the reasons I was eager to expend time was to enlist you."

But hovering over the call was the obvious disconnect between this plea for help and statements like those of Robert Gibbs, who recently pilloried the "professional left" for being overly critical of the White House.

That tension burst out into the open when Madrak directly asked Axelrod: "Have you ever heard of hippie punching?" That prompted a long silence from Axelrod.

"You want us to help you, the first thing I would suggest is enough of the hippie punching," Madrak added. "We're the girl you'll take under the bleachers but you won't be seen with in the light of day."

From my Twitter feed, this has not changed.

"Donald Trump's breathtaking romp through the Northeast corridor on Tuesday points to a fundamental shift in the GOP race. Once thought of as a candidate with a low ceiling, Trump won all but eight of the 119 bound delegates at stake in Connecticut, Delaware, Maryland, Pennsylvania and Rhode Island. His smallest margin of victory was 30 points, and he carried all 34 congressional districts and all 107 counties" [Cook Political Report]. "For the first time since mid-March, he's ahead of where we estimate he needs to be to reach 1,237 delegates and clinch the GOP nomination. In fact, current polling in the remaining ten states is consistent with a scenario in which Trump could capture as many as 1,400 delegates by June 7. Indiana is now a must win for Ted Cruz and the #NeverTrump movement, but the odds of a contested convention have dramatically declined."

"Growing acceptance of Trump is due in part to Republicans' fear that a contested convention will damage the party beyond repair. Dick Wadhams, the former Colorado party chairman, told the Post that "More and more people hope he wins that nomination on the first ballot because they do not want to see a convention that explodes into total chaos. People just want this to be over with, and we need a nominee" [New York Magazine].

"[N]ot perhaps since George McGovern in 1972 has a presumptive nominee so signally failed to carry the most committed members of his party with him" [David Frum, The Atlantic]. "So what happens now to those who regard themselves as party thought-leaders? Do they submit? Or do they continue to resist?" ZOMG!!! An actual, not ironic usage of "thought leader"!
Stats Watch
Personal Income and Outlays, March 2016: "Spending is weak [autos] but income is solid" [Econoday]. "The wages & salaries component rose a very solid 0.4 percent in the month while the savings rate rose 3 tenths to 5.4 percent. This matches the highest rate of the last three years."
Consumer Sentiment, April 2016: "April was a downbeat month for consumer sentiment" [Econoday]. "This decline points to uncertain confidence in the jobs and income outlooks. But the assessment of current conditions is still holding in, up more than 1 point." And: "The general trend in the Michigan Sentiment Index since the Financial Crisis lows has been one of slow improvement.The survey findings since December 2015 have seen a gradual decline with January 2015 remaining the interim peak" [Econintersect].
Employment Cost Index, Q1 2016: "Wages, not benefits, are driving up costs for employers as the first-quarter employment cost index rose 0.6 percent following gains of 0.5 and 0.6 percent in the prior two quarters" [Econoday]. "The rise in wage costs in this report, mirrored by actual wage gains in this morning's personal income & spending report, will definitely catch the eye of Federal Reserve policy makers who are counting on wage pressures to build and give a badly needed lift to overall inflation."
Chicago PMI, April 2016: Flat [Econoday]. "Growth in new orders has slowed while backlogs are down sharply. These readings do not point in the coming months to strength for production or employment which are already soft." And: "The Chicago Business Barometer which recently has spent more time in contraction than expansion barely remained in expansion. This survey came in below expectations" [Econintersect].
Shipping: "The deceleration in the rail rolling averages began one year ago, and now rail movements are being compared against weaker 2015 data – and it continues to decline" [Econintersect]. Note this applies to carloads, not just intermodal (which was affected by last year's strike).
Banks: "A trade group for the nation's largest banks has asserted a constitutional right to risk-free profit from the Federal Reserve" [David Dayen, The Intercept]. "Rob Nichols, the chief lobbyist for the American Bankers Association, argued in a comment letter Thursday that a recent federal law reducing the dividend on the stock that banks purchase as part of membership in the Federal Reserve system, violates the Fifth Amendment clause banning the uncompensated seizure of property."
"Why is Amazon all of a sudden not re-investing all its profits?" [Early Moves]. Interesting speculation…
"Don't Blame Silicon Valley for Theranos" [New York Times]. Interesting on the social structure of Silicon Valley's venture capital "community."
"Jessica Alba's Honest Co. Sued for Third Time for Dishonest Labelling" [The Fashion Law]. Never eat at a place called Mom's….
"Pop Goes the Digital Media Bubble" [Mother Jones]. "For one thing, all the big new digital shops today employ, between them, a few thousand journalists—compared with the ten-thousand-plus laid off in the great retrenchment of 2007 to 2010. For another, like virtually every other hot property across the internet, digital media startups are better at growing than at showing a profit. And since a profit is what the people supplying those giant piles of cash are ultimately looking for…"
"[Warren] Buffett said simply, 'This economy is not boomin, On the other hand, t's not falling apart either" [Business Insider].
Today's Fear & Greed Index: 62, Greed (previous close: 70, Greed) [CNN]. One week ago: 74 (Greed). (0 is Extreme Fear; 100 is Extreme Greed). Last updated Apr 29 at 12:12pm. Dropping toward fear…
Corruption
"Major U.S. government contractors have received $1,171 in taxpayer money for every $1 invested in lobbying and political action committee contributions during the last decade, according to a MapLight analysis" [Maplight]. That's a lot of rice bowls.
The Jackpot
""Growing Food for Growing Cities" [from the Chicago Council on Global Affairs] forecasts that two-thirds of the world's population, 6.3 billion people, will be squeezed into the cities by 2050 and that global food production would have to increase 50% to 60% to keep everyone fed. The world's urban population now stands at 3.9 billion, according to the United Nations" [Los Angeles Times].
Imperial Collapse Watch
"Five of six Air Force F-35 fighter jets were unable to take off during a recent exercise due to software bugs that continue to hamstring the world's most sophisticated—and most expensive—warplane" [Fortune].
Class Warfare
"More than 151 million Americans count themselves employed, a number that has risen sharply in the last few years. The question is this: What are they doing all day? Because whatever it is, it barely seems to be registering in economic output" [New York Times]. Three theories, but that there's no reason to work harder (or smarter) if you don't share in the gains isn't one of them. Odd.
And then there's this:
1. I'll let others figure out why Kevin Drum is employed by Mother Jones. I'm just here to talk about averages. pic.twitter.com/P7cwEjxNmH

— Jacob Bacharach (@jakebackpack) April 29, 2016
(Median annual household income in the US in 2014 was $53,657.) And both Drum and Mother Jones are considerably less captured than most of the wonkosphere. Et in Arcadia ego….
"In effect, we have two American economies. One is made up of expensive coastal zip codes where the pundits proclaiming "recovery" are surrounded by prosperity. The other is composed of heartland regions where ordinary Americans struggle without jobs. Over 50 million Americans live in what the Economic Innovation Group calls 'distressed communities'—zip codes where over 55% of the population is unemployed" [Quartz]. I bet you can even see some of those communities from the Acela — if you raise the curtain on your window and aren't too busy yammering on your SmartPhone.
"That means first it's necessary to go out into the pain. I was surprised by Trump's success because I've slipped into a bad pattern, spending large chunks of my life in the bourgeois strata — in professional circles with people with similar status and demographics to my own. It takes an act of will to rip yourself out of that and go where you feel least comfortable. But this column is going to try to do that over the next months and years. We all have some responsibility to do one activity that leaps across the chasms of segmentation that afflict this country" [David Brooks, New York Times]. Book deal? But it's been a strange year. I wonder what Moral Hazard thinks about this?
News of the Wired
"The Secrets of Medieval Fonts" [Medieval Books]. Fonts before type!
"Think of the internet economic loop as a model train track. Positions in front of you can redirect traffic around you. Positions after you can build new tracks that bypass you. New technologies come along (which often look toy-like and unthreatening at first) that create entirely new tracks that render the previous tracks obsolete" [Medium].
* * *
I think I fixed my fershuggeneh contact form below. Just to keep the NC comment section clean, will only those who already have my email address tell me if they have issues, using email? Thank you!
Readers, feel free to contact me with (a) links, and even better (b) sources I should curate regularly, and (c) to find out how to send me images of plants. Vegetables are fine! Fungi are deemed to be honorary plants! See the previous Water Cooler (with plant) here. And here's today's plant (Tia Bee):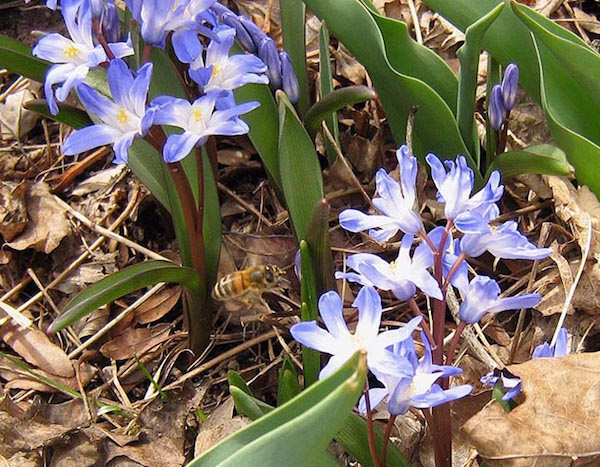 Snow stars (Chionodoxa), with visitor. Hardy early blooming bulb which naturalizes well, even in No.Colo.
* * *
Readers, Water Cooler will not exist without your regular support. Your tip will be welcome today, and indeed any day. If you enjoy what you're reading, please click the hat!