By Lambert Strether of Corrente.
TPP/TTiP/TISA
"Many German dairy farmers are braced for the worst as a trade agreement between the United States and the European Union is being negotiated, fearing they would be destroyed by bigger U.S. producers in a free market" [Süddeutsche Zeitung]. "Previously confidential documents from the negotiation of the deal called the Transatlantic Trade and Investment Partnership, or TTIP, shows those fears to be justified. The U.S. is found to be unrelenting with regard to the discussion of agriculture, saying it is only willing to make concessions to the European car industries if Europeans agree to further open up their agricultural markets."
"Today's alarming fourth-year trade data on President Obama's U.S.-Korea Free Trade Agreement (FTA) arrived just as the Obama administration has started its hard sell to pass the Trans-Pacific Partnership (TPP). And that is a real problem for the White House" [Lori Wallach, HuffPo]. "The Korea deal served as the U.S. template for the TPP, with significant TPP text literally cut and pasted from the Korea agreement. And the Obama administration sold the Korea deal with the same "more exports, more jobs" promises now being employed to sell TPP. And since then, our trade deficit with Korea more than doubled as imports surged and exports declined. The increase in the U.S. trade deficit with Korea equates to the loss of more than 106,000 American jobs in the first four years of the Korea FTA, counting both exports and imports, according to the trade-jobs ratio that the Obama administration used to promise at least 70,000 job gains from the deal." Oopsie.
"[P]eople power pays off. European politicians and bureaucrats, quite rightly, would never have imagined that a trade agreement would inspire any interest, let alone mass protests. … But rather than give up, activists across the continent organised. They toxified TTIP, forcing its designers on the defensive. Germany – the very heart of the European project – witnessed mass demonstrations with up to 250,000 people participating" [Guardian]. "[W]e have seen what happens when ordinary Europeans put aside cultural and language barriers and unite. Their collective strength can achieve results. This should surely be a launchpad for a movement to build a democratic, accountable, transparent Europe governed in the interests of its citizens, not corporations. It will mean reaching across the Atlantic too."
2016
Policy
"Presumptive Republican presidential nominee Donald Trump on Thursday positioned himself on the far left of the political spectrum on fiscal issues, coming out for low interest rates, against a strong dollar and a more aggressive managing of U.S. debt" [MarketWatch].

" Sorry Paul, but the Bailout WAS about the Banks" [Credit Slips]. "Paul Krugman claims that "Many analysts concluded years ago" that the big banks were not at the heart of the financial crisis and that breaking them up would not protect us from future crises. Incredibly, his claim is linked to an article by … Paul Krugman.  Maybe a Nobel Prize comes with a license to cite oneself as Gospel authority, but I don't believe that Krugman's Nobel Prize was for his expertise on bank regulation. So what's wrong with Krugman's claim?  Let's go piece by piece." Krugman's lost his mind. Sad.
Money
"In yet another sign Hillary Clinton is looking past rival Bernie Sanders and on to a general election against Donald Trump, the former secretary of state is adding and promoting staff at her national headquarters in New York" [NBC]. " A Clinton campaign official said the Democratic frontrunner is not giving up in the remaining primary states [no no!], but is increasingly shifting her focus toward beating Trump in November. That should go over big in California. For a minute, there, they must have thought their votes counted.
The Voters
"Survey shows Clinton supporters are more aggressive online than Sanders supporters" [Daily Dot].

"The Woody Allen Interview (Which He Won't Read)" [Hollywood Reporter].

How about politics? Who are you supporting?

I'm a Hillary fan. I like Bernie very much. I think what he espouses is wonderful. But I think Hillary will get more done of what Bernie would like than Bernie could get done.
Our Famously Free Press
"The Best of New York Times Columnist Ross Douthat's Incorrect Predictions That Trump Would Lose the GOP Nomination" [Gawker].

"Beyond Schadenfreude, the Spectacular Pundit Failure on Trump Is Worth Remembering" [The Intercept].
The Trail
"Face it: There is no good way of reassuring both Sanders supporters and Republican moderates." [Robert Kuttner, The American Prospect]. "But does that matter really? Don't the polls make clear that Hillary wins in a landslide against Trump? What could go wrong? Let us count the things that could go wrong."

"But here's the thing about Trump: He's run the flat-out most offensive, least substantive and crassest campaign in memory, and national polls show him trailing Clinton by 10 points, with six months yet to go. Think about that. In presidential politics, 10 points can fall away faster than Carly Fiorina on a riser" [Matt Bai, Yahoo News]. Interesting from Bai. And this: "the next-in-line — Gore, McCain, Hubert Humphrey, Richard Nixon in 1960 — is almost never as politically gifted as the president he (or she) has served. If he were, he wouldn't have ended up next-in-line to begin with." Yep.

"Trump on Clinton nomination: 'She can't put it away'" [The Hill]. "'I thought that I'd be going longer and she'd be going shorter,' the presumptive GOP presidential nominee added. 'We had 17 people, people who were very smart. Week after week, one by one, boom, boom, boom, gone.'"

"'I think the debates are going to be positive for me,' [Trump] said in an interview on CNBC's 'Squawk Box.' 'I sort of wish we had more than three. We have three. There are three scheduled. And I think we should perhaps have more than three, if you want to know the truth, because there is a lot going on." [Wall Street Journal, "Donald Trump Open to More Than Three Debates With Hillary Clinton"]. Clinton will agree only if Debbie Wasserman-Schultz controls the schedule.

"Mark Salter, a former top aide for Sen. John McCain, R-Ariz., called Trump 'wholly unfit for office' Tuesday night and said he'd vote for Clinton. "I'm with her,' he said in a tweet Tuesday night" [McClatchy].

"[Mainstream Republicans] sat on their hands and viewed Cruz as just as bad as Trump. The same factors that got him to the brink of the Republican nomination, his disdain for the 'Washington cartel' and impatience with politics as usual, kept him from grasping the ring" [Guardian].

"He faces what could charitably be described as an uphill battle. A national CNN/ORC poll, taken April 28-May 1, showed Clinton with a daunting lead over Trump of 54%-41%. To win the White House, he needs to hold all of the states Mitt Romney won in 2012, with a total of 206 electoral votes, then add at least 64 more to get to the 270 mark to claim the presidency" [USA Today]. Hold AZ (11); hold NC (15); flip FL (29); flip OH (18); flip PA (20). A heavy lift.

"The same Republican leaders who mined birtherism, xenophobia, and racist dog whistles for political gold, and who failed to stop the Trump clown car when they had the chance, are now gearing up to pantomime a unified party" [LA Progressive]. "Add this level of voter estrangement to the rancor the Republican Establishment has already shown toward Trump, ranging from grudging acceptance to outright opposition,and there emerges an anti-Trump pincer movement with crucial blocs of voters rejecting him from below, while big Republican donors and party insiders rebuff him from above."

"[T]o truly unify the party, Mrs. Clinton and party leaders must work to incorporate Mr. Sanders and what he stands for in the party's approach to the general election. It would also help to acknowledge that the party has strayed at times from its more aspirational path" [New York Times].
Stats Watch
Challenger Job-Cut Report, April 2016: "Large-scale cuts in the energy sector continue to swell Challenger's layoff count" [Econoday]. "[T[hese results, though they do point to rising corporate cut-backs, are not likely to lower expectations for tomorrow's employment report where in-trend strength is expected. " And: "The pace of downsizing increased in April" [Econintersect]. "Employers have announced a total of 250,061 planned job cuts through the first four months of 2016. That is up 24 percent from the 201,796 job cuts tracked during the same period a year ago. It is the highest January-April total since 2009."
Jobless Claims, week of April 30, 2016: "Initial claims did jump 17,000 higher in the April 30 week to 274,000 but the 4-week average is up only 2,000" [Econoday]. "This report, despite the weekly jump in initial claims, is unlikely to affect expectations for what is expected to be a strong employment report tomorrow." But: The four-week moving average worsened [Econintersect].
Gallup Good Jobs Rate, April 2016: "April Gallup Good Jobs was up nominally from the March rate" [Econoday]. "The current rate is a full percentage point higher than in April 2015, suggesting an underlying increase in full-time work beyond seasonal changes in employment."
Bloomberg Consumer Comfort Index, week of May 1, 2016: "Consumer confidence readings have been edging lower but have held at still solid levels so far this year. That is until today's consumer comfort index for the May 1 week which broke lower" [Econoday]. "Weakness in consumer confidence readings typically reflects expectations for weakness in income and job prospects."
Shipping: " Rail Week Ending 30 April 2016: Rail Contracted 11.8 Percent From Same Month One Year Ago" [Econintersect].
The banks: "Listen to the mumbo-jumbo in this video from the Federal Reserve, our central bank that is also attempting to wing it as a regulator (while failing to ever hire a Vice Chair for Supervision as mandated under the Dodd-Frank legislation) and ask yourself if it isn't finally time to restore the plain-speaking Glass-Steagall Act and separate the casinos from the insured banks" [Wall Street on Parade].
"The labor force participation rate had been generally declining since around 2007. However, that trend has partially reversed in recent months" [Federal Reserve Bank of Atlanta]. "During the last year, the negative effect on participation attributable to an aging population (0.22 percentage points) has been offset by a 0.23 percentage point decline in the share of people who want a job but are not counted as unemployed (including people who are marginally attached). This decline is an encouraging sign, and consistent with a tightening labor market."
"Harvard-Linked VC Fund Goes Up in Smoke and Acrimony" [Dan Primack, Fortune]. Primack is always worth a read.
"Microsoft and Google's new pact could signal the beginning of the end for personal privacy" [Quartz]. Windows 7 adopts Google's business model.
"Tim Cook's Failed Apple Pitch" [Bloomberg]. Ouch!
"Apple, Set to Move to Its Spaceship, Should Try More Moonshots" [New York Times].
Today's Fear & Greed Index: 61, Greed (previous close: 57, Greed) [CNN]. One week ago: 70 (Greed). (0 is Extreme Fear; 100 is Extreme Greed). Last updated May 5 at 11:55am.
Guillotine Watch
"Millionaire who beat up taxi driver after downing £14k worth of champagne is SPARED jail" [Express].
Class Warfare
"How These Wooden Fences Became A Symbol Of Gentrification Across Los Angeles" [LAist]. "There's a whole flipper design element starter set: a fresh gray paint job, san serif minimalist address numbers, or a Nightmare on Elm Street blood-red door. You can pick and choose or get the combo. Either way, if you see any of these telltale symbols, odds are the house has recently changed hands or will be soon." I assume that Vancouver or Brooklyn would have different semiotics?
"Class warfare, slumlord edition" [Corrente]. In DC!
"Megachurches: photographing America's drab new cathedrals" [Guardian]. Interesting project, but the article has tone issues.
"NPQ has long followed a suit, first filed in 2011 by a handful of residents of Princeton, New Jersey, that challenges the university's nonprofit, tax-exempt status. Princeton University has filed a total of seven motions to dismiss the case, citing a lack of proof behind the residents' action; all seven motions have been denied" [Non-Profit Quarterly]. "'They almost operate like a hedge fund that conducts classes,' says plaintiff Leighton Newlin, a local native who has seen his tax bill more than double since 2010, of Princeton. 'They have some of the best real estate in all of Princeton. The fact is, those buildings do not pay their fair share of taxes.'"
News of the Wired
"How IBM's new five-qubit universal quantum computer works" [Ars Technica]. "IBM has a very aggressive timetable for scaling: it expects to hit between 50 and 100 qubits within the next decade. At 50 qubits, IBM will be able to do useful stuff. That means useful qubit numbers should be coming within five years and toys that do neat tricks a couple of years later."
"No one should have to use proprietary software to communicate with their government" [Free Software Foundation].
"The Startup Zeitgeist" [The Macro]. Keyword lists.
"Peter Dutton photo goes global after he demands it be deleted from internet" [Guardian]. That escalated fast.
"Mathematicians mapped out every "Game of Thrones" relationship to find the main character" [Quartz]. And seem to have added very little value.
"I fly 747s for a living. Here are the amazing things I see every day" [Vox]. Like the world is round!
" Taliban spokesman Ehsanullah Ehsan told NBC: 'Yes, I know McDonald's and its food but we will never eat it. We don't even consider it as a food" [Boing Boing]. How right they are!
* * *
I think I fixed my fershuggeneh contact form below. Just to keep the NC comment section clean, will only those who already have my email address tell me if they have issues, using email? Thank you!
Readers, feel free to contact me with (a) links, and even better (b) sources I should curate regularly, and (c) to find out how to send me images of plants. Vegetables are fine! Fungi are deemed to be honorary plants! See the previous Water Cooler (with plant) here. And here's today's plant (Claudia):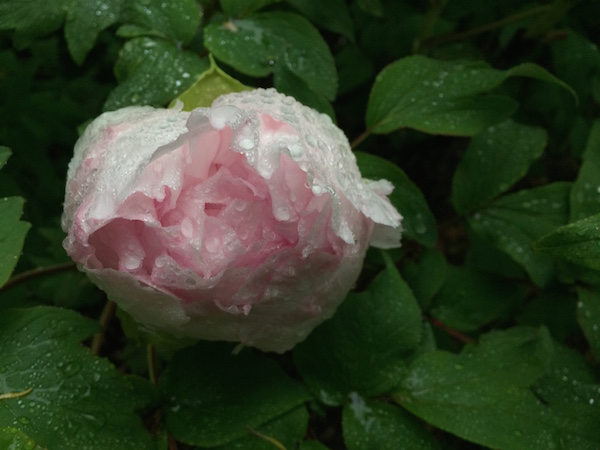 Claudia writes: "A lovely peony from the Brooklyn Botanic Garden."
* * *
Readers, Water Cooler will not exist without your regular support. Your tip will be welcome today, and indeed any day. If you enjoy what you're reading, please click the hat!