By Lambert Strether of Corrente.
Readers liked our last post on life under neoliberalism and the salaried (or professional (or "20%")) classes, and the question we posed: "How do these pepole live with themselves?" So here's another one! This time, I'm going to compare and contrast life in the newsroom at the Las Vegas Review-Journa and The New York Times.
Looking at these classes, credentials matter. (Again, I should caveat that these are my people; I was raised the child of professors in America's Golden Age of higher education and shaped for that sort of career myself; back in the day, when tenure was a realistic possibility for many, and academics didn't have to hold outside fundraisers for their projects. And when there were careers.) For example, attaining an M.D. is different from learning a skill; as a doctor, one takes the Hippocratic Oath. CPAs have a required ethics exam. Even lawyers!
If economists ask themselves "What good is a degree?" the answer is "to signal a requirement for a higher salary!" (because it's not easy to rank the professions by the quality of what they deliver). We as citizens might answer that professionals are in some ways amphibians: They serve both private ends and preserve public goods, and the education for which they are granted their credentials forms them for this service. For example, a doctor who prescribes medications for his patients because Big Pharma takes him golfing is no doctor but corrupt; he's mixed up public and private. He didn't follow his oath. Similarly, a reporter (see Terry Pratchett's wonderful The Truth) who only serves the interests of his publication's owner is no reporter but corrupt; a public relations specialist, say. Or a servant.
The Las Vegas Review-Journal
First, let's look at an episode at the Las Vegas Review-Journal. As readers may remember, the LVJR was purchased by Sheldon Adelson, international gambling squillionaire, publisher, and campaign contributor (Israel). I won't use the word "corrupt," but feel free to think it. Hilariously, Adelson did not disclose his purchase — no problems with optics there! — and it was left to the LVJR reporting staff to treat the matter as a story, and reveal their new owner. Here's the story the LVJR broke:
After six days of uncertainty surrounding News + Media Capital Group LLC — a newly formed Delaware-domiciled company backed by "undisclosed financial backers with expertise in the media industry" — the Review-Journal on Wednesday confirmed that Adelson's son-in-law, Patrick Dumont, arranged the company's $140 million purchase of the newspaper on behalf of the chairman and CEO of Las Vegas Sands. …

Last week's sale saw News + Media pay around $38 million more than New Media Investment Group paid in March for all of Stephens Media LLC, a national chain of eight daily newspapers that included the Review-Journal.

It remains unclear if that inflated purchase price came with strings attached to the Adelsons.

"The way the Adelson family began its ownership of the Review-Journal — with secrecy, deception, and one opaque announcement after another — does not inspire confidence," said media critic and New York University professor Jay Rosen. "Possibly this rocky start could be overcome, but the place to begin would have been with the public announcement of the purchase. In that announcement there is nothing about preserving the independence of the Review-Journal newsroom from undue influence by Sheldon Adelson, who as everyone knows is one of the most powerful people in the state and in Republican politics nationwide.

"What creative measures were announced to insulate news coverage from the enormous wealth and power of the Adelson family? None that I can see. And that does not inspire confidence," Rosen said.
(This post only scratches the surface of the carnage. What you're going to read is bad enough.) To nobody's surprise, Rosen's concerns for the independence of the newsroom were all too prescient. From the New York Times:
Whether Mr. Adelson will ultimately try to shape the paper's coverage remains to be seen. But in the weeks since he has owned the paper, reporters said, several articles about the paper have been heavily reviewed and edited to remove quotes that could be viewed as unfavorable to the new owners.

An article about Mr. Hengel's resignation was trimmed before it was published from about 20 paragraphs to three and stripped of nearly all of Mr. Hengel's comments, according to people familiar with the article. The article ran on Wednesday inside the paper. Similarly, an initial article on the paper's website about the sale was edited after it was published to remove references to the buyer's unknown identity.
It got worse. From Politico:
Within five hours, the immediate inherent conflicts of Adelson ownership made themselves highly apparent. The Review-Journal reported that Adelson had met with the ownership of Oakland Raiders football team, hoping to lure them to Las Vegas and into a new "public/private"-funded $1 billion domed stadium.

The new publisher has reviewed each stadium story since, and the stories have seen numerous Moon-directed edits, several sources confirm. Those edits include removing key points of fact on what may turn out to become a $600 million-plus public investment in a football stadium. At least one stadium story was killed, as well, my sources confirm.

As a major player in the gaming industry in Las Vegas, Macau and Singapore, top donor to Republican Party candidates and now the booster of a "public-private" funded football stadium, Adelson-related stories have appeared in the R-J for years. For years, the paper has "lawyered" each Adelson-related story, given the magnate's history of litigiousness. Now that review is being done in house, with very different results.
And now the latest, from NPR:
Las Vegas Columnist Quits After Ban On Writing About Adelson

"If I can't do my job, if I can't hold the heavyweights in the community to account, then I'm just treading water," the columnist, John L. Smith, told NPR in an interview. "It wasn't an easy decision to make, but there was no other decision to make — at least in my mind."

Smith had written columns for the Review-Journal for nearly three decades, with a frequent focus on Adelson, one of the most powerful figures in Nevada gambling and national Republican politics. The billionaire sued Smith for libel over a passage in a 2005 book about power players of Las Vegas.

Smith prevailed in court, but paying the fees helped bankrupt him. (NPR told that remarkable story, including a rabbi's offer of a secret $200,000 payoff from Adelson for Smith to admit libel, earlier this year.) Years later, the case has helped trigger the end of Smith's career at the Review-Journal, as his new bosses cited it as a conflict of interest [!!!].
Now, all of the above is prelude to John L. Smith's resignation letter, of which he left a copy on every desk in the LVJR news-room: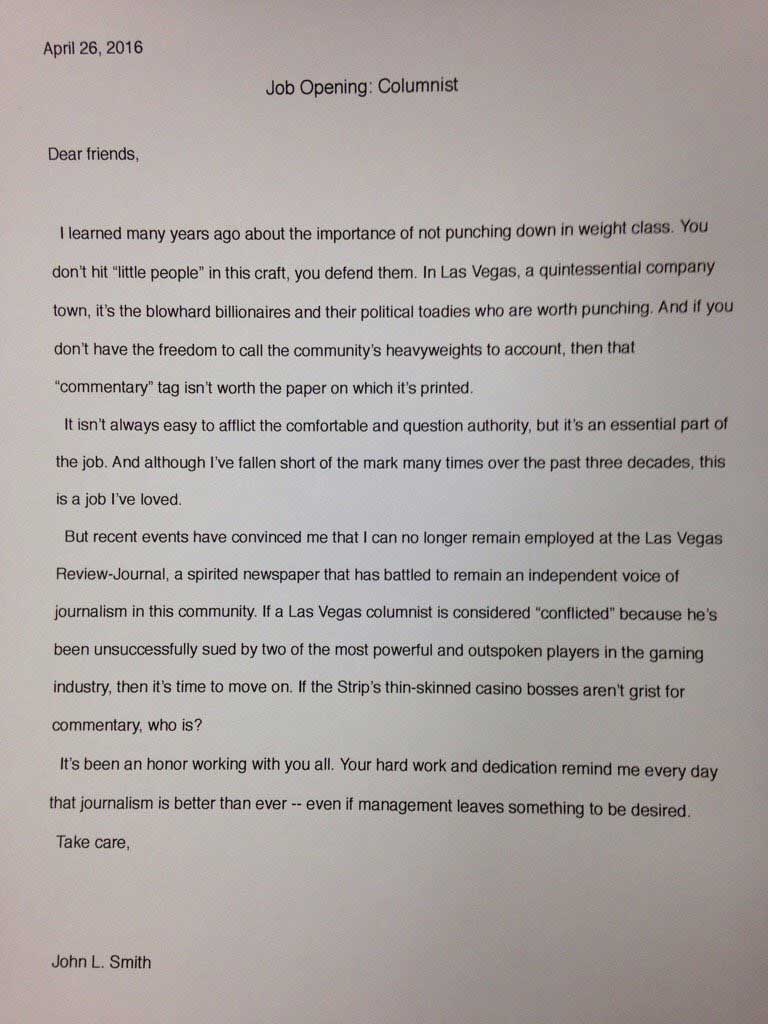 Clearly, John L. Smith is somebody who can live with himself.[1] And now we turn to the New York Times.
The New York Times
Here, I'm simply going to quote a great slab of Times Public Editor Margaret Sullivan's column (who ought to be missed by Times executives, but probably will not be[2]).
Were Changes to Sanders Article 'Stealth Editing'?

An article by Jennifer Steinhauer, published online, carried the headline "Bernie Sanders Scored Victories for Years via Legislative Side Doors." It described the way the Vermont senator had managed a significant number of legislative victories in Congress despite the political independence that might have hindered him.

The article stayed in essentially that form for several hours online – with some very minor tweaks — but in the late afternoon, Times editors made significant changes to its tone and content, turning it from almost glowing to somewhat disparaging. The later headline read: "Via Legislative Side Doors, Bernie Sanders Won Modest Victories."

And these two paragraphs were added:

But in his presidential campaign Mr. Sanders is trying to scale up those kinds of proposals as a national agenda, and there is little to draw from his small-ball legislative approach to suggest that he could succeed.

Mr. Sanders is suddenly promising not just a few stars here and there, but the moon and a good part of the sun, from free college tuition paid for with giant tax hikes to a huge increase in government health care, which has made even liberal Democrats skeptical.
(Readers will recognize that both paragraphs are heavily larded with Clinton campaign talking points.) Here I'll skip Sullivan's summary of the obvious problems with these changes; in addition to several readers, she links to Medium, Matt Taibbi, and Robert Reich, too. So, to the institutional issues:
I asked top editors at The Times, along with Ms. Steinhauer and her immediate editor, for response. (The executive editor, Dean Baquet, also responded to Erik Wemple of The Washington Post on Tuesday night, and Ms. Steinhauer responded to the Rolling Stone piece. Both said, in essence, that the changes were routine efforts to add context to an evolving story.)

[The reporter, Jennifer] Steinhauer, in a response to my email, suggested that I speak to editors because "it was an editing decision."…

So, what happened here? Matt Purdy, a deputy executive editor, said that when senior editors read the piece after it was published online, they thought it needed more perspective about whether Mr. Sanders would be able to carry out his campaign agenda if he was elected president.

"I thought it should say more about his realistic chances" of doing that, Mr. Purdy told me. As first published, he said, editors believed that the article "didn't approach that question."

"There was a feeling that the story wasn't written into this moment," Mr. Purdy said. After the editing changes, he said, "it got to be a deeper story," with greater context.

Three editors told me in no uncertain terms that the editing changes had not been made in response to complaints from the Clinton camp. Did the Clinton people even reach out?

"Not that I know of," Mr. Baquet told me in an email. The article's immediate editor, Michael Tackett, agreed: "There's zero evidence of that."
("Not that I know of" and "There's zero evidence of that" are both what somebody with a sufficiently cynical cast of mind might call non-denial denials.)
My take: The changes to this story were so substantive that a reader who saw the piece when it first went up might come away with a very different sense of Mr. Sanders's legislative accomplishments than one who saw it hours later. (The Sanders campaign shared the initial story on social media; it's hard to imagine it would have done that if the edited version had appeared first.)
(Note that the Sanders campaign had distributed the URL to original Times article. So, when the Times editors made their unannounced changes at the same URL, they pulled the rug out from the Sanders campaign, who would hardly have distributed a link to an article that supported major Clinton campaign talking points.
Comparing and Contrasting
From the reader's perspective, is there any substantive difference between what the Adelson-owned LVJR did to its stories on Adelson, and what the Times did to its story on Sanders? Is there a substantive difference between removing material unfavorable to the owner or suppressing stories unfavorable to his business interests, and gratuitously inserting material egregiously favorable to a newspaper's endorsed candidate? Especially when, in each case, the paper makes no mention of the change? I don't think so.
However, from the newsroom's perspective, there's a very great difference indeed. The LVJR is a small paper; John L. Smith is two or three degrees of separation at most from Adelson himself, so its very clear who's giving direction and why. The New York Times is a very large paper; the reporter, Jennifer] Steinhauer, was able to say "Talk to the editors," and Sullivan, the Public Editor, talked to three of them. In other words, the social relations — we might even say the realities — at the Journal-Review and the Times are very different; the Journal-Review's are so simple and clean that "How can you live with yourself?" questions come to the fore under stress. Not so at the Times; the institutional complexities make it possible for such questions to be masked or muffled. Corruption is clear at the LVJR; but corruption scuttles away into the masthead at the Times.
However, if we ask ourselves what the future of the average newsroom — modulo algos — is likely to be, I would imagine life will be a lot more like the LVJR than the NYT. I mean, who wants a masthead cluttered with supernumeraries? It's going to be interesting to see what John L. Smith will do. Maybe he'll start a blog?
NOTES
[1] Let me add my standard disclaimer: I don't want to come off as priggish. I don't have dependents, and so my choices are simpler. If I had to support a family, especially in today's new normal, I might put my head down and save ethics for the home. "Person must not do what person cannot do." — Marge Piercy, Woman on the Edge of Time.
[2] Sullivan actually reads the Comments, and sometimes integrated them into her column.