By Lambert Strether of Corrente.
Readers, thanks once more for your help on the Water Cooler Mini-Fundraiser! –lambert
TPP/TTIP/TISA
"Senate Finance Committee Chairman Orrin Hatch said the Obama administration for the first time appears to be willing to meet his demands on TPP" [Politico]. "Bipartisanship. n. 1. Get ready for another vile piece of jobbery." More: 'Let's put it this way, this is the first time that they've been willing to say they want to meet the needs that I say they've got to meet,' Hatch told reporters Wednesday shortly after speaking by phone to President Barack Obama. 'They know this isn't a matter of me being stubborn, this is a matter of getting it done right.'" Hatch shows the left how to negotiate with liberals: "[They need to become] willing to say ." Let's just hope the Sanders camp understood this when they had their full and frank exchange of views with the Clinton camp. We should know tonight!
"The Obama administration is facing pressure from a number of groups opposed to the deal and – like the case in most free trade agreements – will have to make a number of side deals with internal stakeholders to garner sufficient support to get the legislation through Congress" [Al Jazeera]. Somebody should ask Clinton what side deals would be acceptable to her (and Clinton Foundation donors).
2016
Policy
DNC oppo file presents Trump's reluctance to cut entitlement spending as if it's a big liability for him…? pic.twitter.com/qmBU9BJSqL

— Michael Tracey (@mtracey) June 15, 2016
The Voters
"'Politico-economics' (a.k.a corporatism) is our present form of government, even of organizing our entire societies, and it's the very thing people protest against when they vote for Trump and Le Pen (and against Cameron when they vote for Brexit). This would seem to put the claim that Trump is a fascist on its head. Trump is the reaction to fascism as defined by Mussolini, as are le Pen and Orban and Wilders and the others, even as they are accused of being fascists themselves" [The Automatic Earth]

Bringing us to….
Our Famously Free Press
Sanders: "The media is an arm of the ruling class of this country" [HuffPo]. I don't know if classes have arms. But this image is helpfui:
Corruption
"In the 2012 presidential contest, Las Vegas Sands Corp. LVS, -1.43% was the No. 1 contributor to federal elections as measured by OpenSecrets. The grand total of $52.9 million in that election cycle — all but $2,000 of which went to Republicans and other conservative candidates — was a high-water mark, when CEO Sheldon Adelson promised to spend 'whatever it takes' to defeat President Barack Obama. What's more, the Adelson Drug Clinic — a nonprofit Las Vegas rehab facility founded by Adelson — donated an additional $42.1 million that same election cycle" [MarketWatch]. Quoting MarketWatch here because "outspoken CEO Sheldon Adelson" has buried within it the idea that money is speech. I used to think liberals didn't buy into that, but now I'm not so sure…
Gunz
"The Senate began discussions on legislation to ban firearm sales to the hundreds of thousands of people on U.S. terrorism watch lists after a gunman who had been on such a list killed 49 people at a gay nightclub on Sunday" [Reuters]. I may have missed some of the political theatre on this, but isn't there bipartisan agreement that the watch lists are good, when they're terrible?
The Trail
UPDATE "Bernie Sanders and the Terms of Surrender" [New York Times]. Like so much else this year, it's wonderfully clarifying to see the Times editors open the kimono — yes, I know you can't unsee that — and shift to open advocacy from reporting. The last time they did that was on WMDs, and we know how that movie ended. Anyhow: "Sanders will speak to his supporters via videoconference tonight at 8:30 p.m. Eastern from Burlington, Vt. He still hasn't endorsed her, and he's still pushing hard for his policies. But what kind of leverage does he have?" Here is the link to sign up for the Sanders live feed tonight at 8:30 p.m. ET / 5:30 p.m; although the form says you need to put in a mobile number, I put in my landline, and it went right through. And whatever Sanders is going to say, it's certainly closely held.

"Hillary Clinton: Something Wicked This Way Comes" [Black Agenda Report].

Hillary Clinton has done what many think Donald Trump might do as president. She has supported right wing deportation policies of immigrants south of the United States' manufactured borders. She has started and supported imperialist military campaigns that have destroyed countless lives.

If Trump is the "Boogey Man," then Hillary Clinton is evil in 3D. She is real and her actions are wicked. Do not vote for her simply because she is a woman. There have been many evil women throughout history, just as there have been evil and wicked men.

UPDATE "In Trump's speeches, lines of ethnic strife are always present but forever being rearranged—suddenly drawn, then erased, and then drawn again. The pattern shows an intellectual habit of Trump's—ethnic essentialism, in which individuals are blurred out in favor of the groups to which they belong" [The New Yorker]. Oddly, or not, the bien pensant New Yorker scribe doesn't mention the "intellectual habit" whereby liberals brought us #BernieBros (smearing Sanders supporters who were women and people of color, blurring out individuals in (dis)favor of groups).

UPDATE "Trump's blunders are compounded by the fact that he doesn't have many GOP officials or prominent surrogates to defend or promote him. His campaign infrastructure is lacking to the point that it's causing real concern among party members, especially candidates who would rely on that network for their own races" [Real Clear Politics]. And if you read the must-read report on the Trump rally in Links this morning, you saw that "concern" (a word in the genteel Beltway lexicon that translates to "hair on fire") is not misplaced.

I don't put much stock in the Republican and Democrat establishments circling the wagons against an insurgent — again, wonderfully clarifying — but the Republican convention looms as a hard deadline. Will Trump even be able to find a VP, besides the horrid and toothsome Newt Gingrich, or Chris Christie, bloated with cheapjack corruption? How will the Convention be funded, if major donors pull out? If the Republican establishment stages a coup, what's Plan B? A comeback by Little Marco, who now says he wants to run for the Senate? Lyin' Ted Cruz, who's holding dinners and thrusting his jaw out again? Low energy Jebbie? Romney, a proven loser, and rightly, after the Orca and 47% debacles? Could they bring Bob Dole back from the dead? Meanwhile, can Trump counterpunch and bring Clinton's unfavorables in line with his own? Yes, if the giant sac of pus that is the Clinton email/Clinton Foundation scandal finally bursts… But only if our famously free press reports it! What a year this has been…. [UPDATE I should have added zombie-eyed granny starver Paul Ryan to the list of potential Republican golpistas. My bad!]
Clinton Email Hairball
"The Coming Constitutional Crisis Over Hillary Clinton's EmailGate" [Observer].

Any inquiring mind will want to know how Hillary Clinton is so certain she cannot be indicted over EmailGate, since the FBI's investigation remains open. Similarly, it deserves to be asked why Obama felt it appropriate to endorse Clinton to succeed him in the White House while the FBI continues to investigate her, since any Bureau referral in the matter will wind up on the desk of the attorney general, Loretta Lynch—who works for President Obama. The White House insists this is no way taints the case. However, since Obama is a constitutional lawyer by background, he cannot fail to see how this creates a serious conflict of interest.

I'd call it a "legitimacy crisis," not a "Constitutional crisis." But don't worry. The liberals will power their way through.
Stats Watch
Consumer Price Index, May 2016: "Whatever pressure may be building in import & export prices or even producer prices, it has yet to give much of a boost to consumer prices which rose only 0.2 percent in May. Core prices, that is prices excluding food and energy, also came in at plus 0.2 percent" [Econoday]. "It's the trend that counts most and the trends for consumer prices are still flat, not yet reflecting the recovery in oil prices. This report does not lift the chances for a rate hike at the July FOMC." I just love "Open Market Committee." Totally unproblematic! It's the committee that keeps markets open! Back to stats: "The major influence on the CPI was energy prices" [Econintersect]. " inflation does not correlate well to the economy – and cannot be used as a economic indicator."
Bloomberg Consumer Comfort Index, June 2016: "The consumer comfort index fell a sharp 1.1 points in the June 12 week to 42.1, reflecting weakening confidence in the economic outlook" [Econoday]. I'm starting to get the feeling that whoever ends up holding the Presidency bag this coming November will wish they had never been born (absent the emergence of an FDR, which our misrulership class was determined to prevent). Of course, as a Maine bear, those are my priors!
Housing Market Index, June 2016: "Improvement in traffic is a big plus in this report, hinting at a new source of acceleration for home builders. The new home market has been solid but has been held back by lack of first-time buyers as well as constraints in the construction sector that are limiting new building" [Econoday]. "Hinting."
Jobless Claims, week of June 11, 2016: "Claims data rattled a bit in the latest report but are still trending in the right direction — which is down" [Jobless Claims]. But: Rolling averages statistically unchanged [Econintersect].
Philadelphia Fed Business Outlook Survey, June 2016: "The Philly Fed's headline index, which is a measure of general sentiment based on a single question, can often read much differently than the assessment of actual conditions. And this is the case for the June report where the constructive looking 4.7 headline doesn't match the details which are almost uniformly negative" [Econoday]. "New orders, at minus 3.0, are contracting for a second month while contraction in unfilled orders, at minus 12.6, is deepening. At minus 2.1, shipments are in a third month of contraction. Employment, at minus 10.9, has been in contraction for the entire year. The sample appears to be destocking and delivery times are shortening, both indications of weakness. The only signs of actual life in this report are in prices… [D]oes not confirm the strength of Wednesday's Empire State report and will not lift the outlook for what is a very flat factory sector" [Econintersect]. "This is a very noisy index which readers should be reminded is sentiment based. The Philly Fed historically is one of the more negative of all the Fed manufacturing surveys but has been more positive then the others recently." And: "The key forward-looking indicators all moved in the wrong direction, with sentiment on new orders (down from -1.9 to -3.0), employment (from -3.3 to -10.9), unfilled orders (down from -8.6 to 12.6) and inventories (down from 2.5 to -9.9) all weakening, while the hours worked sub-index remained firmly in contractionary territory in June. Capital expenditure intentions also weakened, falling to 4.0 from 23.6. Sentiment on business activity 6-month hence also weakened, falling to 29.8 from 36.1. The disconnect between the details and the headline number is due to the fact that the headline index is not a composite of the sub-indices (as is the case of the ISM index is), but the result of a separate survey question [!!] [TD Securities, Across the Curve].
The Fed: "The Federal Reserve kept interest rates unchanged on Wednesday and signaled it still plans two rate increases this year, saying it expects the U.S. job market to strengthen after a recent slowdown" [ETF.com]. "Still expects." Question: Is the Fed so toothless they can't even goose the economy before an election?!
The Fed: "In her post FOMC news conference yesterday Ms Yellen sounded as though she was channeling the secular stagnation theories of the fellow whose job she took, Larry Summers" [Across the Curve]. Answer: Yes. Hence Clintonian excrementalism?
The economy: "Despite the successes, it's tough out there for the average middle market company. They're besieged from all sides, and growth is a slow, hard slog: In the five-plus years since 2011, the average middle market firm increased the number of its employees by 8.7% and its global revenues by just 6.9%, which is nothing more than the rate of consumer price inflation over the period. And that slow-growth average middle market firm defines the most successful segment of US enterprise!" [Wolf Street]. "A fitting description of the troubled real economy in the US and globally." Good read on American firms equivalent to the German mittelstand (which is not the "middle class" (and I have a vague memory is a forest metaphor, as of a "stand" of trees, the mittlestand being neither the tallest nor the smallest (but I can't find a link))).
Shipping: "California gateways are providing glimmers of an ocean-borne rebound as companies gear up for the peak shipping season. The Port of Los Angeles reported a 15% jump in its container imports last month, WSJ Logistics Report's Erica E. Phillips writes, giving the nation's biggest port the busiest May in its history. Long Beach and Oakland also reported that imports expanded in May, and that volume reached the highest level since last August. That's a relatively typical seasonal turn but welcome growth at ports that were coping with backlogs last year" [Wall Street Journal]. "Big questions still remain over the trans-Pacific shipping market, including worries that retailers aren't yet convinced that there's enough demand to speed up the flow of goods later this year." When Quinn the Eskimo gets here, everybody's gonna jump for joy…
Today's Fear & Greed Index: 47, Neutral (previous close: 51, Neutral) [CNN]. One week ago: 79 (Extreme Greed). (0 is Extreme Fear; 100 is Extreme Greed). Last updated Jun 16 at 1:09pm. Mr. Market suffering from angst…
Health Care
"Yes, Obamacare Premiums Are Going Up" [NYT]. Film at 11. "[T]he Kaiser analysis seems to me another sign that we're a long way from having a stable individual market." Let me translate: "Stupid proles, pay our trained professionals until we fix the mess we created!"
Gaia
"Modern mussel shells much thinner than 50 years ago" [Phys.org]. "Shells collected by Native Americans 1,000 to 1,300 years ago were also 27 percent thicker than modern shells, on average. The decreasing thickness over time, in particular the last few decades, is likely due to ocean acidification as a result of increased carbon in the atmosphere."
"North Dakotans on Tuesday soundly rejected a law enacted last year that changed decades of family-farming rules in the state by allowing corporations to own and operate dairy and hog farms" [Reuters].
"Virtual Power Plants Get Around Solar Power's Intermittency Problem" [MIT Technology Review].
The Unsettlement
"[U]nknown hackers have been defacing Texas Department Of Transportation (TXDOT) electronic message boards lately" [Hack Read]. Screenshots: "This hack took place in May 2016 when several traffic signs were defaced with messages like 'Donald Trump is a shape of shifting lizard','Free Barrett Brown' and 'Hillary for Prison.'" I'm so old I remember the "Freeway Blogger" — who was not digital.
"Bookseller's testimony has 'blown apart' Beijing's 'lies' on the missing publishers, says Amnesty" [Hong Kong Free Press]. In China, this is a big deal: "Lam returned to Hong Kong on Tuesday and said that mainland police offered to release him if he returned to China on Thursday with a hard drive containing a list of customers from the Causeway Bay bookstore he founded. He instead gave an account of his ordeal at the Hong Kong legislature. His shop was known for political gossipy titles banned on the mainland – most customers are mainland Chinese."
Class Warfare
"Tipping in America is out of control and I just can't take it anymore" [MarketWatch]. Too lazy to find the link, but the restaurateur who started simply paying his servers a living wage and abolishing tips altogether discovered that was a hard core of 20-30% of his customers who wanted to tip because they enjoyed the sense of control. Rather like (liberal) Neera Tanden, who isn't satisfied with policy dominance and $340K a year as a CEO, but demands deference from unknown bloggers as well.
"H.P. Lovecraft's Monster Drawings: Cthulhu & Other Creatures from the 'Boundless and Hideous Unknown'"" [Open Culture]. Like this portrait of my favorite candidate for 2016: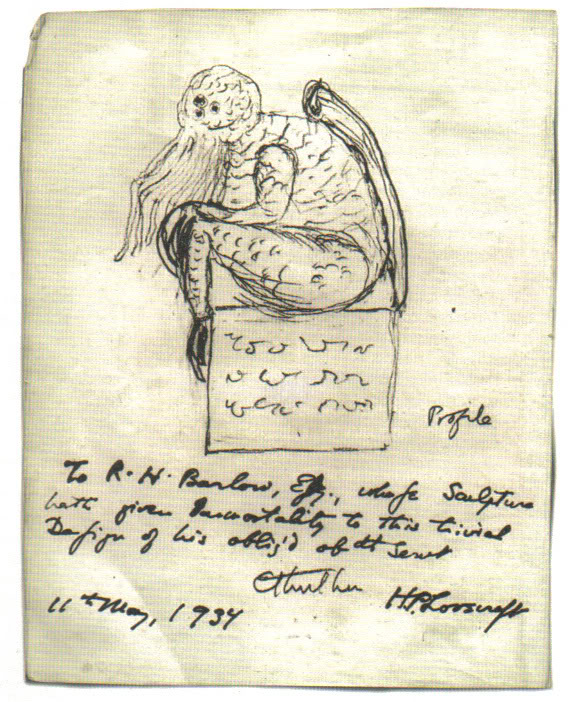 And I don't want to go all deterministic, but this sentence leaped out at me:
Read enough of Lovecraft's middle-class east-coast professional narrators' mortal struggles for the words to convey what he called 'the boundless and hideous unknown' that suddenly confronts them, and you start to wonder what these creatures actually look like.
Indeed! Nightmares of the professariat at Miskatonic U….
"We all portray different characteristics of ourselves in different situations. The way I speak with my son is much different than the way I communicate with my coworkers. The things I tell my friends are different than what I tell my parents. I'm much more guarded when withdrawing money from the bank than I am when shopping at the grocery store. I have the ability to use multiple identities in multiple contexts. But when I use the web, I can't do that very well" [Firefox]. Intersectionality hits the tech world…
"I asked my nan why she used 'please' and 'thank you' and it seemed she thinks that there is someone – a physical person – at Google's headquarters who looks after the searches. "She thought that by being polite and using her manners, the search would be quicker" [Guardian]. LOL, but not, when we remember the children of well-to-do parents in Silicon Valley who interact with voice apps like Siri as if they were slaves, since those apps do not incentivize for being humane. To be fair, these children are having their future life chances enhanced. Given the givens.
News of the Wired
" 'Astronomy of the 21st century': LIGO spots gravitational waves again" [Christian Science Monitor]. The World These Days reminds me of one of those SF novels where the premise is a clean and beautiful discovery in the lab, but the plot involves the world outside….
"Should We Sequence the DNA of Every Cancer Patient?" [MIT Technology Review]. Betteridge's Law….
"New Device Sold on the Dark Web Can Clone Up to 15 Contactless Cards per Second" [SoftPedia].
"Why Philosophers Should Care About Computational Complexity" (PDF) [Scott Aaronson].
I argue that computational complexity theory — the field that studies the resources (such as time, space, and randomness) needed to solve computational problems — leads to new perspectives on the nature of mathematical knowledge, the strong AI debate, computationalism, the problem of logical omniscience, Hume's problem of induction, Goodman's grue riddle, the foundations of quantum mechanics, economic rationality, closed timelike curves, and several other topics of philosophical interest.
That sounds nifty, but papers with (one-letter, Greek and/or italic) symbols in them make my eyes glaze over. Does anyone care to translate? Anyhow, don't we have markets to solve these problems?
* * *
Readers, feel free to contact me with (a) links, and even better (b) sources I should curate regularly, and (c) to find out how to send me images of plants. Vegetables are fine! Fungi are deemed to be honorary plants! See the previous Water Cooler (with plant) here. And here's today's plant (b1whois):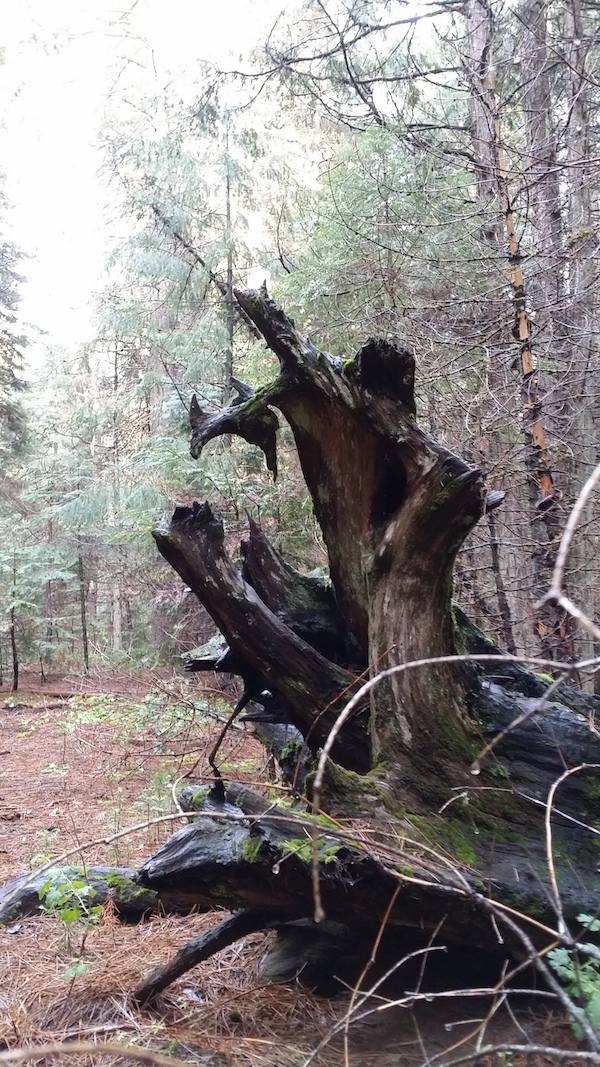 b1whois writes: "Another from the Rainbow gathering in the Stanislaus Forrest in California."
I forgot to ask what the "Rainbow gathering" is, last time…
* * *
Readers, if you enjoyed what you read today, please use the dropdown to choose your contribution, and then click the hat! Your tip will be welcome today, and indeed any day. Water Cooler will not exist without your regular support.