By Lambert Strether of Corrente.
TPP/TTIP/TISA
TPP: "A trade agreement should also encourage competition in areas like pharmaceuticals, instead of discouraging generic equivalents for high-priced brand-name drugs, and would ensure that the United States can ban products that do not meet U.S. safety or labor standards, [Lori] Wallach says" [Campaign for America's Future].
2016
From the twitter:
Policy
Tired of the freeloaders… I support an indiv mandate for health ins & NYT paywall. I pay for subscription-why should others get it 4 free?

— (((Neera Tanden))) (@neeratanden) March 23, 2011
So there you have it.
Money
"But in McCutcheon, Roberts reinforced a limited definition of political corruption, defining it very much like bribery. To prove corruption, one must essential prove a quid pro quo — that money led to some specific act of corruption. The tight definition of corruption is important, because preventing corruption — or the appearance of corruption — is the only legitimate reason the court has said justifies contribution limits" [Center for Public Integrity]. I suppose that if money is speech, the First Amendment says "make no law" restricting it. Sadly, liberals, in order to protect Clinton, now accept this argument, so campaign reform is off the table.

"Of the 1,400 people who donated to Mitt Romney super PAC in 2012, only 29 gave to Donald Trump's campaign" [USA Today].
Corruption
"[Rajiv Fernando, a] major Democratic donor [and bundler] personally lobbied then-Secretary of State Hillary Clinton's office for a seat on a sensitive government intelligence board, telling one of her closest aides that if appointed he would make Clinton 'look good'" [McClatchy]. I can't understand why Fernanando would have felt that was an effective approach, but whatever. "As a member of the board, Fernando was to advise Clinton on nuclear weapons." The new, small, easy-to-use ones?

"Supreme Court Vacates Ex-Virginia Governor's Graft Conviction" [New York Times]. ""Setting up a meeting, calling another public official or hosting an event does not, standing alone, qualify as an 'official act,' " Chief Justice John G. Roberts Jr. wrote for the court." Wowsers.
Our Famously Free Press
This is about Brexit, but applies generally:

This is so real. And an argument this is so completely evaded by leadership at Facebook and Twitter. pic.twitter.com/NOzS8TpWaC

— ⤵︎ (@CodyBrown) June 24, 2016
The Voters
"Liberal Elites Hate the Left" [Common Dreams]. "'The elite freeze-out of Bernie Sanders,' writes Matt Karp, 'is without parallel in modern party history.'" Yep. The liberals would make their peace with Trump, who is a neoliberal like they are. Never, ever with Sanders, who is not.

"Why I hate the S word" [Chris Arnade, Medium]. "Calling someone dumb is intended as a statement of your superiority and a declaration of their inferiority. It is also intended to remind them of their place." And liberals do it all the time. That's why they won the House in 2010, 2012, and 2014, along with the Senate in 2014, and all those governorships. Oh, wait…
The Trail
"PAC Backing Hillary Clinton to Run $10.5 Million in Ads in Pennsylvania" [New York Times]. I would take every poll with a dose of salts, since we've seen they're not reliable, and they're open to manipulation; I think it's better to watch campaign body language. If Clinton is doing so great, then Pennsylvania should not be in play.

"Democrats: Guns sit-in just a taste of guerrilla tactics to come" [Politics]. The median net worth for Democrat House members is $929,000 (Republicans are $884,000). That these powerful millionaires are appropriating the "guerilla tactics" of the powerless makes me want to vomit. And speaking of vomit–

"Everyone calm down: The "no fly, no buy" bill was designed to embarrass Republicans, not to pass — and it's working" [Amanda Marcotte, Salon]. So the sit-ins were a stunt; good to know.

"Gary Johnson and Bill Weld used an hour of prime-time television to burnish their establishment credentials" [The American Conservative]. That was fast.

"Elizabeth Warren tears into Trump at VP try-out calling him a 'goofy' guy who 'wants it all for himself' – 'He will crush you into the dirt to get whatever he wants'" [Daily Mail]. I think Clinton needs to stop toying with Warren and make up her mind. No doubt she's hoping to get Trump to respond in kind, and I suppose we'll see if Manafort can restrain him. Why not just mention that Warren's from Harvard? That should do it.

"Unintended Consequences" [Corey Robin (MR)]. "If we want things to stay as they are, things will have to stay as they are." Wait, did I get that right?
Stats Watch
Dallas Fed Mfg Survey, June 2016: "Dallas manufacturing conditions remain extremely weak" [Econoday].
International Trade in Goods, May 2016: "Goods exports were soft in May while at the same goods imports rose, making for a widening in the nation's goods gap to $60.6 billion from April's $57.5 billion" [Econoday]. "[L]ike the export side, capital goods imports were weak hinting at contraction in business investment."
PMI Services Flash, June 2016: "Service sector activity remains slow, little changed" [Econoday]. "New orders are picking up but remain soft while job creation is slowing for a third straight month. Confidence in the year-ahead outlook continues to moderate."
"Goldman Is Gloomy on Prospect of Major CapEx Rebound Post-Brexit" [Bloomberg]. FWIW.
"At the moment, corporate America is sitting on an enormous cash hoard. Many companies have been using the money in an epic share-buying spree — one that has increased in intensity even as earnings have declined" [New York Times]. Really? Can I have some?
"Why This $3 Billion Tech Startup Is Still Searching for a CEO" [Bloomberg]. "DocuSign identified that person early this year and invited reporters to a press briefing introducing the new CEO. Shortly before the announcement in March, DocuSign canceled the event, saying the person had backed out at the last minute after receiving an offer from 'another company with unlimited resources.'"
Today's Fear & Greed Index: 38, Greed (previous close: 44, Fear) [CNN]. One week ago: 62 (Greed). (0 is Extreme Fear; 100 is Extreme Greed). Last updated Jun 27 at 12:59pm. Mr. Market's Brexit-induced mood swings hard toward the fear pole; the hangover from the 19th hole must be terrible!
Health Care
"The duel between documentation and doctoring is being won by the wrong side" [KevinMD]. Doctor battles crapified voice mail hell system that is designed to protect the hospital from liability (that's the "documentation" part) rather than deliver patient care ("doctoring"). Certainly a strange notion of doctoring!
"As health care costs continue to rise, attention has turned to a tiny number of expensive patients like Meade, called super-utilizers" [Miami Herald]. The next moral panic, no doubt. When will "super rent-seekers" go under the knife?
"The 6 things you need to know to understand the Allina nurses strike" [Minnesota Post].
"Microsoft scientists have demonstrated that by analyzing large samples of search engine queries they may in some cases be able to identify internet users who are suffering from pancreatic cancer, even before they have received a diagnosis of the disease" [New York Times]. What could go wrong?
Water
"At least 24 people are dead and an untold number are missing after historic floods washed through West Virginia" [CBS].
"The deal [pending before Congress] has been nearly 80 years in the making. If approved, it will be the largest Indian water rights settlement in history, involving literally thousands of parties and hundreds of millions of federal dollars. And it will give the Gila River Indians a huge tap into the massive Central Arizona Project, which funnels water from the Colorado River into the heart of Arizona" [High Country News]. "If the Gila River Indian Community scores this huge victory, it will put the Pima and Maricopa people in a position of tremendous power — and at the center of more than a little controversy. Critics complain that the deal will put vast amounts of precious Colorado River water — literally the lifeblood of the Southwest — in the hands of a tiny minority of 'Indian water czars.'" Good. I think if we gave control over the Penobscot to the Penobscots, everybody would be better off, including the river itself.
Guillotine Watch
"What's it like to ride a glass slide 1,000 feet above L.A.? We tried it out" [Los Angeles Times]. I'm filing this under "Guillotine Watch," because the slide is at the U.S. Bank building in downtown L.A.; I see it as conditioning "consumers" to take stupid risks (rather like extreme sports).
"[A] recent tasting reveals that the soufflé is still a work in progress. First, the cognac flavor can overwhelm the caviar. And in an effort to preserve the texture of the roe, Farnabe bakes the soufflé for just two and a half minutes—enough to muddle the caviar and not enough to yield an appropriately airy soufflé texture throughout. Setting the whole thing aflame only exacerbates texture issues, leaving the soufflé exterior firmer than the rest of it. All together, the soufflé isn't better than the sum of its (very refined) parts" [Bloomberg]. Of a soufflé, but true for much else in the moment, no?
Class Warfare
"Nuit Debout: Middle Class Protests in Neoliberal France" [London School of Economics]. Important!
"[R]ural inequality seems to come in two forms. One, which I'll call 'home-grown' inequality, is where the local industries create large income disparities. The other, which I'll call 'flown-in' inequality, is where rich people who made their income elsewhere take up residence" (with maps) [WaPo].
"I started applying for jobs in private prisons because I wanted to see the inner workings of an industry that holds 131,000 of the nation's 1.6 million prisoners. As a journalist, it's nearly impossible to get an unconstrained look inside our penal system" [Mother Jones].
News of the Wired
"After many false dawns, AI has made extraordinary progress in the past few years, thanks to a versatile technique called "deep learning". Given enough data, large (or "deep") neural networks, modelled on the brain's architecture, can be trained to do all kinds of things. They power Google's search engine, Facebook's automatic photo tagging, Apple's voice assistant, Amazon's shopping recommendations and Tesla's self-driving cars" [The Economist]. But Google's search is increasingly crapified, Facebook's photo tagging is pretty poor, Siri is lousy, and how hard are shopping recommendations really? (Is it learning, or just data). And Tesla's self-driving cars are vaporware! We might also consider the learning environment for the AIs: Profit-making.
"Building digital trust: The role of data ethics in the digital age" [Accenture]. "Accenture Labs launched a research collaboration with leading thinkers on data ethics to help provide guidelines for security executives and data practitioners and enable development of robust ethical controls throughout data supply chains." Oh. "Leading thinkers."
In Memoriam Bernie Worrell:
Prescient lyrics, too. 1984, when the neo-liberal dispensation had been tightening its grip for a decade or so.
* * *
Readers, feel free to contact me with (a) links, and even better (b) sources I should curate regularly, and (c) to find out how to send me images of plants. Vegetables are fine! Fungi are deemed to be honorary plants! See the previous Water Cooler (with plant) here. And here's today's plant (G&RC)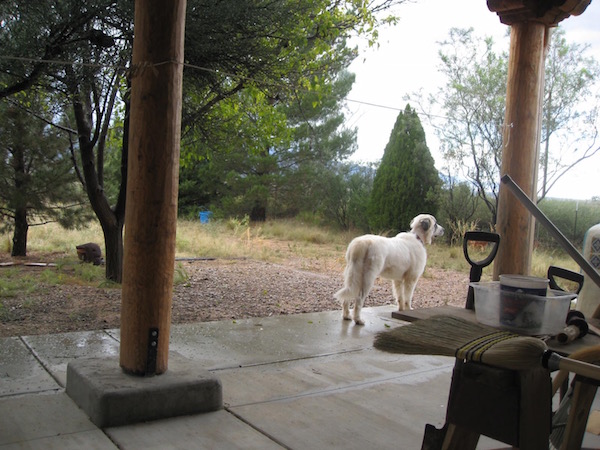 This is a photo of G&RC's garden, but it made me laugh because of the noble dog!
Readers, if you want to send me some videos of plants in whole systems (bees and blossoms, for example, or running streams) — I can use them to practice with FFmpeg and hopefully post them. Because of download times, they'll have to be measured in seconds, rather than minutes. Thank you!
Adding, thank you again readers for last week's rapid and successful Water Cooler Mini-Fundraiser. Checks are arriving in the mail. I'm still writing thank you notes! Yours will arrive!
* * *
Readers, if you enjoyed what you read today, please use the dropdown to choose your contribution, and then click the hat! Your tip will be welcome today, and indeed any day. Water Cooler will not exist without your regular support.